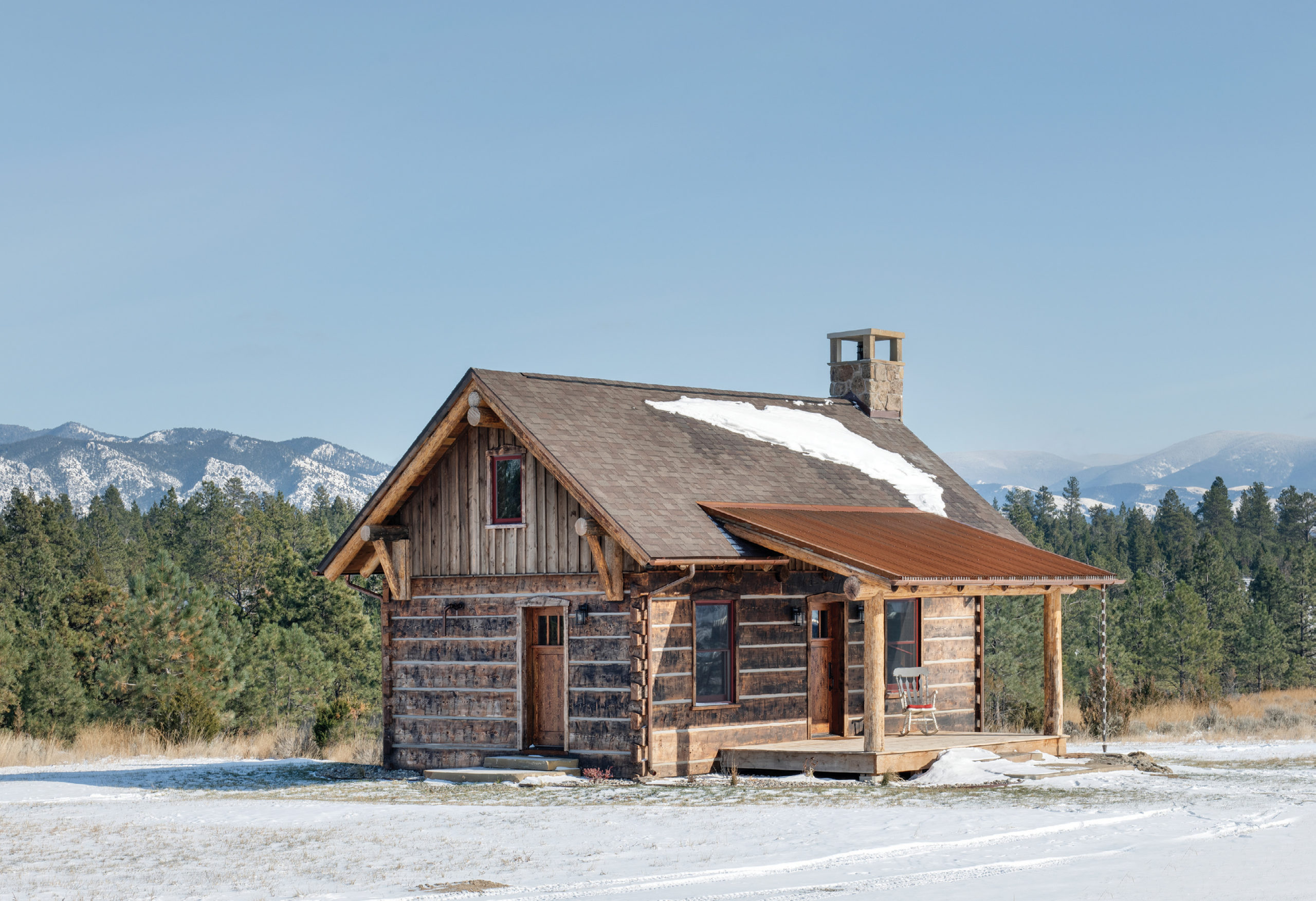 This rustic cabin was built from local timber using a combination of styles — including round hewn logs — to imitate the ad hoc approach of 19th-century builders. Though it has the looks of a restored relic from the 1800s, it was completed in 2019 and boasts state-of-the-art energy-efficient technology.
07 Apr

Western Focus: Rustic Functionality

in

A log cabin sits at the entrance to the headquarters of Peachey Construction near Montana's Canyon Ferry Lake. At first glance, you'd swear that it's one of those 200-year-old, adze-hewn structures that someone dismantled back East and had shipped out here for its reclaimed charm, dovetailed corner joints and all. But you'd be mistaken: The owner of Peachey Construction, Menno Peachey, crafted the cabin himself on this site just a few years ago, combining Old-World aesthetics and time-worn techniques with cutting-edge, energy-efficiency technology. "All the wood in this cabin — the walls, the flooring, the beams — it all came from within 20 miles of where we're standing," he says.

He sourced the flagstones that make the lavatory floor and skirt the front porch from a quarry near Harlowton. The lichen-covered boulders from which the chimney is composed came from a ranch outside of Great Falls. The shower and kitchen backsplash tiles were made by Kim Loftus, a Helena-based potter.

Against the backdrop of a Western Montana landscape that's exploding with new construction, Peachey's craftsmanship stands out. The cabin is a humble showcase for his practice of integrating raw materials with the landscape in a way that harks back to a time when we carved our living and working spaces out of stone and timber that lay close by, the craftsmanship constrained by the technology of hand tools.

A few yards away from the cabin, Peachey is putting the finishing touches on his 3,000-square-foot shop, a massive timber-framed building that features log rafters that are cunningly dovetailed into 8-by-10-inch beams, many of them involving compound miters that would stump even a master geometer. Peachey is a master of the compound dovetail, and every tread on the flight of stairs in the middle of the shop, too, is dovetailed into the stringers so snugly that glue would be superfluous.

Nowadays, almost all new construction involves a parade of subcontractors: One crew pours the foundation, another does the framing, and a roofing crew covers it up for every team that comes after — the electricians, plumbers, sheet rockers, and so on. But Peachey is known for completing projects on his own, from the foundation to the last of the trim work, all of it guided by his commitment to using the centuries-old techniques of builders in Europe and the Eastern U.S.

Oh, and he mills almost all the lumber he uses. If his approach seems a little unusual, it's because his roots are, too.

Peachey grew up in a Pennsylvania Amish community, about 90 miles outside of Philadelphia, where his philosophy of home construction was shaped by the aesthetic appeal of primitive craftsmanship — mortise and tenon, dovetailed joints, and rough-cut lumber — and the integral connection of a finished product to the investment of labor involved.

"I was always building stuff out of scraps of wood as a kid, and I did construction when I got older with a Mennonite crew," Peachey says. After outlining the basic religious and cultural outlook of the Amish, he explains that at around age 18, Amish youth have to decide whether or not they will commit themselves to the church and their local community. "Well, by the time I was 13 or 14, I had seen pictures of the West in magazines, and I told my mom, 'I'm going to live there.'"

But it wasn't until his early 20s that he first came to Montana. "I wanted to become a hunting guide out here," he recalls, "and I met a couple of guys from the Thompson Falls area in Pennsylvania at a trade show. They hired me to come out in the summers and work for them."

He split his time between working as an outfitter in Montana and working construction in Pennsylvania, and through his construction job, Peachey developed a set of skills that brought him to Montana permanently, even though it meant leaving the Amish for good. "My family understood," he says. "They love me for who I am. They were of course a little sad that I would not be part of the Amish community, but they understood it was not meant for me."

Nevertheless, the carpentry and joinery skills he'd learned set him apart from most home builders in Montana. He describes his passion as "hybrid construction," a style that combines the Old-World look of timber-frame construction with modern, energy-efficient technologies, availing himself of power tools whenever possible. So, while a home he builds might feature exquisite mortise and tenon joinery in its framing and shiplap wall coverings that he's milled himself, beneath the antique presentation lies radiant heat systems and insulation standards that exceed those of most conventionally built new homes.

"I have a lot of control over the finished product if I am doing the sawmilling myself," Peachey says. "Putting the milling together with the actual framing and building lets me offer a unique product." The cabin he built to emulate an early 19th-century structure illustrates the benefits of having one master craftsman conducting each element of the construction. "One crew doing it all is a lost art in the industry," he says. "When we finish, there's a sense of accomplishment that translates directly into the integrity of the home."

Behind his old-school technical prowess, Peachey's aim is to bring an Old-World look into the modern era, a hybrid method that pleases the eye because it fits naturally into the landscape, but which also provides the comfort and efficiency of the modern age. "From my time in Pennsylvania, I learned to aim for that hand-held tool aesthetic even if you're taking advantage of modern equipment. I might have a memory of an old building I worked on back there and integrate those techniques into a modern building, with modern components," Peachey explains. "It's hard to describe, but I go for what feels right. The modern mechanics can be hidden behind the envelope of a well-built building that will endure for centuries."

The demand for Peachey's talent has steadily increased since he started his company in 2008. Since that time, he's added a timber-framed pavilion in Bermuda to his portfolio, perhaps the best evidence for how word has spread about the quality of his work. "I started in 2008, mostly doing sawmill work by myself to make ends meet," Peachey says. "Now I have a crew of five working for me."

When you look at his buildings up close, it's not hard to see why Peachey is in demand. He brings the precision of a cabinetmaker to the scale of construction, forging marriages of post or rafter to beam with practically seamless finesse. His finished buildings exude the character and simple comfort of an earlier age, when a newly constructed barn or cabin shared a raw kinship with the surrounding woods from which the materials had been harvested.

And though Peachey no longer adheres to the Amish religion and community, he has carried with him its meditative aspects and its deep reflection on the way technological innovation impinges on our lives. Peachey reveres simplicity and local sourcing as elements of what philosophers call "focal practice," that is, the total immersion of the craftsman into the craft. The result, as Peachey summarizes on his website, is "rustic comfort together with modern functionality," which is truly the best of both worlds.