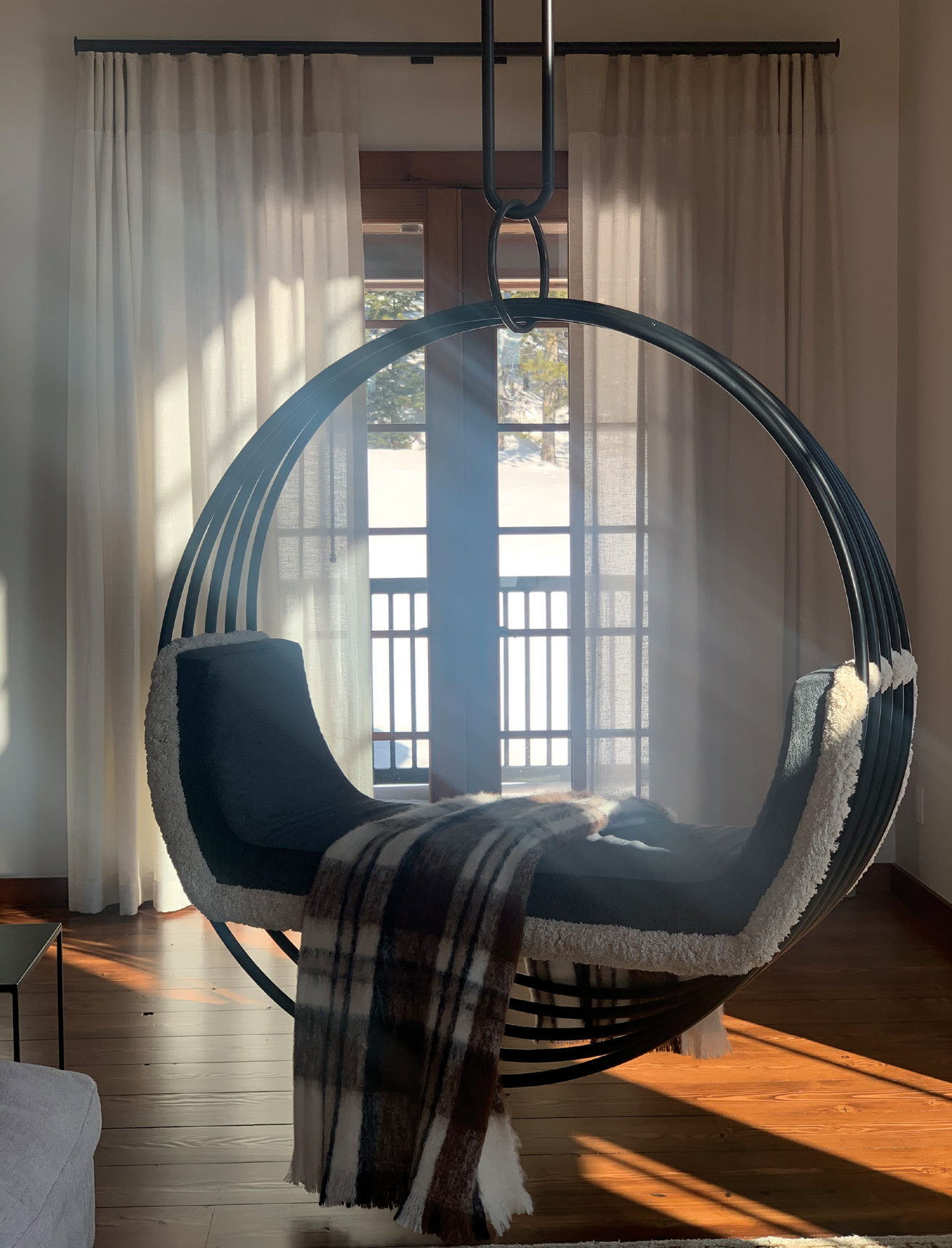 A whimsical living room swing, fabricated in the Green Seam Designs' metal shop and made plush and inviting by the upholstery crew, is suspended on a roller track system. Built for Icon Interiors in Bozeman, Montana, it now lives in a home at the Yellowstone Club in Big Sky, Montana.
07 Apr

Western Focus: Green Seam Designs

in

This is the machine that has literally brought this business to where it is today," Thompson Limanek says with palpable excitement. As he pulls the cover from a circa-1967 manual sewing machine that stands — at once modest and monumental — inside his workshop, he reveals a functional work of art. The vintage machine is beautiful and sturdy — still working like a dream after a half-century, and still treasured in spite of its age and dearth of digital components. It's an embodiment of the values that characterize Green Seam Designs, a flourishing business comprised of an upholstery, wood, and metal shop on Bozeman's northeast side. Crafted with genuine concern for both human and environmental health, Green Seam's artful furnishings are built to last. And they originate not in a computer's drafting software, but in Limanek's drawings.

"I do a lot of hand drafting," he explains. A graduate of the master's program in architecture at Montana State University, Limanek founded Green Seam Designs in 2014. "I really love drawing. It's one of those things I don't want to lose. Drafting pieces by hand helps me understand our projects even more than I would just having them on a computer."

Those projects include an array of custom furnishings, many designed in collaboration with architects, interior designers, and clients looking to fill homes and businesses with pieces that are thoughtfully tailored to suit specific environments. Green Seam Designs also specializes in resurrecting tired-out furniture. An important dimension to the business, Limanek explains, is "keeping beautiful old furniture out of the landfill. Someone could just toss a couch out, or they could bring it to us, and probably for a little bit less than what they'd pay for a new couch, we can tear the whole thing down and make it look beautiful and brand new. And they have a really nice piece that probably has a better frame than anything new they're going to find on the market right now."

Whether building a piece from scratch or lending new life to an old one, Limanek and his team of eight employees are eco-minded in their approach — hence the "green" in the business's name. They minimize waste, and build using walnut and oak that's domestically grown and sourced from a local lumber company, as well as sustainable alder from tree farms in the Northwest. Clients can also opt for certified-organic latex foam and fabrics. And all of the wood finishes are plant based.

"I mean, a piece of furniture is going into someone's house for years," Limanek notes, "if not generations. So if it's off-gassing, if the foam has fire retardants in it, if you use finishes that are super high-VOC [volatile organic compounds], you're putting all that into the air, into people's homes, and [off-gassing] doesn't stop. The foams in couches and beds: You sit down and fire retardants are just puffing up into the air — for years. We're trying to put things into the furniture market that are as close to no-VOC as possible." Limanek offers up a sample of the eco-finish for sniffing, and instead of prompting dizziness, the odor is akin to honey. "Even if we have to do a really hard coat, it's a completely no-VOC poly finish."

But green materials are more costly and, as Limanek says, "There's only a certain price you can charge for furniture. We feel the pressure; someone can buy a couch online for a lot cheaper than we can build a couch for."

Even so, the to-do list of projects at Green Seam Designs is continuously long, and the team works hard to keep up. Without a website, and thanks entirely to word of mouth, their work is in constant demand — no doubt due as much to the aesthetic appeal of their pieces as to the green components. Classic, modern, sumptuous, and inviting, the furniture takes on all forms and reflects the dreams and desires of those who commission it — as well as the varied talents of the Green Seam artisans who take pleasure in working with cloth, leather, wood, and metal.

Eco-friendly and easy on the eyes, their work is also innovative. Recently, they created a modular sofa without the alligator clips traditionally used to join a sectional's mix-and-match portions. "We did a six-piece sectional with magnets instead," Limanek says, "and it's transferable, one piece goes to another or another or another. The magnets are strong, and completely hidden." It's an idea that just might revolutionize the furniture industry. "I'd never seen magnets on modular furniture before," he admits humbly.

At Green Seam Designs, outside-the-box creativity and a 53-year-old sewing machine coexist; materials of good old-fashioned purity — organic wood, foam, and batting — can be covered with decidedly modern fabric featuring a bold print. This mix of traditional and forward-thinking sensibilities is what the company uses to produce heirloom-quality results that make a room — and its air — more fresh.