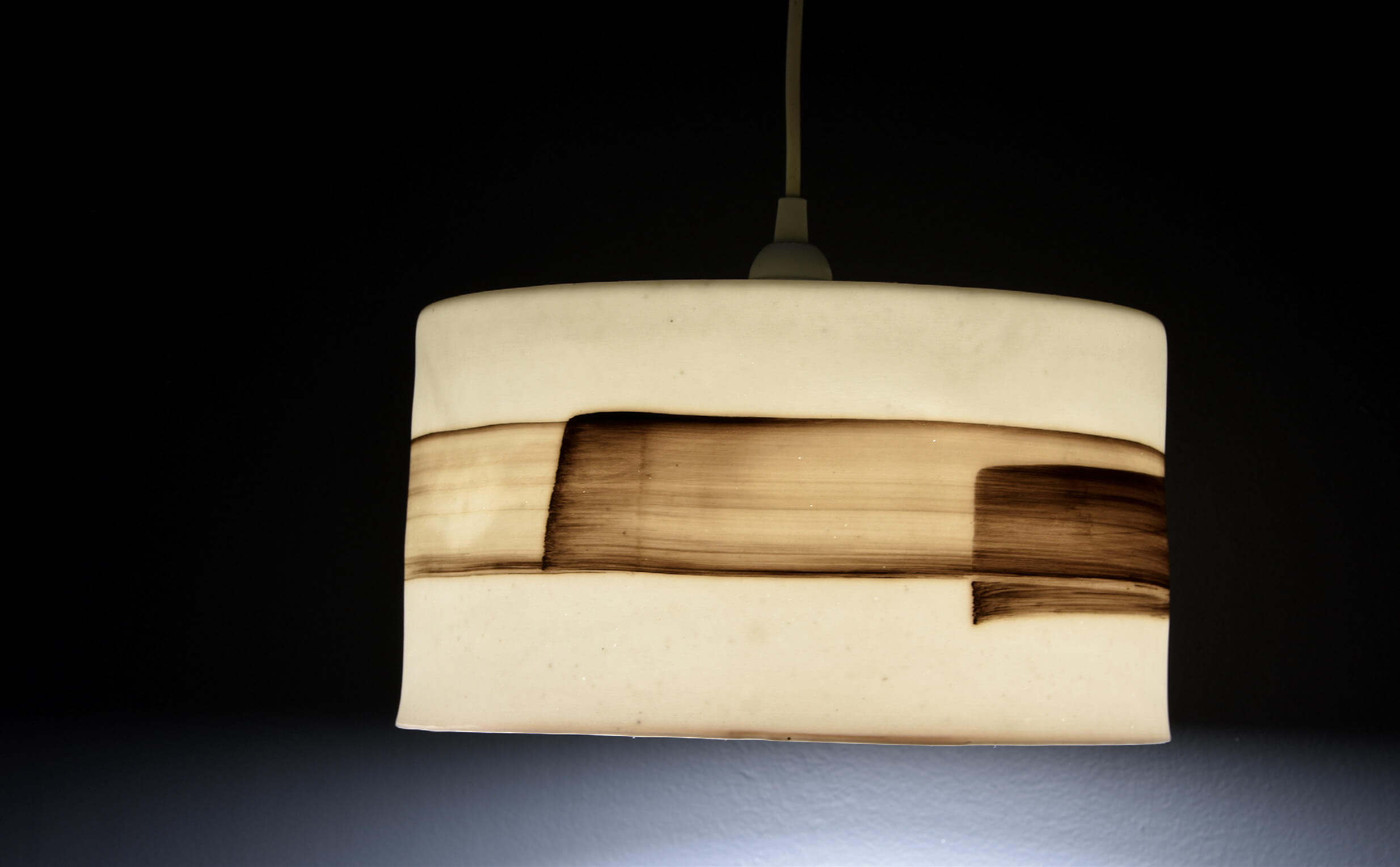 16 Apr

Form and Function

in

When you ask Kim Loftus about her chosen trade, she says simply, "I make objects out of clay." Once you see her work, however, it becomes clear that her creations are far more than mere objects. Instead, Loftus makes lamps and tiles that express an engaging organic aesthetic without denying the principle of industrial design that states "form follows function." Her porcelain lamps have the immediate power to transform the way one thinks about interior lighting, and her tiles connect living spaces to the earth they are built upon in a tangible way. And while her work may be especially suited to homes designed in the West, her tiles have made their way into structures all over the U.S.

Loftus was drawn to design at an early age and quickly realized its importance. "As a kid growing up in Chicago," she says, "I watched the Hancock Building being built and intuited right away that good design matters." At 17, she developed an interest in ceramics and worked as an apprentice with Delores Fortuna of Oak Park Pottery (now called Fortuna Pottery), while taking classes at the Art Institute of Chicago.

She then made several visits to England to learn from Rupert Spira, a contemporary potter who provided her with the clay recipe she uses to this day. Wanting to get away from the big city, Loftus moved to Helena, Montana, in 1984 and got a day job working at the post office while she continued to develop her clay skills.

Loftus soon became fascinated by the utility and texture of tile, and in 2005, she purchased a warehouse and studio space that once housed a brewery, ordered a pug mill (a machine that mixes clay) from Korea, and went into tile production full time. "I have made tiles for years," she says. "I love the organic feel that handmade tile gives to a design."

Interior designer William Peace agrees. The founder and principal of Peace Design — with offices in Atlanta, Georgia, and Bozeman, Montana — discovered Loftus about 15 years ago when he was looking for a local craftsperson to make tiles for a project in Bozeman, and he's been one of her most enthusiastic champions ever since. "Her work has a unique, rustic elegance," Peace says. "Texturally, the tiles have both tactile and visual allure. I'm not sure how else to say it: They are the earth."

The Peace Design website states: "We believe elegance is the absence of distraction," and Loftus's artisanal tiles are in clear accord with that ethos. With subtle, muted tones drawn from an unobtrusive palette, they attract the eye even as they are integrated into a kitchen or bathroom design.

Loftus maintains an impressive workload: Her most recent job, for example, required her to produce over 5,000 tiles. She fires both her tiles and lamps in her studio and has plans to add a wood-fired kiln outside of town this summer where she can make custom artistic tiles. She's also teaming up with the Montana-based lighting designer Drew Mihelish to create and produce a new line of lampshades and bases.

On a trip to China in 2010, enthralled by the finely crafted porcelain lamps she saw there, Loftus had an epiphany. "I felt like I had found my calling," she says. Though she was and is still passionate about making tiles, she knew she had to add porcelain lamps to her repertoire. "I've always been fascinated by the translucent qualities of porcelain, and the Chinese are the masters," she says. "They've been perfecting it as an art for 2,000 years." She's since created several hundred lamps and, because they are so much in demand, plans to expand production soon.

Loftus gets her porcelain clay from China, and — up until COVID-19 — has made regular trips there to learn techniques from the masters. Her style reflects the minimalism of Chinese design without being austere, and her handcrafted lamps serve both as canvases for her deft strokes of slipped glaze and as functional products, providing an atmosphere that features the same kind of hypnotic effect as candlelight, exuding a sense of warmth and natural aesthetic integrity. As Bozeman architect Thor Arnold once described the effect of Loftus's work, "I wait for the dark so that I can turn on the lamp."

Like Peace, Arnold is ebullient when it comes to describing Loftus's work. "The bottom line is that in the world of tile, there are so many options, but it's a rare experience to work directly with someone making the product who has such a personal connection to the craft," he says, explaining that it's also a selling point for clients. "I strive to source things as close to home as I can, and it's incredible to have someone with her skills so close by." As for her lamps, Arnold is especially reverent. "I've purchased them to give to clients," he says. "They are enchanting and delicate pieces."

Perhaps that's the best way to capture the essence of Loftus's work: Not only do her tiles and lamps exude the skill of their maker as an accomplished craftsperson, but as clay objects, they truly are works of art.