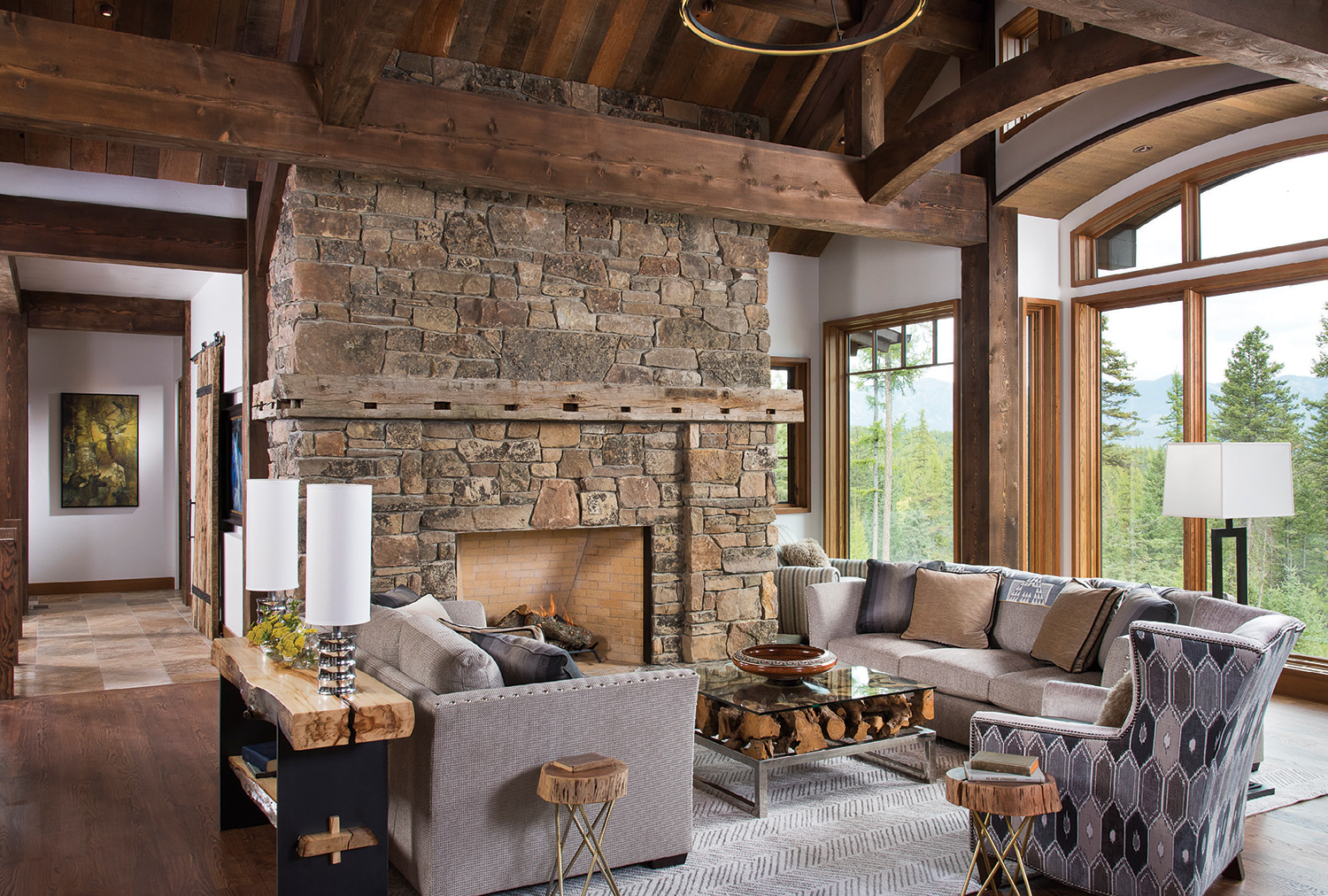 The great room, with vaulted ceilings, is centered around the views, and warm tones complement the natural surroundings. The console table was custom designed by Velvet Leaf Studio and built by a local craftsman.
05 Oct

Western Design: Welcome Home

in

As avid skiers, Paul and Caroline Goodfellow have spent a lot of time in ski resort towns, but when they set foot in Whitefish, Montana, at the suggestion of a friend, they knew something was different. They were looking to build a vacation house as a place for friends and family to gather. They wanted their new community to have "something that felt like home, surrounded by natural beauty, close to a ski resort, and with year-round outdoor activities," Paul says. But it was an unexpected aspect of Whitefish that ended up sealing the deal.

"The thing that sold it was the friendliness of the people; everyone we met was warm and welcoming," Paul says. "It felt like a community rather than a vacation town."

They settled on a location in Whitefish Hills — a horse-friendly development on the outskirts of town with large lots and privacy — and got to work putting together a building and design team. First they met Bear Barinowski and Tyler Frank of Malmquist Construction, who introduced them to the other collaborators, including Rich Graves of Altius Design as architect, landscape designer Bruce Booty, and interior designer Barb Cooke of Velvet Leaf Studio. For the Goodfellows, it was a winning combination all around. "A tremendous team was formed, and we had such a connection with them right away," Paul says.

That bond was a stroke of luck; a month before they broke ground, Paul was called away to Scotland for work, leaving the team to take over. "We moved overseas and left them in charge," Paul says, "and you can't do that without building relationships. We did this from 7,000 miles away."

From that time on, the team worked together closely, making decisions during weekly on-site meetings, focusing on the homeowners' desires, and occasionally adding some touches that were approved via Skype.

"It was very important to them that the house fit the land well, and we spent a lot of time balancing rooms to views toward Glacier National Park and the Whitefish ski area," Graves says. "We went out there with ladders and determined where floor levels would be, and had them on the phone so they could see where they would be standing."

The Goodfellows also wanted to make sure the home felt, well, like home. "We wanted it to feel part of the land, not like a vacation cabin, but like a home," Paul explains. Graves accomplished this by creating a variety of large open spaces for gatherings, a guest suite that's in its own wing, a "snug lounge" seating area, and a smaller dining spot for the couple when they are there alone.

When it came to building, Barinowski (at the Goodfellows' request) used as many local materials as he could. The timber-frame structure includes unique recycled wood doors, barnwood siding on one section, and stonework; the refined finishes in the kitchen feature a lot of glass to bring the outside in. "They wanted a house that resembled the West, but not in a kitschy way," Barinowski says. "It's a stronger, more masculine house, but it has some intimate details."

Cooke approached the interiors in the same fashion, focusing on Western themes while keeping it comfortable and traditional enough to feel homey. "They are very inviting, warm, compassionate people, and the house to me is just a very welcoming space," she says. "The furnishings were more traditional in the soft goods, like the sofas and chairs, but we went more modern in the plumbing and light fixtures, trying to mix some of these traditional elements with some modern elements."
It was very important to the homeowners that the timber-framed house fit the land well. The building and design team spent a lot of time balancing rooms to views.
"We wanted it to feel like a mountain lodge-type home with some modern touches," Graves adds. "We didn't get too carried away with those, but it feels like it has a nod to the contemporary without the entire house being dictated that way."
The Goodfellows have since relocated to the Netherlands for Paul's work, but they come to the Whitefish home as much as possible to unwind. Their kids have used the home as well: While biking from Texas to Alaska to raise money for a charity, their eldest daughter brought 27 members of her team to stay at the house. Their eldest son drove with 11 friends from North Carolina to Whitefish to stay for a week. And when any of the Goodfellows visit, they get in touch with the crew that made the home come together in their absence. "The Goodfellows have transitioned from being clients to great friends," Barinowski says. "We get together every time they're in town."
"Everybody who has worked on this home has been incredibly friendly and also professional craftsmen," Paul adds. "We were looking for something that felt like a home, and we definitely got that."