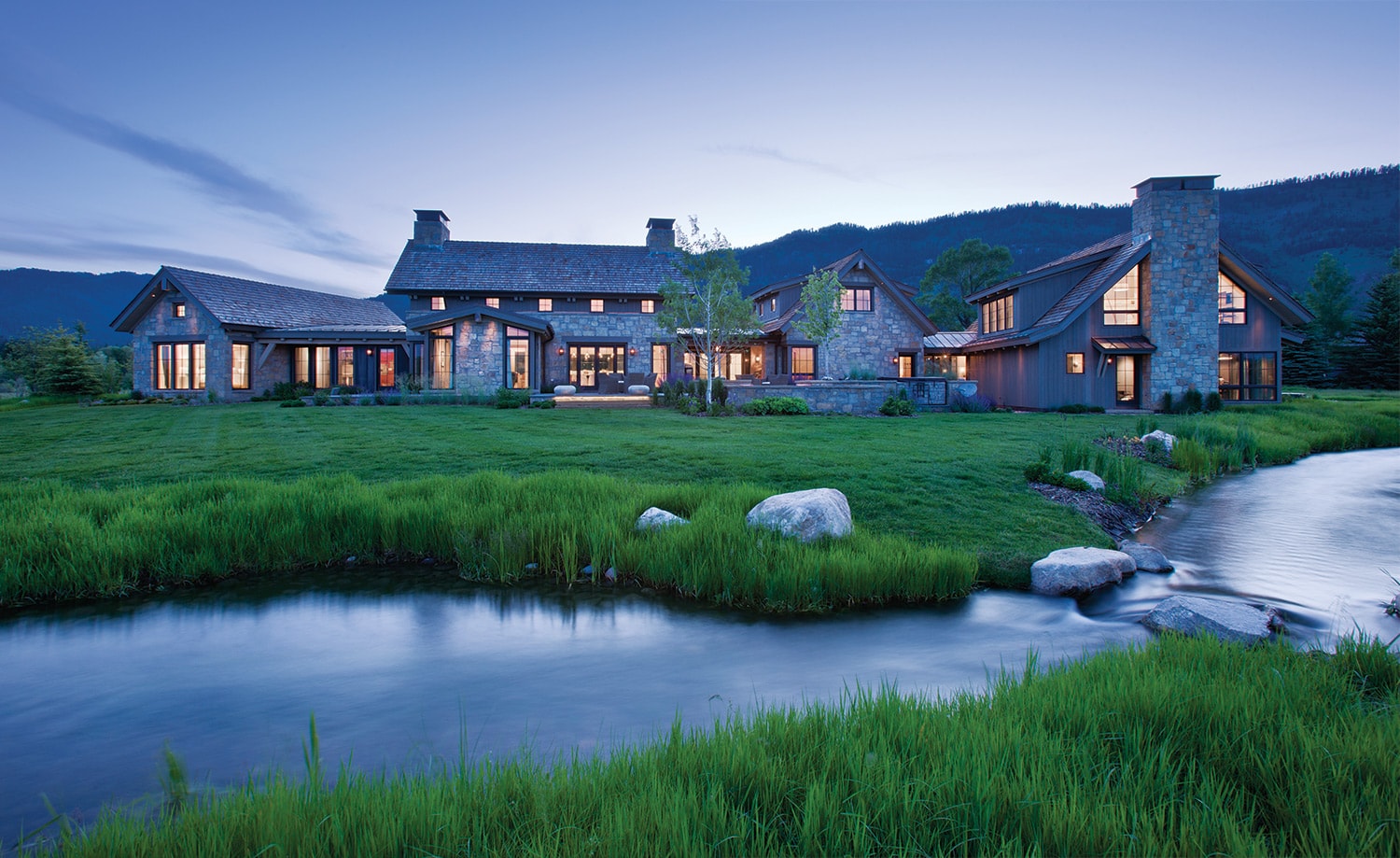 Sara and Tim Dykema's backyard sits by a stream in the shadow of the Teton Range in Wilson, Wyoming.
12 Aug

Western Design: Sibling Symmetry

in

On any given day, Jackson Hole, Wyoming-based sisters Sara Dykema and Anna Haworth might meet up at a local trailhead for a hike, at the ski area for a few runs, at a lunch spot downtown, or at Dykema's kitchen island for a chat. And typically when they're together, one thing is for sure: They're talking and laughing, exuding joyousness. When the sisters decided to simultaneously build custom homes in the area, using the same architect and builders, they brought that same joyousness to the design talk.

Anna Haworth's home is located close to downtown Jackson, Wyoming.
"We both had binders of images, and we would go through and edit and edit until we came up with a clear vision of what we both wanted," Haworth says.
"We helped each other a ton," Dykema adds. "I helped her with paint colors, she suggested where some of my windows might go. We always bounced ideas off each other, took design trips together. We have different tastes, but we could put that aside to help each other."
Dykema favors patterns, mixing and matching textures, and bold colors, while Haworth is drawn to the simplicity of neutral colors. "I like things to be more cohesive, or unified," Haworth says. "Where Sara likes patterns, I like a little sparkle."
Originally from Holland, Michigan, the sisters have always been close. But 11 years ago, after the Dykemas' 6-year-old son completed a long, successful battle against leukemia, Dykema and her husband decided the family would take a sabbatical year in Jackson to regroup. It wasn't long before they realized they weren't leaving. Then, six years ago, Haworth made the move as well.
The Dykema home includes multiple outdoor living spaces, this one centered on a fire pit to take the chill off during the evening.
The sisters each lived in different Jackson-area homes before deciding to build, and after acquiring quite different lots — Haworth's in a neighborhood close to downtown and Dykema's on 3 acres outside of town in Wilson — they started designing their homes around the same time, using Jeff Visser, of the Michigan-based J. Visser Design. Visser had previously designed two other Michigan homes for the Dykemas, most recently a lake cottage that Haworth had worked on as well. They both enjoyed working with him and appreciated his design philosophy. "He brings his own ideas to the table but also incorporates what the client wants," Haworth says.
"Jeff rounds us out as a trio," Dykema adds. "He has a lot to deal with: We're animated and loud, and he's quiet, but it doesn't seem to bother him. We're talking a hundred miles a minute and always showing him a ton of pictures."
Visser came out to see both sites, and created homes that fit the two different landscapes as well as the sisters' different personalities and lifestyle needs. "The input I got from both was that most of the houses they saw in Jackson seemed to be grandiose, big scale, and rustic," Visser says. "They liked more intimate spaces, and scale was really important to them, so we tried to capture our own unique spin on the Jackson feeling. They accomplished this in part with the use of materials — rustic lumber on the outside but a more modern flair on the inside."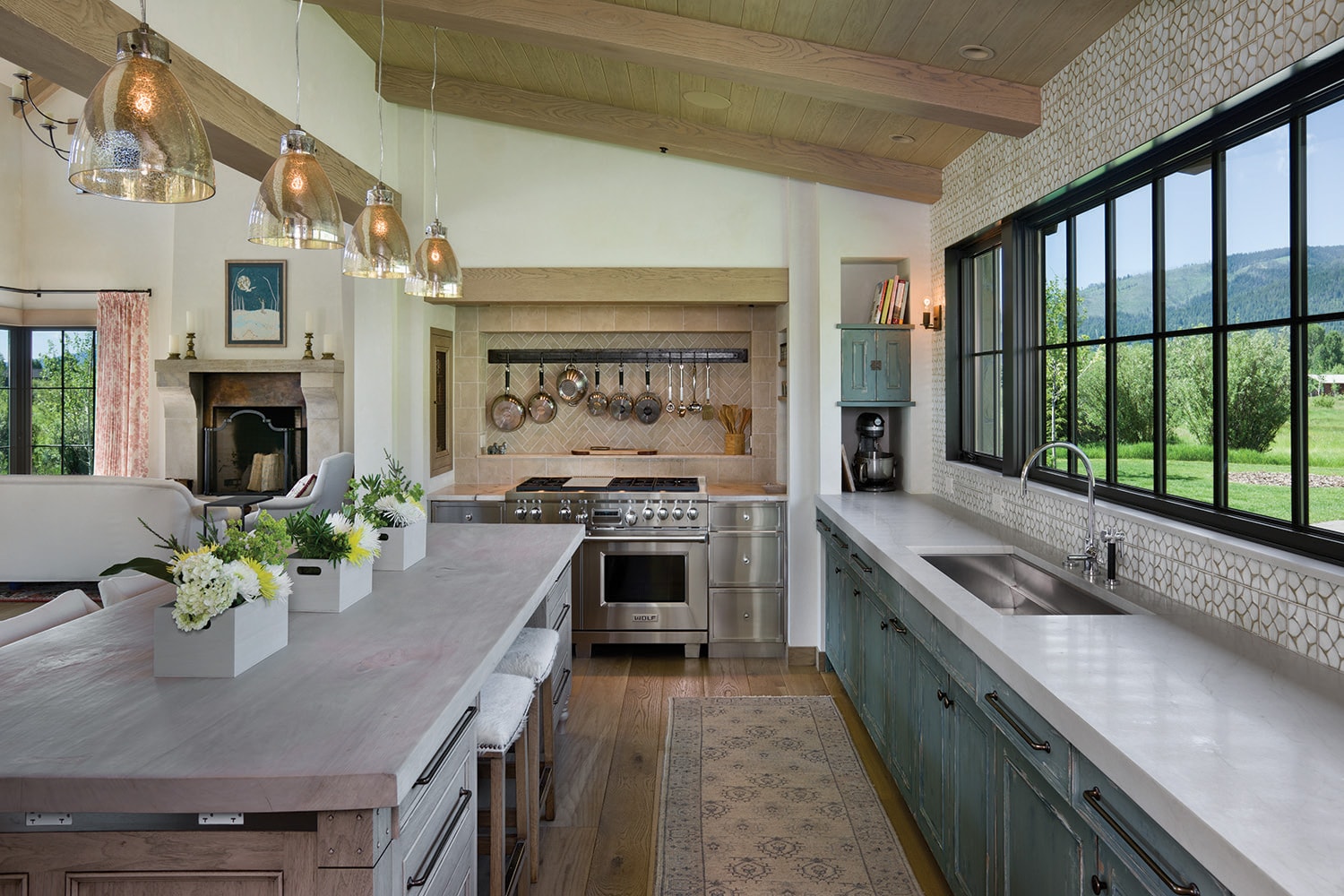 The kitchen features design and cabinetry by de Giulio Design
Because it was sited on a larger piece of property, Dykema's home was able to stretch out, featuring a central hub for the main living spaces with connected wings. "Sara's house is in a neighborhood, but we had more breathing room and a little more freedom," Visser says. "They like lots of windows, and we broke it down to buildings attached by low-pitched, copper roofs, which breaks down the mass and makes it look more intimate."
The main living space is the highlight of the house, with high, timbered ceilings and two fireplaces flanking the room, one perched above the dining area and the other in the living area. "I love the two fireplaces in the great room," Dykema says. "It's so cozy to have fires on either end."
Visser also put an emphasis on outdoor living spaces, where they turned an irrigation ditch into a meandering stream that runs by the home. "The number one thing for me was that we live in this beautiful place, and we wanted a connection to the outside," Dykema says. "There are places to sit every time of the day, and when you open the doors, it feels like the outside is part of the room."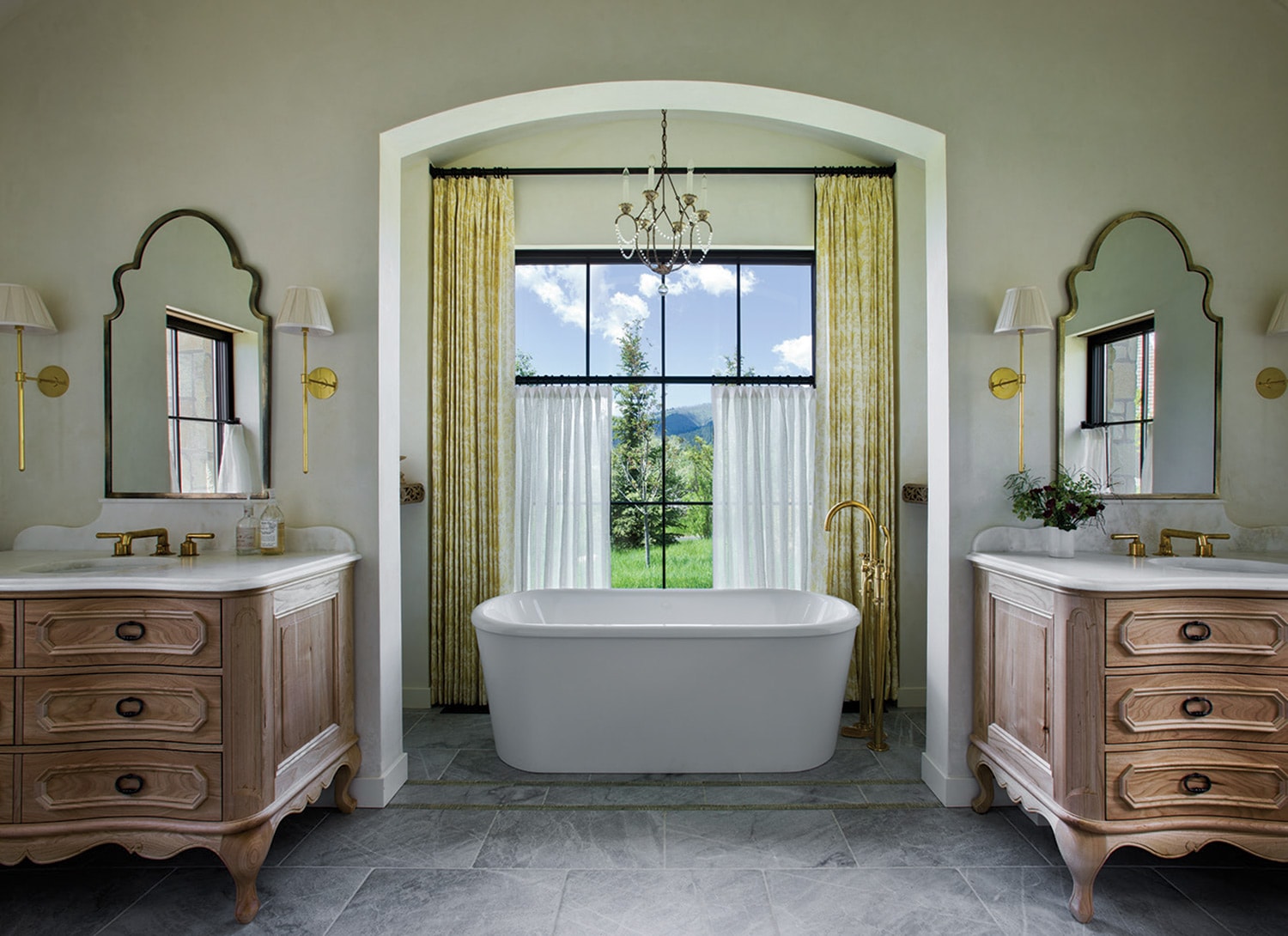 The bathroom features mountain views along with custom vanities by Benchmark Wood Studio.
Haworth's home, dictated by a smaller lot in a downtown neighborhood, was built up instead of out, with three floors, including a basement with 10-foot ceilings. "Outdoor living space was important to her too," Visser says, "and the main living space has a bit of a rustic feel with modern touches to it, primarily in the kitchen where the stainless and glass give it a bit of an edge."
The open interior accents, with whitewashed, wood plank walls, natural stone, and neutral colors, create light-filled, peaceful living spaces. "I love it. I love the natural light, I love the materials, the craftsmanship, and the thoughtfulness of the design inside and out," she says. "It just feels good, it's warm and inviting, and the land here is magical."
And while their homes are uniquely their own, they share similar qualities due to shared building philosophies. "It's the space, the natural light, the layout, taking advantage of the amazing views, framing beautiful moments like artwork," Haworth says. "Although the land called for something different in both cases, the quality and beauty is the same. We were in this process at the same time, and we were in on everything together."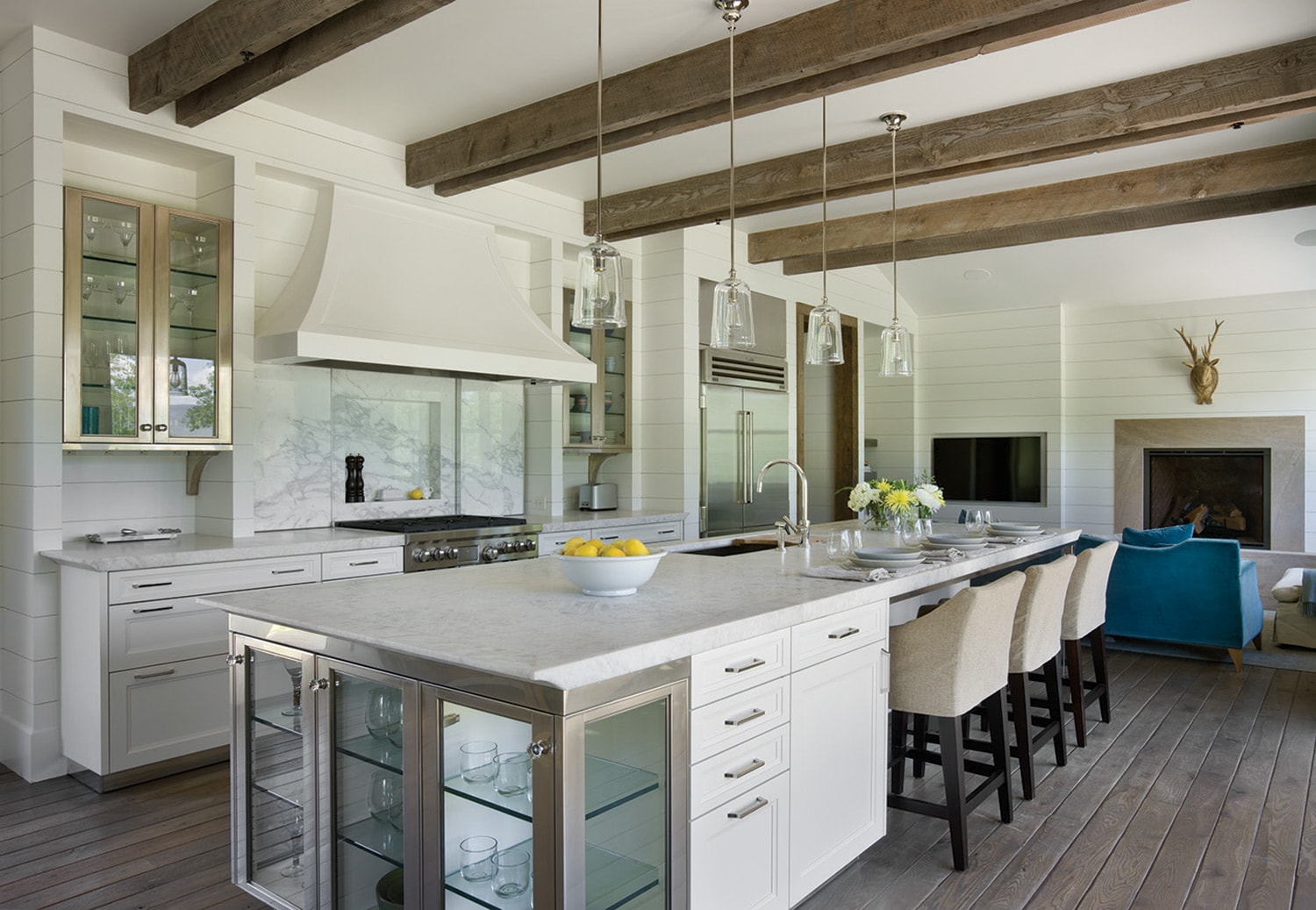 The glass and stainless steel accents give the kitchen a modern flair.
And working together clearly works. "They really feed off each other, their personalities," Visser says. "They are constantly bouncing ideas off of each other, and one idea leads to the next. Sometimes they don't go anywhere, sometimes they do, but there's a lot of energy between the two of them."
Haworth is getting ready to sell her downtown home and start on another project, one that's closer to Dykema. Not only will the two of them be able to see each other even more, they'll be able to break out the design binders and collaborate again.
"I'm so excited that she's moving closer; we'll be able to ride bikes to each other's houses," Dykema says. "And it will be fun to have another design project."
Haworth's home also includes a variety of outdoor living spaces, this one looking out toward the National Elk Refuge.
"I love collaborating with Sara," Haworth adds. "I'm excited and curious to see what will come next from our collective vision. I know for sure it will be a space filled with light, beauty, and peace, but the rest will be a great surprise!"