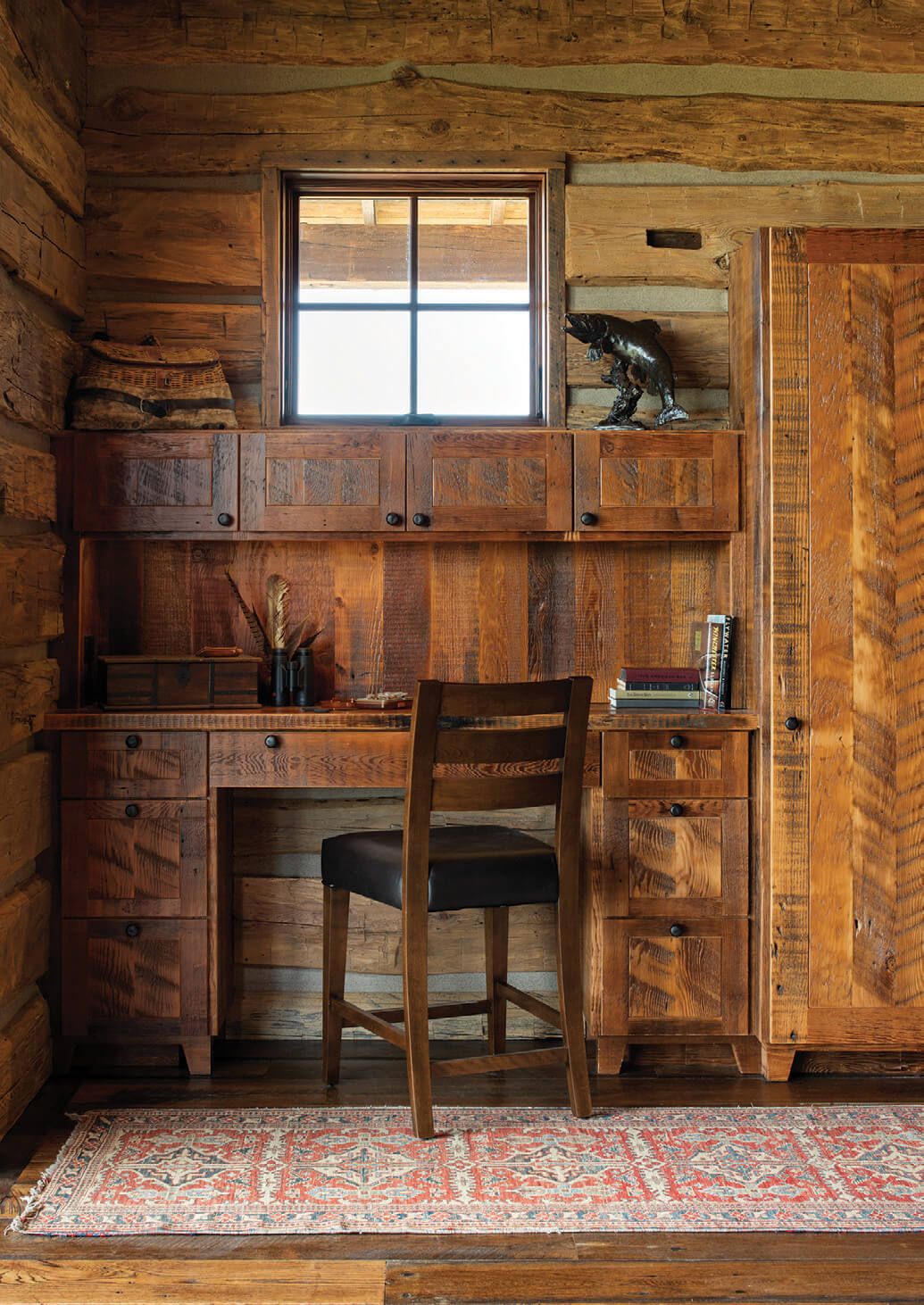 Faure Halvorsen Architects and Yellowstone Traditions worked with Michael Cooperman to build a home appropriate for the land he had owned for decades. The home is human-scaled, with interiors characterized by reclaimed wood. A Ph.D. in fisheries science and a passionate angler since his youth, Cooperman makes good use of his built-in fly-tying desk.
01 Feb

Western Design: Long Time Coming

in

Growing up in suburban New Jersey, Michael Cooperman didn't have a lot of exposure to the outdoor world. Although he started fishing young, in ponds and the ocean, it didn't become a passion until he was in his teens, reaching full fruition in his twenties. But once it took hold, it changed the trajectory of his life. "When I was 14, we took a family vacation to the Middle Fork of the Salmon River in Idaho," he recalls. "We spent five nights rafting down the river in the Frank Church-River of No Return Wilderness and whenever the boat would pull over we'd pull out spinning rods. The beauty, the experience … it was absolutely a watershed moment in my life. I just fell in love with the mountains — and the fishing."

After studying biology in college, Cooperman moved to Davis, California, where he took classes in ecology. He then followed a favorite professor to the University of Montana in Missoula, where he received a master's degree in aquatic biology. He earned a doctorate in fisheries biology at Oregon State University, then did post-doc work in British Columbia. During his time in Missoula, much of his work took place at Flathead Lake Biological Station. "I was studying with some really outstanding scientists who were extremely well known in river science and aquatic ecology and I used all my free time to go fishing. Almost every weekend I would drive somewhere and fish and camp. Here I am in Missoula, working on my master's project on the Swan River in northwest Montana, and I had the greatest commute in the world. For the whole summer, I camped along different parts of the river and every morning I'd put my kayak in the river and float to the study location. I was studying vegetation on gravel bars and small islands, using the plant patterns to reconstruct the rise and fall of floodwaters and studying what led to different plants living in different locations. I didn't always have my fishing rod with me, but many days I would fish."

Clearly, Cooperman had found his life's calling. In his late twenties, he started looking at land — studying rivers and river policy as it varied from county to county — eventually narrowing the search to the Big Hole River in southwest Montana, where he found a wildlife-rich, 160-acre property that had been carved out from a working ranch. It had sweeping views, a feeling of remoteness, and direct access to a healthy stretch of his favorite river. 

"Here was a place that had a little bit of isolation — a buffer from encroachment — and was on a section of the river with a traditional cottonwood bottomland where the river is still dynamic, with very healthy natural processes of creating new habitat. As the river shifts from one channel to another, it scours out new holes, which is great for the aquatic environment," he explains. "Young willows and cottonwoods start to grow; it's great moose habitat and beavers love them. Cottonwood trees need those river dynamics. The snowmelt flood has to come at a certain time of the year and the floodwaters need to drain at a certain rate if you want the cottonwoods to regenerate. A tiny little seed makes a tiny little seedling and the rate of [the water] dropping has to match the ability of the cottonwood roots to touch the water. Damming compromises that ecological process."

Cooperman had found his Shangri-la. First, he put a conservation easement on the land. Then, he cleared a patch of prickly-pear cactus so he could put down a sleeping bag, constructed a fire pit overlooking the river, and installed a storage shed so he didn't have to haul gear on each trip. For two and a half decades, the property served as a camping site for semi-annual visits with friends, and later with his wife and son. Eventually, though, the Coopermans realized they would be able to spend more time there as a family, and get more enjoyment out of the property, if they built a house. Once he found his team — Justin Bowland of Yellowstone Traditions and Kipp Halvorsen of Faure Halvorsen Architects — his request was straightforward: classic, appropriate, human-scaled architecture. "We said, 'Keep it simple. We don't want a grandiose monument to ourselves. We want to complement the existing beauty, not dominate it.'"

"By camping there throughout the years," says Halvorsen, "he'd developed a deep love and knowledge of the property. And as we started talking about a physical structure, it was clear he wanted it to not be overstated in the environment, just something to get out of the rain and the winds, which can be treacherous out there. A simple statement was important to him and precipitated the process from a design perspective. The structure faces southeast toward the views, while the outdoor area has views to [the] river and tracks the sun. It's pretty utilitarian and that was deliberate. The materials and forms are classic, like something that would have been done 100 years ago. We followed the same principles using natural, reclaimed, and indigenous materials. It was all about being light on the land."

The cabin is timeless, constructed of reclaimed hand-hewn timbers with notched corners and Montana moss rock with cedar-shake and rusted-metal roofing. A master suite, guest bedroom, small bunkroom, and two and a half baths offer plenty of privacy, while the kitchen, living, and dining areas open up to the outdoors. "Large pocketing glass doors take in the views to the river," says Bowland, "and when they're opened up in the summertime, you have that indoor/outdoor living scenario, which makes you feel really good. Because it's not a large cabin, it was easy to put a lot of wood into it and it's almost like a little jewelry box of wood with various texture. All the cabinets were built in our shop and it all functions. It's always nice to provide something that's unexpected and surpasses the clients' expectations. It creates another experience for them when they're there and hopefully they love it so much they want to come back."

Cooperman agrees that having a dwelling has transformed their experience of place. "It used to be this rustic, backcountry-like experience, where you fish for four or five days, there are no showers, you're camping, everything's cooked in a skillet. We went from that to an almost luxurious retreat experience overnight. Having the cabin built utterly transformed the way we enjoy it. It used to be me alone or with a couple of buddies. We'd arrive, have an ice chest with a bag of ice and a couple of six packs, and sit around the campfire. 

"Now, we can [do] that very same thing or have martinis instead, or champagne. Now, instead of standard camp food like chicken breast in a skillet, I have a full kitchen, the grill, and a fire pit and can cook any of those ways. I went 25 years loving the rustic-ness, the getaway, never thinking I wanted anything more in life. Then, we built the cabin for the sake of the family and it's opened up a realm of new possibilities."

Chase Reynolds Ewald has been writing about Western design, food, art, travel, and rustic style for more than 25 years. A consultant and freelancer, her recent books include National Outdoor Book Award winner Bison: Portrait of an Icon, her sixth collaboration with photographer Audrey Hall; Modern Americana; and At Home in the Wine Country; chasereynoldsewald.com.

Whitney Kamman is an architectural photographer based out of Bozeman, Montana. Her love for architecture came naturally growing up with an architect father and interior designer mother. Kamman's work has appeared in The Wall Street Journal, Architectural Digest, Robb Report, and Mountain Living, among others.