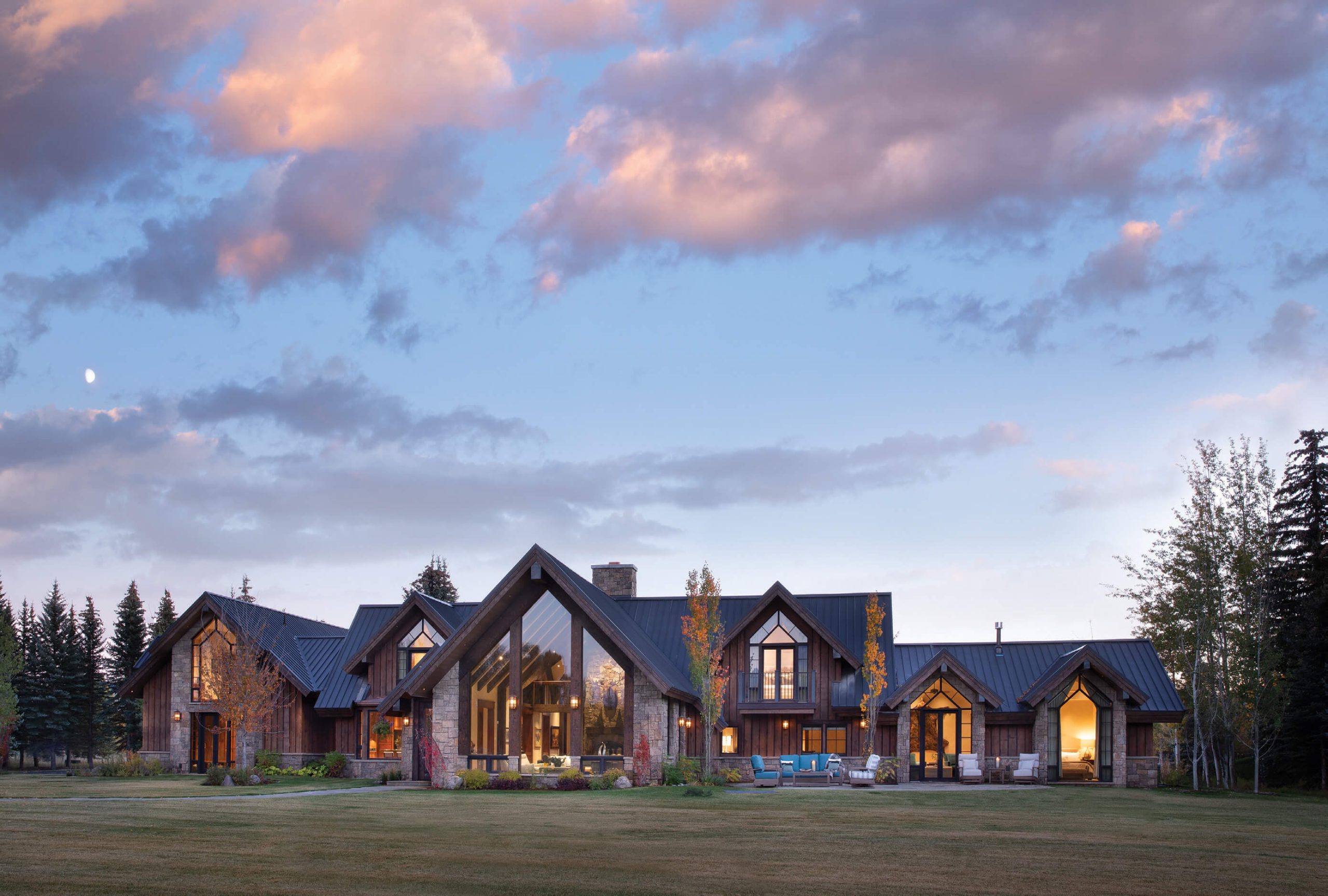 A mountain house with privacy, wildlife, and spectacular Teton views was transformed by Hanley Sayers, N2 Architecture, and MKD Construction from a 1990s-style log structure to a refined getaway for two Texas families.
29 Sep

Western Design: House of Joy

in

Architecture
N2 Architecture

Construction
MKD Construction

Interior Design
Michele McCarthy Interiors

Architecture projects can be driven by a host of factors. A project's pace might be set by a hard timeline, its scope determined by a particular program, or its structure dictated by the characteristics of the site. Some projects might be designed around an art collection or a passion for a particular hobby. For the radical renovation and reinterpretation of a house in Wyoming, however, the process was driven first and foremost by relationships. 

On the one side were two brothers — each married — one a longtime Wyoming enthusiast, the other convinced to come along on the adventure. On the other side was the project designer — a bespoke developer of a discrete number of Jackson Hole real estate projects — along with his close-knit team of builders and subcontractors and his longtime architecture collaborator who, in turn, is married to an interior designer. At the center of this network was the clients' representative, a meticulously organized administrator whose foremost role was to remind all parties of the inherent joy in the work.

And to hear them tell it, joy — along with their unique vision and disparate talents, which, combined, produced not just a remarkably successful family house, but created lasting new friendships — was what they all brought to the table.

The six-acre property included water; wildlife; a mix of open ground, aspens, and conifers; solitude; and beautiful views of the mountains. The existing structures, a 4,500-square-foot log home and guest cabin built of smaller-scale logs, were well sited and sound but were also dated, with the interiors of the main house defined by large expanses of exposed log walls. It was ripe for a makeover.

Hanley Sayers initiated the project and managed its progress and overall design. When he visited the site, he immediately saw its potential. A former finance executive with an engineering degree who settled in the Jackson area several decades ago, Sayers enjoys taking on select real estate projects for friends and acquaintances. "For me, this is a hobby," he says. "I started 25-plus years ago because I had a background in private equity and wanted to have some projects when we moved here. Also, I knew at some time I would be building my house here and wanted a bit more background. I started with high-end spec houses and built over a dozen homes. I try not to do more than one at a time, and I generally design them, including all the interior finishes."

Sayers and architect Ron Nemetz of N2 Architecture worked closely with MKD Construction. They began by adjusting the arrival sequence from the road to create an experiential journey that highlights the house. Then, they re-envisioned the structure's exterior with stone and timbers and took the interiors down to the structural log frame. They enlarged the guest house to accommodate a comfortable bedroom and functional loft, then further refined and refreshed the space. Finally, the team added outdoor entertaining areas with a firepit and patio as a destination for summer swims and evening s'mores and transformed the landscaping by adding an idyllic pond with a waterfall that draws wildlife.

The experience of the home begins with a custom artisan-crafted front door made of reclaimed wood and art glass. This opens into the great room, with its two seating areas. One is focused on Grand Teton through 27-foot-tall windows, and one is oriented toward the two-sided fireplace. The entertaining spaces include the dining room, wine room, and a wet bar with butler's pantry adjacent to the kitchen. The primary suite has its own patio, along with a private sitting room that enjoys spectacular Teton views and is accessed by a secret door from a quiet study. On the second level, another primary bedroom and a guest bedroom feature additional views. The bunkroom/playroom suite, built atop a new garage, takes a decided turn toward modern rustic with retro ski art, metal ladders, and walls covered in reclaimed wood sourced from barns back East. 

Michele McCarthy of the eponymous design firm assisted Sayers in finishing the home. "They wanted the feel to be very organic and comfortable, with somewhat modern lines but not too modern," she says. "The color scheme focused on natural colors with blues and greens. Materials are mainly stone, mohair, beautiful wood, and iron. The goal of the project was to create a serene, comfortable home for the clients to enjoy with their families."

The transformation from log cabin to transitional mountain home is complete. "The logs felt tired and needed a refresh," says Nemetz. "One wouldn't know it's a log home unless you were told. And that was important to both Hanley and the clients. Once we started on the design, it became clear the owners wanted the logs to go away and wanted more of a heavy-timbers-with-reclaimed-wood aesthetic. They wanted a more sophisticated look and feel."

"It was an interesting process designing with each of those families and Hanley having their own individual style," he adds. "My business philosophy has always been based on collaboration and respect. We really listen to what the owner is saying. We really design to the owner — or, in this case, owners. It was interesting to take five people and make the process work. The decision-making was fun, and the build was equally enjoyable." 

With constant reminders to stay focused on the positives, the team even navigated complicated decisions with serenity, says the family's administrator. "We strove for unity in all decisions, with joy being in the forefront of our agenda," she says. "It was about bringing joy, not just to the family, but to the workers, to Hanley, Ron, and Michelle, and to the people who would be enjoying [the house]. Every time I think about the beautiful home, I think about joy."

Chase Reynolds Ewald has been writing about Western design, food, art, travel, and rustic style for more than 25 years. A consultant and freelancer, her books include National Outdoor Book Award winner Bison: Portrait of an Icon, her sixth collaboration with photographer Audrey Hall; At Home in the Wine Country; and the recently released By Western Hands: Functional Art from the Heart of the West; chasereynoldsewald.com. 

Peter and Kelley Gibeon began their path of collaboration in 2003. Based in the Mountain West, this husband-and-wife duo specializes in luxury architectural and interior design photography. Featured in numerous publications, their passion for their clients and craft shines through in every frame.