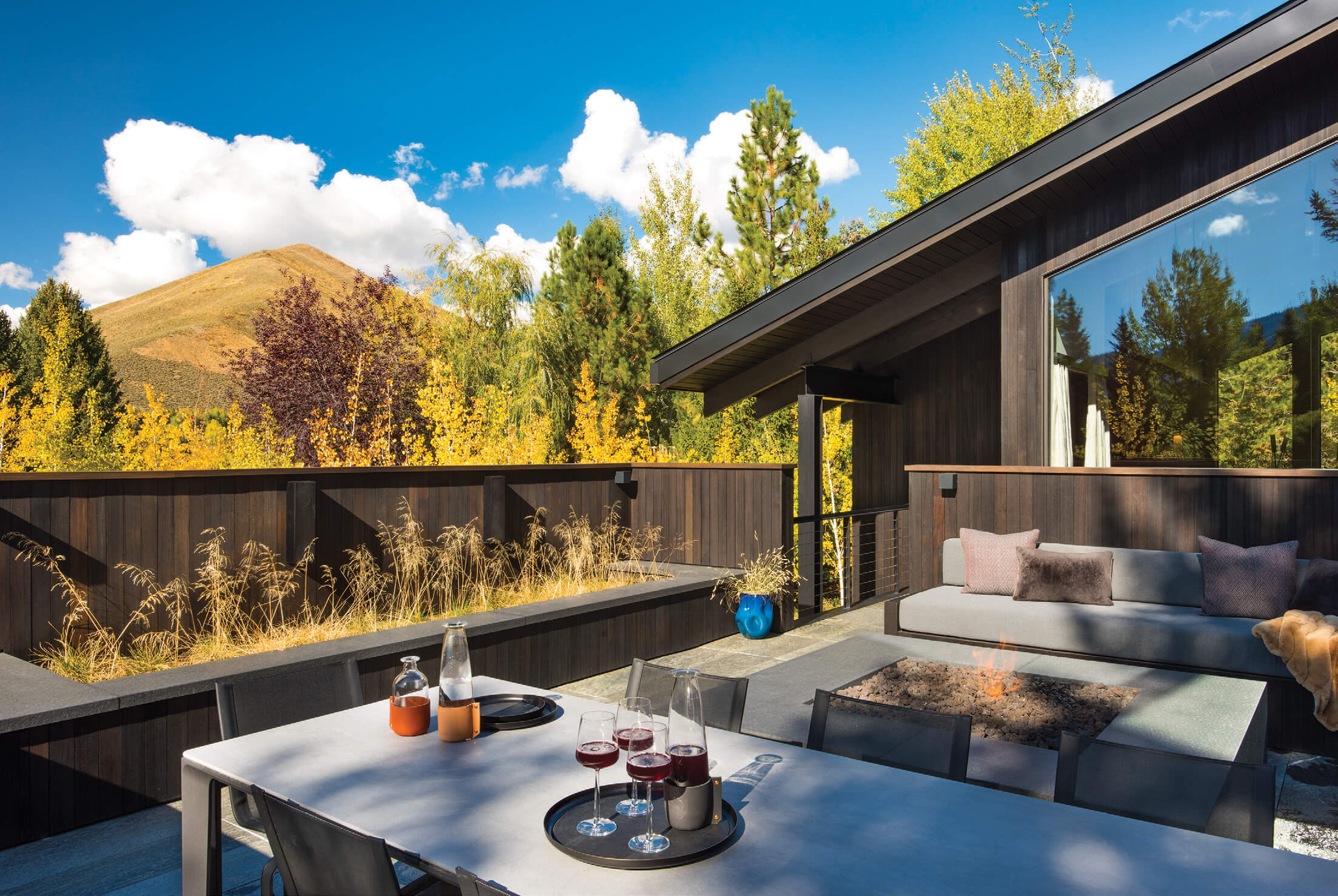 In a dramatic remodel of a 1970s-era ranch house in Sun Valley, Idaho, architect Janet Jarvis made a few big moves, including replacing the garage with a new connected structure that houses cars below and creates the family's outdoor space on its roof.
03 Aug

Western Design: Family Time in Sun Valley

in

Architecture
The Jarvis Group

Construction
Poster Construction

Interior Design
Sara Story Design

Landscape architecture
Coen + Partners

In their quest to find a mountain home with both summer and winter appeal, Candace and Charles Nelson visited ski areas in Wyoming, Montana, Idaho, and Colorado, all to no avail. But as soon as they decided to not buy property, "We opened a Sun Valley real estate magazine that showed a cool A-frame house," Candace recalls. "This was pre-COVID, and it was available for a song. As soon as we walked into the home with the realtor, we fell in love with it."

Most saw a tear-down in the low-slung, multi-level, wood-clad 1970s ranch house. But despite its dark, dated interiors, the Nelsons saw an opportunity. "The home was sunk into the ground and had berms all around it," recalls Charles. "It had too many doors and exits and too many balconies that no one used. There was too much going on that wasn't interesting, and the home needed to lift up out of the ground. [This project] was really about updating a home that was 50 years old."

The creative team included architect Janet Jarvis of The Jarvis Group, whose Sun Valley homes the Nelsons had visited and admired, and Brian Poster of his eponymous construction firm. Jarvis had transformative ideas that were immediately adopted, such as applying shou sugi ban, a Japanese burned-wood treatment, to the exterior for a contemporary look. The wall-to-wall carpet was replaced with wood floors, and windows were added on multiple levels on the east side to brighten the interiors. In the main living room, a central post was removed, and windows were installed to open up views of Bald Mountain. Jarvis also harnessed the home's unusual feature of five split levels to add a unique floating steel-and-wood staircase, which modernized the aesthetic and served as an organizing element for the interior experience. 

The biggest challenge to update, the architect says, was the red-brick 1950s-style fireplace, which starts at the lower level and rises through the house beside the new stairs, with fireplace openings on three levels. She opted to paint over the original brick with a warm color to soften its effect. However, the most dramatic architectural move involved tearing down the existing carport to build a new garage with a glass-walled walkway to the house. They established an outdoor living space on the garage roof, with a dining table, hot tub, built-in couches, and a fireplace, plus a trellis and porch that were added later. This unique outdoor space — much needed on the tight lot with nearby neighbors — is accessed from the living room and dining area through sliding glass doors to the bridge.

While the home's footprint remains the same, Jarvis reconsidered the spaces. "The house, which was built in the '70s, had good infrastructure and great views, but as we opened up each level, we discovered we could reallocate room positions by opening up interior walls," she says. "The bottom level had been a storage and playroom that we converted into a bunk and rec room for the [Nelsons'] boys. The third level became the living and dining room, with a bridge connecting the garden space on top of the garage to the main house. The entry level was restructured for two guest rooms with en-suite bathrooms. And the top floor, with new windows to the west and east capturing Bald and Proctor mountain views of Sun Valley's original ski lift, became the primary bedroom getaway."

To help craft the interior aesthetic, the owners brought in Sara Story, with whom they had previously collaborated on two homes. An enthusiastic skier, Story loves the mountain lifestyle. The Nelsons knew she understood its special considerations, especially for a young, active family. "This house is all about family time and is meant to be enjoyed with friends in an inviting and casual way," Story explains. The goal, she continues, was "to elevate the house in terms of volume and materials, capture as much natural light as possible, and select materials that enhance that. We wanted the design to cultivate an engaging and cozy environment for the family to enjoy."

The central gathering places needed to function well for dinner parties and watching sports, as well as family hang-out time and quiet activities. This was achieved with multiple seating areas that can be reconfigured for different uses. In the kitchen — a crucial space in any home, but especially in one where the wife is a cookbook author, cooking-show judge, and founder of the cupcake chain Sprinkles — Story mixed darker and lighter elements to create interest through contrast, as with the bright Moroccan tile backsplash and storm-cloud blue cabinetry. The Nelsons felt strongly about having a banquette in the kitchen. With built-in leather-upholstered seating on three sides and big windows flooding the space with light, the nook can accommodate a crowd and does so regularly. "It's where we spent all of COVID," Candace laughs.

With white walls and ceilings and a lot of neutral tones, the house relies on texture — in fabrics, upholstery, and rugs — to create a tactile environment that draws one in and creates a welcoming, cozy residence in all seasons. "We wanted it to feel a little more rustic than our city home, with comfortable chairs and a live oak table," says Candace. "It has really beautiful materiality and some color — there are blues and greens in the living room area and a fun plaid ottoman in the family room — without being too crazy. It's really more about texture. And while we have some really special pieces, we didn't want it to be too precious. We've got kids running around with snowboard boots on."

The landscaping was also a crucial consideration. The four-bedroom multi-level house is set at an angle to the road on a constrained lot. Landscape architect Shane Coen of Coen + Partners softened the Idaho quartzite pavers with grasses and planted a line of aspen trees to the road. These create a striking effect set against the dark siding — especially in the fall, when the leaves turn vibrant yellow — lending the home its own distinct look in the neighborhood.

Despite initially deciding against buying a home, Candace says they made the right move. "We use it all holiday season, a few ski weekends, and all summer, and we lived there during COVID. There's a freedom there that the kids don't get living in L.A. They can walk to Dollar Mountain with their snowboards under their arms. With the symphony, vintner's dinners, the ballet, Fourth of July festivities, and friends [on the same street], there's a built-in social life. When we bought it, we thought of it as a ski place, but we've really used it all year."

And, despite the fact that everyone said it was a tear-down, adds Charles, "We said, 'We love it.' They said, 'You're crazy.' But the house is now my favorite place in the world."

Chase Reynolds Ewald has been writing about Western design, food, art, travel, and rustic style for more than 25 years. A consultant and freelancer, her books include National Outdoor Book Award winner Bison: Portrait of an Icon, her sixth collaboration with photographer Audrey Hall; At Home in the Wine Country; and the recently released By Western Hands: Functional Art from the Heart of the West; chasereynoldsewald.com. 

Heidi Long travels the Rocky Mountains as an architectural and food photographer. Her work appears in national and regional magazines, such as Mountain Living, Cabin Living, Western Art & Architecture, and Timber Home Living. She lives in Kalispell, Montana with her two sons.