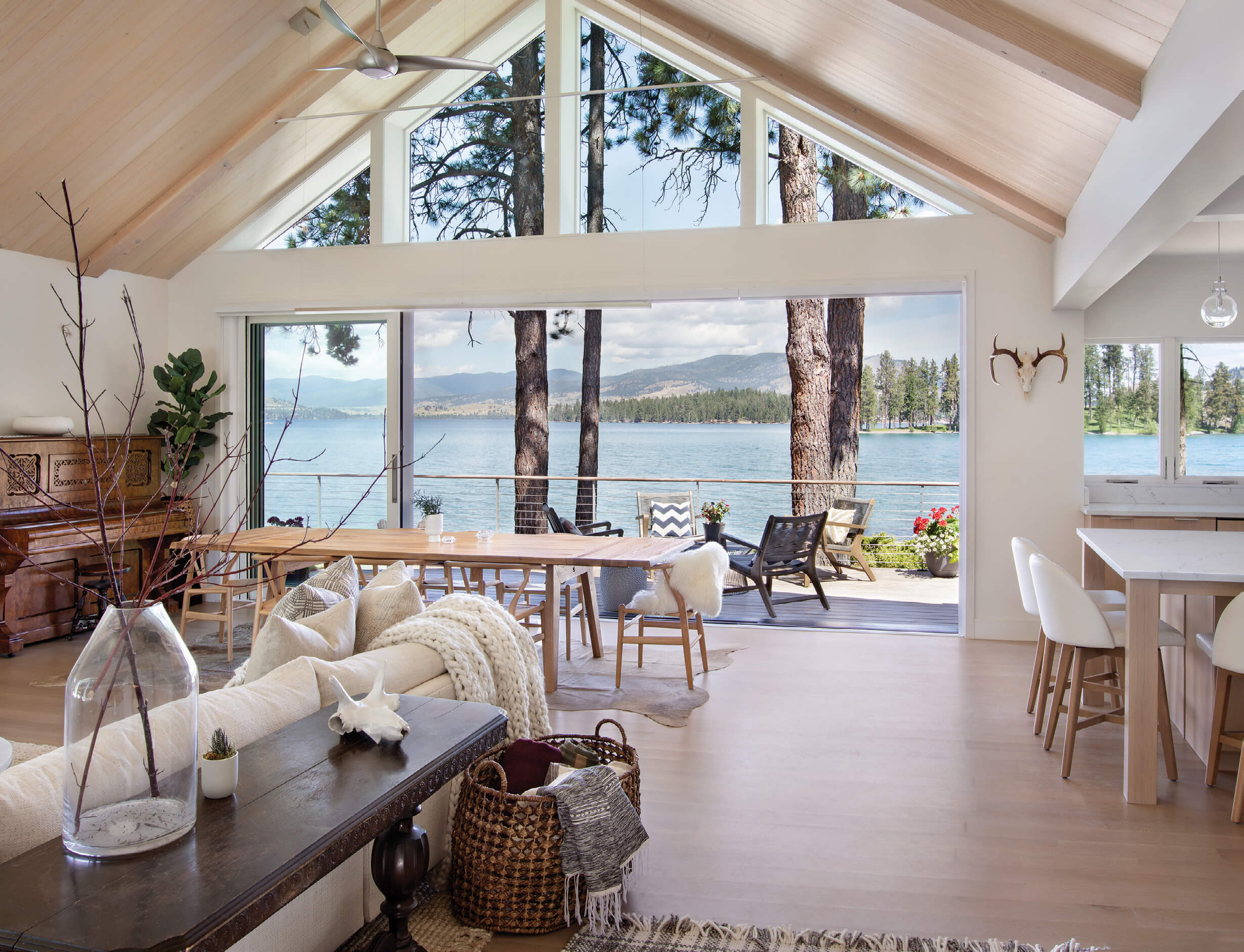 Architect Angie Lipski, of MMW Architects, dramatically transformed a late-1970s home to serve as a family getaway on Montana's Flathead Lake. In the light-filled living area, she paired a table from Article with reproduction wishbone chairs. The light-colored oak flooring contrasts with a piano from the 1850s and an antique console that was inherited from her grandmother. The ceramic antelope skull was made by Lipski's husband, Dean Johnson.
07 Jun

Western Design: Endless Summer on Flathead Lake

in

When Angie Lipski was a child, she spent every summer weekend, along with her parents and brother, at her grandmother's house on the shores of Flathead Lake in northwest Montana. As a result, she says, life at the lake "embodies a lot of my happiest memories. We'd pack up to leave on Friday at 5 and come back at 6 on Sunday. Once there, my brother and I would be entertained all day by basically four things: the water, a raft, a fishing pole, and a bike. And maybe lawn darts."

As a graduate student in architecture at the University of Washington, Lipski wrote her thesis on how to create experiential spaces by engaging the five senses — plus the sixth sense of kinesthetic movement — to generate lasting memories. So it's only natural that when she had the opportunity to re-envision an existing home on the shores of Flathead Lake — a quarter-mile from her grandmother's and in the same island-dotted bay — she seized it. This one would be for her own immediate family, and her goals were for the home to celebrate the lake experience, engage all of the senses, and combine a minimalist palette with hygge-inspired elements, such as coziness and conviviality.

The couple was not in the market when Lipski's husband suggested they look at the nearby home, and as a full-time architect with 11-month-old twins, her initial reaction was to ignore the idea. But once she saw it, she was sold. The property had 400 feet of shorefront, and — positioned to face north and west at the opening of Big Arm Bay on the west side of the lake — it was sheltered from the elements. Best of all, it faced three nearby islands: a diminutive private island, a boy scout camp, and a state park known for its wild horses.

The original structure was a 2,000- square-foot, one-level ranch house with a bland exterior and a dark interior with an odd, cut-up layout. According to Lipski, it was "hermetically sealed from 1978," but the positioning of the gathering spaces and bedrooms made sense, and she was able to adhere to the home's original footprint in the resulting design.

Lipski's big changes included removing extra doors from the facade of the house and clarifying the entry sequence; recapturing space from an externally accessed storage compartment to create a bunk room; and rotating the orientation of the main room 90 degrees, partly to get rid of a row of clerestory windows, but mostly so that the gabled end's full wall of glass could frame the view. There, a 20-foot-wide glass door — with a corresponding retractable screen and glass windows above it — doubles as the gathering space and unifies the interior and exterior.

The exterior was transformed: The khaki-colored lap siding, heavy eaves, and brown-painted window trim were refreshed through the use of vertical cedar planks and a roof that's free of overhangs. The dark interiors were lightened up through the use of trimless windows, ceilings of whitewashed pine, and white oak floors, cabinets, and doors that were lightly stained to align with the color of the bark on the Ponderosa pines that are just outside the door.

"I wanted an organic, modern feel and a sense of holistic-ness," says the architect. Accordingly, she chose lighting that was either glassy or slim in profile and restored the fireplace for a cleaner look. When it came to the landscaping, Lipski chose a variety of plants with different heights, textures, and leaf shapes, but they all bloom with white flowers. "It's a project of purposeful restraint," she explains. "It's all about the landscape and the lake being the thing."

While raising their children, Lipski and her husband now follow the same rhythms her family did when she was growing up. Every Friday throughout the summer, they head to the lake from their home base in Missoula and rarely get back in the car until late afternoon on Sunday. And she deliberately made the house Wi-Fi and cable-free. "We go to be serene; we go to sink into this place," she says. "We've modernized but have tried to keep the soul and the essence for our family."

Chase Reynolds Ewald has been writing about Western design, food, art, travel, craftsmanship, and rustic style for more than 25 years. Bison: Portrait of an Icon, her 12th book and sixth collaboration with photographer Audrey Hall, was released in March 2021, and her book Modern Americana, with designer Max Humphrey, was released in April; chasereynoldsewald.com.

 Peter and Kelley Gibeon began their path of collaboration in 2003. Based in the Mountain West, this husband-and-wife duo specializes in luxury architectural and interior design photography. Featured in numerous publications, their passion for their clients and craft shines through in every frame.