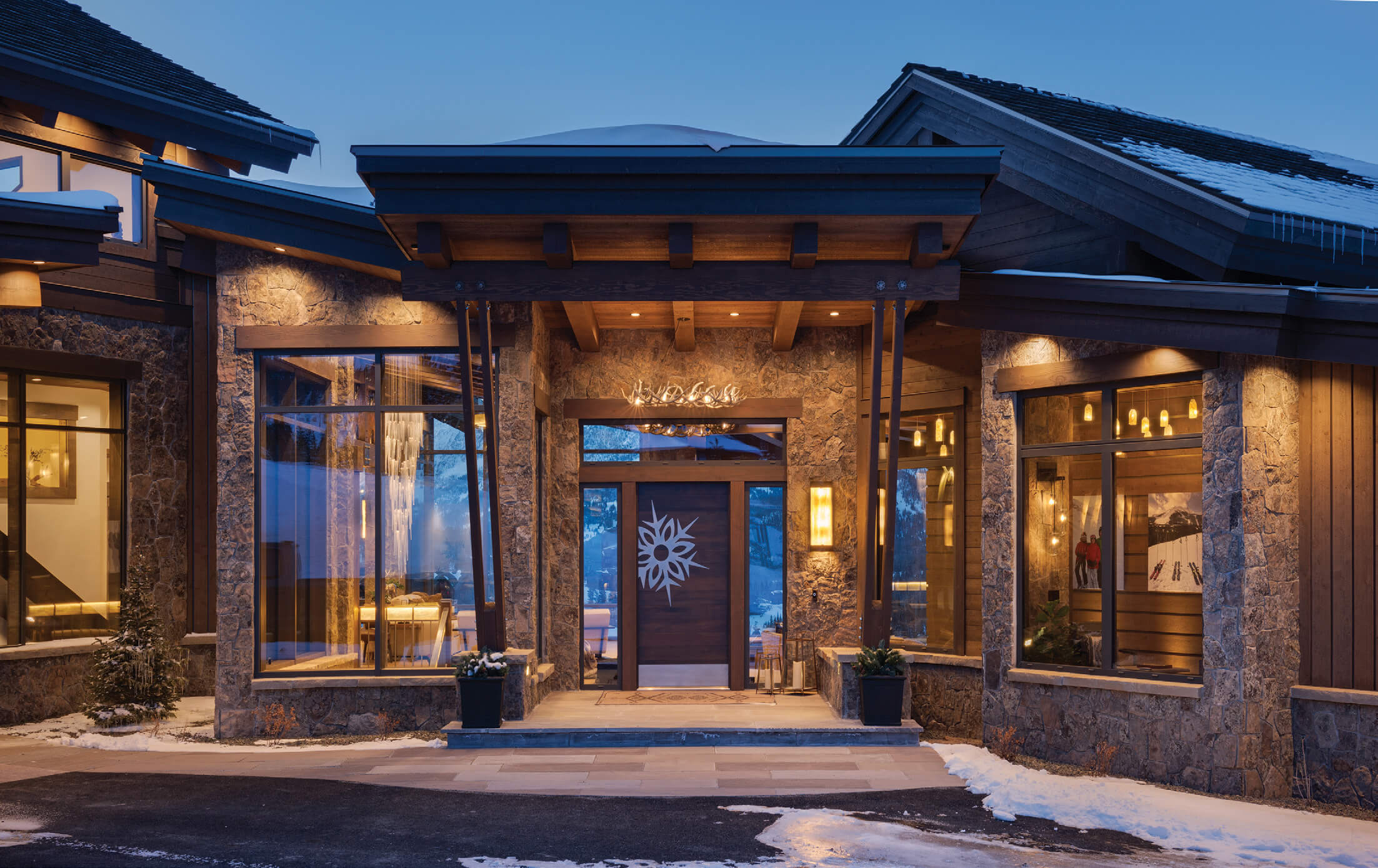 While dreaming of and building their stone-and-timber home in Big Sky, Montana, Jon and Jill Serbousek went above and beyond in their attention to detail and pursuit of originality. The front door, says Jill, "is the first thing people see when they drive up to the house. It is high impact. The stone, fir trusses, glass, and steel snowflake give the house an awe-inspiring introduction. I sketched a rendition of the front door and Stephan Schmidt of Schmidt Furniture built it in his shop in Indiana out of steel and black walnut. He used the CAD drawing from the snowflake washers [used throughout the house] to get the identical shape in the large size."
24 Nov

Western Design: Detail and Drama

in

Architect/Engineer
DCI Engineers

Builder
Clear Creek Developing

When used in the context of new construction, "attention to detail" is a catchphrase that, at its most basic, refers to quality of craftsmanship and careful adherence to plans. Taken further, it extends from the macro — form, functionality, durability, aesthetic — to the micro. For a new home in Big Sky, Montana, that attention was taken to its utmost extreme, with the builder and owners working hand-in-hand on every facet of design, from buying a Midwestern walnut grove for the custom interior woodwork to sketching original designs for precision-cut metal washers that would hold the timber structure together.

To call this a passion project would be an understatement. But for Jon and Jill Serbousek, this home was much more than a vacation destination. Both had multigenerational family connections in Montana. Jon had grown up hunting, fishing, hiking, and skiing throughout western Montana. Jill spent many of her childhood Thanksgivings at Point of Rocks Lodge (now Dome Mountain Ranch) outside of Livingston with her extended family, including her mother's cousin, a hunting guide who had married the niece of one of Paradise Valley's original homesteaders. Montana has been the Serbousek family's most consistent through-line over the course of numerous career relocations. They started skiing Big Sky when the resort opened in the late 1970s, and have owned a home there for 20 years — about the same length of time they've been keeping an inspiration folder for their Montana dream home.

When the couple felt the time was right for a more permanent (and ultimately full-time) residence, their first step when viewing a property was to ski to it, and the driving force was location — for views and for skiing, in equal measure. (In fact, once they found the right property, the process of siting the house began with the placement of the ski room.) The property they chose is quiet yet convenient, ideal for ski-in/ski-out access and shielded from its neighbors by its design, situation, and topography. "The house sits in a really unique position at 8,000 feet facing north to the Spanish Peaks," says Kyle Lanier of design/build firm Clear Creek Developing. "The views are forever — down valley, up valley — and include the alpenglow [at the end of the day]. We placed the house so that, as you walk through, there are massive views that go from one end to another and can be seen from every part of the house. And in the morning, you can look right up Challenger (a run at Big Sky Resort) and see the fresh powder. It's just beautiful."

Together, Lanier and the owners (engineers and designers who each hold scores of patents) designed the house, a 9,000-square-foot structure of Montana moss rock, timber, cedar, and glass, with a roof of standing-seam metal and composite cedar shakes that extends over three stories. The drama of the home is evident from the entrance. A visitor enters a space anchored by four large chairs and defined by floor-to-ceiling windows arrayed in a curve to take in the full impact of the panoramic view. The room divides the home, with the primary and junior suites to the right, and the living room, dining room, kitchen, butler's pantry, and entertaining deck to the left. From the main level, a central staircase descends to a rec room, bar, wine room, bunkroom, movie theater, gym, spa, ski room, laundry room, guest suite, and spacious patio with firepit. On the west side of the residence, an upper level houses the daughter's suite and an office aerie with monumental views that both inspire and impede work.

Throughout the home, one-of-a-kind details abound. During the build, the Serbouseks purchased a walnut grove in Indiana; they kept Amish woodworker Stephan Schmidt busy for months building doors (including several sets of live-edge doors that hang on metal track systems), cabinetry, stair treads, wainscotting, and numerous pieces of custom furniture. Local manufacturer Carl Pearson, of IronGlass Lighting, worked on projects large and small, from lighting to custom railings. Sunrise Metals, in Topeka, Indiana, made the range hood in the kitchen and metal panels fronting the bar. A foundational space became the "ATF Room," a wine cellar also used for storing cigars and firearms. The space has a stone floor, tumbled brick walls, and a custom 3-inch-thick door with an inset laser-cut snowflake that lights up to show altitude and the exact coordinates of the location. When the couple heard that Big Sky Resort was getting rid of some old chair lifts, they quickly moved to acquire several. After cleaning them up and powder coating them, they hung one from the ceiling of their daughter's bedroom and placed the others outside.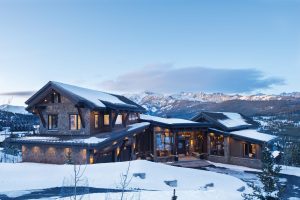 This is a project in which creativity was given full rein. "We did a whole wall of trail maps in the bunkroom," says Jill. "We did a lot of that kind of stuff. Honestly, if you're clever about it, a lot of things are really not that expensive to do. You just have to know how to do them and how to source things. Just working with people and being creative is how it all comes together."
One of the most notable achievements is the lighting, almost exclusively custom hand blown and featuring many statement pieces, such as the icicle chandelier that consists of 140 artisan glass pieces. "I had so much fun with the lighting," Jill continues. "Carl Pearson is super creative. He would design things, I would design things, and we would get together and design. For the kitchen fixture over the island, we put sticks together and hung them, then decided where to hang the hand-blown glass balls, and then determined which metal pieces should be hammered. I sketched the icicle light three times before we got it right. We had to sit down and invent how we were going to hang it. In the end, it was very simple; we hung the lowest one in the middle first, then hung the rest around that in a circle."
Lanier also freely uses the word "fun" to describe the process. "Every detail — like the snowflake washers used on the timbers — was thought through," he explains. "We didn't stop. Every day we designed new things and everything morphed constantly. We'd look through magazines and change it up. It was a really great project, because we did a lot of one-off things I've never seen in jobs before."
For the Serbouseks, who spend most of the winter in Montana, the home has not only met their expectations, but yielded some surprises. One evening, while watching a particularly beautiful alpenglow from their dining room, they discovered that they could see the top of Dome Mountain, the same mountain the wife's cousin had guided on, the place her family had flocked to every Thanksgiving of her childhood. No wonder it feels like home.
Chase Reynolds Ewald has been writing about Western design, food, art, travel, and rustic style for more than 25 years. A consultant and freelancer, her recent books include National Outdoor Book Award winner Bison: Portrait of an Icon, her sixth collaboration with photographer Audrey Hall; Modern Americana; and At Home in the Wine Country; chasereynoldsewald.com.
Whitney Kamman is an architectural photographer based out of Bozeman, Montana. Her love for architecture came naturally growing up with an architect father and interior designer mother. Kamman's work has appeared in The Wall Street Journal, Architectural Digest, Robb Report, and Mountain Living, among others.