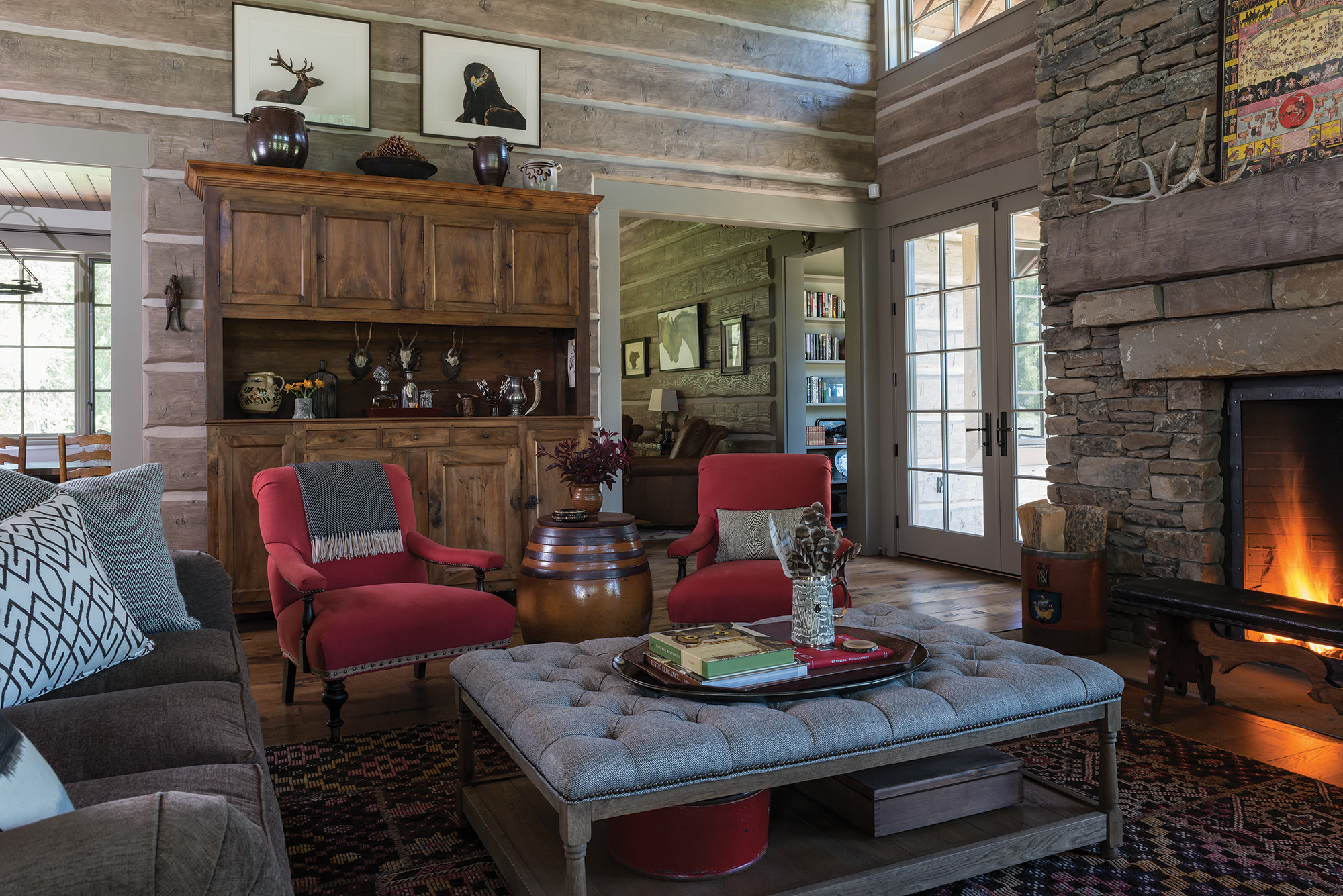 25 Jul

Western Design: Back to Nature

in
---
With a laid-back, Southern drawl and a casual, easygoing laugh, Mary Hayes talks about the experience of building her family's second home in Jackson Hole, Wyoming, with the kind of exuberance you rarely hear in descriptions of such endeavors. In an undertaking that many would find quite exhausting, Hayes found unexpected enjoyment. She delighted in the painstaking details — picking out the lighting, fixtures, art, and furnishings for each room, deliberating over the color of the logs. When she moved in, even before the kitchen was complete, she relished getting to know the artisans still working on the house even while watching it all come together.
"It was absolutely one of the most fun things I've ever done," Hayes says. "I was almost sorry when it was over. It was great to move in, but it was a joy to watch it unfold."
Hayes, her husband, Bill, and their four children fell in love with Jackson in the '90s when they came out West from their Houston, Texas, home to stay with friends. With no intention of building their own, the couple started looking at homes in 2011, but many just didn't fit the family's needs and casual sensibilities. They wanted five to six bedrooms, but not a sprawling structure, which was commonplace in resort towns. "We looked at 40 homes, but all the ones with that many bedrooms were enormous. They had media rooms and things like that; it was just not us."
They stumbled upon a neighborhood in the valley that made Hayes swoon. The homes were more modest and laid back, and a cottonwood forest offered a sense of privacy. Instead of sweeping Teton views and an immense house, they opted for intimacy. "We looked at a lot of homes with magnificent views, but many were wide open, and I felt naked," she says. "Every time you get in the car or on your bike around here you see the Tetons, so that just wasn't important to us."
Hayes and her family found their ideal home in this neighborhood, and when the deal fell through, she couldn't picture herself anywhere else. The lot across the street was for sale, and they knew it was time to build. They called on the same architects who had built the one they almost bought, working with Kevin Burke of Jackson-based Carney Logan Burke Architects. "We wanted someone local," Hayes says, "and we knew they had a great reputation. We met with them, and it was an instant fit."
"They loved the house we designed across the street, and at first they wanted us to replicate it," Burke explains. "We typically design homes that are custom, tailored to how you want to live. The more we got into it, the more they embraced that idea, and in the end they really did want something custom."
The couple was interested in a log home, something casual to blend into the treed surroundings and fit the mountain-town feeling. And a structure that looked like it had been around for a while. Burke had something else in mind.
"Teton County has adopted a stringent energy code that makes it hard to create the old-style log home," Burke explains, "because stacked logs can lead to air leakage and heat loss." Instead, they incorporated traditional logs, but framed all the exterior walls with standard wall construction. "The construction you see looks like a traditional log package, but it's fully insulated," Burke says. "There's a little trickery there in the aesthetic; they get a highly performing thermal envelope but they're not saddled with the issues of a traditional log house."
The Hayeses opted for gray, hand-hewn logs that were complemented by a Montana moss stone chimney and cedar shakes that will eventually turn gray. "The logs look like they were carved 100 years ago," she says. "It's sort of the color of the cottonwood bark, so we're almost camouflaged."
The architects also spent time deciding how to place the home. "Although it's close to the ski resort, it was in a subdivision with no views of the Tetons," Burke says. "So it became an internal study about how to create some privacy without having the obvious views." They decided to focus on an internalized concept of outdoor living spaces with the help of Jackson-based landscape design company Agrostis.
"In that area in the valley, there are old remnant channels of the Snake River that wind through, and when the levees got built they turned into low points," explains Agrostis partner Heath Kuszak. "We were able to use the existing topography to reintroduce water to the system."
Kuszak's partner, Jason Snider, explains that they, along with the architects, also had to consider where to put the house so it kept the existing cottonwood forest character. "We oriented the outdoor spaces toward the sun, but with more of an internal focus oriented around the water features that we built," Snider says. "That way they can look across the water and into the edge of the forest."
When it came to designing the home, Hayes jumped in with enthusiasm. As an interior designer for a number of years in Houston, she had a well-honed design sense. "My philosophy was that if I saw something I liked, I didn't stop to think where I'd put it; I just knew I'd make it work," she laughs. The end result is what she describes as "traditional rustic, but not too heavy." She mixes antiques and collectibles with newer pieces, and even some she designed herself, including the creative alpine-style headboard in the master bedroom and the twin headboards made out of cowhide in another bedroom.
The artwork is mostly from local galleries. "Most of the time we didn't go art shopping, it would just happen," she explains. "We had a large wall in the great room with high ceilings, and we fell in love with a five-by-six painting of a stream with snowbanks. It almost looks like a window up there." In the dining room, they've hung a collection of small paintings, many of which they found in the area.
Hayes spends the entire summer in the Jackson home, away from the Houston heat, and Bill comes out often. Their kids, including two grandkids, visit a couple of times a year. "They all love it up here, they love to ski and hike; they think they've died and gone to heaven," she laughs.
The simplicity and intimacy of the home suits the whole family. "It's casual, it's easy to live in, and you can put your feet up on furniture," she says. "I like the feeling of being surrounded by trees. This morning, I spent an hour in my pajamas walking around picking wildflowers; it's in a neighborhood, but you feel like you're all alone in the woods."