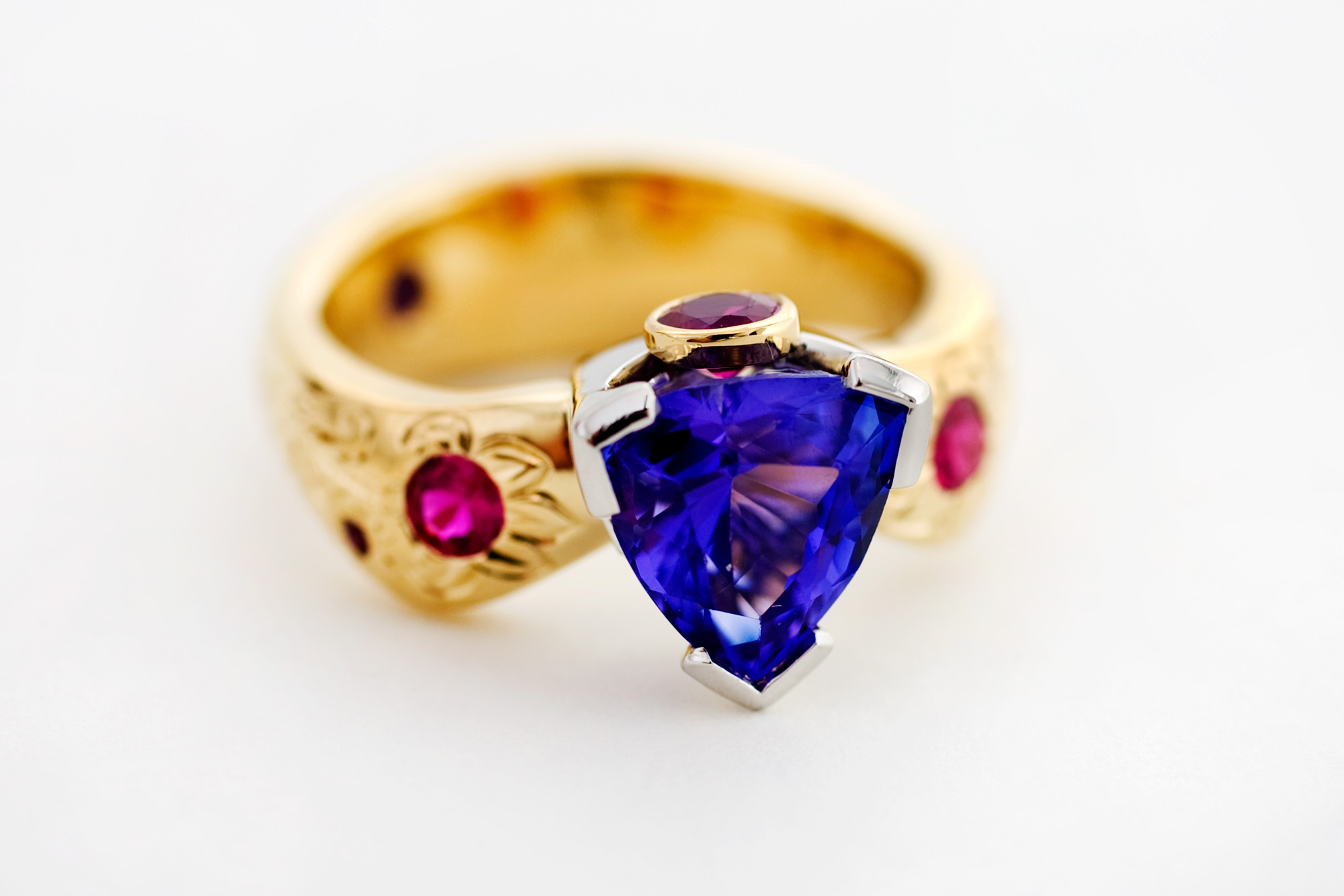 15 Jul

Wearable Art: Elichai

in
Worldly Design: Elichai
Written by Nancy Kessler  •  Photography by Charlie Eubank
"Jewelry is an emotional conduit, a form of communication," says Elichai, owner of the self-named gallery in Livingston, Mont. "I make things that embody the people who wear them, and the emotions of the giver, whether they're saying thank you, we love you, you're beautiful."
Elichai uses only his first name, which means "God is life" in Hebrew, making him as distinctive as his creations.
"Without God we're nothing," said Elichai. "God gives us our strength and our talent."
He has pursued his artistic talent since childhood, and still draws every piece he builds. Born in Billings, he moved to Honduras at age 9 with his missionary parents, where he was introduced to wood carving and discovered his passion for engraving. He returned to Montana for college at MSU studying languages and art, and apprenticed with Don Baide of The Gem Gallery. Since then, he has received many awards for his work, including first place for High Quality Jewelry Design at the Jewelers Association Show in New York City.
"I've been training in the trade ever since," he said. "I place a premium on training. Now I hire people to come here to train me."
Although he speaks three languages, has lived all over the globe, and his clients come from as far away as Singapore, Japan, Belgium and Indonesia, Elichai returned to Montana for the inspiration he derives from the mountains, lakes and wildlife. He opened his Livingston boutique six years ago, and a studio in Billings opens this month by appointment only.
Elichai has designed more than 1,500 hand-engraved and decorated pieces, almost all on commission. He works with all gemstones and in all precious metals, but is partial to rose gold, platinum and palladium.
"I really love Yogo sapphires, especially purple sapphires," he added. "But I have a deep appreciation for colored diamonds from Australia and fair trade Sirius Star diamonds from Canada. My passion is ultra-fine colored stones from around the world."
His unique jewelry and other fine accessories, like knives and watches, have considerable depth and intricate ornamentation, as well as another unusual aspect. He is one of the few local jewelers who incorporates cabochon-cut gems, with rounded tops and no facets, or rough, uncut and unpolished stones in his work. And each piece of his own design contains a signature secret element, most often a Yogo sapphire, hidden from view of everyone but the owner.
"All of these pieces have stories," he said. "That's why I add a hidden element. Each piece is connected to the person who owns it. If it's not loved and being worn, I didn't do my job."
Believing that jewelry should be made to last and to be comfortable, Elichai will spend hours with a client helping to bring their desired conception to fruition so that it becomes a family heirloom. He gives the same attention and hospitality to everyone, he said, whether they want a simple piece or something that will cost many thousands of dollars. "People are valuable," he said. "I want to listen and design what they want. Jewelry is not made to be stored in a safe. I like to make things people can enjoy all day long."
---
Elemental Beauty: Stephen Isley Jewelry
Written by Alethea Schaus • Photography by Audrey Hall
Imagine wearing a treasure inspired by the elemental beauty of Montana. Working as a collaborative team, Stephen Isley and Cindy Just create some of the finest jewelry in the world, containing exquisite natural gems and metals, custom designed and handcrafted at their gallery in downtown Whitefish. Stephen Isley Jewelry serves collectors near and far, and specializes in jewelry featuring rare Montana Yogo Sapphires.
The two artists have been creating together for over 20 years. They met while working — he as a jeweler and she as an apprentice silversmith and designer for a different jeweler.
"It was pretty much love at first sight," they agree. "We've been sharing it all together ever since."
In those days, they designed custom pieces and traveled extensively for art shows. Over the years, their success afforded them enough leverage to purchase and design with Montana sapphires. They maintain long-term relationships with two sapphire mines in Montana — Rock Creek Mine in the southwest and Yogo Gulch in the state's centrally-located Little Belt Mountains.
"We handpick all of our stones," says Stephen. "Yogo sapphires are the very finest around; they aren't enhanced in any way, and they're created by the earth right here in Montana."
With 30 years of experience, Isley is a master jeweler. He moved to Montana in the 1970s, building his jewelry business within the local community and developing a loyal following on the art show circuit.
As the couple worked with more precious metals and gems, they felt the timing was right to open the Whitefish store. They were ready to phase out their traveling, which, while fun and lucrative, was taxing. After years of setting up and taking down the tents and display cases, they donated them to Stumptown Art Studio, a local creative hub for all ages, just down the block. They focused their business on Yogo sapphire designs.
"Our business skyrocketed when we began working with native stones," says Isley.
Stephen and Cindy worked closely over the years with Mike Roberts, previous owner and operator of the Yogo sapphire mine in central Montana, who recently passed away. The couple first met Roberts when they donated jewelry for a local Special Olympics benefit with which he was involved. They were also able to take a memorable several-day tour of the mine a few years ago.
"He walked in to the store, clomping in with muddy boots, and we had no idea who he was," they recall. "We started talking and were delighted to finally meet him — we were friends from that moment on and he will be dearly missed."
The couple's design sensibilities are complementary, and many pieces are collaborative. They refer to their work as "uncomplicated, architecturally-driven, and timeless."
After beginning with hand-rendered drawings, each custom piece is crafted through one of three possible processes: lost-wax casting, hand forging, or CAD CAM (computer assisted modeling). Stephen learned the CAD CAM program at the local community college a few years ago, and enjoys the added dimension it brings to the process. Complementary to the older world techniques, computer modeling allows clients to see a 3D model of their jewelry before work begins. The couple works in the store every week, creating jewelry, running the business, and visiting with customers in the gallery.
At Stephen Isley Jewelry, relationships are just as valuable as the beautiful creations rendered by Isley and Just. A visit to the gallery reveals that their inspired custom jewelry and regional finery aren't the only treasures you'll find.
Native Stone: The Gem Gallery
Written by Nancy Kessler
Don Baide, owner of The Gem Gallery in Bozeman, thinks Yogo sapphires are the most perfect gemstones in the world.
"They have the best color, clarity, purity and rarity," said Baide. "They are totally natural. Unlike other sapphires they don't need heat to bring out their color. They're so unique in terms of gemology, so different, because they grow differently. They have perfect crystallization."
A jewelry designer for more than 35 years, Baide is fascinated by the variations in Yogo colors — from shades of blue through purple to violet — as well as how they were created geologically. He has mined for the gemstones himself, 360 feet underground in Montana's Little Belt Mountains.
A fourth generation Montana native, Baide was introduced to the world of sapphires as a child by an older cousin. He learned to cut agates, moved on to faceting sapphires, "and there was no turning back," he said. Joining his interests in science and art, he studied fine arts and metalsmithing at Montana State University in Bozeman, and made his first piece of sapphire jewelry back in the '70s, a Yogo pendant for his mother.
Thousands of pieces later, Baide said his designs all derive from an architectural perspective. His design drawings reflect that precision.
"Designing jewelry is like a small architecture project, in how I conceive and create it," he said. "I like geometric shapes and things that balance."
His work often incorporates deep, rich colored stones playing off each other, such as a tanzanite, emerald or ruby with pure white diamonds. Gold or platinum is his choice for settings. Platinum is durable, pliable and will last forever, said Baide, and besides, his beloved sapphires look better in a white metal.
When he opened The Gem Gallery 18 years ago, Baide decided to use only recycled gold. He isn't anti-mining, he said, it's just easier to purchase recycled gold, since the average piece of gold is melted down more than 20 times in its life. He now buys so much gold jewelry that the store has gone from melting gold once a year to twice a week.
It takes about three weeks to build each piece, and Baide does the bulk of the custom design work. Many of his pieces are offered at other stores throughout Montana, and when he isn't traveling the world buying diamonds or rubies, he cuts gemstones for a company back East.
Believing there is more to operating a successful business than just making money or jewelry, Baide's philosophy is to treat every customer as he wants to be treated: Be patient, kind-hearted and listen well. He encourages clients to buy one or two quality pieces rather than a lot of inexpensive jewelry.
"If a customer buys a piece that is heirloom quality with a timeless design, it will last forever," said Baide. "It will pass down through generations. I'm not building a piece just for this person; it's for their grandchildren, and their grandchildren, too."
---
Rockin' Jewelry: Alara
Written by Kimberley Yablonski
Decade upon decade wind and water have unceasingly carved rocks into smooth stones, each, just one of millions, in seemingly endless heaps deposited along the banks of the Yellowstone River. Pluck one from the shallows; rub its icy surface, watch the colors change, wonder where it has travelled on its ancient journey. For designer Babs Noelle, rocks speak to her. In her hands, they become art — art to be worn.
Noelle's creations mix elements from the natural world with her own unique techniques, the result of which is distinctive, wearable jewelry. She has a patent pending for the setting that enables her to place gems into a rock securely. The outcome is rocks from the Yellowstone and Glacier areas that are made more spectacular when she subtly enhances the pieces with small inlaid diamonds or Montana sapphires.
She can spend a couple of hours on one of her uncut rock pieces. This does not include "finding the darn thing," she jokes. She selects a rock from a giant bag of them, which she has collected over the years, many from her property in Paradise Valley.
"It's interesting; I can look at a rock many times and won't select it. Then, one day, it just speaks to me," Noelle says. It is her raw ability and unbridled enthusiasm that fuels Noelle's creations. Even her gallery, Alara Jewelry, nestled in downtown Bozeman's Main Street, oozes originality with its signature motto, "dang, we're good."
Almost any tidbit of history can turn into a creation. Noelle grew up in Texas and while she has never been a hunter, she was aware of an old tradition in the Deep South known as the "hillbilly toothpick." For centuries, hunters have carried a raccoon baculum — the bone found in most male animal sex organs — in a little drawstring pouch. Legend has it that it brings good luck during the hunt. If single, it is also believed to help one find a mate. So important is this memento that it's often passed down from father to son for generations.
Noelle quickly realized this tradition had not travelled West. "I was winning entirely too many bar bets," she says.
She decided to create pieces using the baculum of animals indigenous to the West. Thinking it "bad karma" to use roadkill, she contacted Yellowstone National Park requesting bones from male animals that died of natural causes. Expecting she would be waiting years for such a find, she was surprised when the first carcass was available much quicker than expected. Hence, the use of coyote, red fox and beaver baculum, which she makes molds of and transforms into gold and silver pendants, earrings and necklaces. To honor the animals, Noelle donates 30 percent of the profits from this line to the National Park Foundation.
Noelle's ability to transform pieces of rock and bone into aesthetic beauty is a rare talent. She works with a wide range of materials from the finest Montana agates, to palladium, elk ivory, platinum, uncut Montana sapphires and Kalahari fair trade diamonds. Her attention to the quality materials she uses is coupled with an unwillingness to use gems that come from areas that violate human rights in the process.
Noelle's approach to jewelry design is a singular take on the combinations of form, linear design, organic material and function. Her originality has earned her many industry awards, particularly in the early days of her career when Noelle had "far more time than customers." Last year, she placed first and third in the American Art Awards' Jewelry Division, adding to the more than 25 awards she has earned both nationally and internationally.
Accolades asides, spend any time with Babs and it is her true zest for what she does that radiates. Her personality may best be described as a cocktail of spirited exuberance mixed with a dash of irreverence. Noelle's mantra, which she literally has posted on a sticky note on her desk, is: "Every day in every way I try to be a jewelry superhero."
A few years ago, Noelle was invited to design a commemorative piece for the Museum of the Rockies' 50th anniversary. She was allowed access to the paleontologists' masses of dinosaur bones to select a specimen that would be her inspiration.
"I didn't want to know anything about the dinosaurs. I was just looking for a shape. It just so happened that I picked a bone that came from a Maiasaura. There is proof that this dinosaur was a mothering dinosaur. The bone resembles a horseshoe crab shape," Noelle explained.
A gentle species of duckbilled dinosaur, the Maiasaura's name means "good mother reptile." The pendants are replicas of the Maiasaura hind foot cast in 14K white, yellow, or rose gold, sterling silver, palladium or platinum. Some are set with diamonds or Yogo sapphires.
Noelle studied gemology at the Gemological Institute of America and, later, at the Goldschmiedeschule Pforzheim in Germany, the oldest school in the world for jewelry design.
"My goal as a designer is to expose more people to hand-crafted, original, designed jewelry. Getting people in touch with that special piece so that when they put it on, they become different," Noelle said. "I think the piece reaches its highest, true art form when it is worn and paired with the human form."