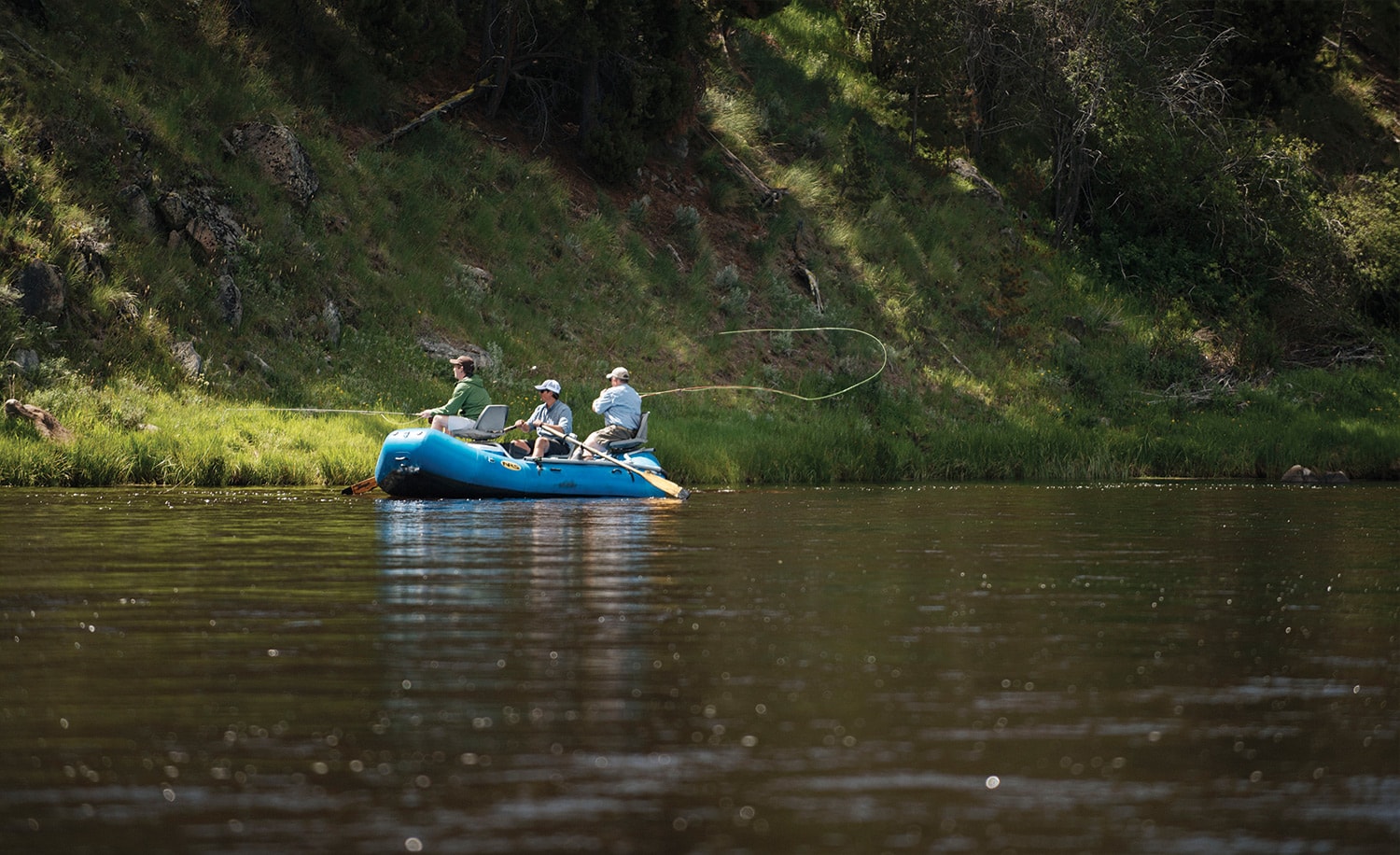 Wade Fellin guides clients on the Big Hole River. Photo by Max Lowe
08 Feb

Voices for the River

in

THE BIG HOLE RIVER has its start east of the Continental Divide in the Beaverheads, bubbling up from a complex of high-altitude rivulets and runs, snowmelt ponds and puddles, before flowing 150-some miles toward its confluence with the Jefferson River. Along the way, the Big Hole serves as a kind of exemplar of water conflict and resolution in the West. Ranchers and recreationalists, threatened fish and flood irrigation, for a generation and more, almost every debate over water quality and resource allocation has, in some part, already taken place on either side of Wisdom, Montana. Through the brightest lens, it's a story of how disparate parties can come together to reach common goals. Less optimistically, it's a nail biter about diminishing snowpack and compromised water quality, with a cliffhanger ending that's still being written.
Father and son, Craig and Wade Fellin. Photo by Becca Skinner
This valley is also, if you're a fly fisherman, strongly identified with a particular resort, the Big Hole Lodge. Situated on the Wise River, not far from the Big Hole itself, since 1984, Craig Fellin's lodge has been at the center of most of the region's discussions between ranchers and recreationalists. A founding member of the Big Hole Watershed Committee and a former board member of the Big Hole River Foundation, Fellin himself has had a role in how these discussions have played out. Among other accomplishments, he was part of the discussion that drafted a key drought management program for the valley. "In a nutshell," Fellin told me, "when the Big Hole gets low, the ranchers are asked to cut back on their diversions. And when the water warms up, outfitters, guides, and the general public are asked to get off the river by one o'clock." Participation is voluntary, but people keep track. Community goodwill, turns out, is a commodity.
But the Big Hole Lodge has lately found itself in a period of transition. Fellin has stepped away from the day-to-day operations of the lodge while his son, Wade, is taking on a larger role. Meanwhile, even as ownership of the lodge is shifting to the next generation, the context of their business is changing as well. "You can talk to any of the ranchers up here," Wade said, "and their growing season is changing. They're haying earlier. And we're opening our season earlier. Ten years ago, we never would have thought of opening before June 12. You don't go to the Big Hole until about mid-June. But the last few years, we've been fishing in late April and opening in May."
The narrative in Montana fly fishing has become one of trepidation, pessimism in the face of diminishing snowpack and crowded waters, zebra mussels and temperature-stressed fish. The calmest day on any river has an undercurrent of ticking clock about it. We're all of us waiting for the next boot to drop. And for the young men and women who aspire to make this their career — guiding, outfitting — it's surely enough to make them lie awake at night. Where is all of this heading?
The good news? How many people there are, recreationalists and ranchers both, who are invested in the health of the water, stepping up to the plate, going to bat on behalf of their watersheds. And once again, the Big Hole and the Fellins find themselves at the center of things.
Wade Fellin is rooted in Montana. On his mother's side, he's fifth generation. His ancestors were ranching in the valley back in the 1880s. More than a century later, 10-year-old Wade would ride his bike down the Wise River, wobbling along, one hand on the handlebars and the other holding a fly rod. He'd stash his bike where one of the Lodge's guides might pick it up and shuttle it home, then start fishing his way upstream. Evenings, he'd sit at the dining room table with guests and guides, listening in as the guides unpacked their days. What flies were working, what weren't. The best holding water and the stretches to avoid. "The Big Hole's really three rivers," Wade told me recently. "The upper river is a mountainous meadow stream. The mid river is riffle and pool. And the lower river is kind of like an Argentine valley with deep cut banks and big cottonwoods. So to fish one day on the river and say you've fished the Big Hole isn't accurate. We like to show our clients different pieces of water."
A young Wade receives instruction from his father. Photo by Val Atkinson
Now in his late 20s, Wade has been working as a professional fishing guide for the last 13 years. In addition to taking over the daily operations of the Big Hole Lodge, he's also a water-rights advocate, trained at University of Montana's school of law. Using his father's lifetime of advocacy as a template, and in addition to other work, he has stepped into the elder Fellin's role on the Big Hole River Foundation, where he was recently named chair.
Indeed, he even credits his father with helping him find his calling in law. After his undergraduate study at Bucknell, Wade moved back to Montana. "I was living in a cabin by myself on the Wise River, and I spent about four months kicking around what I wanted to do with my life," he said. One day his dad invited him to dinner, and asked him what he planned to do, in addition to the lodge. "I told him I wanted to get involved. I wanted to work for a nonprofit." Craig encouraged him to consider law school. "Something to do with water," Craig said.
A few days later, from his cabin beside the Wise River, watching snow blow across the empty highway, Wade started studying for the LSAT. "As an attorney, you need to work on behalf of your client. But the river doesn't have a voice. I came to feel strongly that I needed to work on behalf of the river. And then I met Guy."
Guy Alsentzer is founder, staff attorney, and executive director of the Bozeman-based nonprofit, Upper Missouri Waterkeeper. He also is one of only two employees in the organization. The second employee, Wade Fellin, commutes to Bozeman from the Big Hole.
While stepping away from the day-today operations of the Big Hole Lodge, Craig Fellin will stay on in a host capacity.
Back in 2010, Alsentzer was a Pennsylvania émigré working for the Gallatin County attorney's office. In addition to his JD, he had just earned a master's degree focusing on water resource management. "I saw, as an outsider, that one thing that really binds Montanans together is the need and appreciation for clean, readily available water," he said. "What I saw missing was a holistic-management nonprofit for the Upper Missouri. When you go over to the other side of the divide, you have the Clark Fork Coalition, but there wasn't the equivalent for the Missouri watershed. We're concerned with the challenges that face the tributaries as well as the main stem Missouri. How do we identify what the future looks like in protecting drinkable, fishable water in the Missouri?"
While passionate, Alsentzer is less familiar than Wade with the ins and outs of Montana communities. Wade said, "My role has, in a lot of ways, been to empower Guy's work. For whatever reason, Montanans are less willing to listen to folks who aren't Montanans, even if they make a lot of sense." And so at the intersection of fishing and ranching, water resource management and changing times, Wade has come to find himself staking out his ground, deeply invested in the health of the water system both as a young business owner as well as an advocate. If you are committed to managing a fly-fishing lodge in the 21st century, what will the future bring?
Looking forward, Wade has two main concerns about his backyard, the Big Hole valley. "First," he said, "there's a changing cow." The cow that used to be in Montana, he argues, isn't the cow that's being sold at Safeway now. "There's a larger cow, and more of them. So we're talking riparian buffers. Willows and grasses and trees around riverbanks. Working toward riparian buffers is really important for water quality. But second, and maybe of more concern, is that all the single-family ranches that have been passed down are increasingly beginning to sell, and the people buying the ranches often don't have the deep knowledge or generational conservation ethic that's previously been tacit. We see new rancher-managers developing their property and significantly harming the riparian buffer, and changing the dynamics of water use. It's no longer flood irrigated and returned to the aquifer. It's pumped from the wells. Not all technology change is good."
Wade's experiences as a fly fisherman and lodge owner are also informing his work with Alsentzer. "The Big Hole will be a test case for some of what Waterkeeper works on," he said. "A lot of the discussion is about water quantity. But Guy and I are talking about water quality. Keeping the water clean. The less water we have, the more pollutants are going to become an issue."
He also is working on a project, through the Big Hole River Foundation, that harkens back to his days as a 10 year old listening to guides around the dinner table. The foundation is working on a guide ambassador program wherein the guides themselves will be able to collect data as they fish. "These guys see it day to day. They see rocks out of the water, they see algae as it starts to grow, where fish are moving because of changing water as ranchers turn on or off headgates." His vision is to bring a kind of citizen science to the world of Upper Missouri water conservation, and by extension, to fly fishing.
The only predictable narrative in the West is one of change. When the Fellins started the Big Hole Lodge, they had one cabin on the property. They gradually added a dining hall and three other cabins. For some years now, they've been able to accommodate up to 10 clients. "But we prefer eight," Wade said. "Eight fits really well around our dinner table." Looking ahead, as Wade takes over more and more of the operations, Craig nevertheless plans to stay on with the lodge as a host. "Twenty-year clients keep coming back tohave these conversations with Dad at the dinner table," Wade said. "He's teaching, and passing along the knowledge of the sport as he's learned it over 40 years."
One of the first clients of the Big Hole Lodge was author Thomas McGuane. In an essay about a day fishing the Big Hole with Craig, McGuane wrote, "I was swept by the perfection of things, by the glorious shape of each trout, by the angelic miniature perfection of mayflies, and by the pure wild silk of the Big Hole River. It is for such things that we were placed on this careening mudball."
That was written roughly 30 years ago, when Wade was an infant. But it still holds true, that description of the "pure wild silk" of the river. And the silk is still available to us, still present, still part of the narrative. As murky as the future might look, the river is still coalescing out of the mountains, finding the creases to flow toward the Missouri. As endangered now as it's ever been, it still has defenders like the Fellins, Alsentzer, and countless others, each of whom remains devoted to a narrative of optimism, of hope. We can preserve what we have, they believe. Maybe we can even make it better.