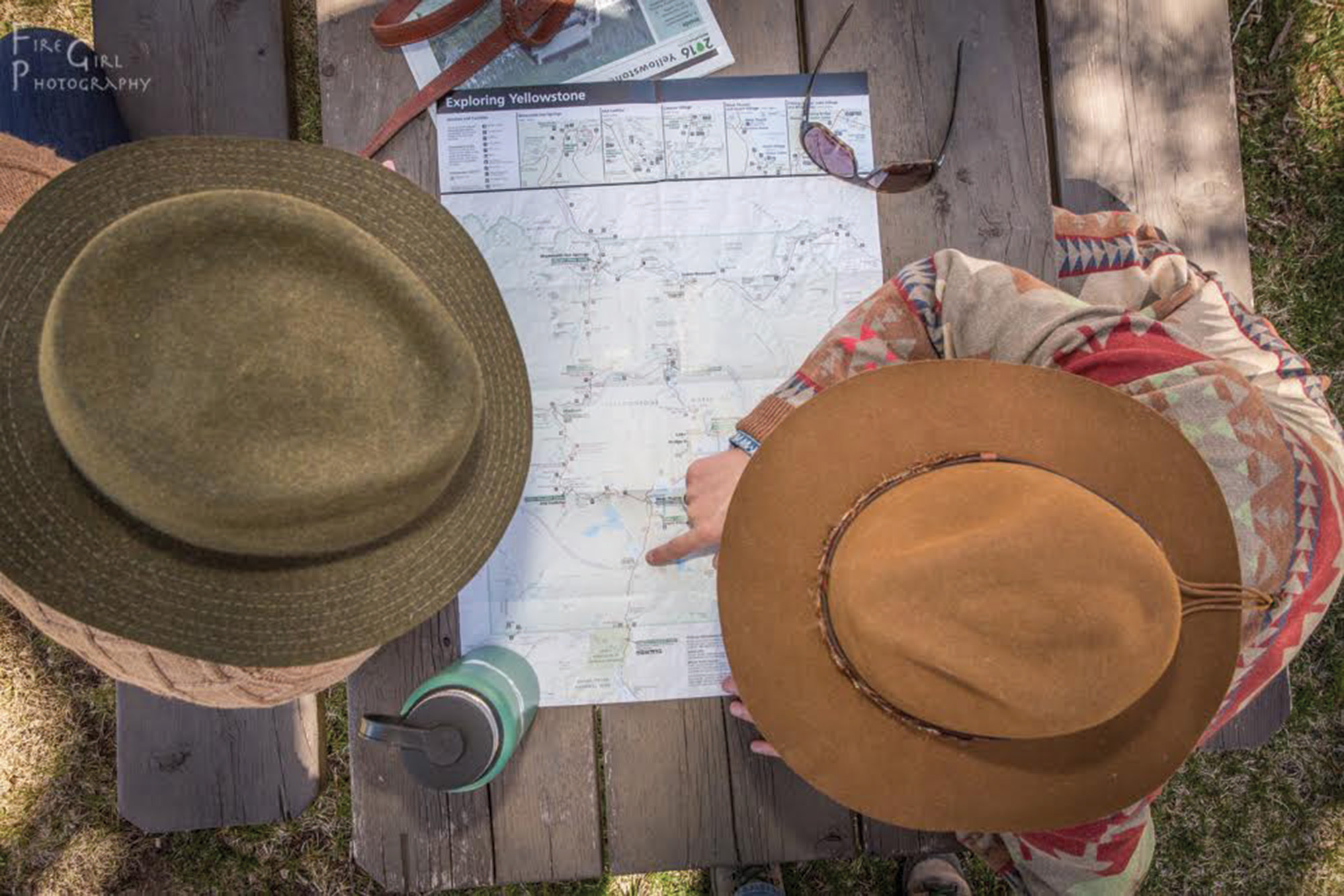 03 Feb

Truth and Trout

in

"IT'S SO … OPEN, " JACKIE MURMURS ABSENTLY, looking over the sweep of the Bridger Mountains as we drive the frontage road back from the airport. For a girl from Boston, the Gallatin Valley is a new world, and those are some tall towers of rock she's just flown over. It is her first glimpse of an entirely different way of life. Later, she marvels at the cowboys we walk past downtown, and at the casual mountain folk we sit next to at the bar.

The plan is simple. I got a photo assignment to capture lifestyle shots of several young women road tripping around the West, fishing as they travel. Pick the location, pick the models and go. Eager to return to Montana, I enlist friends who are game to make the trip: Jackie, an East Coast catalog art director relatively new to fishing; Phoebe, an Idaho sheep ranch girl; and Jenny, an old friend from my Bozeman days, outdoorsy, savvy and willing to jump in and "get 'er done." We are an eclectic group taking a step away from our regular routines to let the road take us where it will.

We meet in Bozeman in mid-April. I've been working on projects on the East Coast for two years, but stepping off the plane into a spring snowstorm immediately anchors me back into the magic of the mountains. I am home.

We plan to take the "locals' loop." We'll start in the Bridger Mountains, drive past Big Sky and hit the Gallatin River, wander up through West Yellowstone to the Madison River and Hebgen Lake, meander into Yellowstone National Park to Mammoth Hot Springs, then head north through Paradise Valley. Some folks cruise this loop in a hard-driving 24 hours, but our goal is to soak in the scenery, let the days roll and do a little fishing.

We hit the road in a beat-up 1990 Land Cruiser christened Rudy. We quickly learn that Rudy's maximum speed is somewhere around 55 miles per hour, and even there he tends to rattle around a bit. A makeshift speaker on the dash covers up the persistent clatter, but we take it slow up the snaking curves of Bridger Canyon until Rudy rumbles into our campsite at Battle Ridge in the Bridgers.
That first night is spent dodging melting spring snow that randomly dumps from the trees and splatters whatever lies beneath in wet, mushy slush. It becomes a game around the campfire, listening for the "whoosh" of a branch loosing its burden, then waiting with baited breath until the slush lands, hoping we aren't in the drop zone. Wet jackets and muddy boots later, we dub it a successful beginning.

Early the next morning, we cruise up Gallatin Canyon. Other than a cup of exceedingly good coffee, very little will wake you up as quickly as wrestling an old car that refuses to press above 50 miles an hour up a winding canyon road. Leaning forward as if that might help Rudy take the hills, we work our way through a meager breakfast of granola bars and coffee, trundling along Highway 191 to a favorite stretch of the Gallatin River. Tucked underneath stark cliffs and nestled among the sagebrush, the girls take their first shot at the trip's fishing.

The Gallatin, as I've learned over years of fishing those familiar waters, is a dependable yet sometimes fickle fishery; this time it yields nothing save a few snake encounters and the trip's first sunburn.

We bump along the river, eventually arriving to fish the upper Madison between Hebgen and Quake lakes. April is hit or miss on our waters, and the milky texture of the river seems to hearken spring better than any robin could. Anxious to get into fish, the girls opt to give it a try despite the conditions.

After a tutorial, Jackie is outfitted with her first-ever bear spray and heads off to fish from the bank. Phoebe, eager to explore, promptly leaves the group and attempts to wade the river in search of good water. Jenny, my photo assistant for the shoot and a savvy Montana girl, immediately follows Phoebe, understanding the need for a spotter in the moderately high water.

Conditions are tough, and the girls get frustrated after spooking a nice brown out of shallow water with an unsuccessful cast off. Shoulders tense, we hike back to Rudy and laugh it off, Jenny and I sharing a look as the two models shake off the "skunk" of not catching fish all day.
Evening finishes on the banks of Hebgen Lake. They cast as the sun sets and temperatures drop. Again, no fish.

Jackie is used to fishing smaller eastern waters, and Phoebe's familiar home rivers are in Idaho. This is new territory, at a tough time of year, and it is taxing. Again Jenny comes to the rescue, delivering mood-boosting beers to the girls as we sit along the shores of Hebgen, admiring the beauty of big spaces. All that space seems to sooth our frustrations.

Eventually we pile back into Rudy and head into West Yellowstone for the night. The next morning's dawn finds us loaded up and driving into Yellowstone National Park. We are greeted by fog along the Madison, shadowing healthy herds of bison and elk. Jackie is practically vibrating with excitement at her initial look at our first national park. She thrills at the steaming blue-green waters of hot springs; she laughs aloud at the wandering bison by the boardwalk and double-fisted cameras at Old Faithful.

Yellowstone's history never fails to impress. A stroll along Officer's Row at Mammoth serves as a stark reminder that this place has a complicated past. Enjoying ice cream cones on the steps of the general store, it is easy for us to picture the first vehicles tooling along unpaved roads a century ago, at a pace even slower than our own. At times on the road the group grows silent, watching the sagebrush rush by and the bison meander along the road.

We don't fish in the park. Leaving Yellowstone and her glories behind us, we travel instead to Chico Hot Springs, taking in a late dinner and a few rounds of pool in the bar. There's something about the old ranch buildings, horse barns and fireplaces that simply smacks of Montana; it's easy to imagine the grounds of Chico as part of a pioneer's homestead 100 years ago.
The next day is spent exploring Livingston and the Yellowstone River, marveling at the power of that storied stream. It roils with spring run-off and holds its trout secrets tightly from us. We opt for the traditional post-fishing meal of milkshakes and fries at Mark's In-and-Out. The last night ends in Bozeman, where we say heartfelt goodbyes to Rudy and celebrate a completed trip before Phoebe flies out the next morning.

We have endured a fishing road trip without catching any fish, something I've never done before. And while the main goal of the project was to get photos, the fact that we all got skunked is something none of us are very keen to talk about.

After our goodbyes, Jackie and I decide to return to Bear Trap Canyon on the Lower Madison. I still need fish pictures, and in my experience that stretch has always produced.

It is an idyllically warm spring evening as we head out to test the odds once more. I shoot, she fishes. And, as the sun sets, fish start to rise. It is an early hatch of caddis, I realize with delight as one lands on my camera lens. This is promising.

But exhaustion and pressure can be a deal breaker, and despite some good casts, Jackie continues to set the hook too early. One fish hooks up and then comes off. Frustrations mount, and when it is too dark to see we return to the truck, fishless once again.

It happens sometimes, and maybe it's a good reminder of why we really fish. Sure, the trophy shots are glorious and we all love them, but on this trip we'll remember late nights around the fire, playing pool in the Chico bar and searching for baby bison in Yellowstone. The fishing was a fail, but the trip as a whole was a success.

Travel has always held an allure for the simple way it pushes us from our comfort zone; for the way it requires you to think on your feet and let go of all pretenses. Fishing is the same way — forced honesty, both with yourself and with others.

When combined, travel and fishing can reveal some hard truths. Days are dictated by water, by hatches, by the moods of the fish. As anglers, we travel for water, water and the creatures living in it. Take a step back and look at the big scheme of things: We're just chasing water.