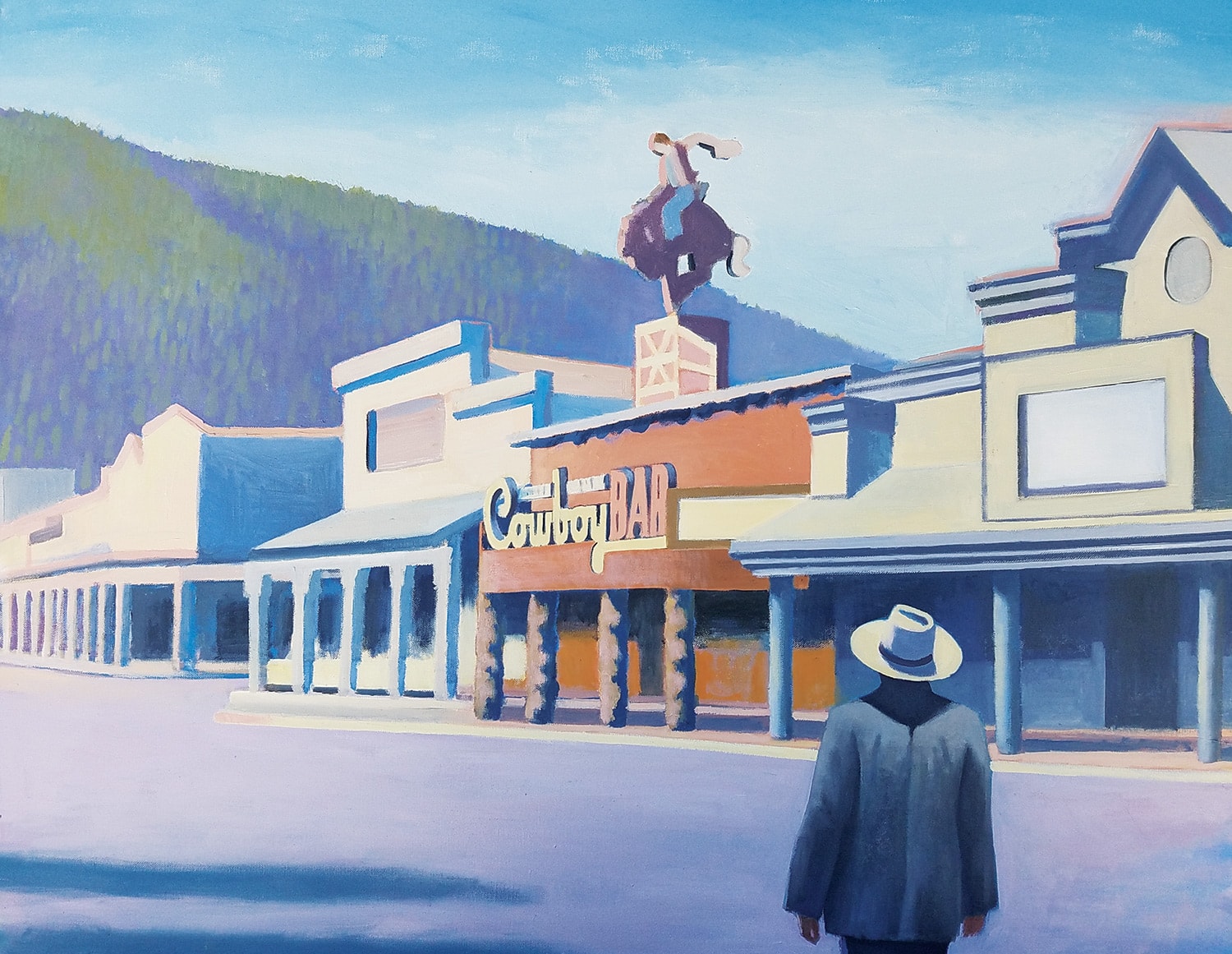 "A Lone Cowboy" | Oil on Canvas | 30 x 40 inches
09 Aug

Travis Walker

in

THROUGH HIS DEPICTION OF SIMPLIFIED LANDSCAPES, painter Travis Walker speaks to a problematic perspective of the modern West. By reducing the intricacies of peaks and crevices, solitary doorways and empty streets, Walker clears the way for a new kind of narrative — one which exchanges pioneers in covered wagons for travelers in recreational vehicles.
"Out There" | Oil on Canvas | 48 x 60 inches
Using a style reminiscent of the renowned American artist Edward Hopper — a regionalist and realist as well as a modernist who depicted the isolation of progress — Walker, too, evokes the voices of those left behind in order to document the convoluted pathways to tomorrow. "A lot of my work has to do with America," Walker says. "I love the West, and I love the land. I moved out here following a dream, and every day I think about the landscape here, what direction I want to go."
Living near the Teton Mountains, Walker finds himself looking to go beyond the postcard clichés of Jackson Hole, Wyoming, and Yellowstone National Park. Instead, he takes small trips to the lesser-known areas where red dirt delineates black outcrops of jutting rocks. "The Tetons are the obvious choice here, you can find millions of photos, but the real appeal of this part of Wyoming is the dramatic color shifts," he says. "That's what informs my color palette, just looking at the landscape. And when I go to other places, I try to absorb that palette and make it my own."
"Demo Derby" | Oil on Canvas | 48 x 60 inches
Nikki Todd, owner of Visions West Gallery, with a location in Jackson Hole, appreciates Walker's unique perspective. "He's got a way of making ordinary Western scenes seem different, fresh," she says. "I'd had my eye on his work for a while. He's always had that element of weirdness, but recently he's been using bolder colors and taking more chances."
Todd also admires the way Walker embraces irony. "His paintings have an edge and a unique vision that speaks, tongue-in-cheek, about the West," she says. "He has a distinct voice that stands out, especially through the use of his other-worldly palette."
Altamira Fine Art in Jackson Hole also represents Walker's work and has hosted solo shows for the artist over the years. Gallery and Exhibitions Director Dean Munn finds that buyers are drawn to his style for a variety of reasons. "The response to his shows at Altamira are always fantastic," Munn says. "People of all walks of life enjoy a camaraderie of sorts around his artistic vision, one based on mutually familiar places or events. He has the pleasure of a multiplicity of art buyers, from those with delightfully humble intentions towards art collecting, to avid collectors adding work to important collections."
Munn says the duality of youthful expression and sophistication in Walker's work stands out. "Travis has a keen eye for the simplicity of place; his work expresses the artfulness of the common scene," he says. "He has an aptitude to translate a modernist approach towards minimalism, yet provide all that is needed in shape, color, and shadow to excite the viewer's imagination."
His piece Future Outpost shows a flooded canyon with teepees on the dry, fractured landscape, and an RV sinking or floating in water. The colors create a near-dreamlike quality, while the reductive landscape reflects alienation from the outdoor experience.
Walker often travels around the West, doing studies and small paintings along the way. He takes those ideas back to his studio where he creates larger pieces that allow him to go deeper into his explorations of place. "I tend to use the form of painting as a kind of journaling," Walker says. "Sometimes I'll strap the canvas to my bike or walk around an area that I'm interested in. I've done that in Moab, Jackson, and Bozeman. I try to open myself up to the character of a town, a building, farms, and the RV parks — all the things that make an area unique."
"American Family" | Oil on Canvas | 48 x 60 inches
Although most of Walker's work has been landscapes, he's recently circled back to figural pieces. Living in Jackson for the last 16 years, he's immersed himself in painting the land, but now he's starting to build narratives, and the figure emerged as central to that body of work. "Last year, my subject matter got to be more about family," Walker says.
In one piece, there is an Amish family sitting in front of Old Faithful. Their backs face the viewer as they observe the geyser. Its message is complicated, although Walker portrays it simply. He questions the notion of America and what it means to be American, through the shared but separate experiences we all have in these iconic places. "I've been thinking about family vacations and all these different people that come through our area, enjoying the same thing," he says. "It made me think about exploring multicultural families and what I want to say about America and the West."
It's also important for Walker to create conversations, not just paintings, to hang on a wall. He wants to challenge our ideas of who we are as a people. "I have a series I've been doing with cars going off cliffs and RVs pushing bison off the cliff," he says. "It emerged in a linear style from my Thelma and Louise series. I've done some paintings depicting RV fires, but I wanted something symbolic of the West. The RV is symbolic of the pioneer spirit for me. I've always found it more appropriate than horses."
For Walker, the RV symbolizes American isolation. It is self-contained, and thus creates a self-sustaining lifestyle, one in which it's not necessary to interact with other people as it can mindlessly "plow" through the land. "It's indicative of the way I'm thinking these days … my own role in, not just Jackson, but the greater art community," he says. "I've started showing outside of Jackson. The things that start conversations are more national issues, greater themes. I started to use Old Faithful as a bridge to other, wider conversations."
---
Editor's Note: Walker's work is featured in a show at Visions West Gallery in Livingston, Montana, through August 22.