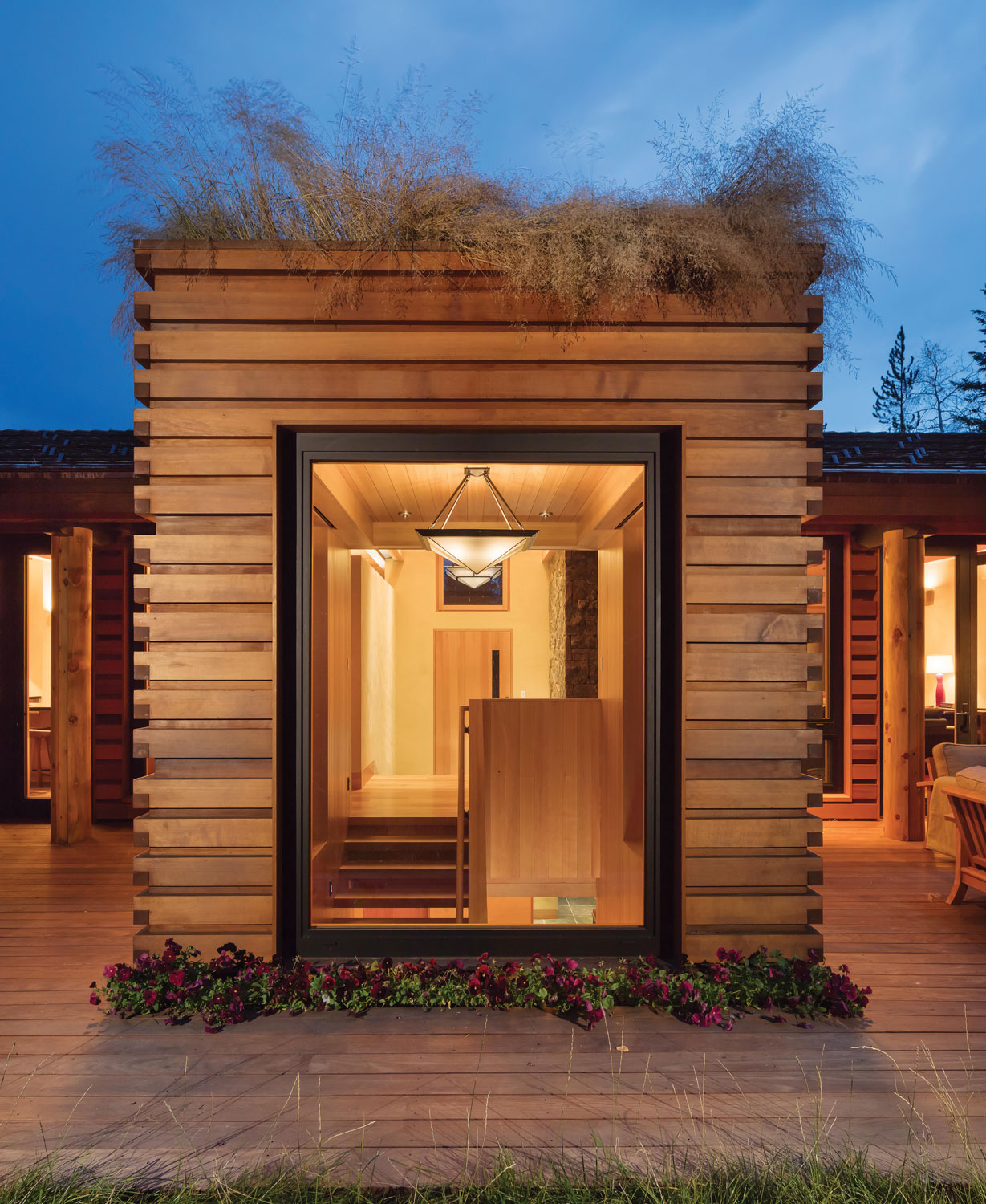 The homeowners clearly value nature, and the banks of windows through- out allow for a connection to the outdoors.
12 Apr

Translating Nature

in
A Jackson Hole, Wyoming, home reflects the beauty of its backdrop
Not every architect can triumph with a project that places a building against the multi-hued mountains of Northwest Wyoming, where the natural beauty can humble any abode. But Tom Ward, of Ward + Blake Architects in Jackson Hole, Wyoming, is not every architect. And the Granite Ridge Residence in Teton Village, at the base of Jackson Hole Mountain Resort, is not just any abode. This home transfigures the materials that give it life, notably hemlock fir, which sweeps with grace across 8,886 square feet of private and public spaces, seamlessly pairing the calm of a human refuge with the frisson brought by scenic places.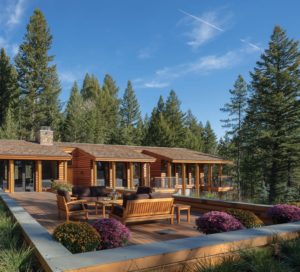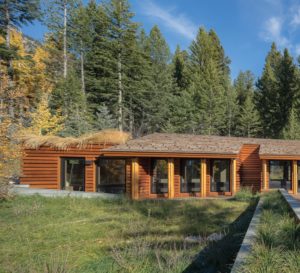 Frank Lloyd Wright likened his work as an architect to that of a composer building edifices of sound. Ward applauds the analogy, yet adheres to his own: The architect is a chef creating a delectable meal. He says that it's all about the ingredients — concrete, steel, wood, and glass; restraint, as in using materials sparingly and appropriately; and proper seasonings, such as the finishes, colors, and textures.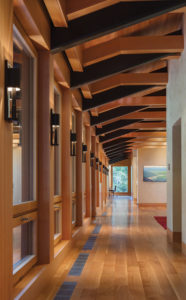 Granite Ridge pays homage to its landscape by declining to tower over it. Instead, its modest height and angled elegance take their cues from nature, even as its structural integrity allows it to contend with winter's extremes, including cycles of freezing, thawing, and heavy snows. And a house situated so that its nearest neighbors are conifers, aspens, bears, and moose, a structure with elements that speak quietly and interiors that proclaim purity of design, emerges from its backdrop as if it were part of it.
To each project, Ward brings a steady hand and a steadier respect for his work and clients. On the Granite Ridge site, he balanced beauty with a strongly horizontal building that exemplifies Wright's concept of organic architecture — broadly, the integration of site and structure — but which Ward considers a form of terroir, environmental factors that lend identity to a region's wines or crops. So it is for structures, and so it is for Granite Ridge Residence, which garnered the 2018 Best Luxury Residential Project (Wyoming) by Build Architecture Awards, and which a year earlier was given silver by the International Design Awards for a new residential building.
Granite Ridge is made up of 16 rooms, devoting the majority to private uses, including a master suite that makes the most of its south-southeast orientation for light, forested heights, and views of landmark mountain peaks. Yet a good share of the home is given to public areas as well, including a living room that's anchored by an immense stone fireplace that appears poised to lift into flight courtesy of the elegantly vaulted ceilings.
The home provides clues about its owners without giving away the privacy they prize. They clearly value nature, and it is a testament to their perspicacity and the architect's skill that the outside is brought in by banks of windows. The effect is outdoor living that occurs inside, tempered by glass.
Ward explains that the organization and circulation of the house adds to the sense that it is an integral part of its setting, and its setting is integral to the structure's existence. "The doors in the living room bring you out onto the wooden deck, which shoots you onto the roof garden over the garage. … It's a large, social, extroverted outdoor space," he says. And in this rare case, the three-car garage actually adds to the aesthetics of the home, featuring board-formed concrete imbued with the pattern of circular sawn boards.
The 19th century art critic John Ruskin suggested something of the designer remains in the structure designed, and this is certainly the case with Granite Ridge Residence. Yet Ruskin apparently knew nothing of the legacy of Katherine Reedy, president of EK Reedy Interiors based in Jackson Hole. Here, Reedy wisely employed a light touch in the home, which was constructed by Jackson Hole-based Peak Builders and JH Builders. The walls feature Venetian plaster, adding dimension as well as the imprint of artisans. Reedy was inspired to apply warm grays, earthen browns, and, periodically, rich reds to complement the light-colored hemlock.
Reedy carefully considered scale in each room, as the large windows created spaces that were decorated mostly by scenes of nature. In the living room, she selected furniture of the appropriate weight, balancing the strong wooden beams and fireplace. She uses the term Kiribako, referring to a specialized Japanese wooden box, to describe the home's lyricism. It is apt, for Kiribako preserves the body and mind, withstands the elements, and is ensconced in exquisite, mathematical layers of wood to produce pattern and design.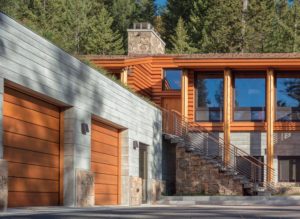 In the end, she says, "The owners conveyed their vision … of purity, simplicity, and serenity." 
Architecture: Ward + Blake Architects
Construction: Peak Builders & JH Builders
Interior Design: EK Reedy Interiors