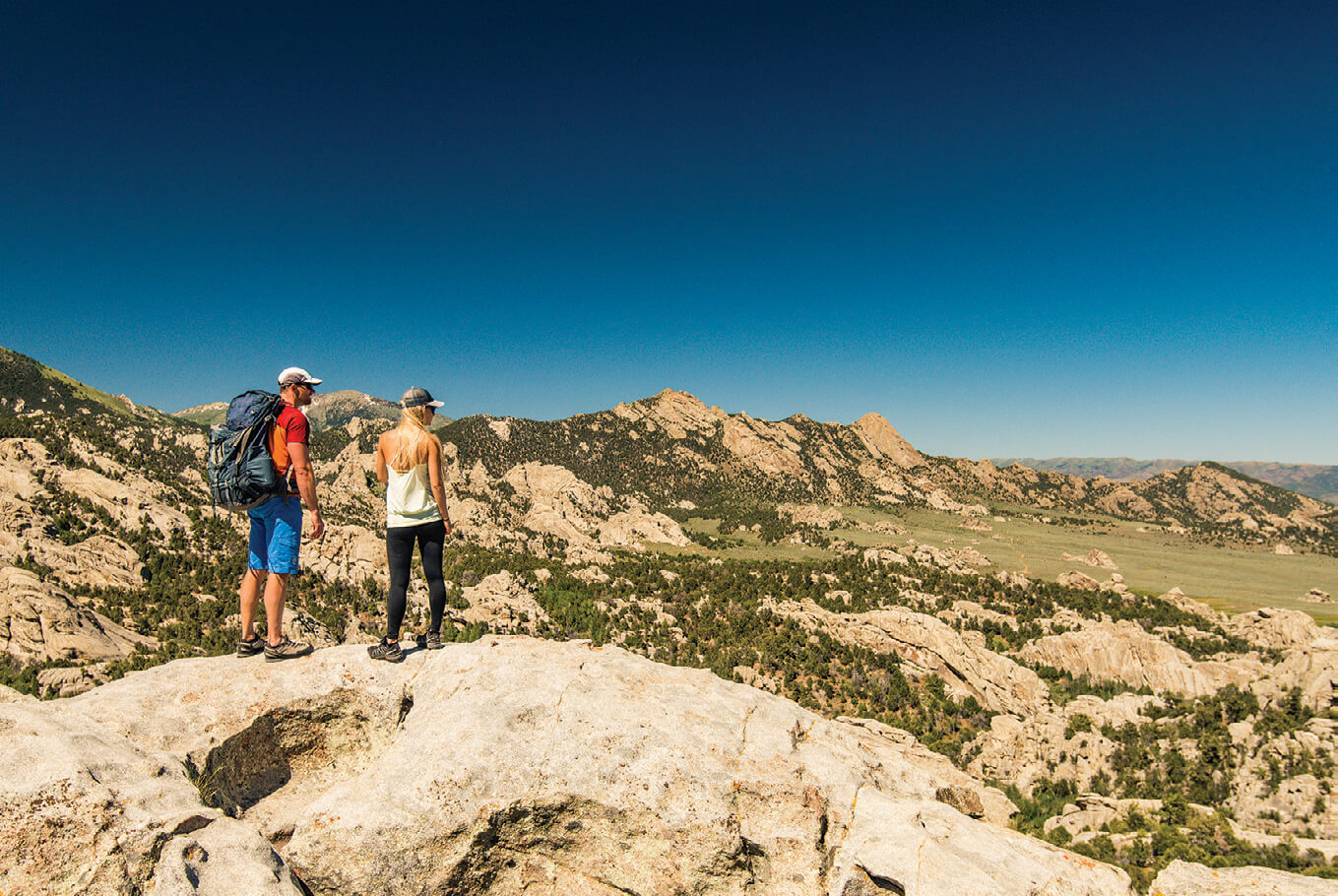 Built in 1953, The Spud DriveIn — located between Driggs and Victor, Idaho — an outdoor venue with spectacular views.
11 Jun

TOP 10 POST-PANDEMIC ADVENTURES ESCAPE THE CROWDS, EXPLORE THE WILDS

in

Summer in the Northern Rockies is a glorious time of year, and because it doesn't last for long, it's treasured. While communities are adapting to changing pandemic regulations, large gatherings remain rare, and social distancing feels like the new normal, this is the perfect summer to pursue those off-the-beaten-path, bucket-list adventures.
Fish the backcountry
Blue ribbon trout streams are an angler's paradise, but what do you do when, in the prime summer months, many are teeming with boats, guides, rods, and waders? Break down your fly rod, break out your hiking shoes, and head to the crystalline high-mountain lakes and streams in the backcountry. Although the trout may be smaller, many of these tucked-away gems are stocked by the U.S. Fish and Wildlife Service, so you just might find yourself hooking a surprisingly large one.
Rent a forest service cabin
The Forest Service rents out numerous dwellings through its cabin program, many of which are historic ranger stations and fire lookouts. These structures vary in size and types of amenities, with some offering electricity and water, and others remaining truly rustic. And some are accessible by car, while others require a hike. Make the cabin stay an adventure all on its own or use it as a base camp for larger backcountry excursions. Go to recreation.gov for information and reservations.
Identify with nature
Native plants, wildflowers, rocks, birds: Whatever piques your interest in the great outdoors can be identified through guide books (from your local bookstore or public library), nature apps (check out bird call, rock, and plant ID apps), and websites. Plan an identification outing with friends and family, or build this activity into your next hiking, biking, boating, or camping trip and let curiosity reign.
Ride a rail-to-trail
Communities across the nation continue to expand their local trail systems, many of which connect to larger rail-to-trail networks. These pathways are often paved and use historic railroad beds to provide miles of easy-to-intermediate bike paths and walkways. For a longer excursion, travel from town to town, or head out for a shorter afternoon jaunt. Try Idaho's Snake River Canyon Rim Trails, the Montana portion of the Great American Rail-Trail near Three Forks, or Wyoming's Northern Pathway that winds along the Tetons.
Head for the water
Bring your own watercraft or rent stand-up paddleboards, rafts, or kayaks and check out an area lake or mellow stretch of river. Try island hopping on Montana's Flathead Lake, float the quiet lake waters around Pinedale, Wyoming, or paddleboard up to Shoshone Falls, the "Niagara of the West," in Idaho.
Rev your engine off-road
For those interested in speed: Dirt bikes, ATVs, and other off-road vehicles are an exciting way to explore established trails and bumpy Forest Service roads, while getting you further into the backcountry in no time. Take your own rigs, rent from a local outfitter, or consider hiring a guide and rip through sites like Killpecker Sand Dunes in Wyoming or the Rocky Bar Mine and Trinity Mountain Lookout OHV Trail near Mountain Home, Idaho.
Honor native american culture
Important sites around the region highlight and honor the histories, lifestyles, and traditions of Indigenous cultures throughout the Northern Rockies. Explore the past at Wyoming's Vore Buffalo Jump archaeological site and Montana's Madison Buffalo Jump or Pictograph Cave state parks, or honor Native traditions at sacred sites, such as Devils Tower and the Bighorn Medicine Wheel in Wyoming.
Get ghosted
Reminisce about life in the Wild West with a visit to one of several notable ghost towns and historic sites in the region. Walk ancient battlefields, gaze upon ruts left by Oregon Trail pioneers, learn about mining culture, sit in an old saloon, or listen to an interpreter describe pioneer living. Try Bannack State Park or Virginia and Nevada cities in Montana; South Pass City or Kirwin in Wyoming; and Bonanza or Silver City in Idaho, among many others. 
Tour a state park
We're lucky to have Yellowstone, Grand Teton, and Glacier national parks in our region, but during the summer tourist season, ditch the crowds and opt for a state park. With 55 state parks in Montana alone, you'll likely be surprised by the huge variety of landscapes, wildlife, and historic sites that exist, along with developed campsites, trails, and interpretive centers. Since these areas were established to highlight cultural heritage and outdoor beauty, you're sure to find a destination that intrigues. Try Guernsey and Hot Springs state parks in Wyoming; Makoshika State Park near the North Dakota border in Montana; and Bruneau Dunes and City of Rocks in Idaho.
Find a farmers' market
While heading for the hills can offer an escape from the crowds, exploring a local farmers' market — especially while visiting another locale — can be its own great adventure. During these (often) weekly summer events, you can learn a lot about a community, connect with locals, buy local, and try some tasty new foods.