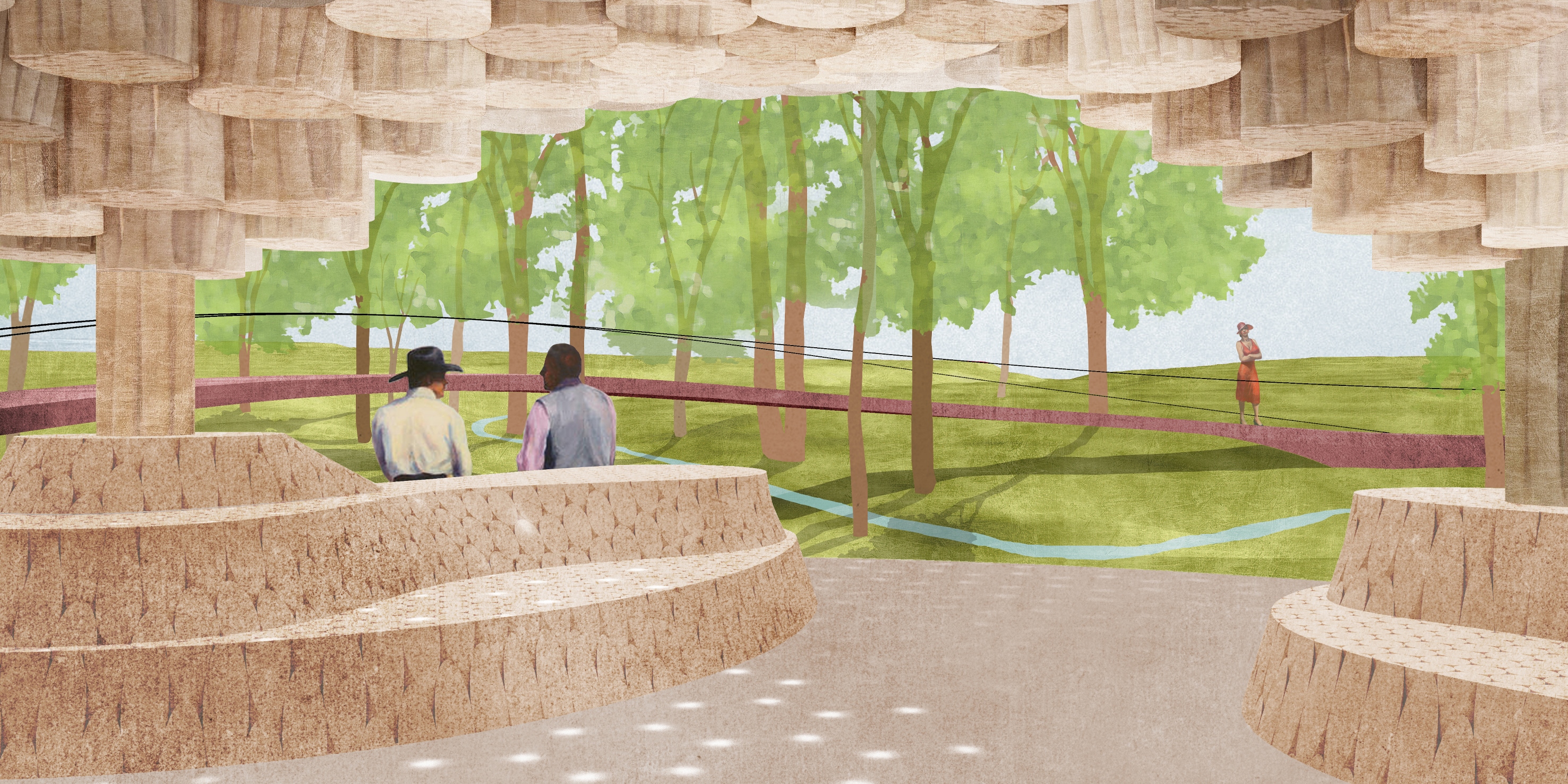 23 May

Tippet Rise Commissions World-renowned Architect Francis Kéré To Design The Art Center's Newest Structure: A Permanent Pavilion Scheduled To Open In Summer 2019

in

Tippet Rise Art Center today announced it has commissioned world-renowned architect Francis Kéré to create a 1,900-square-foot pavilion for its 10,260-acre grounds in Fishtail, with the new structure scheduled to open at the start of the music season in summer 2019.

Conceived as a communal gathering space nestled in a grove of aspen and cottonwood trees, the pavilion is an evolution of Kéré's 2015 canopy structure for the Louisiana Museum of Modern Art near Copenhagen, Denmark and his 2017 Serpentine Pavilion in London, England. Built of locally-sourced ponderosa and lodgepole pine logs, the pavilion will be a round structure that sits across a path from an aerial bridge that spans a nearby stream. The pavilion features seating areas beneath its canopy of vertical logs, which filter and dapple the sunlight.  Visitors will be welcome to gather within, or climb onto a platform on top of the canopy to take in the views through the treetops. For children, there will be a "color cave" tunnel. The shape of the seating area—an irregular loop—was inspired in part by a series of paintings that artist and Tippet Rise cofounder Cathy Halstead created based on the lyrical, abstract forms of microscopic life. The design for the Tippet Rise pavilion is inspired by the traditional togunas of the Dogon culture of Mali: sacred shelters with wooden pillars, carved with ornaments representing the ancestors, and layers of wood and straw on the roof.

Laura Viklund Gunn of Gunnstock Timber Frames, responsible for the Olivier Music Barn and Will's Shed at Tippet Rise, will collaborate with Kéré and his team as the local project architect.

Born in the village of Gando in Burkina Faso, Kéré studied at the Technical University of Berlin. As a student, he established the Kéré Foundation to help improve the lives of people in West Africa by building community infrastructures, such as schools, libraries, housing for teachers, and women's centers. Every Foundation structure combines the region's traditional building methods and materials with modern engineering techniques. Based in Berlin, the award-winning architect has held professorships at the Harvard Graduate School of Design, the Swiss Accademia di Architettura di Mendrisio, and the Technical University of Munich.

In keeping with the educational mission of Tippet Rise, the Tippet Rise Fund of the Sidney E. Frank Foundation is supporting the construction of a new Kéré-designed school in Burkina Faso, Naaba Belem Goumma Secondary School. Inspired by the architect's dedication to building environmentally sustainable schools in West Africa, the school is set to be completed in 2019.

Kéré said, "Standing on the high meadow of Tippet Rise Art Center, looking out at the mountains under a vast sky, people can face nature at its widest scale. But with this pavilion, Tippet Rise offers a more intimate experience of its landscape within a quiet shelter, where people can access the most secret part of nature: the heart of the trees. I am honored that Peter and Cathy Halstead have invited me to contribute to their magnificent art center, and I am deeply grateful for their generosity in linking the creation of this pavilion to the construction of a new school in my home of Burkina Faso."

Co-founders Peter and Cathy Halstead said, "While sitting in Francis Kéré's pavilion at Tippet Rise, visitors will be able to watch the sun move across the land through the trees and feel a mist from a summer rainfall overhead. We hope this gathering place will enable our visitors to explore the links that Kéré forges between art and science, to experience the deep-rooted similarities among the cultures of places as distant as Burkina Faso and Montana, and above all to feel drawn together in friendship."

Art, Music and More at Tippet Rise

The new pavilion by Francis Kéré joins the other large-scale works at Tippet Rise by acclaimed artists and architects. Artworks set within the landscape include several sculptural structures by the innovative Ensamble Studio, including the Domo, an acoustically rich structure where many performances take place. Tippet Rise is also home to works by the internationally renowned sculptors Mark di Suvero, Stephen Talasnik, and Patrick Dougherty, as well as two works by Alexander Calder on loan from the Smithsonian's Hirshhorn Museum and Sculpture Garden. Two paintings by Isabelle Johnson, an original owner of part of the land on which Tippet Rise is located, and Montana's first Modernist painter, have been acquired by Tippet Rise and hang in the Olivier Music Barn.

This season, Tippet Rise will reopen for Friday, Saturday and Sunday sculpture tours on Friday, June 29, one week before the start of its third annual summer music series. With prior registration, visitors can explore the ranch and its sculptures via nine miles of hiking and biking trails, or by shuttle van.

Getting to Tippet Rise Art Center
Located in Stillwater County, Tippet Rise is approximately one hour southwest of Billings, two hours southeast of Bozeman, and two-and-a-half hours north of Yellowstone National Park. It is served by two major airports – Billings Logan International Airport and Bozeman Yellowstone International Airport.