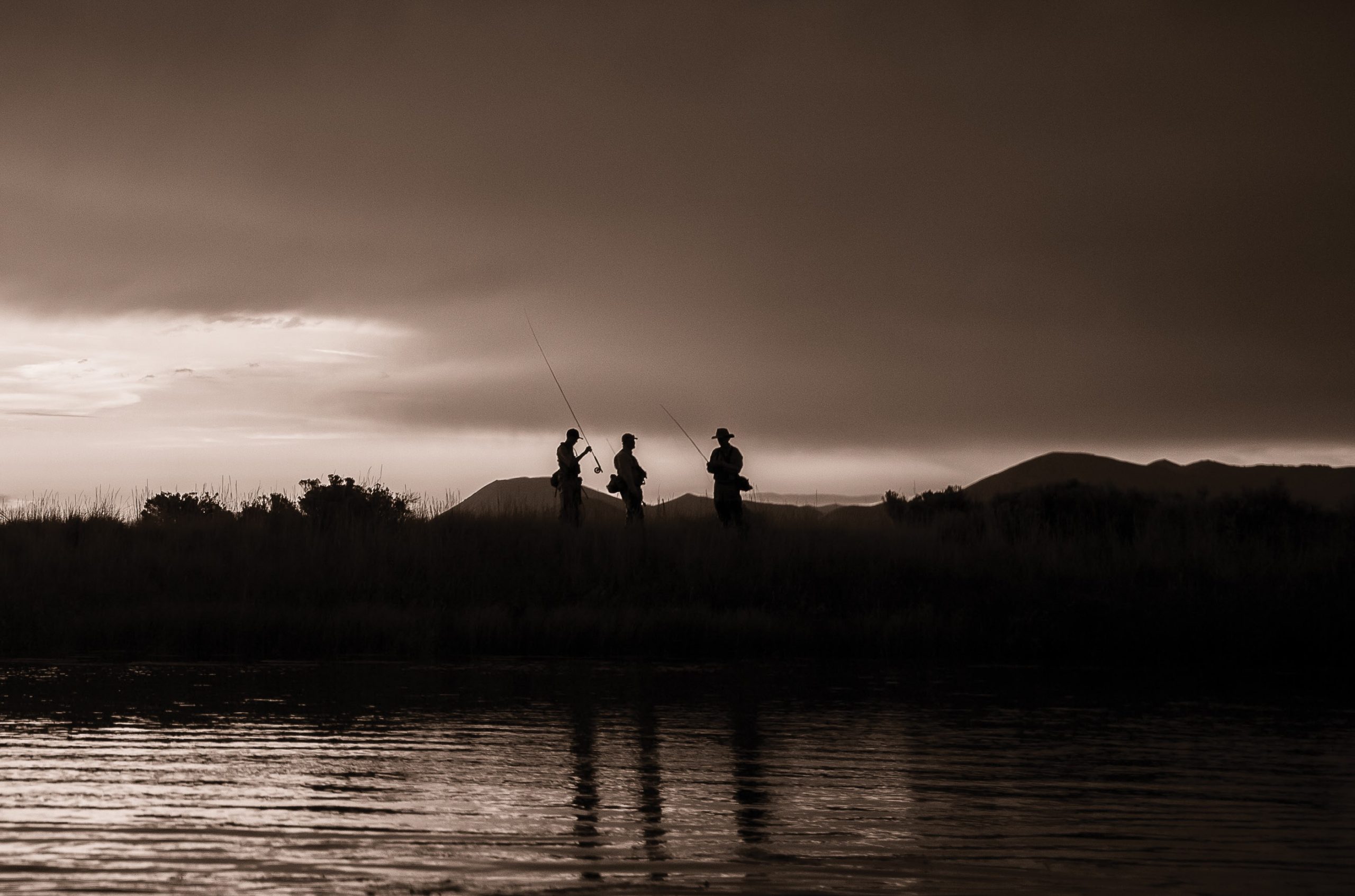 02 Jun

Tight Lines

in

LAST YEAR, WRITER THOMAS MCGUANE UPDATED The Longest Silence — his 1999 collection of essays on trout, tarpon, and bonefish — by adding 15 new chapters, including a final one called "Shrink to Fit: Fly Fishing While Old." In that essay, he recounts how he wrote to old friends, asking them to contribute their thoughts on the subject. "This might be an ideal time to heave yourself off the sofa and toss me a few words from the abyss," he suggested in the email.

Eighteen of his friends responded, including television journalist Tom Brokaw, and famed musicians Huey Lewis and Jimmy Buffet. All have fished with McGuane — in Montana, Belize, and the Florida Keys, among other prime spots. And all enjoy his character and zest for life. "In our circle of friends, Tom is always at the center of attention," Brokaw says of his pal, who lives just down the road from him in Montana's Boulder Valley. "He knows how to start an argument and keep it going — speaking to all of us to find companionship with each other — and it's all very gratifying."

Cultivating lasting friendships is a focal point in McGuane's universe — bound up seamlessly with his love of fly fishing and language. "He's the quintessential American writer of our generation," Brokaw says. "I get these mash notes from David Remnick [editor] of The New Yorker, in awe of his ability — saying he has not lost a step."

McGuane has written 10 novels, five screenplays, three works of nonfiction, and four collections of short stories — a skill he's still perfecting as he works on upcoming contributions to the Paris Review. His short stories are known for their mashup of the absurd and the beautiful — and for their spring-creek clarity. "Nobody writes a better sentence — nobody," says author Jamie Harrison, daughter of McGuane's late best friend, the writer Jim Harrison. Not long ago, McGuane helped edit one of her short stories, penning note after note in its margins. "He was so thorough that I started crying while I was reading them, and then giggling," she says. "If you're a writer, few things will take you out of a funk faster — he's so witty."

Fiction, McGuane says, has always impressed him with its ability to capture passing time. "If you're curious about the 1920s, you wouldn't know them from the newspapers the way you would if you read Gatsby," he says. "Fiction can capture what it's like to be alive at a time we're in. Film can't do it. Nothing else can — it's indispensable for that reason."

And judging by his latest stories, McGuane's fiction is still peaking. "He's not ending his time at the stern," Harrison says. "He's having a great later act."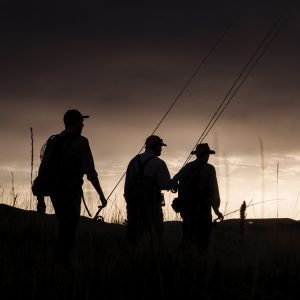 A Rocky Start
McGuane describes his early years in Detroit, Michigan-area public schools as a tough beginning. When he was a freshman in high school, his principal approached his father and suggested a change for the boy, explaining that he was hanging out with hooligans and if that kept up, he soon would be stealing hubcaps. Cranbrook, a private boarding school north of Detroit, accepted McGuane on the condition that he start over, so he went there and repeated the ninth grade. "It was easily the worst four years of my life," he recalls.
From there, McGuane was accepted to Michigan State University, an experience that also started out poorly until his innate and budding writing talent kicked in. "I was a good English and writing student," he says. "I was editor of the literary magazine at Michigan State."
There he met Jim Harrison, an avid fiction aficionado who later would display his own talents as a highly imaginative and gifted poet and novelist. And the two shared more than just a December 11 birthday. "Harrison and I fueled each other because we were literary lunatics, and so driven by it, we were looking under every corner," McGuane says. "Jim was an extremely big reader."
For literary illumination, McGuane and his friends would load into a car, drive to New York City, take in three plays in one night, then drive back to East Lansing. Edward Albee plays were a favorite, along with Off-Broadway shows, and anything avant garde and experimental. These adventures had a lasting impact, and, as it turned out, they led to a life-changing outcome. "I submitted a play to the Yale School of Drama," McGuane says. "It was a long shot, and I got accepted, and off I went."
Yale was an opportunity to commune with other talented writers, but a stint as a Stegner Fellow at Stanford University a year later was like breathing rarified air. "Stanford was interesting because previous Stegner Fellows were still around, like Larry McMurtry, Ken Kesey, and Bob Stone," McGuane recalls. "It was a rich soup for being a keen writer if you loved literature and wanted to contribute."
The bigger bonus was the opportunity to work as a student with Wallace Stegner — already an established icon of American literature. "It was a gift that raised my stakes a little bit, and raised my hopes too," he says. "You felt like you were accepted in there with your ratty little manuscript, and he was across the table explaining what to do, and it was not as hard as you thought it was."
The writing life
After the conclusion of his fellowship in 1968, McGuane's first novel, The Sporting Club, was published in 1969, followed in 1971 by The Bushwhacked Piano, and in 1973 by Ninety-two in the Shade. The latter was nominated for a National Book Award; McGuane wrote the screenplay, and then directed the film on location in Key West, Florida, after director Robert Altman dropped out. It was released in 1975, the same year as his first film, "Rancho Deluxe."
McGuane's fourth novel, Panama, did not score as favorably with critics as the first three. "They'd made a big fuss over me, and then there were a lot of bad reviews," he says. "Richard Brautigan said I had such a success with Ninety-two that I had to be punished for it. The bad reviews were personal attacks."
In 1976, McGuane was splitting his time between Montana, Key West, and Hollywood, working on a screenplay for "The Missouri Breaks," starring Jack Nicholson and Marlon Brando. He found Nicholson less than a joy to hang out with, but Brando was a different story. "I went out and stayed with him before 'The Missouri Breaks,'" McGuane says. "He didn't like being an actor — he was a big slob on Mulholland Drive, and all the kids would come to him to fix their bikes and radios. He was a lovable guy — and a genius."
This genre-busting Western — Vincent Canby, film critic for The New York Times, called Brando's performance "out of control" — earned advance publicity because of its stars, but it never quite qualified as boffo at the box office. Today, however, it's considered a gem of a film by many — this writer included — and is lauded widely in Europe. "I was on a book tour in France this past year," McGuane says. "They think it's the best Western of modern times."
In 1978, McGuane abandoned his alter ego of Dr. Berserko — a sobriquet Buffett crowned him with while they ran drug-fueled and flat-out-fast in Key West — and left the island. He felt that it was time to make Montana his permanent base, and to raise his son from his first marriage (he's had three) in a solid way — with one home, in one place. "It was a choice that had to be made," he says.
But Hollywood beckoned again in 1981, and his screenplay, "Tom Horn," featuring Steve McQueen in the title role and as producer, was filmed in Arizona. McGuane found no shortage of challenges on the set, mostly from McQueen. "He was a warm guy who the camera loved," he says. "But he was mentally erratic and doing a lot of cocaine." There was a desperate quality about him too, McGuane recalls, possibly because he was in the early throes of mesothelioma. McGuane repeatedly was fired and rehired. "He'd kick me off the project," he says, "and then hire someone else and say, 'Don't touch one word McGuane has written.'"
McGuane remembers McQueen as an actor with a method all his own, venturing to Colorado to sleep on Tom Horn's grave, and giving a eulogy in his last testament to the scout-turned-range detective who was executed in 1903 at age 43. "He loved that movie," McGuane says.
Hollywood may not have been the writer's favorite place on earth, but it served its purpose by helping him make a living. "I could make as much in six weeks as I could in three years of fiction," he says. "It allowed me to go back home [to Montana] and write fiction."
And so he did. "He gambled on films for a while, and then had enough sense to get out in time," Brokaw says. "I always thought that if he wanted to, he could have been a Gary Cooper-type in the movies."
A fisher among men
At heart, McGuane is an angler, fascinated with fish since the age of five. Today, that translates into a riveting love of nature, with its pedagogical lessons about what it means to be alive on earth. When fishing, he says, "You feel like you're part of the processes of the natural world. You think about mortality and the bigger questions — and you have a lot of time to think."
And angling allows him to spend time with friends. He's fished the southern tip of Argentina with Brokaw, Montana's Bitterroot and Big Hole rivers with rock star Huey Lewis, and spots in British Columbia and the Keys with veteran Delta saltwater guide Jimbo Meador. (He actually turned Meador onto saltwater fly fishing after buying his house on Mobile Bay in Alabama in the early 1980s.) It was around that time that McGuane quit drinking. "I got to talking to him, and we liked the same things, like sailing, bird dogs, quail hunting, and fly fishing," Meador says. "He asked me where to go, and I told him about where I used to go — that I'd hunted here and fished there."
McGuane suggested that talking about where Meador used to go implied that drinking interfered with the things that he and Meador loved. "That got my attention," he says. "The more I was around him, the more I realized a whole lot was getting left out — and because of him, I quit drinking. He's influenced my life more than anybody."
Lewis first met McGuane while fishing the flats for bonefish in Belize, then set out after trout with him in Montana, and, more recently, for slot reds in Louisiana. "He's a mature fisherman," Lewis says. "The more you fish, the more you end up on the fish's side of things — and that's his deal."
Legendary Key West permit guide Gil Drake knew McGuane in the late 1960s and early '70s and recalls his prowess from his Fiber Craft skiff called the "Osprey." "He's an excellent fisherman, with good eyes," Drake says. "He stays focused and gets the fly to the fish when it comes along, and he knows how to bring it along — and everything else you need to know to be a good shallow-water fisherman."
Early in his career, author and Miami Herald columnist Carl Hiaasen was bold enough to write letters to both McGuane and Harrison, and he was awed when both replied. Before long, he and McGuane were fishing together in Montana and Florida. "He's larger than life. I'll bonefish all day, and if I want someone on the boat to spend the day with — well, he's such a joy," Hiaasen says. "And I'm going to learn something."
As for Brokaw, theirs is a friendship that can always be picked up wherever it left off. "You look around and say: 'Who do you want to hang out with?'" Brokaw says. "And you don't have to look any farther than Tom." Humor, he explains, is part of that package. "We were fishing in Montana, with two or three boats, and I caught a really nice 'bow," he says. "Tom came over and said, 'I raised that rainbow.' And I said, 'Fuck you.' And he turned to his guide and said, 'I told you he'd say that.'"
Whether he's writing, fishing, or communing with friends, McGuane clearly is in his element today, diving headfirst into his 80s. "He's having a great time — and he's definitely one of the great ones," says Harrison.
Not many would argue with that. McGuane is still an influencer with friends and readers alike — as adept with his prose as he is with his fly rod.