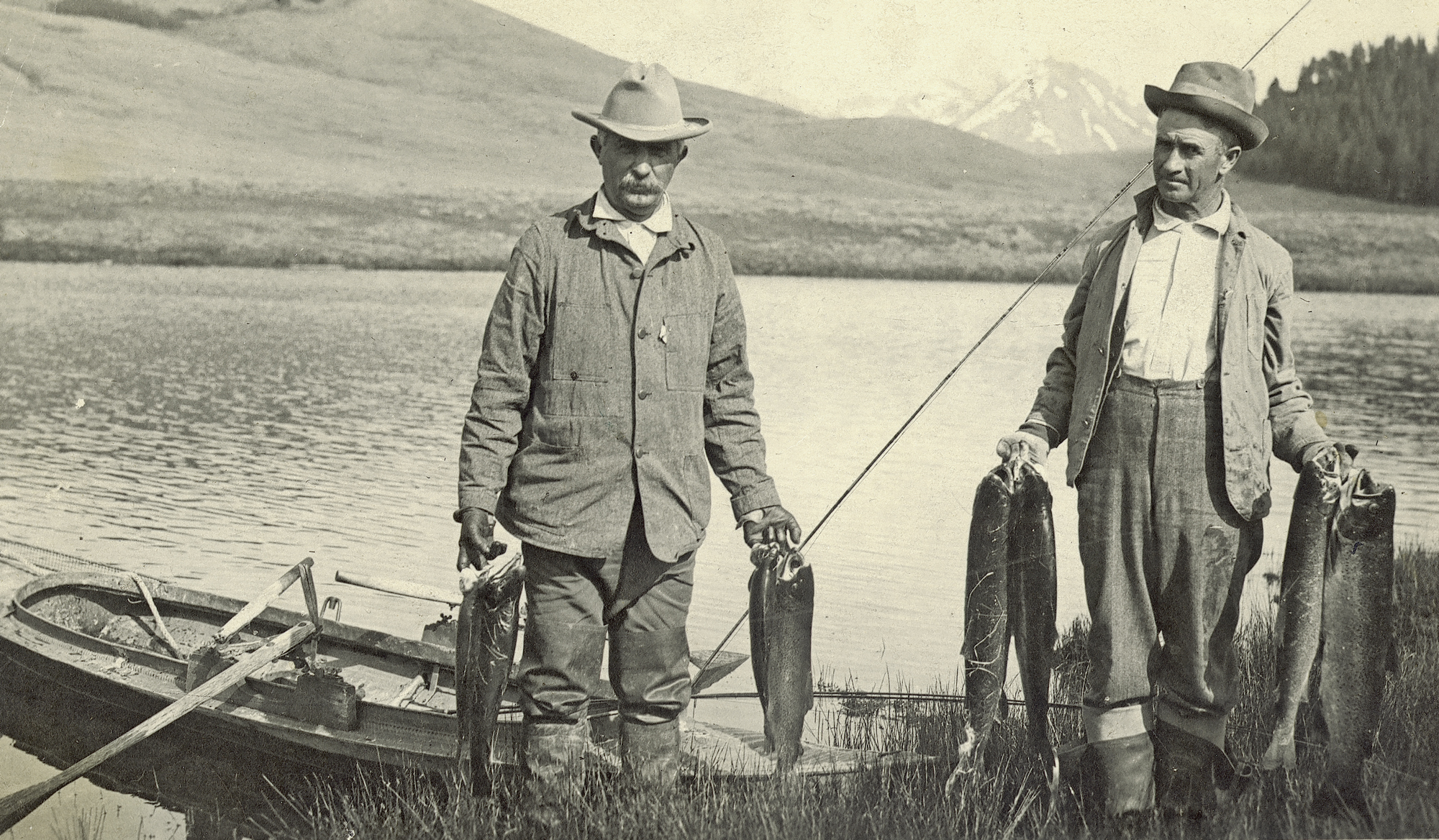 20 Aug

Images of the West: The Widow's Pool

in
---
I FIRST HEARD ABOUT THE WIDOW'S POOL IN 1967, during my introductory trip to Yellowstone National Park and the West Yellowstone area. I was 22 years old, having just completed a three-year tour with the 389th U.S. Army Band. As a confirmed fly fisherman all through my high school and military years, I promised myself a fishing vacation to Yellowstone after my military service. I knew there was great trout fishing in the Yellowstone area; I saved and planned the trip for three years.
In mid-July I made West Yellowstone my headquarters, and sampled the area's great fishing for several days. A native of New Jersey and very fond of brook trout, I noticed several trophy brook trout mounted in some of the local tackle shops. My inquiries about these beauties all led me to a name and a place that would intrigue me and capture my attention and affection for more than 40 years: The Widow's Pool.
Bill and Lillian Culver and Lillian's son, Fred Hanson, created this near-mythic pond about 1900. It is located in the northeast corner of the Centennial Valley, at a large spring known then by the Culvers as Picnic Springs. This giant spring was to become part of the Culver/Hanson homestead and ranch. Using a large horse-drawn scoop, they removed excess dirt and high spots along the first quarter-mile of Picnic Creek. Then they built a log and earthen dam another quarter-mile downstream on the creek. The natural necking down of this little lowland depression created a sizeable spring-fed pond that stretched 60 yards across at its widest part and as deep as 5 feet. The pond was also fed by a smaller spring from the east. No doubt this pond was created to water cattle and other livestock, but later these ranchers stocked it with local trout and grayling, hoping for a constant, readily available source of fish for food.
The original stock of fish probably came from nearby Red Rock Creek or even from Picnic Creek itself. A native population of cutthroat trout and grayling existed throughout Centennial Valley. Some time later, they also stocked brook trout as well as a shipment of steelhead/rainbow trout fingerlings. It wasn't long before a quality fishery was established and everyone wanted to fish "Granny's Pond," as it became known for a while. Lillian Hackett Hanson Culver was Granny and the supervisor of the pond. She built a small bridge and shed over the head of it at the spring, and used it as a hatchery station. With this crude but effective setup, she helped in the natural spawning of the various species now thriving in this cool spring-fed environment. Considering this was between 1895 and 1905, I've often asked myself: How did she ever do it?
The first evidence I found about the fishery is a photograph, taken in 1913, of two anglers with a large catch of big trout. The fish in this old photo appear to be the rainbow trout fingerlings planted several years earlier. The second bit of information came from the late Pat Barnes (1910-1998), known as the "Old Fishing Pro" in the West Yellowstone area. Pat told me how his uncle brought him fishing to Granny's Pond when he was 10 years old, around 1920. They caught large brook trout and paid a price for the privilege of fishing and keeping the fish they caught. This was the earliest reference to the Culvers charging a fee to fish and harvest the catch. I feel confident in saying it must have been the first pay-and-fish preserve in Montana.
The first written account of fishing this pay-and-fish preserve was in a little book, The Waters of Yellowstone, written by Howard Back (1938), an Englishman living in New York City who had fished what he called the "Widow's Preserve," sometime prior to the book's publication. Back must have met Lillian and assumed that she lived alone. The latest written mention of fishing at Widow's Pool I've read is in a memoir by the late Jack Hemingway (1923 – 2000), Misadventures of a Fly Fisherman (1986). Jack, the elder son of Ernest Hemingway, tells of fishing the West Yellowstone area with some college friends in the summer of 1941. He purchased a copy of Howard Back's book while there, and they decided to try their luck at the "Widow's Preserve." Jack and his friends caught many 2- to 3-pound brook trout and some very large grayling. He recalled hooking several larger trout, but was unable to land any of them due to the heavy weeds in the pond and his unreliable silkworm gut leaders. The boys agreed to keep just two fish apiece, and when they checked out at the cabin they had in excess of 20 pounds of fish, which cost them more than $8. Each fish was cleaned and weighed; the cost was 40 cents per pound. Jack writes of returning to the pool later to find it incorporated into the Red Rock Lakes Wildlife Refuge. He wrote, "I've never bothered to go back again."
In 1936 Lillian Hackett Hanson Culver passed away, and her son, Fred Hanson, continued to run the homestead along with his own ranch a mile a way. Around 1941, the U.S. Fish and Wildlife Service took possession of the Culver/Hanson homesteads and incorporated them into what is now Red Rock Lakes Wildlife Refuge, roughly 50 miles to the west of West Yellowstone. This was originally an old stagecoach road that brought early travelers into Yellowstone National Park. According to the FWS, Red Rock Lakes NWR is designated a National Natural Landmark, as well as one of the few marshland Wilderness Areas in the country, established in 1935.
Old Granny's Pond remained, and with it a population of brook trout to tempt visiting anglers. In 1959, the original earthen dam was replaced further down on Picnic Creek, joining Granny's Pond with another to make a larger body of water about three-quarters-of-a-mile long and 30 acres around. The effort improved habitat for resident waterfowl and trumpeter swans, and the resulting body of water was renamed Culver Pond.
Although it sported a new name, the locals remembered its origins and dubbed it the Widow's Pool. The very first time I fished the Widow's Pool was in 1968 with my friend, Joe Hughes, a fishing buddy from my hometown of Roselle, N.J. We'd driven cross-country to Jackson Hole, Wyo. to fish and attend the third Federation of Fly Fishers Conclave.
We got up before dawn and followed Howard Back's instructions, which brought us around Henry's Lake and up over Red Rock Pass Road. At daybreak we arrived at the pond. The big brook trout were feeding; causing large boils on the surface of the water and making a sound that still haunts me. Remember, I was a kid from Jersey and the largest brook trout I had ever caught was about 12 inches long. These were big trout! But could I catch one?
Fishing with a small Otter Nymph, it was pure excitement to have a 2- or 3-pound wild brook trout follow and grab at our offering as we slowly stripped it back. We each kept one 2-pound brookie that we cooked at camp that evening. I thought I'd died and gone to Brook Trout Heaven.
I have had the pleasure of visiting this little brook trout fishery year after year over the last four decades, and during these years I've caught and released many nice-sized brookies in the Widow's Pool. It may sound easy, but there have also been just as many evenings when I go fishless. And that's why the fishery continues to intrigue me.
The largest fish I'd ever caught there ranged from 2 to 4 pounds. Although I'd seen larger trout in Widow's Pool, they'd thwarted my efforts. Until one evening in 1973, while fishing the pond with friends, I noticed a large swirl in the middle of the pool, just out of my casting range. Determined to reach that big fish, I walked all the way around and positioned myself on the opposite end, across from where I'd seen the fish. The big trout swirled again and I made my cast. It was a long one and I was fishing with a size 10 Yellow Muddler Minnow.
The big fish startled me; he surged quite a distance from the right side and with a giant swirl grabbed the fly. I was now into my biggest trout to date. It jumped twice and took line, not at all like a big brookie. I was using a 7 ½- foot Fenwick glass fly rod with a 4-pound tippet. It seemed as if the fight took forever — the fish grabbed line and I grabbed it back. I managed to finally land the brute: It was a 6-pound rainbow/cutthroat hybrid.
It's possible this fish was one of the last descendants of those huge steelhead rainbows that Lillian planted so many years ago. Its forebears mixed with the native cutthroats to create this hybrid monster that I was lucky enough to hook into. I have practiced catch-and-release fishing all my life; however, I am also a licensed taxidermist who specializes in trout. I still have that 26-inch hybrid rainbow/cutthroat mounted on display in my fly shop; it's a reminder of the Widow's Pool.
A few years back, in 2000, while fishing with my wife, Sharyn, I hooked and landed a 5-pound female brookie at the Widow's Pool. Sharyn snapped a photo of the fish, and I released it to spawn more great fish. On our return the next summer, we found the pond dewatered for some reason and the big brookies gone. It's been dewatered several times over the years and I am sure that has hurt the numbers and size of the remaining trout population here.
But for more than 40 years I have cherished this lovely bit of water with its history, romance and challenges. Lillian Hackett Hanson Culver and her family must have had the same affection for this special place. This wonderful spring-fed pond has given many fishermen the pleasure of experiencing a historic wild brook trout fishery and the Widow's Pool has no doubt marked the memories of them all.