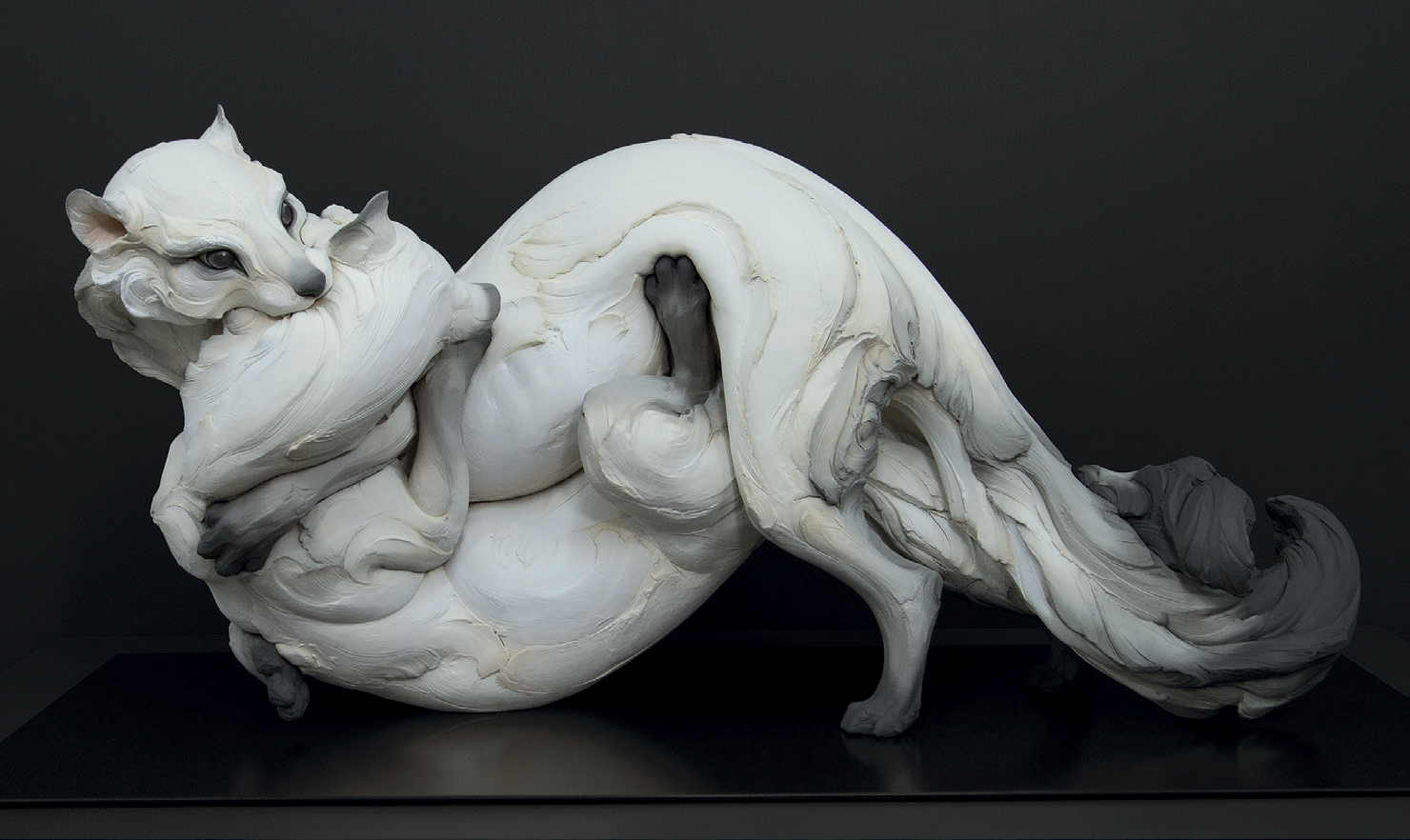 Limerence | Stoneware, mixed media | 44 x 22 x 16 inches
05 Aug

The Undiscovered Self

in

THERE'S NO WALKING BY ONE OF ARTIST Beth Cavener's sculptures without stopping to look. In each one, there's an immediate story, and it's told through hundreds of pounds of shaped and painted clay that often takes the form of an animal figure standing greater than 5 feet tall, suspended mid-air in a moment of tension.

As a classically trained artist, Cavener imbues her sculptures with human emotions and experiences. Using animal subjects, including wolves, rabbits, sheep, and goats, she creates "human psychological portraits." Her large sculptures are technical, expressive, and use animal body language as a metaphor for the human condition. Adding to the beauty of her work is the fact that it's driven by a desire to create a broader sense of empathy. "I refer to it as a beautifully baited hook," she says. "People are lured in by the sensuality of the form and the pathos chosen for their gestures, but underneath there's something uniquely human waiting to be understood."

Cavener was born in Pasadena, California, and she "grew up with a foot in both the arts and sciences." Scientist and author Carl Sagan was a childhood hero, and her parents supported her curiosity in both areas. Her father was a molecular biologist, and Cavener recalls peering through a microscope for the first time at age 7, and a telescope a year or two later. Cavener's mother was an art teacher who encouraged her self expression.

"My mom instilled the belief in the importance of finding a way to communicate — not only the answers and questions but how I felt," she says. "My dad, from the earliest age, always said that he didn't care what I did as long as I left the world a better place. I took that so much to heart, and I really struggled when I wanted to be an artist. It felt like it was such a selfish thing, a self-centered act. And that has driven me to create an experience that brings people back together. Every artist has a different passion that drives the work. For me, it is empathy. If I can instill a viewer with a sense of compassion and connection with another human being, even in disguise, I feel a tremendous sense of accomplishment and relief."

Both the arts and sciences were mutually informative in her life, but they are also traditionally cast at odds with one another. "I grew up thinking of them as binaries," she says. "I had to choose between what I wanted to do and what was practical, and I chose to pursue an academic career in science and practice art on the side."

During her early academic career, Cavener enrolled at Haverford College in Pennsylvania to pursue studies in physics and astronomy with a fine art minor. In her junior year, she traveled to Florence, Italy, where she attended Charles H. Cecil Studios, a private atelier offering rigorous training in drawing and painting from life. When she returned to Pennsylvania, Cavener switched her major and received a bachelor's degree in sculpture in 1995. Four years later, she went on to earn a Master of Fine Arts from Ohio State University in 2002.

"After school, I took a leap of faith and decided I was going to examine the world through the lens of a scientist, and then convey that sense of curiosity and wonder through my artwork," she says. "I'm interested in asking questions about natural and human-made systems, how we form our flawed understanding of them, and finally, how that affects the way we see ourselves and one another."

Following her classical training, Cavener sculpted the human form for many years, excluding a four-year period when she experimented with "surreal naturalistic forms." But she found that viewers had too many associations with the human body, and she began to focus on using animals. "It was inevitable that the language of muscle and bone and sinew and skin would be the basis for the work," the artist says, explaining that the problem with sculpting the body is that viewers automatically profile and judge it, perhaps looking at what sex and race it might be, how thin or muscular. "These are characteristics we use to divide ourselves into groups, instead of recognizing the commonality of being human," she adds. "I wanted to find a way to circumvent the specifics of individual identity. So many of the struggles, conflicts, isolation, and misunderstandings seemed to stem from an absence of empathy — the ability to see yourself from the perspective of another's emotions and experiences. The human form was creating too many barriers. However, I found a lot of people easily empathized with and formed emotional attachments to animals, perceiving them as moral and ethical innocents."

As part of this process, many of her animal sculptures still retain human anatomy. Upon close examination, viewers see familiar features, like belly buttons, scars, and human ribs or genitals. "Without realizing it," Cavener says, "people are sensing a familiarity, as their own bodies are reflected back to them."

It takes Cavener about two-and-a-half years to create a body of work. Her process begins with a two-month research period, during which she collects reference materials and determines the topic for her series. She then creates small clay maquettes exploring this theme. For example, past series have examined the concepts of uncertainty or fear. "How do people deal with fear? Some turn it into a joke; some react by pulling away; others act aggressively," Cavener says, adding that these initial maquettes are like "reaction portraits," an effort to capture how people's bodies or minds react to the central topic. She may create up to 20 of these small sculptures per piece.

Once she's determined her design, Cavener then builds a complex metal armature. Each armature twists and articulates while supporting 2,000 or more pounds of shaped clay. Once a sculpture is complete, she will disassemble it into 30 to 160 sections that are hollowed out to a quarter-inch thickness. These pieces are reassembled into large sections and then fired in the kiln. Cavener refines the fired pieces with stone carving tools before joining them together with epoxy. She then paints the surface with flat interior latex paint, filling in any seams to maintain the look of clay. This technical process took years of trial and error to develop, and more than a decade for her to completely figure out.

Cavener's work is represented by Jason Jacques Gallery in New York City, and is in the collection of the Smithsonian American Art Museum in Washington, D.C., with gifts promised to the Metropolitan Museum of Art and the Museum of Arts and Design, both in New York City. Her 252-page monograph, Human: The Art of Beth Cavener, includes her major works from 2002 to 2019 and was released in December 2019. She was awarded prestigious fellowships from the Virginia Groot Foundation and the American Craft Council, and has been an artist-in-residence at the Shigaraki Ceramic Cultural Park in Shigaraki, Japan, La Meridiana Ceramic School in Certaldo, Italy, and the Archie Bray Foundation for the Ceramic Arts in Helena, Montana.

The Archie Bray residency provided a life-changing introduction to Montana, where she has lived for many years. "I specifically chose to come back here, to Montana," Cavener says, adding that from among the 9 other states that she's lived in, this is home. "I think there's something about the big sky here that helps you stay grounded," she says. "You can walk outside and say, 'Yup, the world is bigger than my small problems.' And that is so humbling and such a relief on many days."

As teachers, Cavener's parents passed along the belief that mentoring is one of the most valuable things you can do with your life. With this in mind, she and artist Alessandro Gallo co-founded Studio 740 in 2014, converting the ground floor of an old distillery building in downtown Helena into studio spaces for emerging artists. "It's a place of sanctuary and also community, because there's a support system and the feeling of like-mindedness that draws a lot of people here," Cavener says.

Drawing on the artistic and scientific influences in her life has led Cavener to create sculptures that explore human psychology in a manner we can connect with, the soft viscosity of clay bringing us closer to empathy.