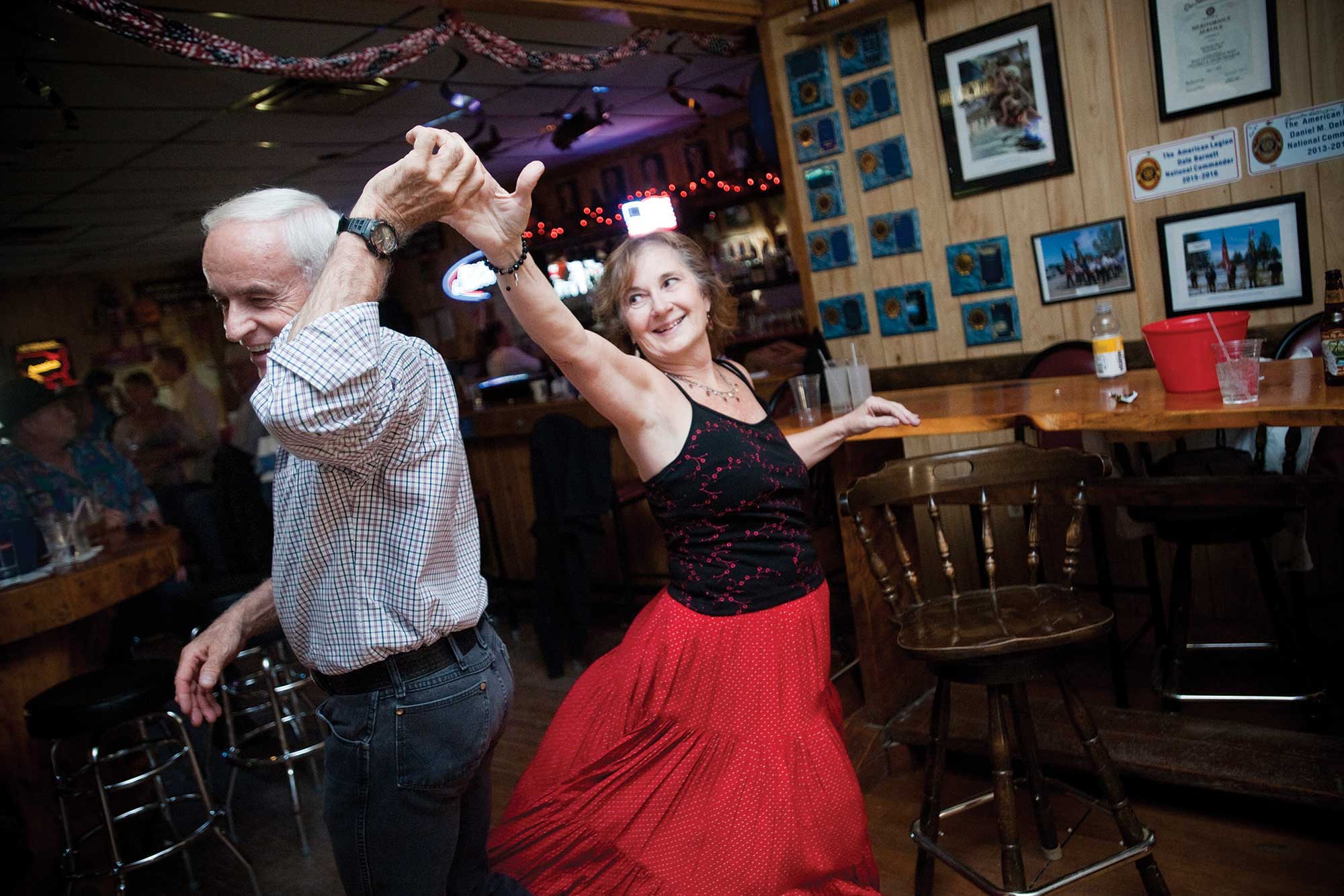 01 Dec

The Traveling Dance

in

THE SEASON'S QUEST MIGHT HAVE COMMENCED in mid-May at the Miles City Bucking Horse Sale, with Cord Lund and the Hurtin' Albertans having wowed the crowd on Thursday, and three bands dispersed along Main Street keeping saddle bronc and bull riders dancing in front of the Montana, Bison and Trails End bars on Friday and Saturday nights. Or it might have kicked off near Montana's northwestern tip, in Troy at the Home Bar, loggers in wide suspenders clogging to ragged bluegrass. Instead, it started dead center in Bozeman, at the Have Fun Dancing studio of Lauren Coleman, who has taught there for more than 20 years and who coached me in the nightclub two-step, a tricky move that a dancing friend suggested I learn.

Coleman, between tunes, reminisces about the immense growth in popularity of ballroom she's seen in recent years. "Part of it's due to shows like 'Dancing with the Stars' and 'Ballroom Bootcamp,' but the disco craze took off in the '70s with 'Saturday Night Fever,' and the two-step craze in the '80s after, 'Urban Cowboy.' Then, in the '90s, there was the comeback of the Lindy hop. Tango and salsa grew with a rise in the Latino population," she says. "Country-western has always been popular, but that craze may have peaked. "

Like most things cowboy, country-western dancing started in Texas. In 1866 the first cowpokes herded cattle up the Bozeman Trail from Texas to the Montana mining camps, and later to Miles City. They carried dancing with them. When women were scarce, they cavorted together, bandannas on the arms of the "ladies" who were thus "heifer-branded." They danced two-steps, waltzes, polkas and schottisches. The vogue never abated.

1972 was my first Montana dancing summer, spent largely in saloons along the Bozeman Trail. To paraphrase Elmore Leonard, most of my cash went to hoofers, horses and honkytonks — the rest I wasted. What I recall are three-piece country-western groups with names like The Dischords or The Rapelje Redhots, and cowboy jitterbugging that was more like demolition derby than dance. And later, during my years at the Murray Hotel in Livingston, boogieing sweat-drenched in its bar until 2 a.m., then limping to my room and showering its smoke from every stitch of clothing except my boots. During the 1980s I knew manic nights at Stacey's in Gallatin Gateway, at the Chico Saloon in Pray, at the Longbranch in Livingston and in far-flung dives such as the Bar 19 in Lewistown, where one New Year's Eve a vacationing Rockette kicked so high I thought she'd tap out the lights.

But such rowdiness has faded. Merle Travis Petersen, of the band Cold Hard Cash, tells me, "Sadly all the real country dance bars I grew up with are closed. No more boot-scootin', line-dancin', honky-tonkin', as far as I can tell. The only place I know that has a real country-dance scene is the Do Bar in Great Falls on Sundays. All the old dance couples come out. The gig at the Do is like going to a museum, a cool museum."
I call the Do Bar and a bartender tells me, "We quit the Sunday afternoon thing. Just not enough folks coming out."

The search for a great country-western dance club begins in June. My friend, Nancy Milligan — a willowy brunette and fine dancer — rides with me to Missoula, where a pal is gigging at the Top Hat with a Tom Petty cover band. Instinct tells me that pay dirt would be found at smaller venues in smaller towns. But the Top Hat — a former dive on Front Street — is hosting name acts like Ricky Skaggs and Lucinda Williams, has a first-rate sound system and spacious dance floor. We are the only two-steppers and, until the boogieing starts later, its only dancers.

On a March trip earlier in the year, we dance for hours at Missoula's Sunrise club — a premier country-western venue, with lessons on Wednesdays and good bands on weekends. That night, couples twirl in stylized unison, the women in ruffled prairie skirts, the men in black hats and vests, their boot toes polished. The band is slick, interspersing hits with classics from Willie, Waylon or Dwight. This is big-city dancing with couples performing elaborately choreographed moves — what I dubbed Cowboy Kama Sutra. But enough sketchy characters, biker types from the karaoke bar next door, wander past to keep me on edge. The band kicks off "Bluebird Wine," and a patron hoots, clogs and falls to the floor. The bouncers lift him by his belt and rush him to the exit. The stylized couples spin as the band segues into "Cherokee Fiddle."

I long for the country.

In fact, I seek something undefined. The few large clubs left will prove exhilarating, and Nancy and I enjoy two-stepping with different partners. But the small spots are thrilling, too. We waltz at the Kountry Korner Café in Four Corners to an acoustic duo, the two of us gliding between tables, the only couple doing so. In January, we two-step to Muzak in the restaurant at Mammoth Hot Springs, dance on frozen Trout Lake and in front of the Buffalo Ranch in the Lamar Valley, ravens and coyotes our only band. There are few places we don't dance, moving together, in hotel corridors or in parking lots as the mood strikes.

We hit the road with misgivings. The Three Forks to Pray strip is so rich. There are bands at the Murray each night, weekend dancing at the Sacajawea Hotel, Stacey's, Chico, at the Pony Bar, at the Eagles in Bozeman and other spots. But late in July we drive back roads to Great Falls, through the missile silo country of Judith Gap and Harlowton, and through the Little Belt Mountains to the O'Haire Motel and its fabled Sip 'n' Dip. That bar is not a dance club, but its singalong organist and mermaids in the pool are diverting. That night we hit the Flamingo, the Celtic Cowboy and the Club Cigar, but the Montana State Fair is underway and bars are virtually empty. The Flamingo has a wide dance floor, a mechanical bull and bands each weekend but this one. Dutifully, we two-step to its deejay. The Do has a rock band but hundreds of rowdy youngsters; the same for the Cigar Bar. At the Other Place, a mom-and-pop joint on Ninth Street, I practice my nightclub two-step, and we enjoy our best Great Falls experience. But frustrations build.
There is no dance club in Fort Benton, so we stroll by the Missouri, performing one jitterbug turn on its steel-truss bridge, and tour the city's hotel — a more than adequate venue, should it wish to host country-western hoofing. We drive southeast, past high buttes of the Shonkin Sag to Lewistown, where I'd partied with that Rockette a decade previous, and years later polkaed to Montana Rose at its Eagles on a night when a trapper brought a wild marmot into the bar and released it behind the Joker Poker machines. But this night the Central Montana Fair is underway, and no band plays in Lewistown. At the Montana Tavern we argue over a pool game and sulk.

Next afternoon we find the Red Ants Pants festival underway at White Sulphur Springs. There in a field before the Big Belt mountains we two-step to Kelly Willis and the Nitty Gritty Dirt Band. But something is amiss. Our trips and my statewide research have yielded few gems. Nancy travels on her own the following weekend to Columbia Falls' Blue Moon Saloon, and posts good reports on that club. She notes that it offers country-western dance lessons, its floor is wide, "the couples good dancers," and its band that evening — The Bus Driver Tour — cannot have been better. "But the couples left at midnight," she says, disconsolately. Nancy lives to dance.

She is one of the best country-western dancers in Montana. Everyone says so, and she stoically tolerates my inexperience with more complicated moves. She is like a feather in my arms, moving easily to and around my missteps. We have good nights at the Murray, where some evenings we are the floor's only couple, waltzing to a trio from North Carolina, or a guitarist from Texas.

One afternoon we drive the 46 miles from Livingston to Manhattan, a town of 1,520 people midway between Belgrade and Three Forks. Manhattan has several bars on its main drag and American Legion Post 87 — with a log cabin façade and spacious interior barroom. It hosts dances each Sunday afternoon from 1 to 5 (with a raffle at halftime), and this week features the Sugar Daddies, a good Bozeman band. A vet collects our $8 covers and we enter a room as close to Merle Travis Peterson's ideal of a "cool museum" as probably exists.

Couples circle the floor and there is an instant sense of déja vu.

Nancy wears her turquoise vaquera dress, mid-calf boots and a weathered straw hat. She looks like a hip cowgirl from the last century. She and I triple-step, then break off to dance with other partners. Nancy joins up with an 80-to-85-year-old fox trotter who she says has "lots of different moves." The VFW's couples twirl, but without elaborate foot-and-hand work common in trendier venues. "We don't like people who've had lessons," I hear one woman say. Patrons vary in age from their early 30s to their 90s. I dance with a petite gray-haired woman named Harriet De Witte, who wears an embroidered vest and black jeans and is a fine two-stepper. "I'm 84," she says, and coaxes me into a spin.

De Witte wrote an article titled "School and Public Dances from Days Gone By" for The Pioneer Museum Quarterly, and she starts to tell me about it. But we are interrupted by her grandson and his wife who are visiting from Dillon, 100 miles to the southwest. Other couples have traveled to the American Legion from as far as Butte, Anaconda and Helena. One man wears a black derby and a purple vest, another a Buffalo Bill coiffeur and goatee. No one seems drunk.

"These American Legion sessions are the best," says Dave Carty, a Bozeman-based writer and dance instructor. "It's the mix of old and young, country and city — how bars in Montana used to be."
He and Nancy begin a nightclub two-step and, with graceful footwork and elaborate hand moves, show the crowd how it ought to be done.

"These are all good dancers at the Legion," Sugar Daddies drummer Rick Philipp tells me. "And they want variety. We have to mix the two-steps with cha-chas and polkas."

De Witte introduces me to Mike Hammond, a 72-year-old Vietnam vet who, with his wife Judy, started the Manhattan sessions in 2012. "We contract for the bands a year in advance," he says. "Everyone gets a vote as to which bands they want. It's democratic."

Hammond is a retired graphic artist who grew up in West Yellowstone. "They still had barn dances when I was a kid," he says. "Then during the '50s in West there was Doc's Bar, the Stagecoach Inn and others. In the late '70s, country-western came back to Bozeman. Judy and I visited the American Legion four years ago and offered to help organize. We were met with some skepticism. The four bands they alternate are the Sugar Daddies, the Country Tradition, Paul Ray and TNT. Usually we have 80 to 85 people."

He introduces me to a man named Carl Ross, who is 95. "I've been dancing here since it started," Ross says. We chat a moment and he takes the floor.

I sit back. As Nancy glides past with a succession of partners I feel transported. John Fryer, of Sax & Fryer in Livingston, has told me that his mother, Susanne was teacher in 1924 at the one-room schoolhouse in Cooke City. She so loved dancing that on Saturdays she would ski 29 miles to parties at the Buffalo Ranch near Tower Junction, or find a ride to Gardiner where she would dance all night then catch the mail-sled home to Cooke. Susanne Fryer was a glamorous woman; I remember her from my first summer in Livingston. Nancy owns glamor, and we have two-stepped in the snow before Yellowstone's Buffalo Ranch. My head begins to spin.

I see the past of summers spent dancing, both the oldsters' in Manhattan and mine. Harriet De Witte, who reported her first memory of a dance "was at West End in a bar and dance hall called Midway on top of the Bozeman Pass … I was very small and wound up asleep on a bench under a pile of coats." And at junior high dances in Bozeman's Emerson gym, where she says the girls placed shoes "in the middle of the floor and the boys had to pick a shoe and dance with the owner." She'd known "sock hops, spinster's sprees and Sadie Hawkins Day dances. Then as an adult, events "at the Springhill Pavilion, the Fort Ellis school house, the Rose Creek, Pass Creek, Dry Creek," and other school houses. I think of Mike Hammond dancing "at Borden's in Whitehall, at the Belgrade Lounge, Jackson's Barn, the Cartwheel Club, the Karst Ranch, the Steer Inn and the Norris school house." Gone, all gone.

The Sugar Daddies play something raucous, and I am slipping through the cracks. Nancy walks toward me, smiles and says, "Snap out of it."

We take a hiatus from dancing toward summer's end. I watch her boogie in an extraordinary white dress at the Livingston Hoot, but feel no desire to cut in. Our trips both elate and discourage us. But in August we come together at the Chico Block Party, that resort's annual shindig held in its parking lot, with Montana Rose presiding. Few talented couples dance. Nevertheless we twirl on the macadam as Claudia Williams sings "Waltz across Texas," then rest on a hay bale.

"Dance is an expression," Nancy says. "A lost art."

"Not tonight," I say. And touch her hand.