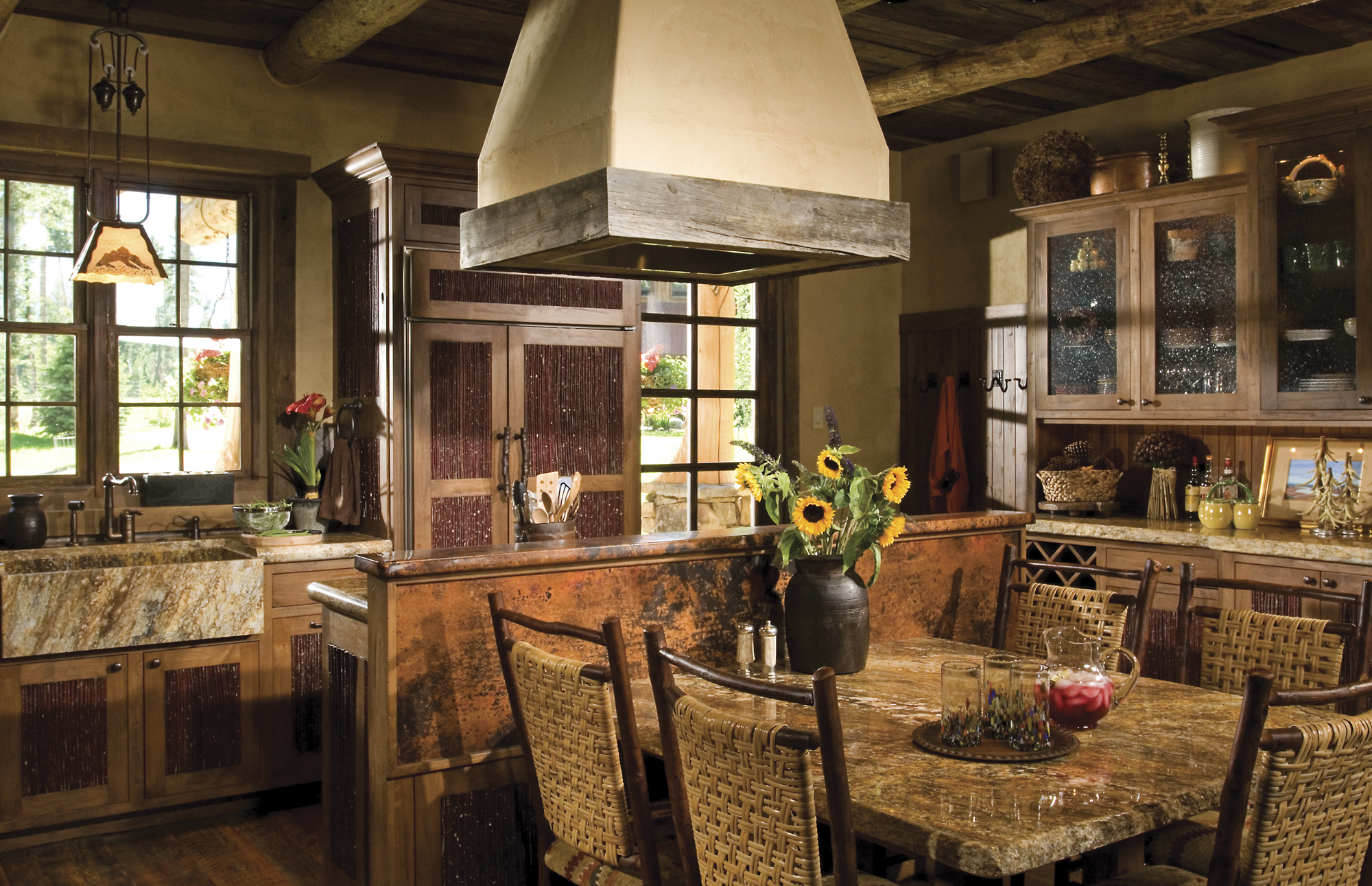 23 Jul

Western Design: The Trapper's Cabin

in
---
In order to achieve the ancient, peaceful sound of moving water, most mere mortals have to create it themselves via man-mad fountains and backyard "waterfalls." But others — like Tom and Marilyn Waggoner — are blessed with nature's liquid white noise just a few paces from their new guest house. The source? The cascades of the mighty Swan River, which rushes from Swan Lake and runs parallel with MT Highway 83 between the scenic Swan and Mission Ranges.
When the Waggoners were searching for a Montana home, they paddled down the famous river and made notes of the locations with assertive water action. They found the perfect spot. "Tom knew instinctively that this was the right place, and fortunately, it was on the market," says Marilyn in her soft southern drawl.
The couple hails from Wichita Falls, Texas, and has always been enamored with the power and relaxation properties of water. "Back in the day, we loved living around the lakes of North Texas; we spent lots of happy summers waterskiing, sunbathing, relaxing and swimming," says Marilyn. So, it's no surprise that the rushing waters of the Swan appealed to the Waggoners. The river's sound goes on and on. "It never freezes over," says Tom. "Even during the coldest winters, that river just keeps on going," he says.
The couple — married for 52 years — also appreciated the fact that the area wasn't just a tourist spot. "It's a real town," says Marilyn. "We live here full time, and we're very involved in the community," she says.
A 'real' town? "Yes," she replies. "There's an amazing 4th of July parade in nearby Big Fork, with charming handmade floats constructed by families in town for annual reunions," she explains. And what about the Swan River in summer? "There's a huge run-off in early summer, so, it's perfect for rafters and tubers. After the big parade, we usually put canvas chairs right into the river and wave to all the folks drifting by; it's such a hoot!" she says.
But soothing white noise and happy rafters are only two reasons the Waggoners love it here: Their home is perfectly located for fly fishing. Although Tom and Marilyn aren't fishing fanatics, many of their guests are. "We always arrange a guide for those who love the sport," says Tom, who usually hires local outfitter Eric Borje. If guests prefer lake fishing, Tom and Marilyn get in touch with local pro, Jeff Roch, who takes everyone out on his boat to troll for lake trout.
When visitors step into the guesthouse (a.k.a. Trapper's Cabin), the airy great room reveals a stunning view of the Swan River. After a few moments — or more — appreciating the very awe of nature, an admiration for the cozy interior décor takes over. Pat Woods' classy — but earthy — drapes, bedding, upholstery and Native American-inspired rugs are a match made in Big Sky heaven with Landis' clever use of recycled wood, rough-edged (horse-chewed — really! ) baseboard, and lichen-covered cedar shingles reclaimed from an old barn.
Although there's a full-sized guest room in the barn (main house), the Waggoners know that guests enjoy a certain amount of privacy, and by building a separate structure, solitude was possible for all. But solitude doesn't imply lonely. "We let guests fix their own breakfast, then as a group, we make plans for the day. It might be fishing, rafting, antiquing, or even a parade," says Marilyn. "Then at day's end, we prepare dinner together and feast as a group."
Sharing their place with friends is what inspires Tom and Marilyn Waggoner, and they make sure they are surrounded by plenty of all of the above. Additionally, Tom is a self-professed art fanatic; he and Marilyn spent many years traveling to Europe to purchase fine art. When they left Texas and downsized to a 2,000-square foot house in Montana, they gave most of their art collection to their children. "We had to pare things down," says Tom. "We began building our home here in 2002, and built the guest house in 2006. "We wanted the cabin to look like a real trapper's cabin, so we asked Landis and Kaatz to create a design that looked as if it had been added onto many times.
"That's why both the interior and exterior are a mix of several types of surfaces and textures," says Marilyn, who worked closely with interior designer, Pat Woods, who lives in Dallas, but has a shop in Harbor Springs, Mich. Woods worked with Roc Corbett in Big Fork on lighting design, Artisan Doors and Damon Designs (for fireplace hardware) both in Kalispell, and Old World Cabinetry in Whitefish.
With the natural beauty around their home beckoning, dining outside, picnicking, reading, napping and relaxing is extraordinary in here. The outdoor kitchen —which is used all year round — helps make bug-free dinners possible. Marilyn and Tom both get homesick for Tex-Mex fare, so that's often on the menu. In winter, the kitchen is heated by propane and shielded from the wind, so the outdoor culinary stations and dining areas are cozy and comfortable. "Last winter we had a catered dinner for about 100 guests," says Tom. "There was a full moon, and we had sleigh rides under the Big Sky. Everyone loved it!"
The geniuses behind the outdoor kitchen and overall design? "Our builder, Walt Landis and our architect Randy Kaatz," says Marilyn. Landis, owner of High Country Builders, near Whitefish, Mont., and Kaatz, of Classic Log Designs in Bend, Ore., worked together to create the Waggoners' dream cabin, designed for guests, but cozy enough that Tom snagged one room for his office, and Marilyn spends time there, too, cooking, reading, and spending time with her Main Man.
It takes sturdy stock to withstand a Montana winter. When asked if they get the blues, Marilyn and Tom emphatically agreed, "No. We love it here; we nearly always have a fire going; we read, we relax, Tom works, and I do a little cooking. We don't feel the need to attend tux and ball gown charity parties or to be super-active. Most of all, we enjoy our quiet time," says Marilyn. Quiet, yes. Except for the never ending sound of the Swan River.