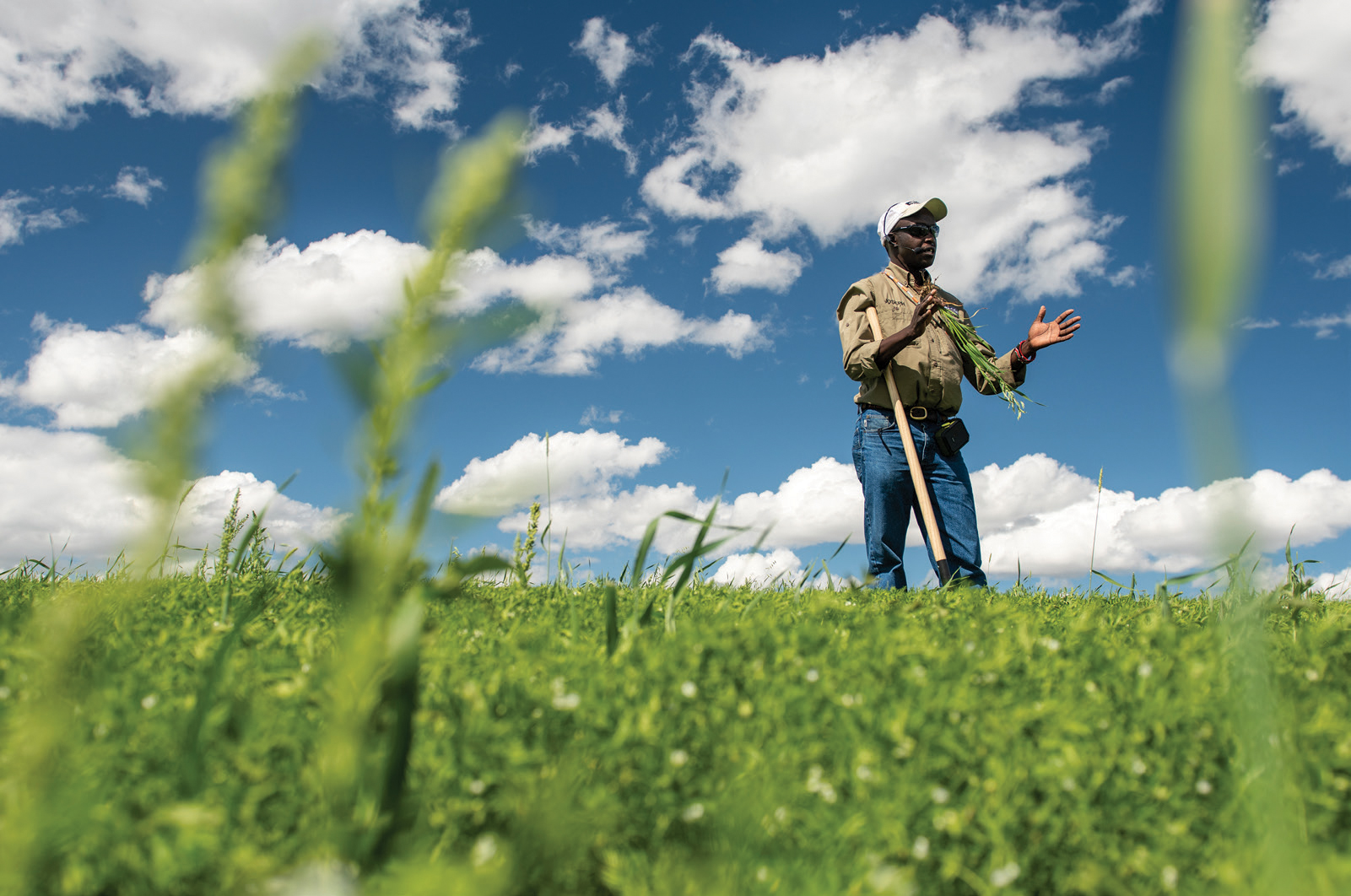 Joseph Kibiwott, an agronomist for Timeless Natural Food, explains the process for successfully growing lentils in a field near Havre.
29 Sep

The Timeless Lentil

in

A chorus of crickets hums in the background as farmer Jody Manuel describes his latest experiment. The organic Petite Crimson lentil plants that he's standing among reach his knees and are as thick and green as the top of the Amazon rainforest. He crouches to part the greenery as he describes the other two plants developing in the shade below. A breath of wind records its passage in his microphone.

Dave Oien, the CEO and co-founding farmer of Timeless Natural Food, stands nearby, studying the field, while the Timeless media coordinator videos Manuel for a virtual Montana organic lentil tour that other growers will view from afar. A few miles south, the dark undersides of cumulus clouds pepper the Bear Paw Mountains with shadows. To the north, the town of Havre straddles the Hi-Line, as U.S. Highway 2 is known.

Grasshoppers leap and ladybugs cling to the lentils' feathery leaves and twining tendrils as Manuel points to the understory plants. The narrow grass leaves are Kernza, a perennial relative of wheat that was developed by The Land Institute. This research organization devises farming methods that mimic natural systems to provide food for people and protect the soil. Kernza can reach up to 7 feet tall and send roots 10 feet into the ground — twice as deep as wheat. Sainfoin, the other perennial understory crop, has divided leaves that resemble those of the lentils, a clue that both are in the legume family.

Manuel will harvest the organic Petite Crimson lentils in a month or so and deliver the crop to the Timeless Natural Food facility in the small town of Ulm, Montana, near Great Falls. Once their taller neighbors are gone, Kernza and sainfoin will grow until winter, go dormant, and get an early start growing again next spring. That is, if Manuel's experiment works as he hopes.

Montana is known as wheat and barley country. Alternating fields of grain and fallow cover much of the state's northern and eastern plains. In the 1980s, wheat and barley farms were expanding and growing more grain. They were also using more synthetic fertilizer to replace soil nitrogen used by the crops, and more herbicides and insecticides to keep weeds and pests in check.

But the 1980s were tough times for smaller family farms that were often stuck between selling crops for prices that fluctuated widely and buying chemicals at prices that seemed only affordable for larger operations. The four farmers who started Timeless in 1987, then known as Timeless Seeds Inc., wanted to hang on to their family farms, but they couldn't see a way to make a living pinched between the shrinking margins of conventional agriculture. Their solution was unconventional: organic farming.

Author Liz Carlisle tells the Timeless story in Lentil Underground: Renegade Farmers and the Future of Food in America, winner of the 2015 Montana Book Award. In the book, Carlisle follows these "audacity rich but capital poor" organic farmers as they pinpointed the potential of lentils as a nitrogen-fixing crop that could grow in rotation with grains. The Timeless growers developed — and continue to improve — crop mixtures and rotations that add nitrogen and organic matter to the soil, protect it from erosion, and help to produce high-value organic foods.

Oien still laughs when he remembers how bankers responded when Timeless needed to raise capital to buy their first processing facility. "They had two questions: 'What are lentils?' and 'What's organic?'" he says. Three decades later, the company's banker understands organic lentils, and investors were eager to finance the new Timeless facility. Montana is still wheat and barley country, but it's also the number one lentil-growing state, producing more organic and more total lentils than any other.

Unlike wheat, which must be seeded each year, Kernza can be planted once and then harvested for many years, saving time and diesel fuel. The special power of legumes is their ability to capture nitrogen from the air for growth — with the help of rhizobia bacteria, which performs the magic, but only when they live in the nodules on the roots of a legume, such as sainfoin or lentils. As humans, we require vast amounts of fossil fuel to do what legumes do quietly in the field.

Legumes use their DIY nitrogen supply to produce high-protein forage for livestock and pulses for people (lentils, peas, beans, and chickpeas are known as pulses, the edible seeds of legumes). Grasses, such as wheat, barley, and Kernza must obtain their nitrogen from the soil. Instead, legumes leave nitrogen behind for other plants to use, which helps out the grain crops.

The communitarian spirit that legumes and grasses exhibit in the field is echoed in the complementary nutrition they bring to our plates. Eaten alone, pulses and grains each lack some of the protein building blocks we need every day. But when we eat them together, we get all the amino acids we need.

Although Manuel's mix of Kernza and sainfoin that was highlighted on the lentil tour is new, people have grown grasses and legumes together, and in rotation, since the dawn of agriculture. But as tried and true as this association is, the idea was considered eccentric and risky when Oien and the three other Montana farmers started Timeless.

Today, Timeless Natural Food's lentils fill the color wheel, from Manuel's Petite Crimsons to Harvest Golds, French Greens, and Black Belugas. Their lentils are sold in stores across the country and featured in dishes served by unpretentious food trucks and fancy white-tablecloth restaurants alike. Timeless farmers also grow chickpeas (the star of hummus) and heirloom grains. And their Purple Prairie Barley is a tasty version of the widely-grown crop; while their farro is emmer, an ancient ancestor of modern wheat.

In his lentil field, Manuel finishes explaining his multi-cropping experiment and moves on to talk about his family's operation, and how his three oldest children have all come back home to work. His son Tristan helps on the farm between shifts as an emergency medical technician; his other son, Sawyer, is a welder who is adding pigs to the family livestock business. His daughter Sarah graduated from the Culinary Institute of Montana at Flathead Valley Community College, and then landed internships in Hawaii, including a stint on an organic farm. She now runs the Streatery food truck in Havre. From her commercial kitchen on the farm, she also caters events, prepares freezer meals, and had just started farmhouse dinners when COVID-19 put the gatherings on hold.

Manuel then recounts a health scare in their family, which they addressed with healthy eating and organic farming practices. "Frankly it was life-changing," he says. "It caused me to ask a lot of other questions about things that we might just assume we know. What is it that we have left to discover?"

Oien explains that each of the Timeless growers has their own compelling story about why they started farming organically, but that health is often a part of that story. "Either they were diagnosed with something, or their spouse or their kids were," he says. "It's kind of a wake-up call, it's like, 'Wow, health is important, health is connected to nutrition, nutrition is connected to what you eat, and what you eat is connected to what we're growing here on this farm. Are we doing it correctly?'"

The switch to a virtual lentil tour isn't the only COVID-19-related change at Timeless. Gail Nickel-Kailing, the company's marketing and distribution channel manager, says they never could have predicted the effect of the pandemic. "It started the third week of March," she recalls, "when everything closed down and everyone wanted to stock up their pantry. Both our online sales and our distributors' orders spiked. Distributors called begging for products. In New York City and Seattle, especially, where the virus hit so hard, people wondered, 'Will I be able to go back to the store?' They were looking for foods that were healthy, had good shelf life, were easy to use, and versatile — and lentils are all those things."

When a flurry of orders from the same address caught her eye, Nickel-Kailing reached out to the buyer, Richard Nelson. He told her that he couldn't find lentils in Bozeman, so he'd gone online. Nelson stays in touch with family and friends by sending gifts of local specialties, such as coffee and huckleberry chocolate. During the pandemic, care packages of lentils in a rainbow of varieties seemed more appropriate.

"If you write someone just one postcard a year, you have a friend for life," Nelson says. "Sending them lentils makes them a double friend." He thinks for a moment and adds, "And the thing about lentils is, you don't have to write anything; they just see your name." He guesses he's sent about 75 assorted lentil gift packs — and counting.

On the first evening of the tour, on Manuel's farm the Bear Paw Mountains were darkening as a few growers who were there in person and the crew from Timeless gathered for dinner on a hilltop overlooking the tree-lined creek, pasture, and fields. Manuel's daughter Sarah created a meal of local organic foods, starting with braised beef sandwiches on whole wheat rolls. The grass-fed beef, from her family's Prairie Grass Ranch, was cooked in Scotch ale from the Triple Dog Brewing Company in Havre. Her Montana tabouli featured Timeless farro and Purple Prairie Barley with fresh mint and basil, cucumber, watermelon radish, and dried Flathead cherries. The flourless Black Beluga Lentil brownies were protein-packed and delicious.

While dining, we looked out across the pasture toward Manuel's experimental field where the next crops are developing, nurtured by lentils. The young perennials will have their turn to stretch for the sky and sink deep roots to improve and protect the soil. The next generation of Manuels will be here on the farm, too, using and improving some of the oldest farming techniques around.