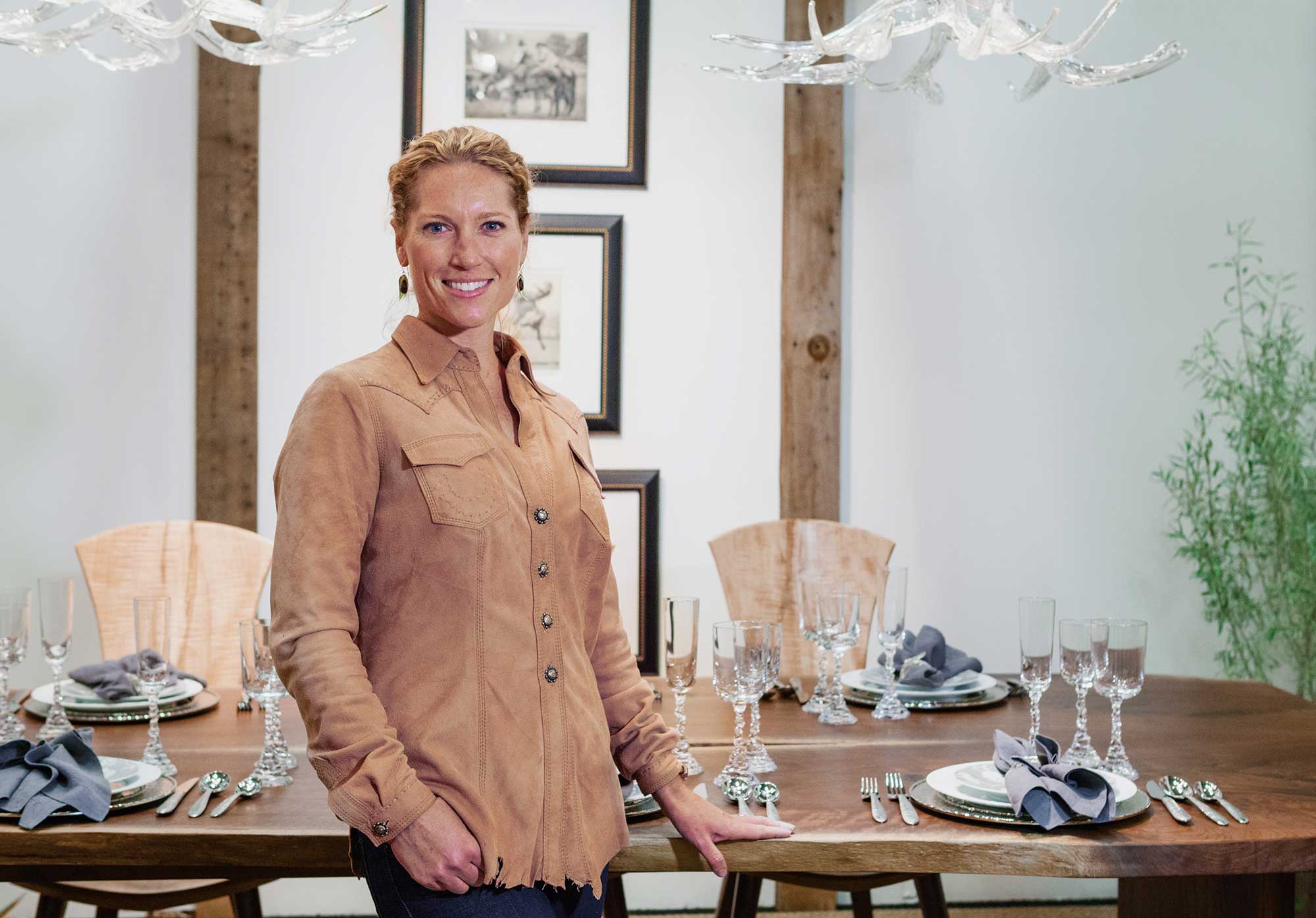 14 Apr

The Spirit of the West in Jackson, Wyoming

in
---
Jackson, Wyoming, is best known for its mountains. The Teton Range, with some of the steepest slopes in North America, attracts climbers, hikers, and skiers from all over the world, both summer and winter. But for a 10-day stretch every September, Jackson is also a haven for Western art lovers.
The annual Jackson Hole Fall Arts Festival offers local home tours, fine art exhibits, quick draw painting events, art auctions, and food pairings in galleries. Anchoring it all is the Western Design Conference Exhibit + Sale (WDC), where handmade leather couture meets one-of-a-kind Western furniture meets custom cowgirl boots meets hand-forged bed frames. This year's WDC event features a "Designer Show House" with six rooms composed by selected interior designers. Bringing 130 artisans of fashion, furniture, and accessories with a unique Western flair together under one roof isn't a simple undertaking, but WDC executive director Allison Merritt makes it seem that way.
"What I love about this show is the functionality of it," explained Merritt, who bought the rights to the event four years ago after working for a decade as the event director. "These are things you will live with, beautifully appointed things that have a story. They aren't overly precious, they are meant to be loved."
When Merritt talked about the WDC Exhibit + Sale, her enthusiasm was infectious. Her smile lit up the room as she recounted the mix of handcrafted works in leather, metal, wood, and wearable art. She sashayed through the massive Snow King Center at the 2015 event wearing a flattering, long leather skirt made by Montana Dreamwear, a perennial exhibitor. Passing other exhibitors, she knew each person by name.
Supaya Gray Wolfe, who crafts intricate Lakota-inspired beadwork, told her: "I hope to see your daughters running this show someday!"
Merritt checked in with other exhibitors, complimenting them, showing an interest in each person she met. For her, the artisans at this event are more than customers, each one is part of the WDC family.
She stopped to chat with Michael Levenberg at the Buffalo Collection booth; he was showcasing a throne-like wingback chair. He and his wife Laura had traveled from Scottsdale, Arizona, for the event. Across the room, exhibitor Marc Taggart of Cody, Wyoming, paid tribute to the tradition of furniture designer Thomas Molesworth with a striking red leather and woven Navajo fabric club chair. Nearby, a new artisan at the show, woodworker David Stine displayed a clean-lined, live-edged dining table and matching benches made from hardwood harvested on his family's 500 acres in Illinois. Handcrafted furniture is a mainstay of the WDC, and while much of it is rustic, there are also contemporary works that push the definition of what might typically be considered Western.
"We ask the artists to be forward thinking with the designs that they showcase here," said Merritt, "because a lot of the work will set trends in the overall Western design world."
A case in point is the new addition of the Designer Show House in 2015. It dominated the center of the show with a display that suggested a movie set. Rush Jenkins of WRJ Design in Jackson consulted on the freestanding rooms within the venue. A different interior design firm conceived each room as a demonstration of their unique approach to Western decor. WRJ Design's showroom incorporated contemporary elements and work from artists including Ashley Tudor, who put a refined spin on traditional antlers by adding a bronze skull. Jackson's longtime go-to gallery, Fighting Bear Antiques, displayed works from historic Western artists, and brought rare Native American decorative arts to bear in their space. The work of another Jackson designer, Kathy Reedy, stood out with a dining room setting that incorporated sleek furnishings with rustic textures.
The Designer Show House will return to the 2016 event in an expanded form, according to Merritt.
"Every one of these pieces has a story to tell. They are uniquely made by unique artists and I imagine they will become heirlooms for some people who will pass these things down from one generation to the next," Merritt said. "I love being a part of that."
She stood in the second-floor of the Snow King Center, looking down on a full view of the concession area. The runway was set for the opening night's fashion show and Winner's Circle Art Auction. The preview party was just a few hours away. Merritt had a lot to do, but as she looked across the room you'd never know she was running through a checklist in her mind. Instead, she wanted to talk about the artists.
"Nothing makes me happier than seeing an artist find success here," she said. "The Western Conference Exhibit + Sale captures that spirit of the West, that independence; it pushes boundaries and creativity. That's what it's all about."
---
Editor's note: The 24th Annual Western Design Conference Exhibit + Sale will take place Sept. 8 to 11, 2016, in Jackson, Wyoming, at the Snow King Resort.