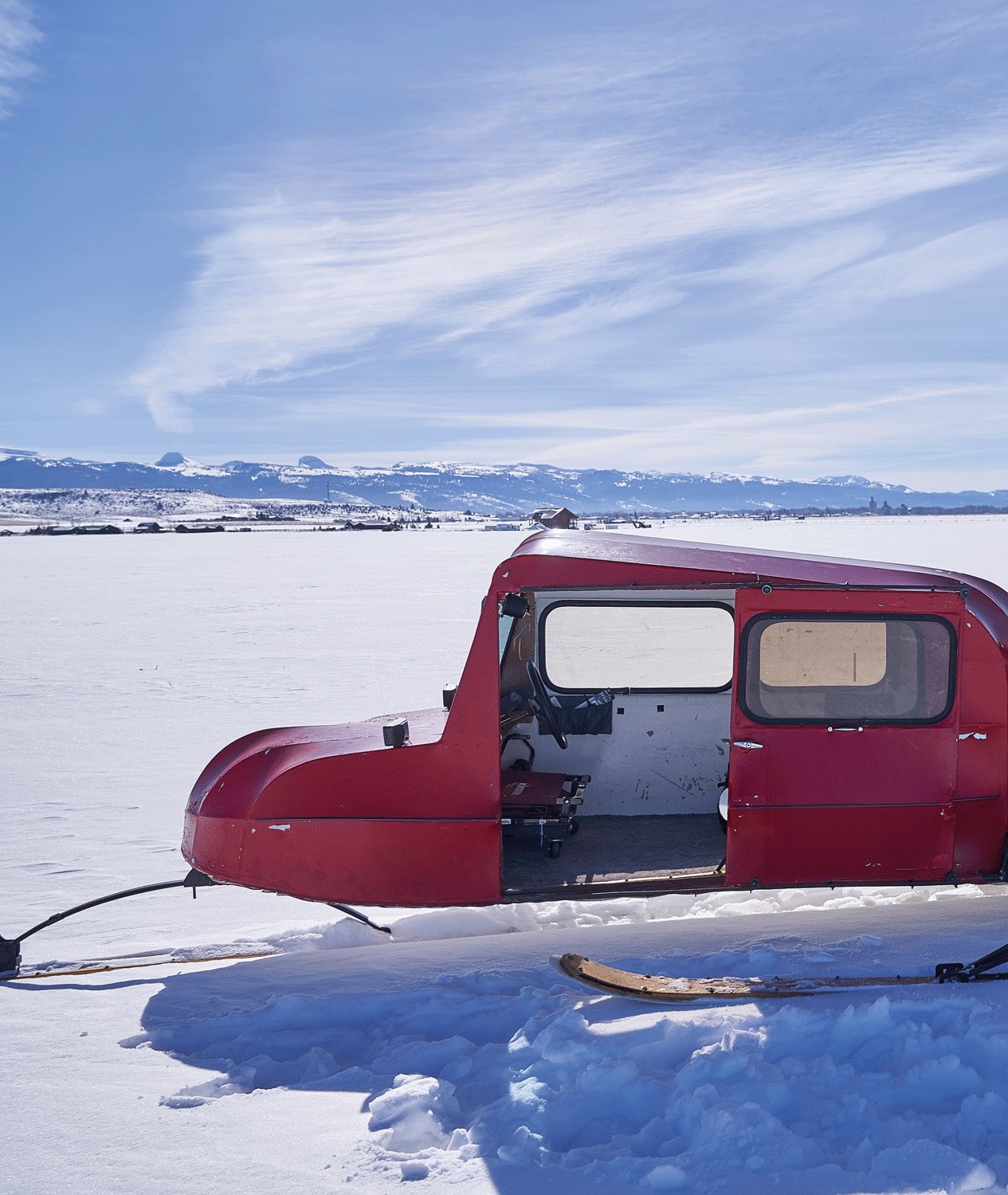 12 Dec

The Snowplane Capital of the World

in
The small town of Tetonia, Idaho, propels a tradition
Ever since he was a small child, Brent Robson's life has been intertwined with snowplanes. His father, Dale Robson, constructed his first one in 1949 — just one year before Brent was born.
For those not in the know, snowplanes don't fly through the air. Rather, these machines — which are usually homemade — glide along on the snow on a trio of skis, while engines, typically from airplanes and sometimes from automobiles, power them along. Rear propellers also power the vehicle, much like a swamp boat.
Today, the tiny, don't-blink-or-you'll-miss-it town of Tetonia, in Southeastern Idaho, is known as the "Snowplane Capital of the World." It's the home of the annual Dale Robson Memorial Snowplane Rally, held each January since 2012, and named in honor of Brent's dad. At this gathering, enthusiasts haul their snowplanes from towns like Dubois and Idaho Falls in Idaho, and some as far as Pinedale, Wyoming. Fifteen to 20 of the vehicles typically are on site for the festivities, and although that might not sound like many, it's the biggest snowplane event in the region. "There aren't a lot of them in use still," Robson says.
Held in Tetonia City Park, each year at the event (which is part of the Teton Valley Great Snow Fest), aficionados — and the curious but uninitiated — gather to appreciate the contraptions, show off their machines, share stories and memories, take eager passengers out for a spin, and enjoy a home-cooked meal. Robson says the event typically draws a couple hundred people each year. While many attend annually, each rally also attracts a number of newcomers. "Probably 75 percent of the people have never seen [a snowplane] before, and it just blows them away," Robson says. "They're just different. It's like being next to an airplane that goes on the ground."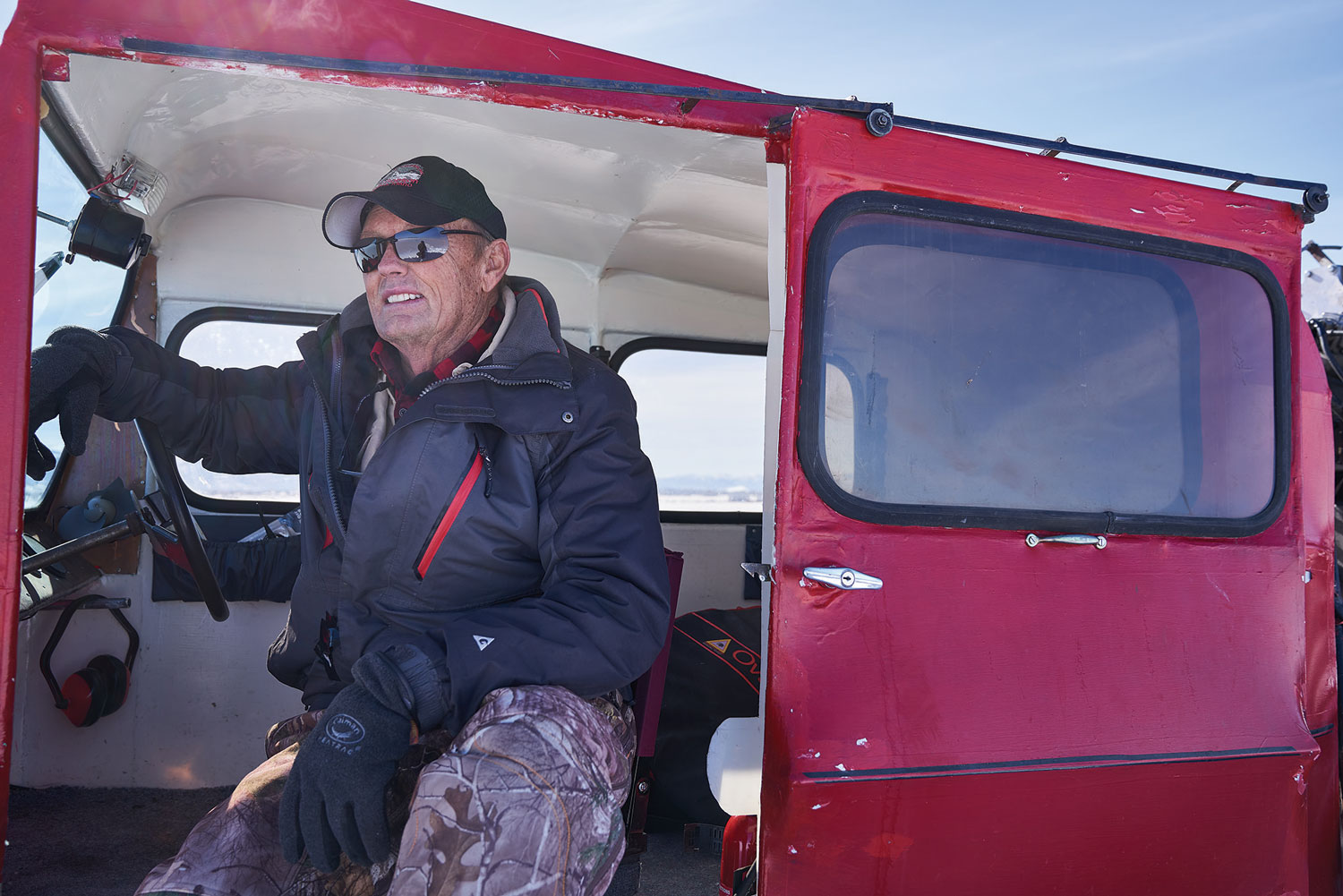 Robson says his favorite part of the event is "just being able to talk to people about snowplanes, what they were used for, and how they came about." It's particularly special for him because it brings back memories of his childhood north of Tetonia, in the tiny neighboring town of Felt. He recalls roaring through snowy fields to reach his grandparents' house and the nearby highway.
Before snowmobiles, there were snowplanes. Used in rural locations for winter transportation and crucial deliveries, they would carry medicine to the hospital when unplowed roads prevented other vehicles from reaching it. Snowplanes also delivered mail to the remote Signal Mountain Lodge in Grand Teton National Park, according to Robson.
The multi-purpose machines are also recreational. During the winter months, the Robson family would fire up their snowplane and go ice fishing at Jackson Lake, one of their favorite spots to cast a line. When he was little, Robson would help chip ice away in order to drill holes to fish through. "We didn't have power augers at that time, it was just an ice chipper," he says, recalling the 5- or 6-foot-deep layers they would have to dig through. When he was just 8, Robson graduated to the role of pilot, driving through fields and maneuvering the family plane around the iced-over lake.
Back then, Robson's family had plenty of company; a busy day at the lake would involve 80 or 90 planes. "It was a family event for everyone that had them," he says. "On the weekends especially, we would take everyone who wanted to go." On these trips, Robson and his relatives would spend time fishing and feasting on their catch — mostly lake trout. "[The fish were] very good eating coming out of the cold water," he says.
The planes could also provide shelter in extreme weather conditions. Robson recalls a sudden storm, in which the wind and snow whipped around so fiercely that they couldn't see more than 10 feet away. Retreating to the snowplane cab, he and his family were protected. On cold days, they stayed toasty with a propane heater even when the temperature plunged to 30 degrees below zero outside.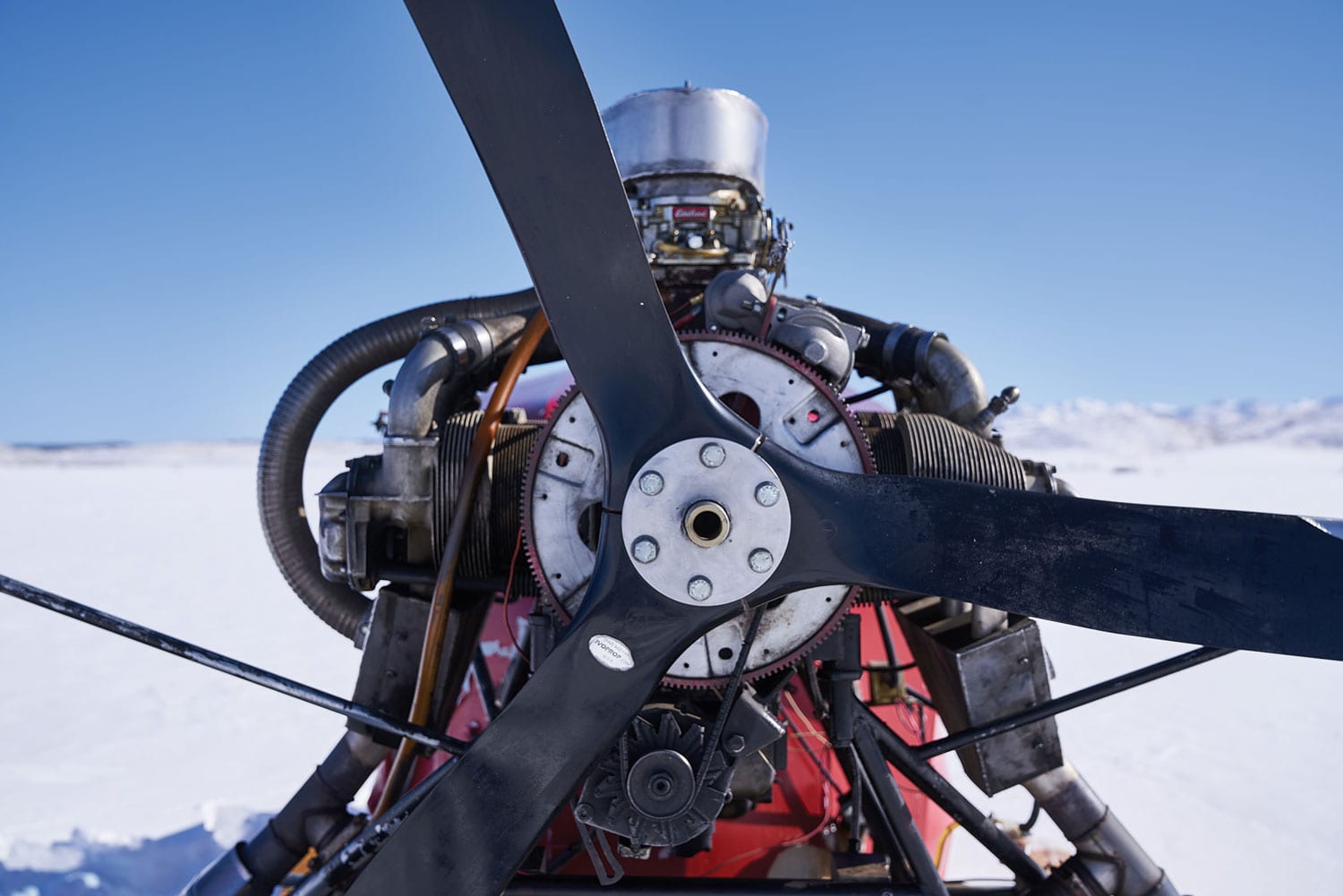 Today, Robson drives the last snowplane his father built, constructed around 1998. "They last a long time," he says, explaining that because the planes typically aren't used for that many hours each season, they take on little wear and tear.
Robson's snowplane stands out with a red cab made from airplane fabric stretched over the frame. The vehicle is made with components from a variety of sources, including an aircraft engine, motor mounts from an air boat, and an automobile carburetor. It has a three-blade propeller and can seat four people. Wheels on the driver's seat allow for maneuverability, and the steering wheel is just like that of a car.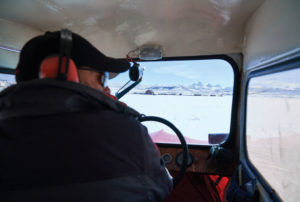 Robson brings his snowplane out about 30 times a winter. While Jackson Lake is now off-limits to snowplanes, due to a 2002 policy implemented in Grand Teton National Park to limit noise and environmental impacts, aficionados can still bring their machines to other lakes, such as Grassy and Fremont.
Although those who are curious about the lost art of the snowplane often seek Robson out, and he's happy to help, nowadays he mostly enjoys sharing the experience with his family, including his 14 grandkids. Helping others also spurs memories from his childhood. "It brings back memories of what we used to do on Jackson Lake," he says. As the oldest grandkids are learning how to drive the snowplane, Robson hopes his family's legacy will live on with the next generation.