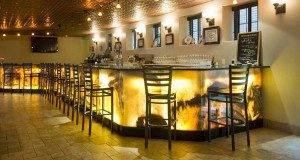 15 Jul

Dining Out: The Onyx Bar and Grill

in
---
Anyone who knows anything about Lewistown would likely rave about its magnificent, century-old buildings impeccably crafted from locally quarried sandstone. Few would rave about the younger buildings built of native brick supplied by the Lewistown Brick and Tile Company from 1911 to 1941. One of these lesser celebrated, brick structures is the historic Calvert Hotel, also home to the ambitious new eatery, the Onyx Bar and Grill.
The Onyx is named for its luminous focal point, an exquisite, handcrafted backlit bar. Diffused golden light radiates from sheets of imported onyx stone, fully illuminating the bar and adjacent dining room. Credit for the design and craftsmanship goes to Steve Duffy who purchased the distressed hotel in 2007. His extensive, $1 million-plus renovation revitalized the building that old-timers remember as the former Fergus County Improvement Corporation Dormitory. Opened in 1917, it served as a surrogate home for 50 girls who lived too far from Lewistown to make the daily trip to Fergus County High School. Financial woes forced the dormitory's closure in 1925. Reopened as a hotel in 1928, the building lost its vitality through disrepair.
In September 2009, Duffy reopened the Calvert for business, but wasted little time spending another $1 million in converting the basement into a bar and restaurant. One afternoon while driving his rig west on Highway 87 toward Moccasin, he was struck by an epiphany.
"When I got cell service I called one of my suppliers," Duffy recalls. "I told him I was looking for stone for my bar. He said, 'I have a great deal on honey onyx.' As soon as he said 'onyx,' I knew that was the name of my bar."
Ample seating is available in the bar, and six Montana microbrews on tap assert Duffy's wish to support small businesses "which is what we are. We're all about buying what we need from local and in-state suppliers." In the adjacent dining room, high-backed booths offer quiet, private space for meals and conversation. Some patrons prefer the less formal atrium with its brick walls, tile floor and high-standing metal tables and chairs.
A budget-friendly menu — emphasizing Montana lifestyles prone to fishing, hunting and ranching — appeals to every palate. Locals and visitors order Montana bred-and-raised-beef, sautéed walleye, bison chili, or grilled rack of lamb, the latter served with spinach risotto, broccoli and sundried tomato jam. Hot and cold appetizers, salads and desserts, and the opportunity to "build your own flatbread pizza," fill the menu.
Duffy praises the photogenic Beef Wellington chef Gary Kuhns created as a Valentine's Day special. "He braided the pastry and included an intricate rosette on top. It was a smash hit. People said it tasted divine. They even took pictures of it."
Kuhns' Beef Wellington is just one star in his culinary repertoire. The award-winning chef took over the kitchen in June 2011, mostly encouraged by Onyx manager Kathy Sas, who also happens to be Kuhns' sister. Drawing information out of Kuhns about cuisine isn't easy, but he does say he considers "texture and color because plate presentation needs to appeal to the eye." More or less, he blends culinary techniques and principles that he learned at Lincoln Technical School in Nebraska where he earned an associate's degree. Kuhns has cooked for esteemed hotels and clubs, including the Columbia Club in Indianapolis where he fed an elite society. "I cooked for Dan Quayle, former President Ronald Reagan and both Bushes," Kuhns says.Now, in the heart of farm and ranch country, he attracts a crowd by offering Oysters Rockefeller, baked crab and artichoke dip, Alaskan salmon salad, seafood lasagna, grilled halibut or salmon, and other fresh fish and seafood supplied by a southeast Alaska company. Complementing the entrées is an impressive wine list, with which Duffy took great care. He's selected Yellowstone Cellars and Winery because, in addition to making good wine, grapes grown in California's Columbia Valley are crushed, fermented, bottled and cellared in Billings. Rued Wines are another favorite. The proprietor of that small Sonoma Valley winery, Dee Rued, is formerly of Lewistown. Other California labels, as well as some from the Pacific Northwest, round out the list.
Sometime this spring, the Onyx will open for lunch. "We'll have express meals for business people," Duffy says, "and gourmet pizza, shaved prime rib sandwiches, things we already offer on the dinner menu but tweaked a bit."
Duffy isn't quite finished; he's adding a second dining room and another custom bar made of onyx stone, and, of course, the stone will be backlit. All in all, Duffy's ambitious renovation of the Calvert — that preserved its native brick exterior and dormitory heritage, but added green technology and modern amenities — has won him awards from the Montana Preservation Alliance and the Lewistown Historic Resources Commission.
Today the vintage Calvert Hotel is, as it should be: stately, welcoming, bustling, and home to one of Lewistown's finest dining establishments.
---
Onyx Roasted Pork Tenderloin
2 whole, center-cut pork tenderloins (about 24-ounces of meat)
half-pint fresh or frozen whole blackberries
1 shallot finely minced
1 T. raspberry vinegar
2 ounces merlot
½ cup blackberry jam
½ cup pork broth
1 T. cornstarch
2 T. water
11 T. extra virgin olive oil
Heat skillet, add oil. Heat until smoky. Pan sear tenderloins on all sides. Remove from skillet. Place in roasting pan and place in oven preheated to 400 degrees. Roast about 10 minutes. Degrease skillet by pouring out left-over oil. Add to skillet minced shallots and cook until tender. Deglaze skillet with merlot and add vinegar and pork broth and reduce by half. Add blackberry jam. Mix water with cornstarch to make slurry and slightly thicken liquid in skillet and add blackberries. Ladle sauce along the edges of the plates, following their curves. Remove pork from oven. Place on cutting board and slice one-half-inch diagonal slices, producing five oblong medallions per plate. Place on plate next to sauce and follow curve of the plate.