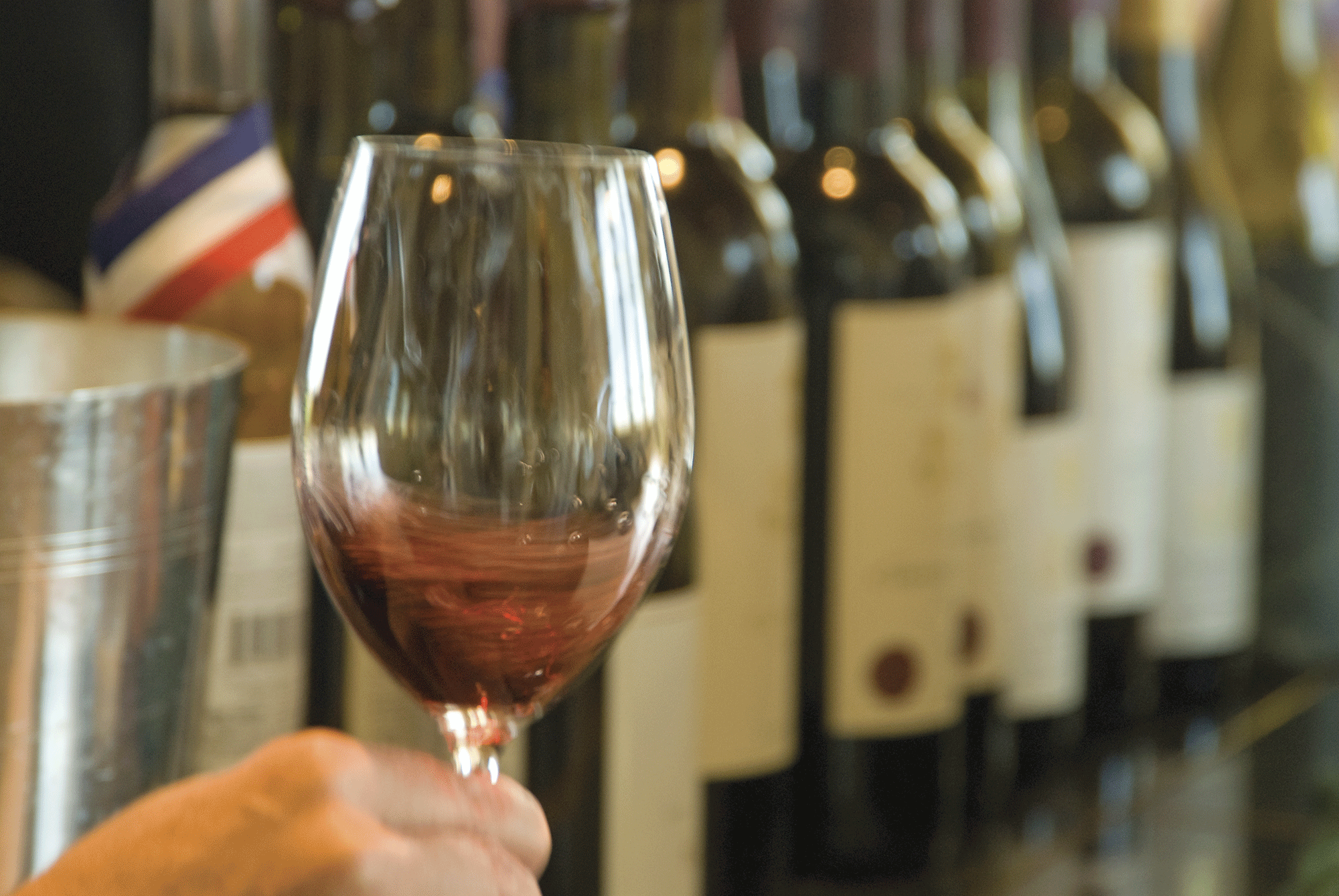 22 Oct

The New Wine Country

in

A tour through Idaho's Snake River Valley wine country sounds like a fine Sunday afternoon drive, until you take a look at the map. Designated as an official American Viticulture Area (AVA) in 2007, the Snake River Valley is vast — some 8,263 square miles stretching nearly the entire southern girth of the state and technically sliding into Eastern Oregon. Sixteen of the state's 23 wineries have taken root in the AVA and wine growers are making a convincing case that Idaho should be revered for more than just its famous potatoes.

The plan was to start east and head west (could thousands of Oregon Trail pioneers be wrong?), sampling any wine that got in the way. Launching from the small southeastern town of Twin Falls, I meandered through the steep Snake River canyon and into the agrarian landscape, toward the hamlets of Buhl and Hagerman, to Holesinskey Vineyards.

Vintner James Holesinskey is 29 and grew up in the dairy business, one of the major economic drivers in this rural area. In fact, Holesinskey's primary occupation is still creating chemical processes that help dairymen neutralize massive amounts of cow manure. Paradoxically, Holesinskey has painstakingly established Idaho's only certified organic vineyard.

His vineyards, rapidly growing from hobby to business, are surrounded by the light sage color of the Russian olive trees with a backdrop of the dark chocolate-brown basalt cliffs that brand the valley's landscape. Holesinskey's makeshift tasting room is less picturesque: a rough cinder block shed, converted from dairy-use, with a huge Coors sign he acquired from a local barley grower propped up against the building. Regardless of architectural aesthetics, Holesinskey's Riesling has won the Idaho Wine Festival's People's Choice Award two years running. Small batches and limited distribution have me groveling for a taste. He scares up a glass and siphons the straw-colored liquid from a barrel. The People are on to something, I admit, as the unfiltered notes of apricot play off an acidity that seems as lively as its kinetic maker.

Considered to be part of the new frontier of wine country, Idaho actually has a long history of winemaking. According to the industry website, www.idahowine.org, the first wineries in the Pacific Northwest were located in Idaho. Grapes were also introduced into the Clearwater Valley by 1872 and thanks to the pioneering efforts of two Frenchmen, Louis Desol and Robert Schleicher, and one German immigrant, Jacob Schaefer, the state rapidly became known for its wines. Up until Prohibition, Idaho had a nationally renowned wine industry; growers hope the AVA designation will help them compete in the same league as Washington and Oregon.

Two other wineries in the area — Blue Rock and Thousand Springs — are contributing to rebuilding the culture of wine in this region. From tasting rooms of a more traditional variety, pourers at Blue Rock direct travelers to the nearby lavender farm and Thousand Springs owner Paul Monahan can point out the still-visible Oregon Trail ruts on the banks of the Snake.

Later my traveling companions and I ramble on to Kirt Martin's Snake River Grill in Hagerman. Martin is the town's gifted and semi-celebrity chef. Cooking on the Wild Side, his MyOutdoorTV.com show, started out as an Idaho public television program; he's been credited with showing Idaho hunters how to turn their hobby into something entirely edible. Just as the Snake River soils are ideal for vineyards, the cattail colonies in this valley create a waterfowl haven. Another staple in the Hagerman valley is rainbow trout. Not only do anglers revere the clear streams, but roughly three-quarters of the nation's commercially-grown trout are raised right here.

"We are sitting here in the Garden of Eden," Martin comments as he slips a gorgeous pink fillet in front of me with a glass of Monahan's Thousand Springs Chardonnay. "Here I have the freshest ingredients and I prepare them simply. When you do that, you create a moment in time when the food is ready right now," he tells me.

He notes that the strawberries blended into the cheesecake were picked earlier in the morning. Martin is enthused about the Snake River Valley's AVA designation. "These little wineries are coming on strong and producing incredible quality. They are not just good, but unique," he adds, noting that visitors love finding wines they won't find elsewhere.

After a soak and massage at Miracle Hot Springs and a dreamy night's stay at Jane and Jake Rice's Ein Tisch Inn, I realize I have only explored about 15 miles worth of Snake River Valley and visited three wineries. The pioneers made better time than this! It's time to keep moving west.
Just 30 miles downriver is the old railroad town of Glenns Ferry, where Carmela Vineyards are located. The winery overlooks the Snake and is adjacent to Three Island Crossing State Park with its small, but impressive, Oregon Trail interpretive center. Carmela has me excited for two reasons. First, I'm interested to see what charming winemaker Neil Glancey has bottled recently. And second, Carmela has a 9-hole golf course that is out of the way enough to afford an enthusiastic but horrible golfer like myself a chance to hit a few balls without attracting too much unwanted attention. As it turns out, Neil lets me sample some of his new releases from the golf cart, a pleasantry that makes the detour to Glenns Ferry more than worthwhile.

Carmela's frontline wines are unabashedly sweet, appealing to the statistically large crowd of White Zinfandel lovers. But if sweet's not your style, ask Neil to pour his reserve Chardonnay or red blends for a bit more character.

Better yet, ask him if he'll do so from your golf cart.

In just over an Interstate 84 hour, we're in downtown Boise, or as people more hip than I refer to it — BoDo. Boise is minutes from Snake River Valley wineries near Kuna and the Sunnyslope area and has the added advantage of being the West's IT city and a new proving ground for hoteliers and restaurateurs. The transition from the southwestern Snake River ag land to the city feels like we've crossed time zones and may need to produce a passport. We base out of what was formerly the dowdy Statehouse Inn that has become the black-red sleek Hotel 43. My friends and I walk the few blocks to dinner and pass shops that would have one believe that cowboy boots, hats, and belt buckles are the stuff of costumes rather than work.

At the 8th Street Wine Company and Café I seek owner Erik McLaughlin's opinion of Idaho's new AVA designation. McLaughlin has the structure and intensity of an age-worthy cabernet. In his mid-30s, he owns two of the best entries in Boise's highly competitive restaurant scene: 8th Street and The Bungalow in the North End Hyde Park neighborhood. The former corporate wine buyer for Cost Plus World Markets, McLaughlin's wine knowledge is even more encyclopedic than his establishments' ample wine lists. He is unapologetic about the slim Idaho wine pickings on those lists.

"I don't grade on the curve," he says with a frankness that quickly reveals itself to be characteristic. "I have high expectations and I won't put an Idaho wine on my list because it is good 'for Idaho.' It has to stand on its own against wines from around the world at a similar price."

The Snake River AVA will come into its own if the bar is set high, McLaughlin predicts. "I think the Snake River Valley will be producing world-class wines someday," he asserts in what seems an uncharacteristic bout of enthusiasm.

The 8th Street Café mirrors the BoDo culture — stylishly warm but modern, with a palpable hankering for a West that is becoming less reality and more legend. Chef Josh Young's elk chop special is a sensory example of that dynamic. Young is a burly 25-year-old who causes me to question whether the elk was actually farmed at the nearby Black Canyon Ranch like he purports or if the chef just returned from the nearby Boise National Forest with his kill. His black chef's coat is impeccably pressed, his uniform rounded out with Levi's and hunting boots.

Broad shouldered and stout-necked, one waits for Young to chat about rugby, Greco-Roman wrestling, or the Marines. Instead, he soft-spokenly describes the gastrique — the magical marionberry sweet and sour sauce that graces the elk. He nods approvingly at my wine selection, the Hells Canyon '04 Cabernet.

"You can pair Idaho elk with French wine, but the flavors are different when you pair it with an Idaho wine. The terroir, the taste of the place, matters," Young says.

The truth is, the invocation of the Frenchy word terroir coupled with the too-cool BoDo has me wondering if I'm still in Idaho, but the taste of the place at the Saturday morning farmers market grounds me with its earthiness. The lively market that persists from spring through fall is an event in its own right, but also a great venue to assemble picnic basket goods for a tour of the western Snake River Valley wineries. Artisan breads, local sausages and cheeses, and produce abound. Dozens of vendors displaying artwork, jewelry, and tapestries threaten to derail an early start to the Sunnyslope wine region, but my anxieties are soothed when I see that several wineries occupy booths at the market.

Aside from the crowds and the paper Dixie cups, the farmers market is a top-notch place to start the day's wine tasting. Snake River Winery, located in the far western part of Idaho's AVA, uses the market as its primary tasting room. "We're pretty far out there," says the winery's co-owner Susan DeSeelhorst, "So it makes sense for us to come to where the people are." Another thing that makes sense is to try Snake River Winery's Chardonnay with the kettle corn; its aroma pervades the brisk morning air.

Weeks of sitting side-by-side at the market have inspired more than one creative blend. Kristen Koenig serves a sample of the Koenig brothers' ice wine and sends me to her left to the Ballard family's organic white cheddar. Inspired and properly fueled for farm country, I make a beeline from Boise to the neighboring Nampa (not Napa) area.

The Sunnyslope region used to come alive in late summer when the peaches were on and in the fall when cider was pressed. Brad Pintler's family farmed row crops (like beans and sugar beets) on their farm just south of Lake Lowell. Neither the beans nor the sugar beets excited the masses quite like the Pintlers' grape crop. Hundreds of people arrive at the Sawtooth Winery's Mother's Day wine tasting event, now in its 19th year. The grounds surrounding the winery are covered with a patchwork of picnic blankets and children huddle close to a local band doing a sound check.

The event seems as much an Idaho winemakers' celebration of spring as a Mother's Day tradition. Idaho winters threaten grape growers every year. Sometimes the threat is without substance; other years arctic weather brutalizes even the most cold-hearty vines. Each bottle seems a miracle, the royal purple in my glass a defiance of the odds. It's Sawtooth's 2003 Cabernet Sauvignon, a varietal sometimes associated with less northerly climates, that stands out. "Remember how hot and dry 2003 was? The fruit really developed and ripened," Pintler tastes with me, his friendly smile acknowledging the absurdity of a farmer rolling the taste of drought around in his mouth like a lollipop.

We're interrupted by my friend Kristin Troy, who is thrusting a glass of Hells Canyon Deer Slayer Syrah toward my nose. "Try this," she insists, "I just bought all they had. We're going to need to move the bikes," she says, referring to the recreation gear stashed in the back of my Honda Pilot. Kristin is a skeptic in the style of Erik McLaughlin. She and her husband own a Main Salmon river rafting business in Central Idaho and as a commercial wine buyer had never before been dazzled by an Idaho's wine quality-to-value ratio.

Pintler fills Kristin's glass with the cabernet and they rapidly move into negotiations. They wheel a handcart and head toward Sawtooth's warehouse. "We'll leave the bikes — they're old anyhow. I'm going all-Idaho this year — the guests will love it!" she shouts at me over her shoulder.

As Kristin exuberantly paired Idaho reds with her Idaho whitewater, I witness others making similar if slightly more demure discoveries. With 11 Snake River Valley wineries assembled on Brad Pintler's spring green lawn, each with several wines from which to choose, only one or maybe two disappointed my palette. The quality of almost all of the wine was good — swirling, sniffing and slurping with the winemakers themselves, even better.
After being impressed by Greg Koenig's Viognier and Riesling, I visit his winery and distillery along the Snake. Greg and his brother, Andrew, were born to be Snake River Valley vintners. Their father is from Austrian winemaking stock; their mother from a family who homesteaded in this Sunnyslope area. The vineyards on their property contribute to their wines, the orchards yield bounty for their fruit brandies, and their internationally ranked vodka comes from the ubiquitous Idaho potato.

Mixing wine tasting with her other Idaho travel plans suits Kathleen Quirk, a visitor from New York. The young education policy specialist has toured Napa and Sonoma, but confesses she prefers Idaho's wine touring experience. "These are small towns and I feel a lot more comfortable asking questions about wine here," she says.

I've got a few questions of my own for Ron Bitner, one of the Koenig's neighbors and a driving force behind the tedious homework required for AVA designation. Ron has one of the oldest vineyards in the AVA with plantings that date back almost 30 years. He recently started marketing wine under his own label, and he and his wife Mary have opened a tasting room next to their home surrounded by 65 acres of grapes.

There's no better place to watch the sunset than the tasting room's flagstone patio. Ron surveys the scene like he's never seen such loveliness before. I drink his Cab-Shiraz blend like it's my first sip of the day.

Facing west, as the sun slips behind clouds in a game of hide and seek, we agree that Idaho's wine industry is as limitless as the view.
I forgive 8th Street's Josh Young for resorting to the word terroir. Because the terroir, or taste of this Snake River Valley place and time, is part Cabernet, part Shiraz, part amber sunset, and part humble philosopher-farmer. If there's a better word, I've yet to find it.