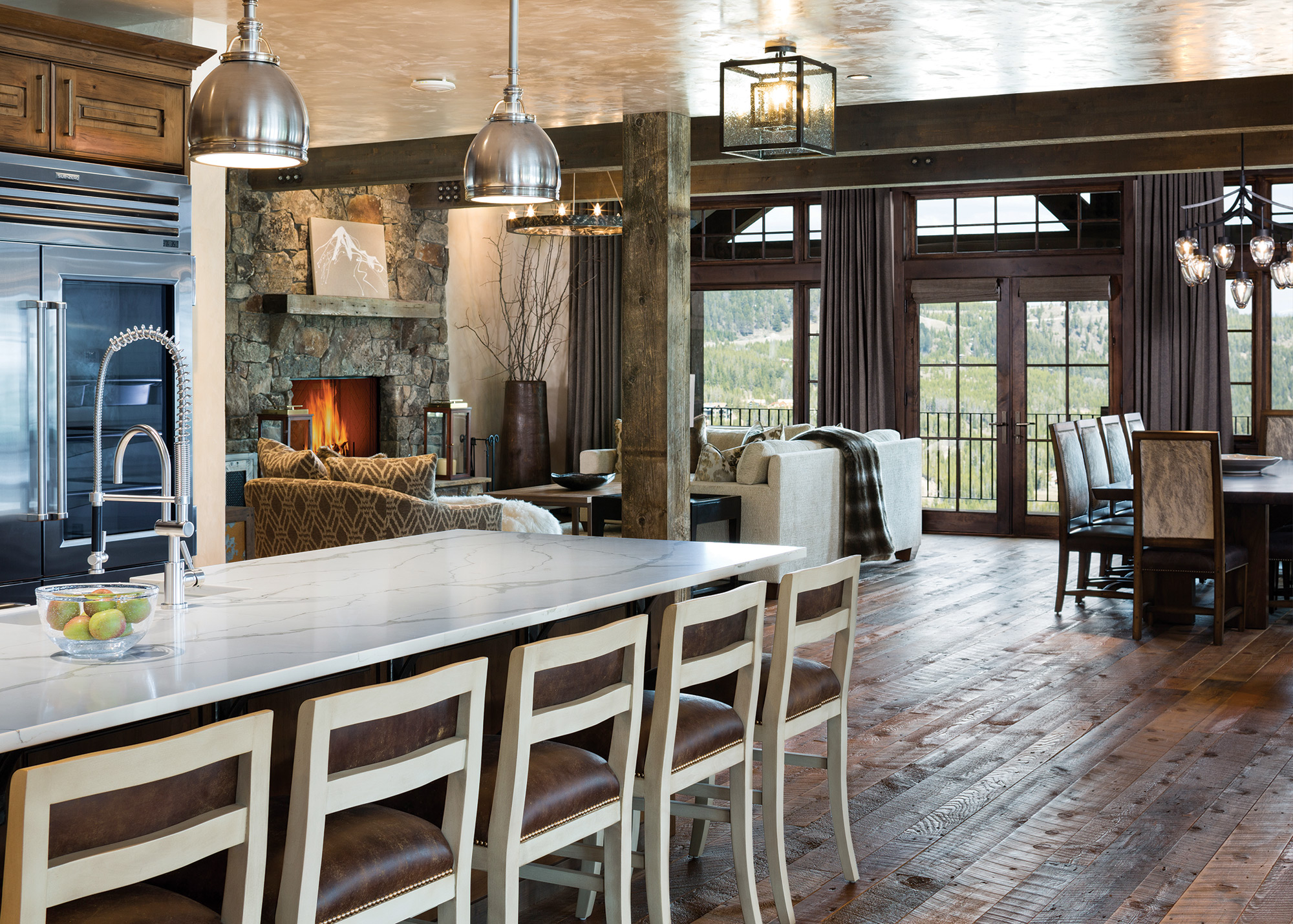 14 Apr

The Modern Kitchen

in
---
The kitchen is no longer just a place to store food and prepare meals, closed off from the rest of the house. Today, the open layout of contemporary kitchens truly makes this room the heart of the home. It's where some of the best conversations take place, where the party gathers, where kids sit and do homework, and where you can be cooking and still involved in the action. But there's no doubt that the open kitchen format has also changed the overall design needs of this utilitarian room. Stylistically, it now has to blend in with the rest of the home.
Kitchen design involves some of the most pivotal decisions in the home-building process, and the decisions are numerous: color schemes, cabinetry, lighting, hardware, floors, countertops, and more. "The kitchen is a place where I would steer my clients to be prepared to invest in good appliances, details, and a nice finish," said Erika Jennings, owner of Erika & Company (formerly Carole Sisson Designs).
But where to begin?
functionality
In order for a kitchen to function well, layout is key. "The main thing with a successfully balanced and good-looking kitchen is the work triangle: the space between the fridge, stove, and sink," explained Sharon Lohss, owner of Shelter Interiors. "That's the number one starting point." No matter how large the kitchen may be, Lohss said, these three points need to be within close proximity for cooking convenience.
Aside from the triangle, there are other key factors when considering layout. "Function depends on the cook's needs outside of the legendary work triangle," explained Laura Fedro, owner of Laura Fedro Interiors. "You have to think about who cooks there, their height and reach, how many people they are feeding, how they like to entertain. Function also captures great lighting, ample, accessible storage, and proper refrigeration." These questions can dictate details like counter height, and also how much counter space is needed.
Cooking aside, as the hub of the house, the kitchen also has to be a functional hangout zone. "Lifestyles have shifted, and what we've run into is the need for more comfortable seating in the kitchen, whether it's a built-in upholstered banquette or an additional space for casual dining," Lohss said. "Formal dining rooms are becoming more of a choice versus a necessity, whereas the more casual dining experience has become more popular."
"People are more and more enjoying cooking and want the guests in the kitchen so they're not missing anything," added Jennings.
design elements
While today's open kitchens make it harder to leave those dirty dishes stacked up — lest someone stops by — they also require that the style reflects that of the rest of the home. "The kitchen is the hub of the home, so it's a visual bulk, the backdrop for your style," said Jennings.
When you're ready to launch into the design specifics, Lohss recommended determining your preference for one of the design elements that covers the most space: cabinets, countertops, or flooring, and then continuing on from there.
cabinets
During a recent project that Lohss worked on, the kitchen cabinets were the last decision and one of the hardest to make. "For me, it comes down to the cabinets and the countertops; they can dictate the direction of the overall look of the kitchen because there's so much of it," Lohss said. "For this particular home, it came down to doing something simple in order to connect the other design elements in connecting rooms."
Lohss explained that as kitchens have become more contemporary, cabinets are getting very clean and simple. "The hardware used on cabinets can also really change or dictate the overall look," she added. "My house is farmhouse modern, and we used Shaker cabinets with more contemporary pull hardware, giving it a farmhouse and modern feel at the same time."
For Jennings, a home's overall design may actually hinge on the cabinets. "Sometimes cabinetry is the starting point for the whole theme of the house; not only are beams and building materials considered initially, next is trim, door, and cabinet color."
When it comes to choosing cabinets, think of your overall tastes and start observing. "Look at magazines and websites, go into people's homes and notice everything from the color to the texture and shape of the cabinets," Jennings said.
And Fedro recommended choosing something that appeals both stylistically and functionally. "There are a myriad of qualities available, and I always strongly advise pricing wood exterior with a high quality wood or Panolam interior first, then you can work backward from there if necessary," she said.
countertops
As another one of the most visible elements, the countertop material needs to be as good looking as it is durable; and with heavy use, many require maintenance. "They take maintenance regardless, but some stone is more porous, requiring more," said Jennings. "I try to stay away from particulate, but still use a natural stone with a clean look." What is she loving right now? "A black honed granite. It's very simplistic, clean, and timeless, but at the same time it's current but not trendy."
Lohss explained that there are some newer materials on the market that look like natural stone but are more durable, and more stain and scratch resistant. "This can eliminate the maintenance but it still looks like the real thing," she added.
Fedro is drawn to wood. "The last several of our kitchen designs feature large, beautiful wood islands that work as serving buffets as well as dining and prep surfaces," she said. "If you're a neatnik, the wood requires a little more attention, but it acquires this beautiful patina that means that wonderful meals have been partaken there!"
flooring
In many cases, the flooring in an open kitchen often flows into adjoining rooms for the sake of consistency. "Keeping that flow and not breaking it up is important," Jennings said.
Lohss also leans toward consistent flooring, and comfort is key as well. "We really like wood; it's a lot more forgiving than a hard surface like tile or stone," Lohss said. "I think it's also more comfortable for standing at the sink or in front of the stove." Wood flooring can also help create a smooth transition from one room to the next.
"Sometimes people want to contrast the flooring," Jennings added. Other popular choices include polished concrete, tile, stone, and in specific applications, a laminate such as European linoleum.
lighting
Kitchen lighting needs to be as functional as it is tasteful, and placement is key. "For the work that takes place in the kitchen, you want very good functional lighting," Lohss said. "Lighting under cabinets is nice. You might need an overhead light along with recessed lighting in the ceiling, and then decorative lights over the island or dining table."
"Then you add in a handful of spotlight areas," Jennings added, "where you will be cutting vegetables or prepping. You're layering from ambiance and artistic to functional task lighting."
Fedro explained that lighting technologies have improved in the last decade. "Lighting on the work surface in front of you is ideal, so be wary of trying to get good illumination from the ceiling surface alone. Choose lamping that allows for warm or clear light; food and cool, blue light is not a good combination."
appliances
Depending how high-end you're looking to go, appliances are where homeowners can make a serious investment. According to Lohss, most of her clients go with gas stoves, and she sticks with a few of the same high quality appliance lines. "Appliances and cabinets are very connected, or they can contrast," she said. "Some people want to cover the appliances with a panel that matches the cabinets, and others want to show off higher-end pieces."
Since appliances are expensive, Fedro recommended using your buying power wisely. "If you intend to buy a whole kitchen's worth of appliances, ask for quotes including suite discounts," Fedro said. "If you are buying individual pieces, buy the best you can afford."
When it all comes together, considering the amount of time you, your family, and guests will spend in the kitchen, creating an inviting and utilitarian space will be worth the effort and the money. "The kitchen takes the most time, and it's important to think of all the conveniences you might want," Jennings said. "It can save time and energy if you spend time and money on the bells and whistles outright."