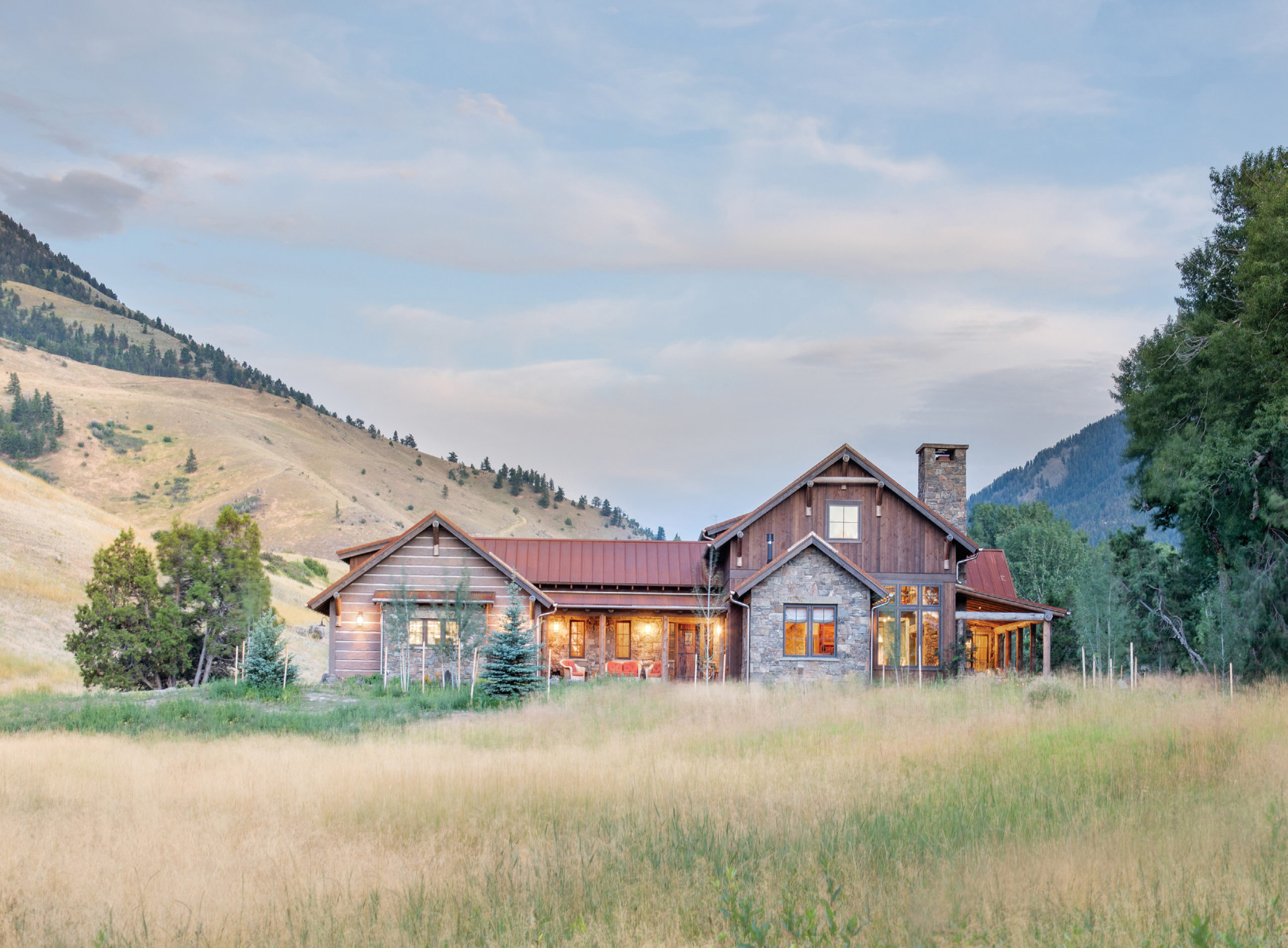 Custom builder Jody Marler of Fishcamp Custom and architect Carita Adams designed this home in Montana's Paradise Valley in a traditional rustic style, incorporating stone and reclaimed wood.
07 Apr

The Mill Creek House

in

EMOTION. THAT'S NOT A WORD ONE EXPECTS to hear from the mouth of a builder while describing his work, but emotion — as in passion — is a key element of Jody Marler's business ethos at Fishcamp Custom based in Livingston, Montana. As a result of Marler's own sentiment and his ability to tap into those of his clients', Fishcamp manifests their dreams with an aesthetic that pays homage to place, and values human-scale over the ostentatious. His focus is on building well-thought-out and detailed homes, he says.

Marler, along with a legion of talented artisans, craftspeople, architects, and subcontractors, builds custom homes for clients who have an emotional connection to Montana, and the joy those clients have for their (often new) life in this beautiful place is embraced and channeled by him during the building process. In fact, Marler himself, along with his wife Sandi, moved to Montana from Chicago, Illinois, a decade ago. Thus, he draws upon a deep knowledge of architecture gained by working within a city that's famous for it.

Marler knows that for a client to pour their heart into the design of their home, they must work closely with their builder, so he takes the collaboration seriously. One such example of Fishcamp's success — with architect Carita Adams, also of Livingston — is a newly built home on Mill Creek in Paradise Valley, constructed for a husband and wife who moved to Montana from New Mexico. "It's a testament to a builder when after the project is finished … you've become good friends," one of the homeowners says.

A handsome house of wood and stone on the edge of a riparian zone and a forest of juniper and narrow-leaf cottonwood, the Mill Creek house is more traditional in style, bucking the current modern trend. It incorporates elements of the reclaimed, rustic aesthetic, and is far from a "Log Mahal," as some people refer to oversized log homes. Put simply, the Mill Creek house is — as the homeowners say — "right sized, not oversized."

The heart of the home is a living room with a vaulted ceiling to accommodate an office on the landing and two upstairs guest bedrooms, each with a full bath. An elegant stone fireplace and chimney built of lichen-covered Montana rock anchors the room, and its frontier stone hearth beckons one to cozy up to a fire on a chilly night. The adjoining kitchen's style was inspired by the homeowner and has cabinets that were made in-house by Fishcamp, which also made doors and some pieces of furniture.

Off the living room is a small sitting room with windows on three sides, designed to look like a cabin that may already have been on location; so too is the bedroom at the other end of the house. Throughout the home are custom-built features, such as iron railings, hinges, light fixtures, fireplace doors, a ceramic sink, tile, and antler chandeliers — touches that add rich texture and context.

Location is always key, and here — on a rare 20-acre parcel of land stretching along both sides of Mill Creek — it was clear to all involved that they were not building on a lot, but within an ecosystem. The home, oriented toward the creek though situated above the floodplain, features numerous doors for outside access. One from the living room and kitchen leads to a cozy covered porch, replete with a wood fireplace. Collections of antlers, heart-shaped rocks, and other natural treasures adorn the mantle and stone wall, a testament to the homeowners' affection for the environs they now inhabit.

Elk, mule deer, black bears, and mountain lions also call this place home, so the owners have strategically placed spotting scopes and binoculars around the house. They keep an online log of wildlife sightings, put out bird feeders, and chose plant species for landscaping that attract monarch butterflies and various birds.

Landscape designer Linda Iverson took the homeowners' wishes into account, along with the location, design, and texture of the building's exterior, to create landscaping that ties the house to its site. She used aspen and evergreens to offer shade and soften the edges of the structure, and instead of a suburban-style lawn, the surrounds are seeded with native fescue. The homeowners wanted seasonal blooms and plants to support pollinators, so Iverson created texture with shrubs like serviceberry, along with perennials and ornamental grasses. Paths connect parts of the house through the landscape, and rocks and boulders create interest and further ground the house visually. "I try to keep the landscape from looking too deliberate," Iverson says.

Deliberate choices were made, of course, and the homeowners collaborated with the build team to make them. As with any house construction, this one represents compromises and a great deal of effort, but also creativity, ingenuity, and the lives and aesthetic of the homeowners. "It's your home, but it's our signature," says Marler, "so it has to be right."

In essence, because he has done his job well, this Mill Creek home embodies the clients' emotional connection to Montana. For Marler, Sandi, and these homeowners, this connection revolves around fly fishing. Thus, this couple was fortunate to build along a wild mountain stream that's full of native Yellowstone cutthroat trout, and to hire a company named Fishcamp Custom.