12 Apr

The Lake Effect

in

Architecture
Greg Matthews Studio

Construction
Lohss Construction

Interior Design
Urbaine Atelier

After building a new home and guest house to share with family in Big Sky, Montana, what more could a couple do for their visiting children and grandchildren? 

How about buying a cabin on Hebgen Lake, an hour away?

"They wanted something that was super casual, with an easy, barefoot lifestyle," says interior designer Rain Houser. "They wanted to create a haven where dogs and children can run amok."

Houser and Skye Anderson, partners in the Bozeman, Montana-based interior design firm Urbaine Atelier, had already worked closely with architect Greg Matthews on the couple's Big Sky residence and guest house. So all three were familiar with their clients' style and preferences.

When the couple purchased the lakeside property, it came with a rustic cabin that was built in the 1960s. "It was infested with rodents and falling apart at the seams," says Matthews, founder of the ​​eponymous Bozeman architecture firm. "They'd come down to hang out at the lake, and it was almost painful to turn in at night."

To their credit, the couple worked with Urbaine Atelier to spruce up the cabin and then lived with it for a few years. They wanted to understand how to adapt to the site before demolishing the existing structure and starting anew. "We helped them understand how to live there, then tore it down," Anderson says.

This site was all about the lake, after all. "That's what they purchased the property for," Houser says. "There are not many houses there — you're looking out at the wilderness."

Matthews and Urbaine started working up designs for the new structure in 2019, and construction began in 2020. The completed four-bedroom home is 2,400 square feet, with just as many square feet in surrounding porches and decks. "This house is more about outdoor living than indoor," Matthews says. 

One of the cabin's primary benefits is that it's a summertime retreat, so the architects could take some of the typical residential circulation patterns and move them outside. For example, one bedroom is accessible only from the exterior and serves as a remote guest suite. "We were creative in how it circulates from one end of the cabin to the other," Matthews says.

The site combines two lots, divided north to south, with the southern lot 70 percent underwater and unbuildable. The northern lot is at the edge of a marina built by the previous owners, with setbacks that enabled the architects to create a direct, intimate relationship with the water. The landscaping extends straight up to the water, and the lower deck cantilevers out over the lake. "It's a platform where you can play in the water right out your back door," Matthews says. "It was a great opportunity to make an immediate connection to the structure and the water itself."

The only moments the family spends inside are during inclement weather. Mostly, they're out on the porches, decks, dock, or boat. The new house is so close to the water's edge that they can pull jet skis right up to the deck. "And you can walk on and off the boat dock area easily," says builder Chris Lohss, principal of Gallatin Gateway, Montana-based Lohss Construction.

Lohss and his crew worked on the home through the 2020 pandemic and through weather that's typically 20 degrees colder than anywhere in the Lower 48. That's because the site is just outside West Yellowstone, Montana. "It's cold and remote," says Lohss. "We built throughout the winter in 6 or 7 feet of snow."

The architects laid the home out in a simple and understated manner, intent on capturing every possible perspective the site had to offer, including singular views of the mountains and lake, with light that penetrates deep into the home. "It has two mono-sloping roofs pitching in different directions — one toward the entry and the other out to the views," Matthews says. "And there are great views back into the kitchen, with plenty of daylight."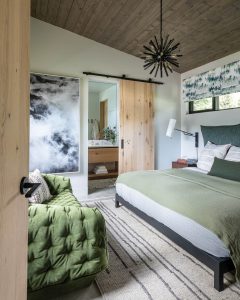 The home is essentially one room deep. Most windows are on the south side to capture jaw-dropping panoramic vistas. Every room opens up to a lake view, except the children's bunkroom. The north side backs up to a mature landscape, replete with fir trees 60 to 70 feet tall and aspen and conifer trees so dense they screen views of neighboring homes on either side. "We were designing a home that weaves its way in an L shape between the trees," Matthews says. "It creates an armature for views to the lake and overlooks the private marina, framed by a 60-year-old weeping willow on one side and a cottonwood on the other."
The architect and builder carefully preserved and maintained the site's mature environs — including many of the 100-foot-tall spruce trees believed to have been planted as saplings from Yellowstone National Park years ago. "The homeowners insisted that we not cut any of those trees down, because they were special to them," Lohss says. 
Inside, Houser and Anderson sought to keep the home light, bright, and sunny. They used dark greens to ground the interiors with an organic, natural quality. And because the floors are concrete — a nod to the dogs' and children's wet feet — they warmed up the living spaces with a wide-ranging palette of fabrics. "We love to use natural fibers like leather, wool, linen, and cashmere," Houser says. "It's about that texture, like a wool bouclé for a natural feel."
Matthews designed high ceilings clad in white oak, so Houser and Anderson used large-scale light fixtures to refine the living spaces. "The chandelier over the dining room table is intriguing, but it also brings down the scale," Houser says. 
In the end, though, the site and its surroundings make this cabin so exceptional. "It's as if it's been here forever, like it just belonged," Matthews says. "The moment we walk away, and the clients move into a mature landscape, that's a win for us." It's also a true measure of design success, one that's now enjoyed by three generations of family.