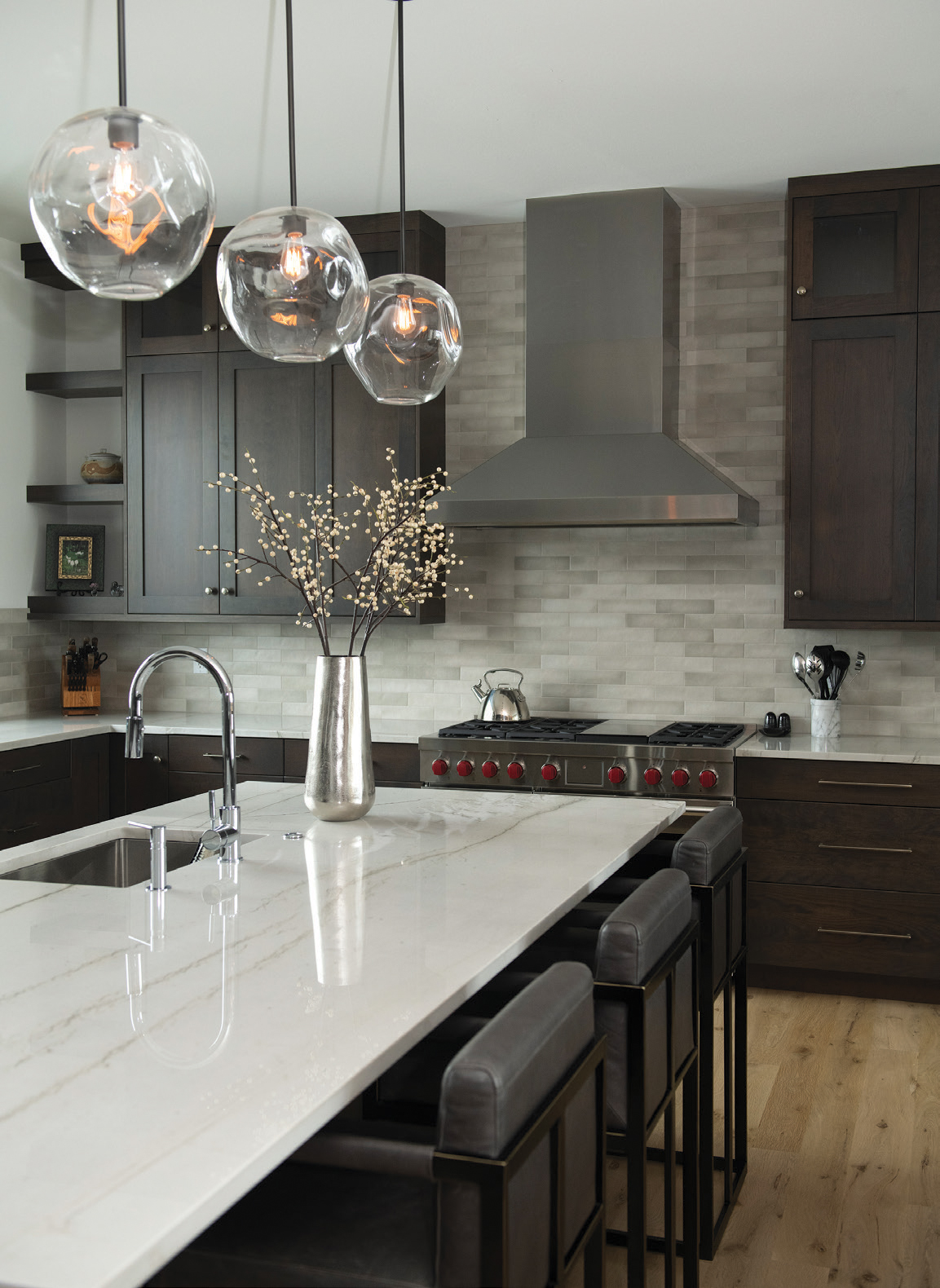 Designer Elizabeth Robb — who has completed projects in Montana, California, Colorado, and Hawaii — designed this kitchen to be free of clutter. "They want things clean," she says of her clients, "but they don't want to work at it." | Courtesy of Elizabeth Robb interiors/Jessie Moore Photography
12 Apr

The Heart and the Hearth

in

Stop to think for a moment about the earliest kitchens, or better yet, the requirements for those kitchens. Meals were communal, often social events, and the primary source of light and heat was the cookfire or stove. By necessity, the kitchen was then, as it is now, the heart and hearth of the home. 

Fast forward through the kitchen's evolutionary eons: great rooms designed to support elaborate banquets, industrial-era inventions including modern appliances and lighting, the introduction of the "golden triangle" — stove, fridge, and sink — by Austrian architect Margarete Schütte-Lihotzky in the 1920s, the style revolution of the 1950s and '60s with Formica countertops, linoleum floors, bright paint colors, and shiny appliances. By the 1980s, open kitchen plans were becoming popular, and design elements like islands, peninsulas, and cooking zones shaped how a kitchen could function. The last 10 to 15 years have seen the rise of the restaurant aesthetic, with increasingly industrial and utilitarian spaces. But change is afoot. 

The events of the last three years have reshaped the way we live in our homes. According to designers, long quarantines have not only altered the ways Americans use their kitchens but also, and just as importantly, how we want our kitchens to feel. 

Kitchen design is always going to focus on making the space as functional as possible, says Shannon Lundgren, partner at Bridger Kitchens in Bozeman, Montana. "But since the pandemic, people want their spaces to feel homey, cozy. They want to settle in," she says. Interior designer Liz Robb of Bozeman's Elizabeth Robb Interiors agrees. After spending so much time at home during the pandemic, she says, "Our homes were not as cozy as we thought." 

According to Lori Ryker, founder and principal designer of studioryker in Livingston, Montana, the pandemic has given homeowners an opportunity to fine-tune existing conditions in their kitchens, honing in on what works and what doesn't. Though Americans have long viewed the kitchen as the center of the home, she says, post-pandemic kitchens are "feeling more like an organic part of the house." With so many activities happening in one room — from cooking and eating to entertaining, working, and even holding meetings — people are looking for ways to make their kitchens more functional, livable, and inviting.
Choose Materials That Feel Good
 Across the board, designers are seeing a shift back to natural materials and multi-materiality in the kitchen. "Wood is being used more as we see more handmade and bespoke-type interiors," says Ryker. Taking inspiration from Brussels, Copenhagen, Kyoto, and Korea — "cultures that have a reverence for the senses," says Ryker — people are looking for materials that feel good to the touch and are comfortable underfoot. She is seeing an increasing number of requests for more casual furniture, like banquettes and upholstered chairs. Robb, too, is noticing her clients gravitating toward warm wood tones and different wood species for cabinets, floors, and countertops. 
Woods and fabrics have long made sense in the kitchen, says Jeremiah Young, principal and creative director for Kibler & Kirch in Billings, Montana. He tends to select materials that gather patina over time and look better with age. "I want a kitchen with soul," he says. Few things age as well as wood. 
But wood and fabric do more heavy lifting than just aesthetics, he says. It goes back to the senses. "Sound is a huge thing," Young says, particularly when homes are being occupied by larger numbers of people doing different things. Wood absorbs sound better than harder materials like metal and tile. Young steers his clients toward wood floors over tile, and to ceilings — often with timber arrangements — that don't bounce sound around a room. He covers kitchen furniture in fabric and often hangs thin layers of sheer fabric over windows to cut the sound. "Instead of using a hard door on a pantry," he says, "I'll use a cloth panel." 
Light is also an important element to consider in kitchen design. Robb works to include as much natural light as possible in her plans. "We are all yearning for natural light in our region, and I would rather lose some cabinets than lose a window," she says. "I would completely change the floor plan to get a window in the kitchen."
Embrace Color
Color is back, agree the experts, and not a moment too soon. "All that soothing gray, beige, and white made people a little crazy during the pandemic," says Robb. Lundgren agrees wholeheartedly and says that she sees color everywhere, including the high-end appliance lines Bridger Kitchens carries. There is so much custom color, she says. "I'm using more taupes and jewel tones, more greens, yellows, and blues to create a warmer, homier feel." 
Young coaches his clients to embrace color as well. On top of its functionality, the kitchen has to be a beautiful space, he says. "Every room has to be a backdrop." He reassures clients that nothing is permanent. "After all, if you specify kitchen cabinets in a color, they can always be repainted another color when you want a change," he says. "Keep the tile quiet, and let the cabinets be colorful." 
Robb believes the demand for color matches many people's response to the pandemic. "We don't want to be contained and gray," she says. "We don't want to be super safe. We want to be free," and having some fun with color is one way to do that. 
Consider Storage Needs and Tastes
How a homeowner wants to store food, dishes, dry goods, and small appliances is a critical consideration for any kitchen project. Americans stocked food and household items during the pandemic like never before, raising questions about personal preferences. Ryker says that every kitchen design should include a detailed conversation about storage. Do you want a pantry? A back butler's pantry? Do you want stored items visible on open shelving or hidden in cabinets and drawers? 
"The focus on function is also taking a hard look inside every drawer, every cabinet, every nook and cranny of the kitchen to make the most of it," says Young. "I'm a big fan of open shelving and love the way that can function for our clients. Things falling readily at hand without the need to search for commonly used items is so satisfying and friendly."
Robb says many of her clients are using pantries, drawers, and lower cabinets to hide clutter. "People don't want to spend too much time making things perfect." 
At Bridger Kitchens, Lundgren is seeing a movement toward panel-ready appliances like column refrigerators that resemble furniture. "A lot of stuff is hidden," she says, because some people want to focus on the beauty of the space, rather than the work being done there. The important thing, the designers agree, is that the homeowners decide how they want their active work space and storage to function, look, and interact. 
Remember Basics: Form Always Follows Function
At the end of the day, every kitchen should be a reflection of the people who use it and an answer to the specific ways those people use the space. Ryker starts by asking her clients questions: Do they have young kids? Do they like to throw big dinner parties? What's the smallest number of people that might use the kitchen? The largest number? And what are the goals for both? Ryker sees her work as designing a space that can transform itself to accommodate the span of a client's needs and desires. Every room has to have multiple functions, she says. Maybe a casual breakfast area becomes a serving area for 20 guests, or the kitchen island becomes a place to do homework or host a Zoom meeting. "It's got to work," says Lundgren. "It's got to make sense for each family." 
Another important consideration is how the homeowners like to cook. Do they bake a lot, in which case a marble countertop might be required? Are they steam cooking? Grilling? Preserving foods? Do they cook together? Are they entertaining while they cook? Every design needs to be grounded in the way the homeowners want to use the space. "I'd say we are focusing more on function, even with clients that have previously thought of their kitchens as 'good enough' because they didn't intend to use them as vigorously," says Young. "The prospect of actually cooking, day in and day out, means that everything needs to be considered just that much more carefully."
The designers agree: Trends come and go, but the details of how each corner of the kitchen should function and feel is at the heart of every project. That standard is what determines the success of any project.
Carter Walker is the author of several travel books including Moon Montana & Wyoming (December 2022) and Moon Yellowstone to Glacier National Park Road Trip (March 2023). She lives near Bozeman, Montana with her daughters and an ever-growing menagerie of animals on an old homestead they are restoring in the Horseshoe Hills.