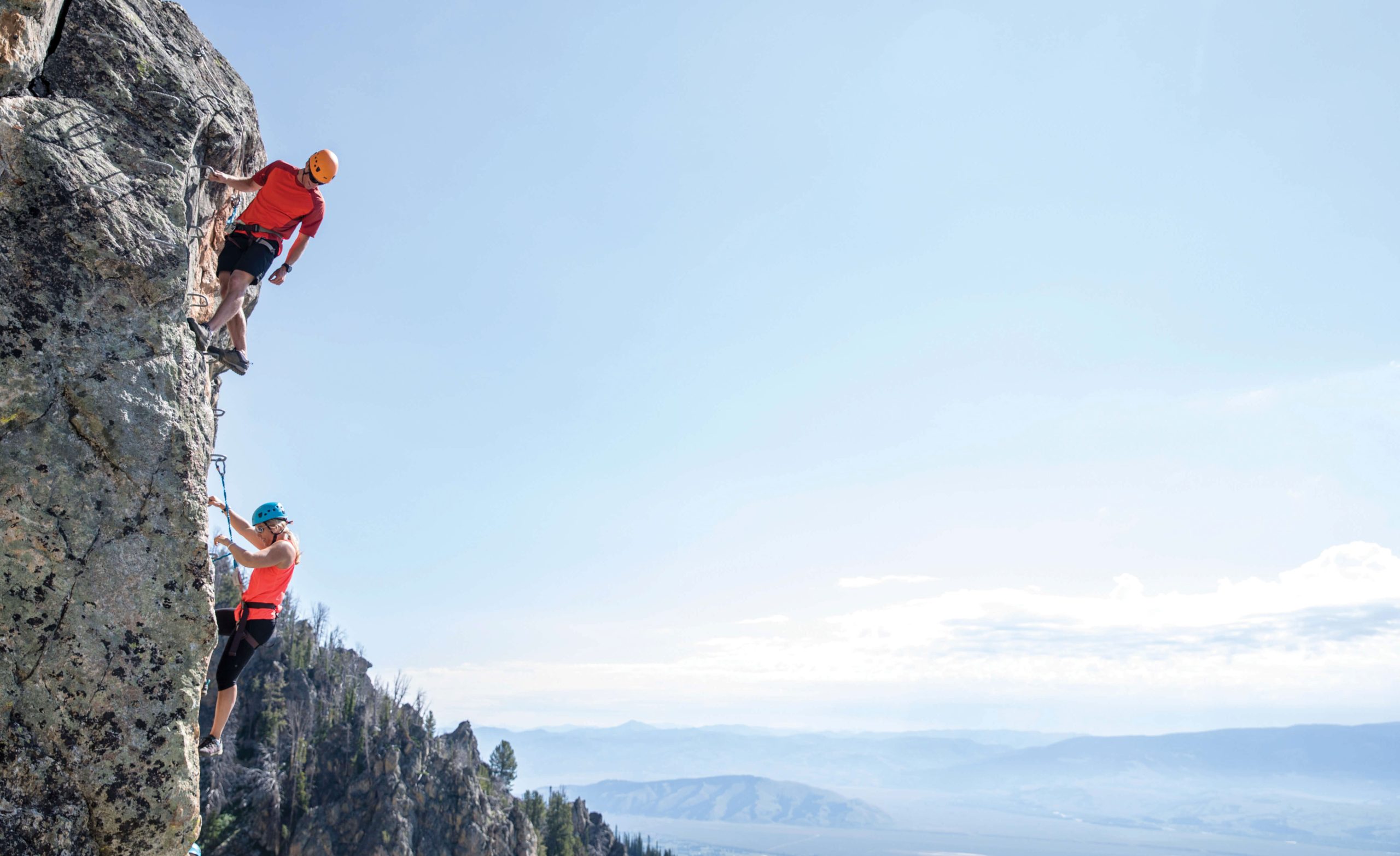 Photography Courtesy of Jackson Hole Mountain Resort
01 Jun

The Fountain of Life

in

Jackson Hole Mountain Resort is well known for deep snow and long, steep ski runs, but recently the summer season has rivaled the winter for big mountain adventures. The newly expanded via ferrata, offering guests an outstanding climbing experience with 15 different routes above 9,000 feet on Rendezvous Mountain, is open to anyone wanting to experience the rich tradition of climbing in the Tetons. The challenges vary from relatively easy movement over rock with some exposure, to a 120-foot cable bridge spanning two cliffs, to the very exposed Crystal Cave route, which includes a sky ladder that rotates as you climb. With Jackson's via ferrata, you can pick your adventure, pushing yourself to the limit or just hanging out to enjoy the views.

Via ferrata is an Italian phrase that loosely translates to "iron path" or "iron road." Aptly named, Jackson's via ferrata includes metal protection and aid elements along the climbing route. The most common, and arguably most important, feature of the via ferrata is its thick steel cable system, which ensures safety along each route through a combination of rock features, metal rungs, bridges, ladders, and Tyrolean traverses. The climber wears a harness that attaches to the safety cables using a set of specially designed lanyards with carabiners that slide along the cable as you move. At each anchor point, the climber clips a lanyard to the next cable section, moving along, one at a time, while remaining securely connected to the wall.

The first widely recognized via ferrata was established in 1843 in the Dachstein Mountains in Austria, but they were also utilized during World War I as a means to move troops and equipment throughout Italy's Dolomite Alps. After the war, European alpine clubs began refining the old military routes to explore and enjoy the vast, craggy peaks throughout the Italian Alps. It would be decades before via ferrata spread throughout Europe, and the first via ferrata would not open in the U.S. until 2001.

Connie Kemmerer, one of the owners of Jackson Hole Mountain Resort, is an avid climber, skier, and alpine enthusiast. "I went to Europe with friends to climb and hike in the Alps in the early 2000s," she says. "We discovered via ferrata on that trip. [It was something] everyone on the trip could do, and we all really enjoyed it." Kemmerer is a stalwart advocate for providing people with diverse opportunities to enjoy the physical, emotional, and spiritual benefits of being in the mountains. She quickly realized that via ferrata was a great way to open up the mountaineering experience to more people by democratizing mountain climbing. Guests can experience the essence of alpinism without the risk, skill, and dedication usually required.

Kemmerer began traveling throughout North America, researching via ferrata with her team and exploring how to build one in Jackson Hole. She hired Mike Friedman and his company, Adventure Partners, who proved integral in launching and then expanding Jackson's via ferrata. "The vision was not only to create new summer adventures for our resort," says Kemmerer. "We hoped that it would spread throughout the United States to help other resorts in the summers, too."

After Jackson installed the first via ferrata approved on U.S. Forest Service lands, several other resorts followed suit, with Adventure Partners also helping design and implement those via ferrata projects. "It fits with the spirit of Jackson Hole Mountain Resort and why people come here to venture into the mountains," says Friedman. "The via ferrata, I would say, is for anybody who has ever had the dream of going climbing but had never thought they could. The soul of the spirit here is deep. You can climb these routes over and over using different holds, movements, and techniques without tiring of the adventure."

In many ways, climbing the routes of the Jackson Hole via ferrata provides a very similar experience to climbing the bigger peaks of the Tetons: The rock is exactly the same as the high peaks north of the resort, the exposure is equally intimidating, and the views into the valley are equally impressive. Even better, you don't have to be an expert mountaineer to experience the beauty and connection to the mountains inherent in moving over steep, exposed rock faces, traversing ledges, and navigating majestic alpine terrain.

Several of the via ferrata installers are career mountain guides and accomplished climbers. As they design and install each route, they bring decades of climbing experience and expertise to the table, informing the placement of each new element, or point of protection, to ensure the most accessible and positive guest experience. The blueprint matters in rock climbing and mountaineering: Each movement, body position, and rock feature — and how they all connect during a climb — must be considered. It's a vertical dance, with the dance floor carefully crafted for the climber to execute creatively.

"Each installer has their own style," says via ferrata installer and veteran mountain guide Jim Nigro. "We have a lot of autonomy on exactly where to place each element, and our climbing experience and knowledge of how people will move through a route help us make each decision. It's a very creative process." Nigro and his colleagues spent much of their lives dedicated to mastering rock climbing and guiding people through the complex, craggy Teton terrain. Now, guests can benefit from that experience by enjoying the creative physical challenges designed for each route.

The Jackson Hole via ferrata has developed in phases, and the challenges keep getting more interesting and more exposed. "Via Ferrata 2.0 is an expansion of the earlier via ferrata that we installed in 2016. It also includes a lot of new aerial elements that you would typically find in via ferratas throughout Europe, like Tyroleans, Burma bridges, and ladders," says Friedman. Some exciting new climbs were added, like the Crystal Cave route that offers climbers tremendous exposure and climbing challenges Friedman compares to some of the classic rock climbs in Grand Teton National Park. "It's the most challenging route we've built anywhere, with a lot of vertical and exposed traverse climbing."

In August 2022, the newest expansion was opened to the public on the rock buttresses above Cody Bowl. "The third phase of the via ferrata was opened last August, and there's more to come. Via Ferrata 3.0 includes two sky ladders — the first is straight, with the climber facing into the rock cliff, but the second ladder rotates 180 degrees, allowing the climber to look out into the valley of Jackson Hole as they ascend the route. This is not for the faint of heart, but an outstanding experience for anyone willing to face their fears and climb through the exposure," says Kemmerer. Her enthusiasm for each new route and climbing challenge is contagious. She can barely contain her excitement for the current routes, hinting at "more to come."

Currently, all of the via ferrata experiences in Jackson Hole are guided. Every guest attends a briefing and is fitted with modern climbing equipment and approach shoes, which are perfect for this kind of climbing. The guides are experienced and well-trained to encourage climbers along the way and ensure the utmost safety throughout the climb. "For some people, this will be an experience of a lifetime," says Friedman. "For others, it will be the beginning of their mountaineering journey."

In 1901, John Muir famously observed, "Thousands of tired, nerve-shaken, over- civilized people are beginning to find out that going to the mountains is going home; that wilderness is a necessity; and that mountain parks and reservations are useful not only as fountains of timber and irrigating rivers, but as fountains of life." The fountains of life are flowing in Jackson Hole, and the via ferrata is but one fountain from which to drink.