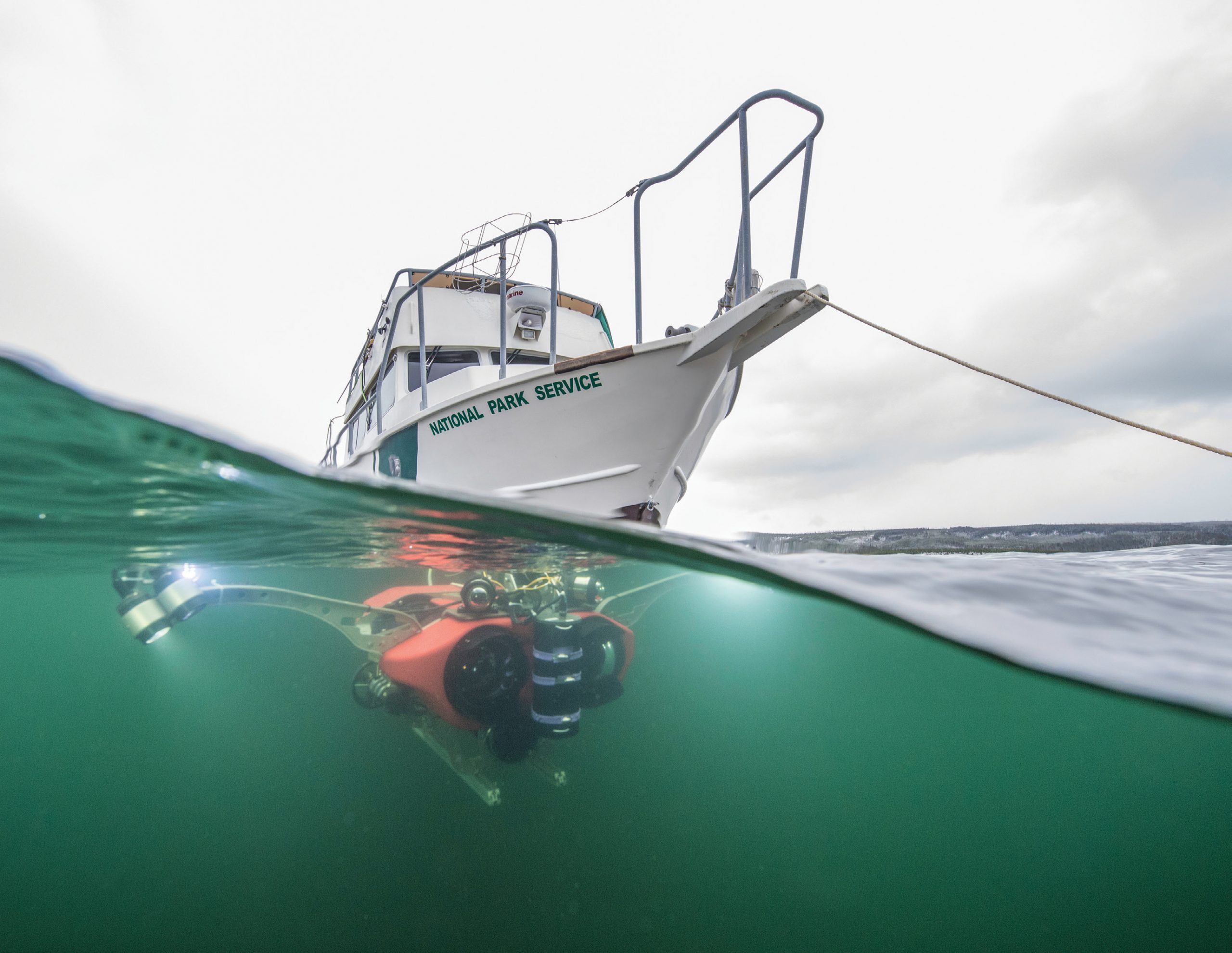 The National Park Service Submerged Resources Center uses a camera on a remotely operated vehicle (RO V) to locate lake trout spawning areas in Yellowstone Lake.
04 Feb

The Cutthroat Comeback

in

A remarkable fish story is unfolding in Yellowstone Lake, the largest body of water in Yellowstone National Park. And situated at 7,733 feet, also the largest high-elevation lake in North America, it's here that native cutthroat trout are reclaiming their icy cold home waters after a 25-year-long, $20 million battle that's still far from over.

When lake trout were first spotted in Yellowstone Lake in 1994, Yellowstone fisheries biologists had to act fast. They knew that these fish — which typically grow to several times the size of cutthroat trout and swallow fish that are up to a third of their size — would most definitely pose a threat to the largest population of genetically pure Yellowstone cutthroat trout in the subspecies' last best habitat.

Due to its high elevation, Yellowstone Lake acts as a buffer from climate change for cold-water cutthroat. The lake and much of its watershed are also protected from development by national parks, national forests, and wilderness areas. Rainbow trout, which have hybridized with cutthroat trout in many other areas, haven't been introduced to the lake.

Yellowstone National Park started gillnetting lake trout the year after the first one was discovered, and they ramped up, netting even more the following year. And the year after that. For over a decade, the more they fished, the more they caught. But the lake trout ramped up, too. Freed from the predators that feed on them and their eggs in their native range of Alaska, Canada, and the Great Lakes, the lake trout feasted on the cutthroat trout and made more lake trout — which ate more cutthroat trout.

Biologists estimate that only 10 percent of the 3.5 to 4 million cutthroat trout in Yellowstone Lake survived the first decade of the lake trout invasion. And as the cutthroat trout disappeared, the populations of creatures that depend on them also declined. Osprey, bald eagles, and river otters couldn't catch the lake trout, which swim in deeper water than the cutthroat trout. Grizzly bears waited along tributaries for spawning fish that never arrived — as lake trout stay in the lake to spawn and too few cutthroat trout survived to satisfy the bears' hunger. In one stream, where 70,000 fish spawned in 1978, only around 500 arrived in 2007.

From her office in a historic log building, Patricia Bigelow can look out to the views of Yellowstone Lake, which, on windy days, is often roiled into choppy waves. For the past 20 years, Bigelow has managed the lake trout suppression program. "Yellowstone Lake is lake trout heaven," Bigelow says, "so the population was exploding. We were definitely slowing down the population growth rate, but it was still expanding. It was pretty obvious something needed to change."

In 2008, park biologists convened a fisheries science panel and asked for their advice. "The panel said, 'You're doing the right thing, you just need to do more,'" Bigelow recalls. "It was easier to do more by hiring contractors than by beefing up the National Park Service program."

Hickey Brothers Research brought years of commercial gillnetting experience to the Yellowstone Lake project. The company's boat captains combined their fishing skills with data that Bigelow compiled on each day's catch, including how many lake trout of different ages and sexes were caught where. But the lake trout stayed ahead of the commercial fishers, too. Suppressing them was turning out to be a bigger challenge than anyone expected.

To get a better idea of how hard they needed to fish, Yellowstone biologists asked researchers to develop a computer model of the lake trout population. Starting with existing models that were developed to avoid overharvesting, they worked backwards. "I think one of the problems early in the program was that we didn't have all that information," Bigelow explains. "I could say, 'I know we're not killing enough lake trout; we need to kill more every year,' but I couldn't say we needed to kill double, triple, or how much more."

While Bigelow managed the gillnetting work, she also searched for more efficient ways to suppress the lake trout. After taking graduate classes at the University of Wyoming in Laramie, she carried out her dissertation research on Yellowstone Lake and developed tools for locating lake trout spawning sites in order to target the eggs. Killing the eggs could be easier than catching the fish later, and an effective way to reduce the number of new young lake trout each year.

Targeting lake trout eggs could also be safer for the native trout, as the nets inadvertently catch some cutthroat trout, which make up about 10 percent of the total catch each year. Biologists fear that as the lake holds fewer lake trout and more cutthroat trout, the nets may catch more of the native fish.

Diana Miller, who was a graduate student with Bigelow, mentioned the lake trout invasion to her father, Dave Sweet, who had left a job in the pharmaceutical industry in the late 1980s to run a guest ranch near Cody, Wyoming. "I've always been an outdoors person," Sweet says, "and fly fishing is definitely my favorite thing to do. I made my first trip to Yellowstone in 1976 or '77, where I caught my first Yellowstone cutthroat trout. I thought, 'Oh my gosh, this is the most gorgeous fish I've ever seen.'" Because of Sweet's interest in the trout and the area, Miller introduced him to Bigelow, who educated him on the matter. "I don't hate lake trout, they're just in the wrong place," he adds.

As a longtime member of Trout Unlimited, Sweet believed he could help save the cutthroat trout. He spoke to groups of anglers, wrote about the issue, and helped the organization raise over $1 million for acoustic telemetry and research on targeting lake trout eggs. Yellowstone Forever (formerly the Yellowstone Park Foundation), the nonprofit partner of the park, has also raised millions of dollars to support the gillnetting work.

At work, Bigelow and her crew surgically implant acoustic transmitters in the lake trout and track them using underwater receivers. The telemetry helps locate fish for gillnetting along with their spawning sites in the late summer and early fall.

Unlike cutthroat trout, which pair up while spawning, lake trout spawn in groups, gathering in shallow water and letting fertilized eggs drift down among the rocks. To date, 14 spawning sites have been found, covering only 0.03 percent of the lake area. This means that targeting the eggs requires treating only small areas and only for a short time after spawning. One promising treatment involves dropping pellets made of soy and wheat onto the spawning sites; these are broken down by microbes in the water and use up the oxygen, suffocating the embryos.

When a 2011 panel of scientists gave the same "more fishing" advice, the park did just that. "Since we've really upped our game, especially since 2012, the numbers of lake trout have been coming down, pretty much steadily," Bigelow says. "We're definitely seeing a drop in the numbers. At some point, we expect to get lake trout to go down to a level where, instead of trying to reduce it further, we can keep it at that level. That will take less effort."

Sweet and Miller, who's now a fisheries biologist with Wyoming Game and Fish, heard that spawning cutthroat trout were returning to the Thorofare region in the southeast corner of the park. In 2018, they traveled into the remote area with horses to find out. A camera crew joined them to document the trip, resulting in "The Return," a short film about Yellowstone cutthroat trout. "We knew there were fish there before we went in," Miller says, "but we did not expect to find them in the numbers that we did. We didn't keep track, but between dad and I, we caught well over 100 fish over the four or five days." Indeed, the cutthroat had returned.

Over the past 25 years, gillnetters have pulled almost 4 million lake trout from Yellowstone Lake and returned the carcasses and their nutrients to the water. Still, it's unlikely that lake trout will ever be completely eliminated. Bigelow likens managing the predator to caring for your lawn: You'll always have to pull weeds.

However, Todd Koel, leader of Yellowstone's Native Fish Conservation Program for the past 20 years, says there's good news. "At the trajectory that we're on, we're 100 percent optimistic that this is working. We're on the right track, it just takes time," Koel says. The biologists' goal of reducing lake trout to 100,000, their level in the 1990s, seems to be within reach, he explains. "The bigger question is: What is it going to take to maintain a low level of lake trout for the decades to come?" Koel adds. "I still have tons of optimism there, because we're developing new methods that are more efficient at killing the embryos."

How lake trout got to Yellowstone Lake is still a mystery. Until recently, biologists thought the fish had been dumped there by an angler who enjoyed catching them. Now Koel suggests the fish might have arrived by using their own power, swimming from the Snake River over Two Ocean Pass on the Continental Divide in the Teton Wilderness, to the upper Yellowstone.

Whatever path the lake trout followed, their arrival in Yellowstone Lake disrupted a web of interconnected life in the watershed. It also galvanized a network of biologists, anglers, and researchers who were connected by their concern for Yellowstone cutthroat trout and their ecosystem. Today, biologists are using the best information available, anglers are raising funds, researchers are developing new techniques and models, and commercial fishing crews are doing the heavy lifting to remove the lake trout. Together, they're writing the story of a rare success in the battle against a non-native predator.