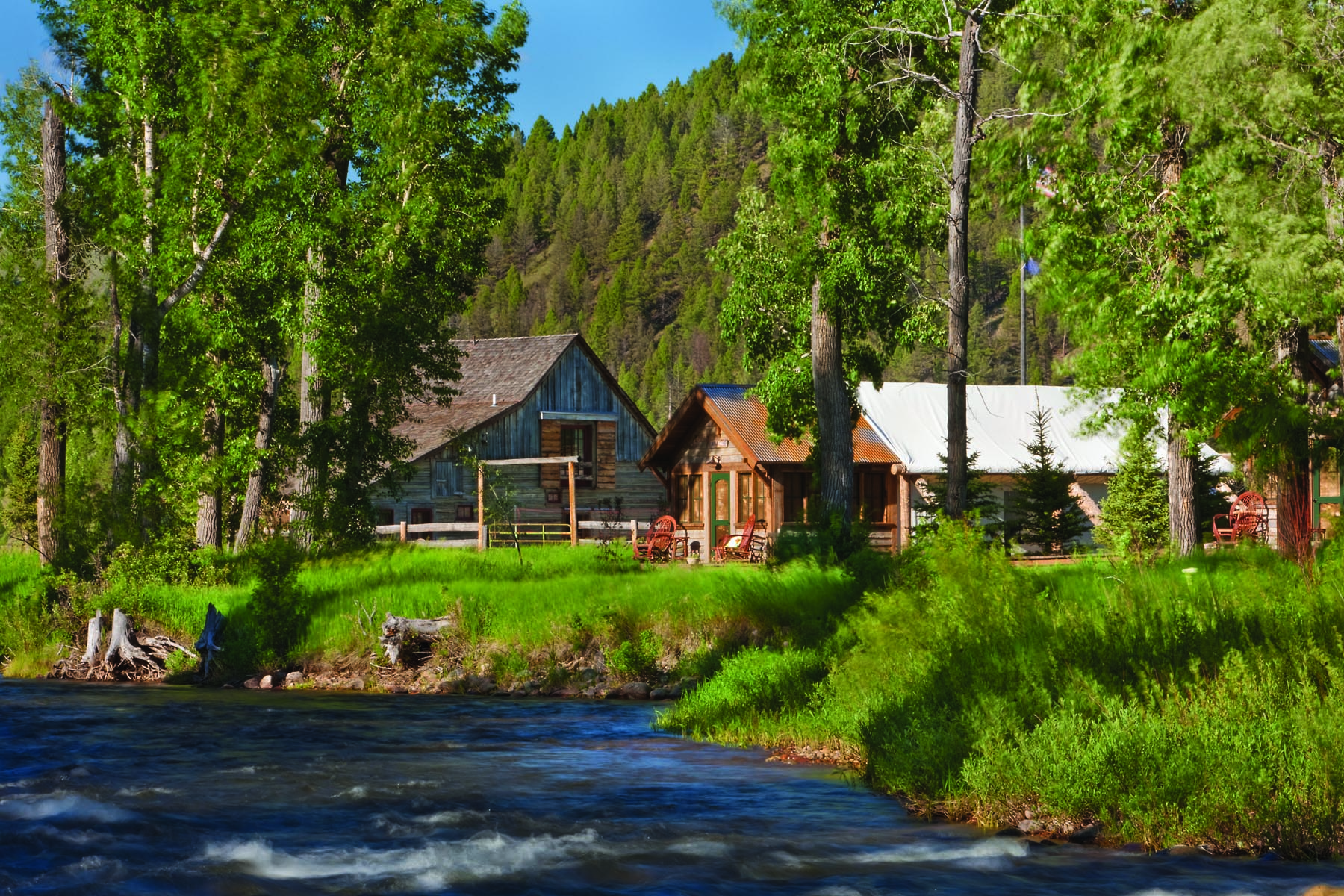 23 Jul

Dining Out: The Belton Chalet Tap Room

in
---
Apgar Mountain in Glacier National Park appears slightly distorted through one of the leaded glass windows in the Belton Chalet's tap room. Maggie, the bartender follows my gaze as she buffs wine glasses with smooth efficient strokes. She's training for the Telemark National Championships on and off the slopes. The floor creaks the arrival of a server delivering appetizers and the fire crackles behind me. It occurs to me that I may be witnessing the same sights and sounds as someone 100 years ago when the Belton Chalet first opened and Glacier was officially designated a national park. Did naturalist George Bird Grinnell sit here gazing through these windows at the park he famously described as "The Crown of the Continent"?
Located just outside the park's west entrance, the Swiss-style Belton Chalet was the first of several chalets and lodges to open as part of the Great Northern Railway's effort to lure and accommodate passengers. With more than a million acres straddling the continental divide, 762 lakes, 2,865 miles of streams and 175 mountains on the list of backyard amenities, it wasn't a hard sell. Through the efforts of preservationists like Dr. Grinnell and businessmen such as Louis Hill of the Great Northern Railway, Glacier National Park became a reality that is estimated more than 2.2 million people will visit in this 2010 centennial year. I am one of those visitors — having just spent the afternoon skiing in the park.
Maggie hands me a Belton Traditional Irish Coffee made with brown sugar, Irish whiskey, Montana Coffee Traders coffee and crème de menthe. In less than two minutes, while telling a tale, she has a couple near tears with belly laughter. I barely glance at the couple's pizza and they slide over a slice. "Try it," they urge, "it's delicious!" The two have come from Great Falls to join friends for dinner in the Belton's Grill Dining Room. In the meantime they're also enjoying several of the Tap Room's assets, only one of which is the entertaining bartender.
The Belton boasts a variety of regional microbrews including the Double Diamond Organic Stout from the Blackfoot Brewing Company in Helena. Live entertainment is a draw. Three musicians sit at a small table a few feet away. "We're kitchen pickers," explains Pat Ford. "That's why a table's perfect." He's on banjo and leans into his first tune while somehow keeping his beard out of the strings. Steve Kuehl and Neal Savage join in on guitar and mandolin respectively. The three make up half the Tea Kettle Mountain Bluegrass Band. Listening from the other side of the room, Terry and Stacia Moore from Kalispell warm their backsides by the fire. The couple comes twice a year to stay in one of the Belton's two cottages for the weekend. They order off the dining room menu and eat by the fire. Who needs TVs, radios, or WiFi in their room when you can have kitchen pickers, storytellers, new friends and a fireside meal in the chalet?
The sounds of laughter and mandolin follow me as I head into the dining room. Oh, what to eat? The winter menu at the Grill Dining Room offers appetizers such as Roasted Eggplant and Basil with fresh mozzarella and Anaheim Chili Peppers stuffed with black beans, corn and cheese. Entrees include Pork Medallions wrapped in bacon over sweet potato gratin with cherry zinfandel BBQ sauce and Blue Corn and Chili Salt Crusted Walleye.
Chef Melissa Mangold rules her kitchen with an iron skillet, which is a trait she admits she may have picked up while training under a chef in Germany for a year. She sports a brown kerchief instead of a chef hat most likely because of the ceiling height in her basement kitchen but it adds to her persona. Chef Melissa is more interested in content than fluff and carefully selects her ingredients. She throws in a few surprises serving fresh tomatoes, cucumbers and basil from a local hydroponics house in the Flathead Valley. "There's nothing like the taste and aroma of a fresh tomato in the dead of winter," she proclaims.
Chef Melissa incorporates local elk, emu, and pork into her menu. In the summer 75 percent of the Belton's produce is locally grown. Husband and wife Belton owners Andy Baxter and Cas Still also operate an organic orchard on Flathead Lake that provides all the Belton's pears, cherries, plums, apples, apricots and berries. Ann, the Belton's baker for the last five years, utilizes these for her homemade pies and tarts year-round. Cas makes jams from her orchard fruit as well as from wild black caps and huckleberries. Don't be shy in asking to buy a few jars. And since you can't try it all in one sitting, Sunday brunch features another array of Chef Melissa's creations. Everything is made from scratch including the Kahlua Rum Sauce on the Plantain and Cream Cheese stuffed French Toast. The Cuban Sandwich with slow-roasted pork is another favorite.
When Andy and Cas acquired the Belton in 1997, they commenced a laborious 3-year restoration that was honored by the National Trust for Historic Preservation. "So many original furnishings and artwork remained that we were provided with a good road map to follow," says Cas. "There really weren't that many owners."
After the Belton Chalet shut down for a couple years during World War II (as did all the facilities in the park except Rising Sun), the Great Northern Railway sold it off. For the next 50 years it opened intermittently until it came to the attention of Andy and Cas. Their restoration efforts are revealed in the original maple floors, and French doors in the private Heritage Dining Room. As the Belton's motto says, "The way it was … still is." My dinner table abuts the 100-year-old wainscoting but when the server, Erik, sets a steaming mound of Thai Noodles with tofu and shrimp before me, all that history fades. The food is right now and my dinner is excellent.
The dining room fills up and servers ferry large trays of food up from the kitchen. This is Erik's first winter at the Belton but he's used to trekking. He spends his summers studying fishers, wolverines and grizzlies in Glacier National Park. The Belton staff is made up of athletes, historians, naturalists, artists and storytellers. "We love the people who work for us and with us," says Cas, who takes ownership of this National Historic Landmark to heart. She describes her role as "…not so much an owner as a caretaker." Through this philosophy, history has a way of repeating itself and once again, the Belton Chalet offers its guests fine lodging, exceptional food at the Grill Dining Room, and a Tap Room in which to relax with a brew or spirit.
---
Belton Thai Noodle Dish
Serves 4-6
1 quart chicken broth
½ white onion, chopped
1 tablespoon fresh peeled ginger, minced
2 stalks of lemon grass, chopped
2 fresh limes, juiced
2 tablespoons of fish sauce
1 13.5-ounce can coconut milk (unsweetened)
1 tablespoon Thai red curry paste
pinch paprika
1 pound of shrimp (cleaned)
2 tablespoons of peanut oil
2 dozen mussels (steamed)
8 ounces fresh shitake mushroom caps
1 pound of Udon noodles
½ cup cilantro, chopped
½ cup peanuts, chopped
½ cup green onion tendrils
Method: Simmer the chicken broth, onion, ginger, lemon grass and lime juice together until the liquid is reduced by half. Then add the fish sauce, coconut milk, curry paste, and paprika. Cook for 10 minutes. Cook the Udon noodles in salt water until tender and drain. Heat peanut oil in skillet until very hot, but not smoking, add the shrimp, cook about 2 minutes on each side, and add the mussels and shitake mushrooms. Cook until heated through. Strain the sauce over the shellfish and vegetables. Add shellfish and sauce to noodles, garnish with green onion tendrils and chopped peanuts.