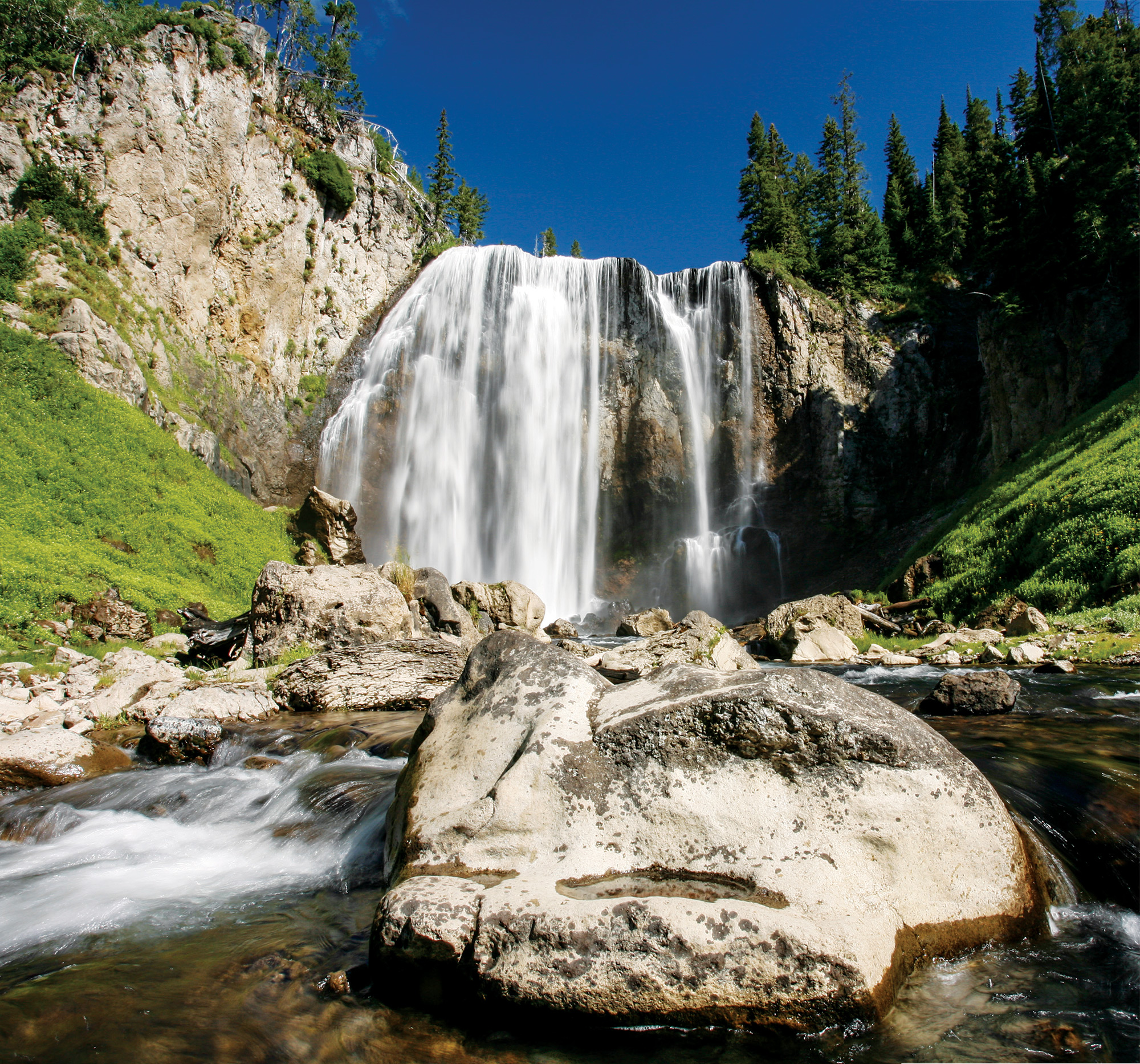 09 Jun

The Bechler Beckons

in

FOR YEARS I'D HEARD STORIES of the beautiful Mr. Bubbles. Not to be mistaken for a clown or pet chimpanzee, it's a hot springs in the Bechler region of Yellowstone National Park. An off-the-beaten-path backpacker's paradise in the park's southwest corner, the Bechler is known for its sprawling meadows, cascading waterfalls, legendary fishing, and natural hot springs that soothe backpacking-weary bones.

A visit to the Bechler was certainly on my bucket list, but ever since having kids, backpacking seemed like a whole lot of effort, not exactly the kind of "vacation" I was looking for. Then I was invited on a four-day Bechler horseback adventure for a friend's 40th birthday. Horses and mules carrying my body, gear, food, and wine? Hot springs? Sign me up.

The Bechler Ranger Station is located at the Cave Falls trailhead not far from Ashton, Idaho. From there, 10 horses, six mules, three guides (the leader was the birthday girl's outfitter husband), a lot of wine and food, and six inexperienced female riders headed out into the backcountry.
We cruised through the timbered landscape and slowly got used to the quirks of each horse. Mine stumbled a lot, never quite falling but always keeping me white-knuckled and ready to self eject. There were a number of river crossings after the trail came out of the trees and into the wide-open Bechler Meadows. At our first camp, where we'd spend two nights, we hobbled around on stiff, sore legs, as our gear was tossed into a pile.

"Dig out your bathing suits," our leader announced. "We're heading out for a swim." Get back on the horse? I thought, trying to regain feeling in my hindquarters. We groaned our way back onto the horses and hit the trail again.

And this was the unfortunate part of the trip — one that serves as a reminder that any backcountry journey comes with inherent risk. Not long after leaving camp, our friend was thrown from her horse. She broke a couple ribs, deflated a lung, and was in so much pain — like, couldn't-move-without-yelping pain — that she was flown to the nearest hospital.

To say it put a damper on the trip would be an understatement, but the trip went on. One woman down, we talked and thought about her on the 8-mile ride to Mr. Bubbles the next day. Traveling along the Bechler River Trail, we climbed through Bechler Canyon, stopping at Upper and Lower Colonnade Falls and the booming Iris Falls. Mr. Bubbles lived up to its reputation, its namesake bubbles gurgling up and mixing with the frigid river water to create the perfect soak in an Edenic setting.
The next day, we packed up camp for a 4.5-mile journey to Dunanda Falls. Passing again through the expansive Bechler Meadows, through tall, dried grass with mountains hovering in the distance, it was easy to imagine a time when the land was dotted with teepees. We followed Boundary Creek to the top of a steep canyon where a dicey trail takes you to the river below. Dunanda is breathtaking with a selection of rock pools underneath a National Geographic photo-worthy waterfall.

After soaking, we headed down South Boundary Creek toward Union Junction for our last camp, and the venue for the birthday celebration. And Mother Nature played along, surprising us with a lunar eclipse that I'm sure everyone besides us knew was scheduled to occur. We stoked a big fire, ate a big meal; a dance party ensued (some may have danced in chaps); we cheered to Julie, wishing her a speedy recovery, and to our friends, guides, and horses who got us to a place we would never forget.