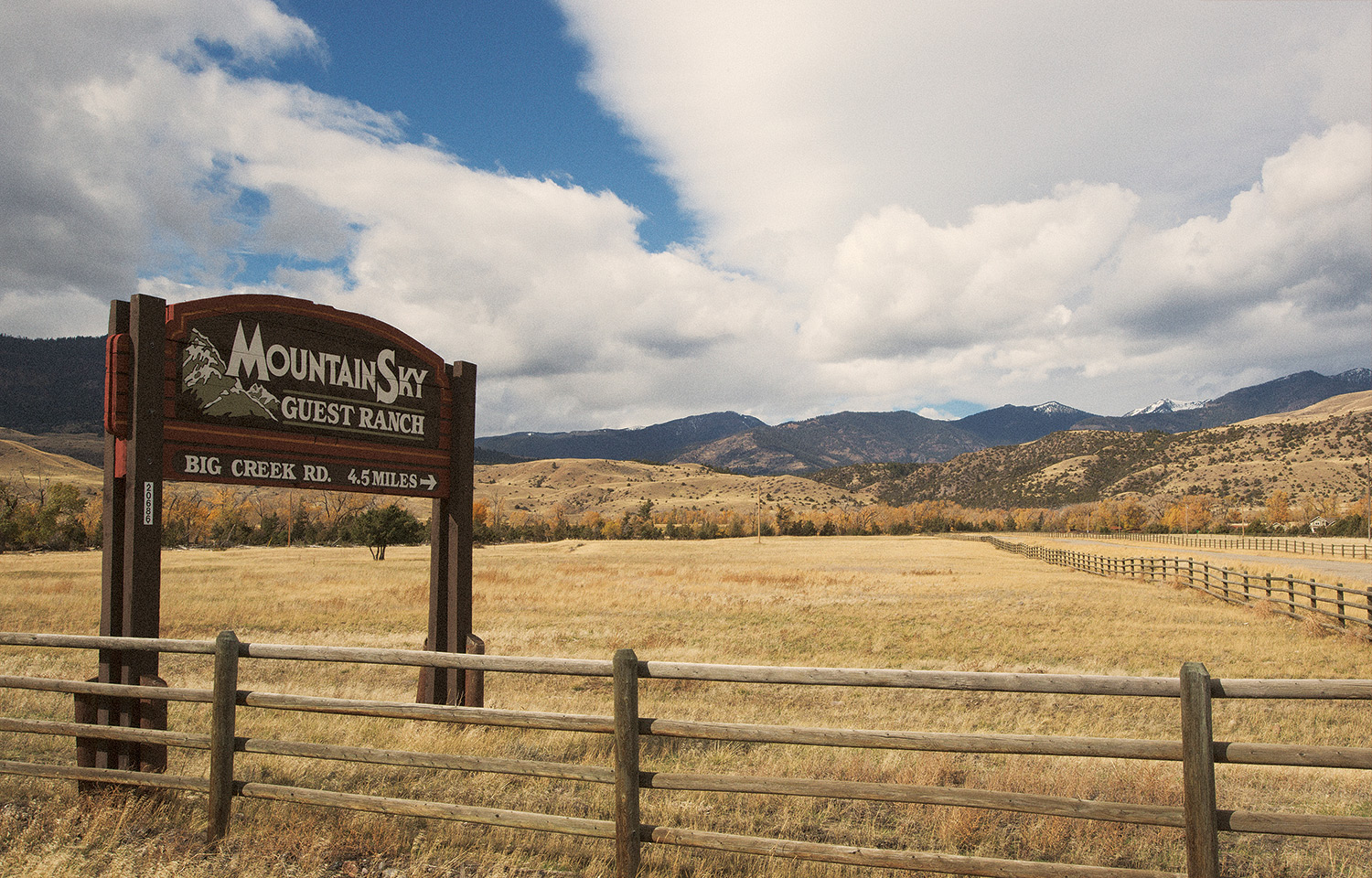 South of Livingston, Montana, the historic Mountain Sky Guest Ranch, currently used both as a traditional dude ranch as well as a platform for philanthropy, represents an admirable blending of the old with the new.
30 Nov

A Tale of Two Ranches

in

The story of dude ranching in the Rocky Mountain West is, in a way, the history of the contemporary West itself. Through the lens of ranching and recreation, you can see, in microcosm, aspects of what's made the West such an iconic part of the American identity. Cowboys and horses, fishing and hiking, sightseeing and fine dining: A good dude ranch offers a little bit of everything. And the best of them do it within the milieu of their own unique histories.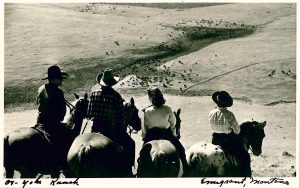 South of Livingston, Montana, one of the oldest dude ranches in the Rockies is growing toward the future while bending a knee toward its past. On a southern plateau just above the Yellowstone River, Mountain Sky Guest Ranch and the neighboring West Creek Ranch feature tipi rings and visible wagon tracks where the Old Yellowstone Trail used to run. Nearby is the site of the last stagecoach stop for early travelers to Yellowstone.
Mountain Sky Guest Ranch was purchased in 2001 by Arthur M. Blank, co-founder of The Home Depot and owner of the Atlanta Falcons. Since that original purchase, Blank has made additional land purchases in the area, 15 of them at last count. "Any time we've been able to acquire property adjacent to the ranch, we've taken advantage of that," says the Atlanta businessman. Most notably, Blank recently purchased the 6,300-acre West Creek Ranch.
Mountain Sky Guest Ranch operates within the context of Blank's philanthropic enterprises. The Mountain Sky Guest Fund, created by Blank and his family, has granted more than $3.7 million to causes in Montana's Park and Gallatin counties. Money from every guest's stay at the ranch is contributed to the fund. Tawnya Rupe, a local rancher and the fund's program director, says, "When Arthur established the fund, his intent was to get the associates involved. He wanted to empower us, but he also knew we were on the ground and closest to the communities around the ranch. We set the funding priorities, which really reflect what we value on the ranch. A lot of our focus is on youth and early childhood development, getting local kids outside on public lands and connecting them to Montana's natural resources so that they value and conserve them."
In addition to the fund, ranch amenities are made available to about 90 different local nonprofit groups, including Outward Bound and Heroes and Horses. The local Future Farmers of America chapter is invited to use the property as an educational site, and first-time youth hunters who have completed Hunter Safety are permitted to hunt certain sections.
Since their first purchase, the Blanks have honored the ranch's tradition of Western hospitality and rangeland management. They offer guests a good dose of local history even while maintaining a cattle herd that helps supply beef to the ranch kitchen. Many old buildings have been left intact, and are an integral part of the ranch's unique character. "I find our guests really appreciate these homestead structures," Blank says. "Anything that's authentically part of the landscape, they want to see and feel it, to understand the way people lived and survived. Every acquisition here has a story."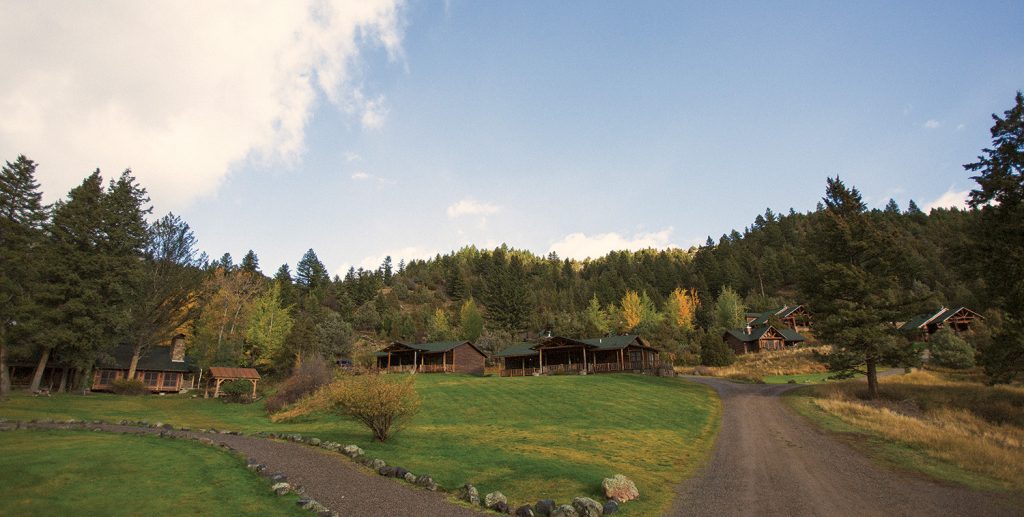 Stories unfold in the log and clapboard homesteads and Monarch ovens, rusted sawmill blades leaning against trees, and barely-visible tipi rings. The written history begins with two families, including a man whose name was, in fact, Story. In 1866, Nelson Story wintered near the current ranch headquarters while driving 1,000 head of cattle toward the Montana gold camps. The Dailey family, whose name graces a one-room schoolhouse on Big Creek, as well as Dailey Lake east of the Yellowstone River, came to the area in 1866.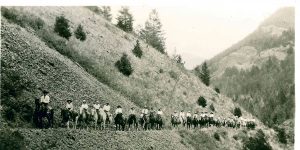 Ebenezer Dailey and his family had left Iowa to find a better life, taking their chances on the dangerous Bozeman Trail. "They spent that first winter at Old Chico, feeding the cattle flour and willows to make it through," notes Jim Dailey, the fifth-great-grandson of Ebenezer. After several desperate years, the Daileys homesteaded at the mouth of Big Creek, and in the coming years family members dispersed around the region.
Ebenezer's sons, Andy and Sam, were among those who took some of the first wagons into Yellowstone National Park in August 1878, eventually becoming the first commercial meat sellers in Yellowstone, summering cattle in the Lamar Valley. During World War I, they rounded up 1,000 horses in Paradise Valley and drove them to Miles City, whereupon the stock was shipped off for use on the front. "You had to be fierce to make it here," says Jim's son Mike, a farrier and former hunting guide who lives in Pray, Montana, with his family. "But most of the stories I know about Sam and Andrew either involved them doing something for others or doing something fun. They roped elk for fun. One of them roped a bull and almost got dragged with his horse over the Chalk Cliffs."
Mike can look southwest from his corral and point to where the first Daileys made a go at it, a story that largely unfolded on the Mountain Sky and West Creek ranches.
Carl and Elizabeth Webb owned West Creek prior to Blank's purchase in 2017, and ran it as a family getaway and cattle operation. "West Creek Ranch was in our family for over 20 years," Elizabeth says, "which only nicks the surface of its long history. Every inch of that ground was, at some point in time, someone's special place. Indians, explorers, railroad hobos, homesteaders, and ranchers all enjoyed the abundant beauty and wildlife."
Donahue Creek — named for market hunter and mountain man loner Bill Donahoo — runs through West Creek Ranch. Beside that creek, around the turn of the 20th century, Maybelle and James "Jim" Zimmerman built what was considered the swankiest home around, two stories outfitted with linoleum, wallpaper, and three bedrooms. According to local legend, Maybelle dressed all in black and scared the neighbor kids; she made moonshine in the backyard, and supposedly was having an affair with a neighbor. If Jim was away working, she would wave a checkered tablecloth out the back door to signal to her lover: "The coast is clear!"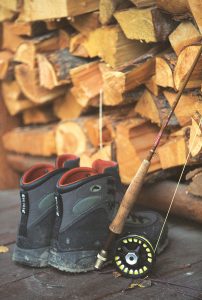 In June 1914, Jim's body was discovered hanging from a rafter in the stable, his head bludgeoned. Maybelle claimed a vagabond had done it. Others claimed she done it, with a cottonwood club as her weapon. Maybelle was tried and acquitted, banished to live in seclusion for the remainder of her days.
One of Mountain Sky guests' favorite activities is a trail ride out to the Kottke Cabin, tucked away some miles from the ranch. A steep winding road leads from the main compound to a drainage in which the original cabin and icehouse sit along Hyalite Creek. Here lived Albert and his wife Mary Bottler Kottke — a daughter of the Bottlers who hosted many of the famous expeditions into Yellowstone, as well as the Earl of Dunraven, on their family ranch on the Yellowstone River.
In 1932, Mary pulled a gun on her brother Phil Bottler in the streets of Livingston. Apparently, there were hard feelings about the division of their family estate, exacerbated by Mary's shaky mental state. According to a Park County News account, she pulled a revolver from her handbag, whereupon her brother ran into a cigar store. One of her shots ricocheted and mortally wounded the store owner. Another shot grazed Phil's head, then she took aim at his stomach. Miraculously, Phil survived his wounds, and Mary spent the remainder of her days at the state psychiatric hospital in Warm Springs.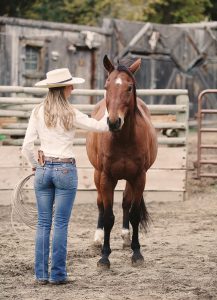 Mountain Sky's core property was for a long time the Ox Yoke Ranch, owned by the Murphy family who were instrumental in starting the Livingston rodeo. The spread began as a cattle camp in 1866, with a homestead patent issued in 1911. It opened to guests as a dude ranch in 1929, complete with a corralled dining room and weekly dances, a tradition which continues today.
Jim Murphy managed the Ox Yoke from 1944 until the family sold it in 1977. The renowned horseman and host died in 2013 at the age of 90, but most of his children still live in Montana. His son, Sean, resides in Emigrant. He was 12 years old when the Ox Yoke sold.
"There's a lot of romance and mythology about how great it is to run a dude ranch. But it's nonstop, seven days a week of lodging and restaurant management, along with taking care of livestock," Sean says. "Mom would make time some afternoons to take us kids down to Big Creek to play in the stream, do a little fishing, and just spend some time away from the stress and routine of the dude ranch. Every Saturday night there was a square dance. Dad would play records and call the dances. He would get into the spirit of the whole thing and did a mean hokey-pokey.
The Dailey family once ranched over much of what is today Mountain Sky and West Creek ranches.
"I was really glad when Arthur bought the West Creek — what we knew as the Ragsdale Ranch," Sean adds. "Over almost 20 years, Arthur's assembled a big, mostly contiguous piece, and they're taking excellent care of all of it. Like most folks around here, our family really appreciates land conservation. In fact, we put the riverfront portion of our home place here in Emigrant into a conservation easement in 2001. Both of my parents were still with us, and the whole family was for it. Selling rangeland along Big Creek to Arthur allowed us to do the easement. It's all kind of worked out over the course of time."
Arthur Blank is 75 years old, and he isn't going anywhere soon. But he has thought about what will happen to this land when he dies. His six children and three stepchildren have been taught how these properties function and how they fit into the broader cultural, agricultural, and ecological landscapes. Kylie, his 16-year-old daughter, was born the same year that Blank purchased Mountain Sky. She can't quite decide now if her favorite ride is to Top of the World or Hyalite Peak, but she does know that she wants to take the lead in maintaining the ranch's tradition of authenticity.
"She wants to manage the ranch," Blank says. "And she's going to put in the work to understand what taking leadership means."
Kylie spent last summer interning with each of the ranch departments. "I have a few long-term research projects to complete, too; things related to improving the guest experience and the way our team works together," she says. "I've spent every summer out here since I was a little kid. The goal is to every year take on a little more responsibility so I can grow into the role."
Arthur Blank and his wife, Angie, make for mindful, modern-day ranch owners.
Like all histories, the tales of the properties that make up Mountain Sky and West Creek are as complex as the people who lived the history. You can't recount the story of any one family that's passed through the bounds of these places without eventually talking about another, and the great serendipity it took to make all their paths cross over the same ground. It's a reminder of one truth that withstands the test of time: No matter on what side of the creek we stake our claim and prove up, we're all in this story together.