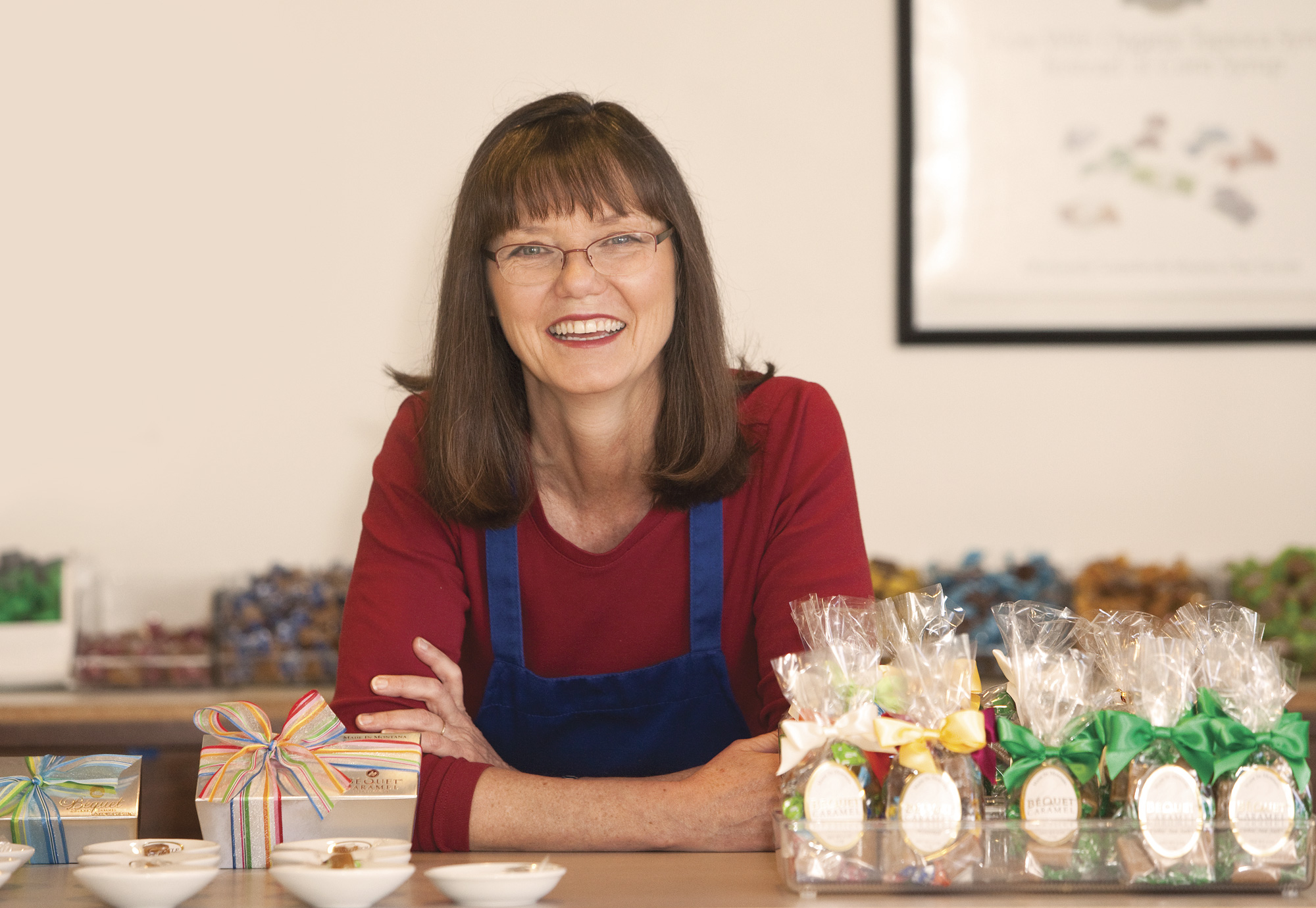 11 Jul

Dining Out: Sweet Surprise

in
---
Robin Béquet never thought she'd own a confection business. With 27 years of experience in technology sales management and business management, she said it was a series of fortunate events that lead her to building the successful artisan caramel business, Béquet Confections, which has earned seven national awards since it opened 11 years ago.
"We've been fortunate in more ways than I can possibly relate," Béquet said. "I feel very, very lucky to have all the little successes that have built the big successes, like the [Bozeman] Co-Op carrying [a type of] salt that's the best complement for a caramel that's developed a huge following."
When her career unexpectedly ended with the telecom crash of 2001, Béquet found herself thinking seriously about what she wanted to do next. Despite encouragement from family, friends and business associates who loved her caramels and thought they'd become a viable business, she was skeptical. She wasn't convinced until a blind taste test pitted her recipe against four other gourmet caramels and remarkably found that 17 out of 18 adults preferred her recipe.
"So now, I thought, I can get excited about this. Now, I'm going to throw my whole self into this," she said. "I had no idea what that meant. I had no idea about the long hours, or how scary this venture was going to be."
The Bozeman-based business started small, with just the help of her father as caramel cook and one other employee for the first several years. She identified six market niches and then began marketing her caramel locally in Bozeman, eventually expanding to Big Sky, Butte, Helena, and on to cities in Idaho and Wyoming.
"I remember standing outside of Montana Harvest about to present my caramels and almost bailing because I was thinking, 'What kind of idiot am I? It's a natural food store, they aren't selling candy. Those people want to eat healthy. What makes me think I should go in there.' And it was only the professional in me with all that time in sales that said 'If you don't go in, you'll never get the answer, you have to.' And I remember forcing myself to go through the door, smile and present this as if it was the most perfectly normal thing. And one of the best niches of those six we identified was natural food stores. So you never know unless you try," she said.
That leap of faith, Béquet's keen business sense and her commitment to quality were rewarded, and the company now employs more than 50 workers during their peak holiday season and 27 people year-round. Béquet Confections are shipped to 800 gourmet markets and natural food businesses, and the factory produces around 25,000 caramels daily and 40,000 caramels a day during the holidays.
"My goal was a business of 12 to 15 people that could help support my family, and so this has well exceeded anything beyond my wildest imagination, and I have a pretty wild imagination," she said.
The 8,000-square-foot facility — expected to nearly double in size over the next two years — produces hand-crafted caramels with an exacting process and lots of care. Warmed tables, plumbed with warm or cool water, are prepped with butter while large copper kettles bring simple ingredients such as brown sugar, condensed milk and cream, to a boil. Once cooled, the large sheets of buttery caramel are run through machines that slice and package each piece.
Béquet produces 10 flavors of caramel, each of them smooth and creamy with either a soft or chewy texture. A best-seller is the Celtic Sea Salt for its perfect balance between savory and sweet. There's also an unexpectedly delicious Chipotle Caramel, with vanilla essences and a smoky jalapeno flavor that builds with moderate heat. It earned a first-place sofi Award, the highest honor in the specialty food industry from the National Association for the Specialty Food Trade. In addition, the Celtic Sea Salt and traditional Buttermilk flavors won silver medals when placed head-to-head against leading confections companies such as Godiva chocolates, Béquet said.
The company introduces a new flavor each year, eliminating the slowest seller in the process. In June, they introduced Cinnamon Swirl, a warm, aromatic caramel made with ground cinnamon and a vanilla-butter base. To develop new flavors, they watch for trends in the specialty food industry and listen to customer input.
"We never ever would have added sea salt to our caramel without customers to tell us to," she said, explaining that three customers suggested the addition during a Fancy Food Show in San Francisco. "Initially I thought, 'what a kooky idea,"' she said. But after making a batch sprinkled with salt and after her "50th trip" to snack on it over the course of a month she decided she was "addicted."
Now a front-runner in the gourmet confection business, Béquet said she remembers attending her first Fancy Food Show in San Francisco with the hope of exhibiting her caramels there one day. "As I was ascending the elevator and about to walk into the gourmet food industry's mecca show — the biggest show of the year — all I could think to myself is how lucky would I be if this was my future. I love gourmet food and the idea of being a part of it to me was … exciting doesn't even begin to capture it," she said. "It resonates that this is right where I belong."
---
Delicious Caramel Corn
Ingredients
Cooking Spray
4 quarts popped popcorn
1 cup brown sugar
½ cup light or dark corn syrup
½ cup butter or margarine
½ tsp salt
½ tsp baking soda
1 tsp pure vanilla extract
8 oz of your favorite variety of Béquet Gourmet Caramel® (Butterscotch is highly recommended, Chipotle will add a nice spicy kick, and Celtic Sea Salt® will allow the perfect balance of salty and sweet).
Directions
Preheat oven to 250 degrees F. Spray a large roasting pan with cooking spray. Add popped popcorn and place in preheated oven. Mix brown sugar, corn syrup, butter, and salt in a heavy 2-quart saucepan. Add 8 oz of your favorite variety of Béquet Gourmet Caramel®. Stir constantly and bring to a boil over medium heat. Boil 5 minutes without stirring. Remove from heat. Stir in baking soda and vanilla; mix well. Pour caramel mixture over warm popcorn, and stir to coat evenly. Bake for 45 minutes, stirring occasionally. Spray a large piece of foil with cooking spray. Remove caramel corn from oven and spread on foil. Leave to cool, then break apart and store in a tightly sealed container.