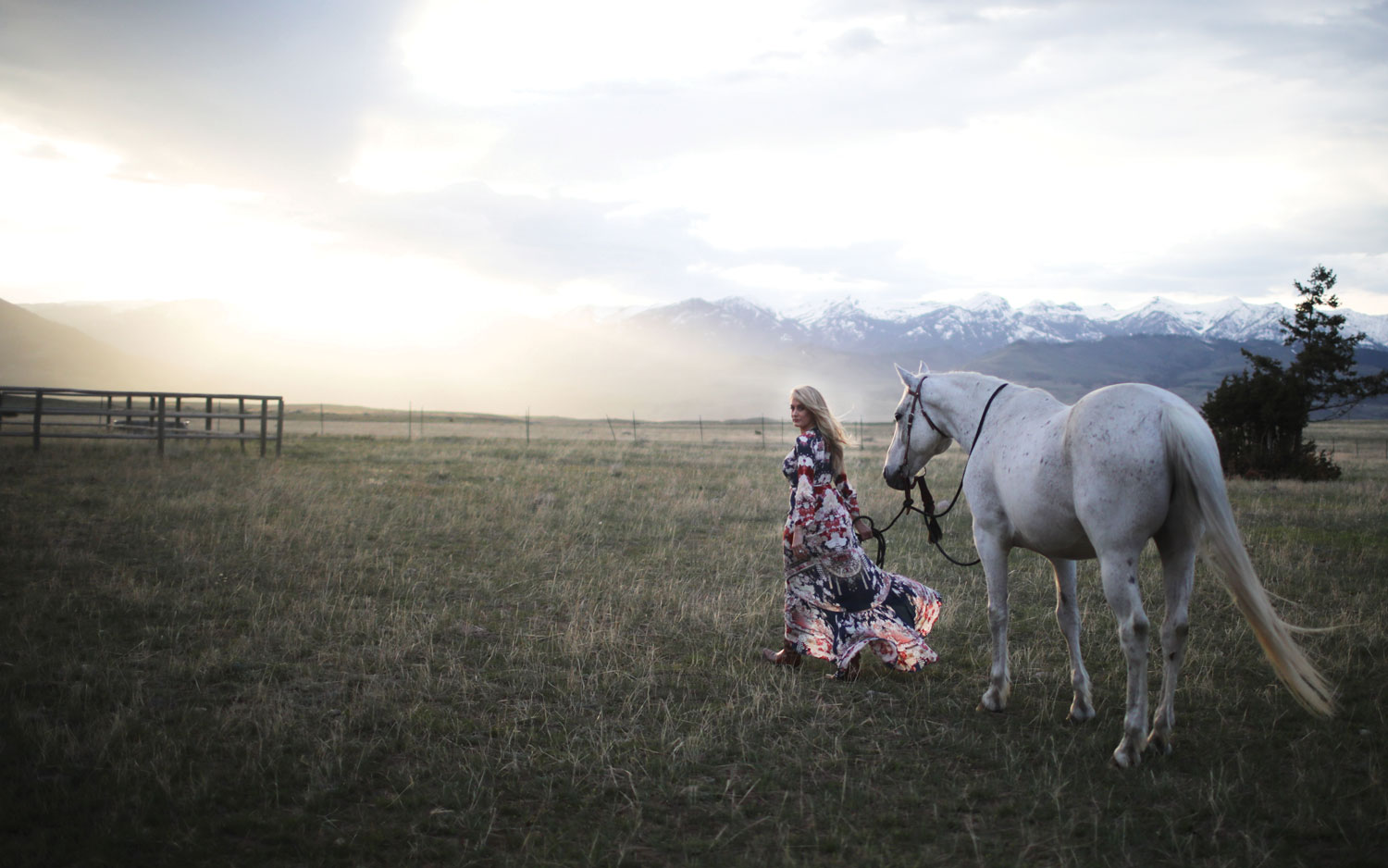 Photography by Melanie Maganias Nashan
12 Aug

Stephanie Quayle: The Wild Horse of Country Music

in

STEPHANIE QUAYLE SINGS ACAPPELLA:
Run like a wild horse,
chasing that sun even if you're all out of breath.
Aiming your arrow
straight for the stars
even if you can't see 'em yet.  

The rising star of country music is sitting with me on a leather couch in her Montana home, crooning lines from songs that will be released this year on an LP produced by her own record label, Rebel Engine Entertainment, out of Nashville, Tennessee.

Ain't no one borne with nerves of steel.
Sometimes we gotta take our hands off the wheel
to fly like an eagle,
like Evel Knievel.

"It's about fearlessness," says Quayle of "Evel Knievel," the song she co-wrote in Nashville with songwriters Karen Kosowski and Tori Tullier. The idea was sparked by a poster on Kosowski's office wall after the three women decided to write a song about the fearless man. Like the motorcycle daredevil, Quayle is from Montana, and she interprets Knievel's "wild horse" courage as very cowboy/cowgirl. When life's metaphorical horse bucks you off, she explains, "you just you have to dust yourself off and keep going."
"The first time I got on stage it made sense, like this is where I've been trying to get to," Quayle says.
Quayle's grit and grace have earned her accolades: She made Rolling Stone's "10 New Country Artists You Need to Know" list in 2017, and Country Music Television's "Next Women of Country 2019." She's produced four singles to date: "Drinking With Dolly," "Winnebago," "Selfish," and "If I Was a Cowboy," and has garnered invitations, like performing for five former U.S. presidents at Deep From the Heart: The One America Appeal hurricane relief concert.
At a recent fundraiser in Bozeman for the nonprofit Cody Dieruf Benefit Foundation for Cystic Fibrosis, Quayle performed "Evel Knievel" in public for the first time. It was a hometown show for the musician, and unbeknownst to her, Knievel's daughter Tracey was in the audience (Knievel died of idiopathic pulmonary fibrosis). The women had an emotional exchange afterward. "That's full-circle on steroids," Quayle exclaims.
"And that's the beauty of the arts: You never know where a little idea from a poster on a wall can lead."
Quayle takes entertaining seriously and analyzes videos of her concerts with the rigor of an Olympic athlete. Onstage she's dynamic, playing her Gibson J-185 guitar and engaging the audience by shaking hands or bending down to share the microphone. Twenty-four-year-old fan Tana Peña saw Quayle open for Aaron Watson on May 15 and was asked to share the mic and sing along. "She's not trying to be pop country, which I really appreciate," says Peña. This is high praise for the singer whose heroines include Dolly Parton and Reba McEntire, as well as the more contemporary singers Kacey Musgraves and Miranda Lambert.
"It's not a me thing, this is a team thing," says Quayle of making music, and the legion of people it takes to get a song produced and aired on the radio. Her team includes high-caliber musicians and Carli McLaughlin, vice president of Rebel Engine Entertainment. "She founded it to control her future," McLaughlin says of the record company Quayle launched in 2015.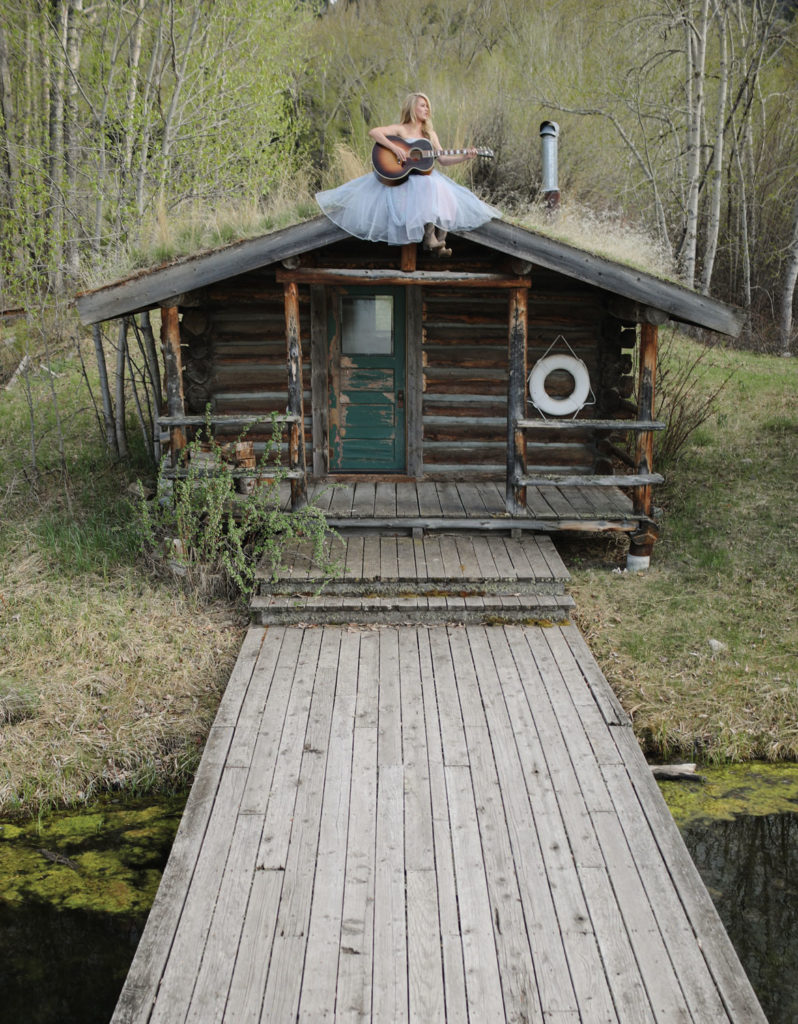 When their busy schedules permit, Quayle and her husband David Couch, a real estate developer whom she married in 2015, find solace on their Montana ranch north of Yellowstone National Park. Last winter, a young cow elk sheltered next to their house. "I think I can talk to animals, which is ridiculous," Quayle says. Of her encounter with the cow elk she adds, "I didn't try singing to her, but I tried chirping back at her to see if we could talk." Quayle then chirps to demonstrate. I chirp back. "Exactly," she exclaims.
Not only can the woman speak to elk, but she has true cowgirl credentials. She was raised on her veterinarian stepfather's farm near Bozeman, where he kept American bison and horses. "No matter where I am in the world, if I see a horse I will pull over," she says, then with the timing of a comedian adds, "unless I'm on a train, because that's impossible."
Riding a steed onstage is one of Quayle's aspirations. At events, she is often invited to rope or ride a cutting horse. I observe that riding a cutting horse is like Country-Western swing dancing, because every man leads differently, so you have to think three steps ahead but also follow. She agrees, then her writer brain kicks in. "You need to write that down," she says, "because that's damn good."
Quayle is a talented songwriter and self-proclaimed eavesdropper; her antennae are always attuned to a good line. She admits, "I have been known to walk up to strangers and ask, 'I'm sorry, could you repeat what you just said?'" When her creative process includes collaboration, it requires even more vulnerability. "Co-writing is like going on a blind date naked," she explains. "You have to show your stuff to get the goods."
Music is Quayle's raison d'être; Entertainer of the Year, her goal. "I want the whole shebang," she says, "Not just Female Entertainer of the Year." Then with a rascally laugh she jokes, "OK men, I'm comin' for ya!"
Montana has produced many trailblazing women, like Jeannette Rankin, the first woman to serve in the U.S. Congress. Quayle's grace and grit are a little Rankin and a bit Knievel: She possesses the entertaining derring-do of Knievel and the unbridled ambition of Rankin to be a champion of the people. Quayle is blazing her own trail straight for the stars and becoming one in the process. "I'm quirky, I'm a Western kid," she says. "I probably swear too much, and I'm Montana-made. I have never been more proud to represent our state."
If Montana had a voice, it would sound like Stephanie Quayle's.