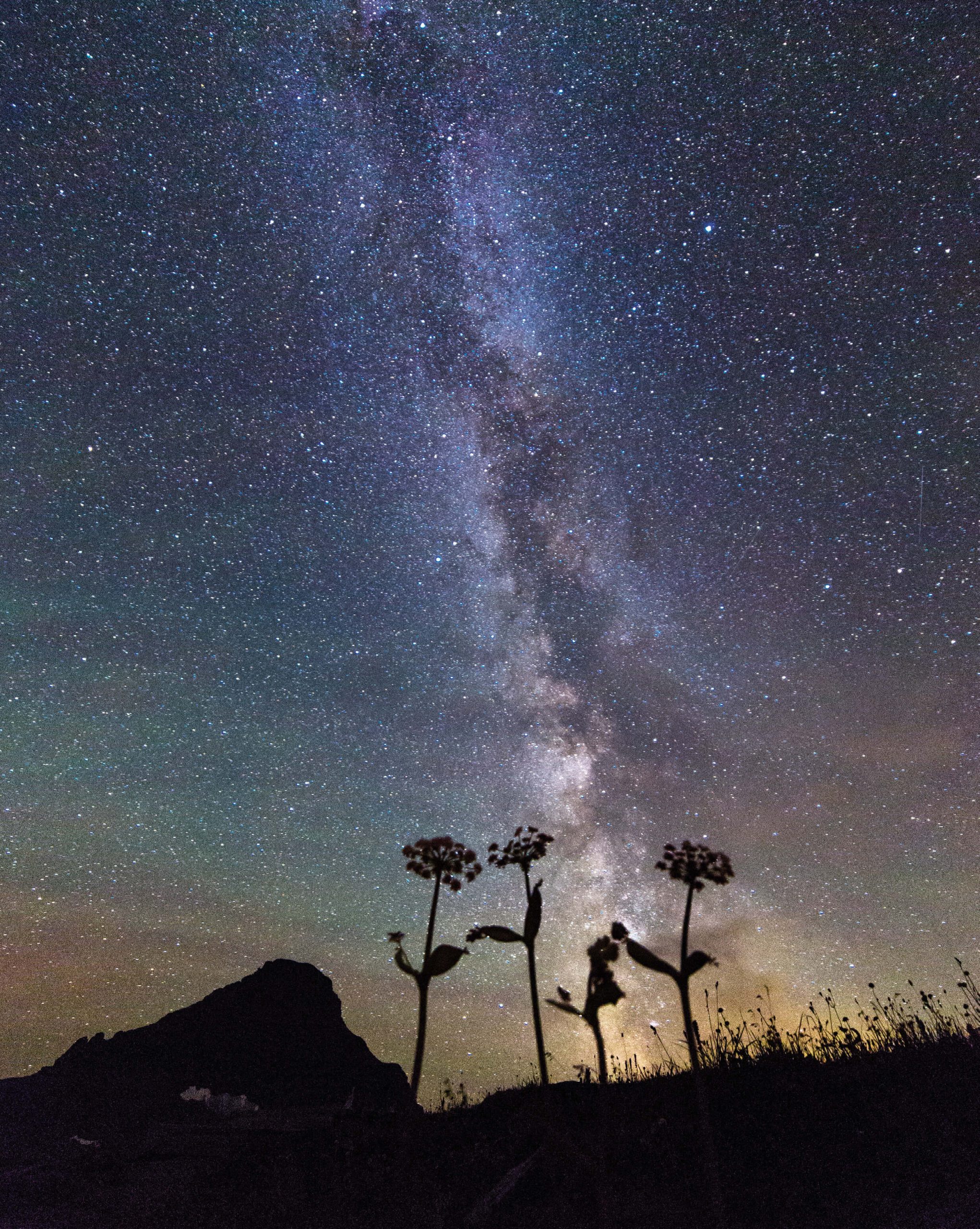 The Milky Way gleams over Glacier National Park in Montana, a dark-sky destination for visitors from around the world. Photographed by NPS PHOTO/JACOB W. FRANK
01 Jun

Starry, Starry Night

in

Each month on the cusp of the full moon, Mark Paulson and about two dozen other people attend a regularly scheduled business meeting in Kalispell, Montana. Then, they move to the parking lot, get out their telescopes, and look up. As the president of the Big Sky Astronomy Club, Paulson has been at it for over two decades, getting a glimpse of the night skies as celestial objects churn, change, and shine from above. "I've been interested in astronomy since third grade," Paulson says. "My dad took me out to show me the night sky. He'd show me constellations. And after a couple of years, my dad bought me a telescope. I ended up seeing the rings of Saturn and I was hooked. My love of astronomy has never faltered."

The club maintains a slate of active members, including a 17-year-old whom Paulson calls a rock star for his ability to zero in on deep sky objects with a manual telescope, and a number of dabbling amateur astronomers in their mid-70s. But most impressive are the Star Parties. These public viewings, often held in partnership with Glacier National Park and Lone Pine State Park, attract hundreds of stargazers to Glacier's Logan Pass. "We once had 750 people," Paulson says.

There's no shortage of interest in what's going on in the night sky, and the night sky, in turn, never fails to deliver. From satellites to nebulas, constellations, and planets, the cosmos are constantly evolving, ebbing and flowing from one phase to another. And if you're lucky, you'll likely catch sight of some of these wonders — the sun, the moon, sunspots, and meteor showers — without any instrumentation at all.

So, what exactly are stars? The answer is a brief science lesson away. A star is a glowing ball of hydrogen and helium gasses suspended in space by a gravitational force, and the sun is the star closest to us. When you see light in the sky, according to Mark Reiser, lecturer and planetarium director for the Department of Physics and Astronomy at the University of Montana, it is about 2 million years old; that's the time it takes for the light to be visible on Earth. Dwarf stars have surface temperatures of less than 4,000 degrees Kelvin, while large stars — some hundreds of times larger than the sun — measure upwards of 50,000 K. When a star is born or dies, it emits gas and dust and becomes a nebula. Nebulas are located in the space between stars, or interstellar space.

Constellations and the billions of galaxies in our universe are all comprised of stars. A galaxy is a collection of billions of stars, dust, and gas; the Milky Way is the galaxy in our solar system. With names often based in mythology, astrology, and the zodiac, constellations are merely clusters of stars that have formed recognizable patterns. There are over 80 constellations visible from Earth, and several of the most common — Orion, The Big Dipper, and Cassiopeia — are often clearly visible with the naked eye.

Reiser says it's amazing what can be seen with only our eyes. The best stargazing can be found in rural areas, where light pollution and ambient glow are at a minimum. Since Montana boasts plenty of wide open space — especially in the eastern and northern parts of the state — it's a great place to watch the cosmos. "With certain stars that never go below the horizon, like Cassiopeia, Ursa Major, and Ursa Minor — more commonly known as the Big and Little dippers — they are visible all year long," Reiser notes, adding that most folks stargaze in summer when skies are clearer, and it's easier to be outdoors.

Paulson says warm weather brings many people out later in the evening when the sky finally darkens and visitors from across the world come to catch sight of the Milky Way. Destination stargazing trips are common; Paulson has met people from places like Africa, Korea, Vietnam, and Switzerland, all passing hours under the stars. "For many, it's their first time seeing the Milky Way. It's awe-inspiring," he says. "In fact, the light is so bright, I can put a piece of paper down on the parking lot, and a shadow will be cast on the paper."

Remember, though: The skies above are always changing. Try stargazing seasonally, noting what is visible at any given point in time.

Through a telescope, the light show is even more impressive. The most important aspect of a telescope is the aperture, or size of the opening. What can be seen is also determined by whether you have a refractor, where you can see straight through the lens, or a reflector, which is a mirror. "The bigger the aperture, the greater light you can collect and the brighter the object will appear, with more detail revealed," Paulson says. Much can be seen at 100x magnification, with larger scopes going up to 500x. The pros can go beyond that. If you have a telescope and are seeking a good location, Paulson offers three considerations: darkness, transparency (meaning the amount of particulate matter, like water vapor, and atmospheric stability), and sight (the steadiness of the atmosphere). "Twinkling stars mean the atmosphere is turbulent," he says. "When still, the upper atmosphere is very calm, and light travels through it to your eye."

The University of Montana planetarium utilizes a powerful hardware platform to run cutting-edge Digistar 6 software. "With it, you can simulate views from any place or time within the Milky Way and even leave the Milky Way galaxy behind," Reiser says. "The planets are programmed with their actual, high-precision orbital periods, rotation periods, and orbital eccentricities. So, whenever we advance the 'universe's clock,' all the objects in our solar system move about with accurately represented orbital motions." You can also run the clock backward to a specific date in time. "You can recreate the full solar eclipse from 1979 that occurred over parts of North America that year," Reiser continues. "The precision is so high, such that the lunar disk will perfectly cover the sun's disk at the right time of day — all over 40 years ago." The goal is to wonder at the night sky, "appreciating the visual aesthetics of our beautiful cosmos," says Reiser.

So, without a planetarium or powerful telescope, where can the average amateur stargazer begin? Both Reiser and Paulson agree: with a pair of binoculars. "Grab a blanket and someone special and go out in the backyard with your binoculars," Reiser says. This method proves especially effective if you happen to live outside one of Montana's cities. Downloading a map of the skies may also be helpful. For information on highly recommended star-viewing locations, visit go-astronomy.com/dark-sky-sites.php.

What to look for next? Reiser says to keep your eyes peeled for aurora — or light displays such as the Northern Lights — as the sun approaches its 11-year cycle. "The next several years have the potential to be some of the best in recent memory," he says. "The sun is approaching solar maximum, and as the cycle ramps up to full intensity, the abundance of solar storms — and, therefore, auroral outburst — is also trending upward."

If you needed a good reason to stay up late, perhaps you've just found one.
FINDING DARK SKY
To learn more about dark-sky locations, check out darksky.org. The International Dark Sky Association, headquartered in Tucson, Arizona, is an organization dedicated to protecting night skies from light pollution. On their website, you can find dark-sky locations throughout the country. The association recently recognized Lost Trail National Wildlife Refuge in Montana's Flathead County as a new night-sky sanctuary.
In addition to Lost Trail National Wildlife Refuge, some of the best sky-viewing areas in the state are the University of Montana's Star Gazing Room in Missoula; two sites in Glacier National Park, Dusty Star Observatory and Apgar Visitor Center; the Montana Learning Center in Helena; the Museum of the Rockies in Bozeman; the Lewis and Clark National Historic Trail Interpretive Center in Great Falls; the Upper Missouri River Breaks near Lewistown; and Brush Lake State Park in Missouri River Country.