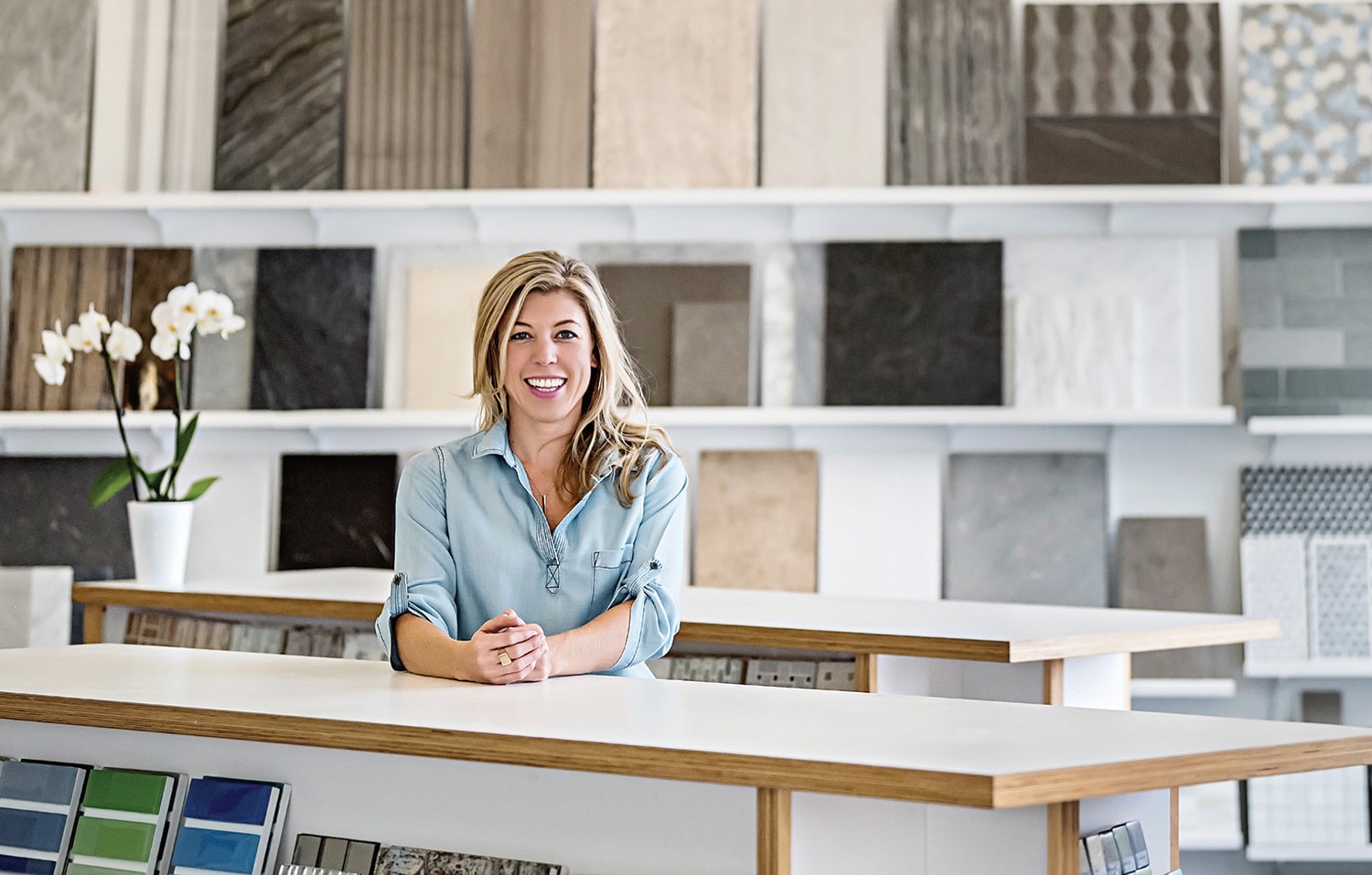 Leveraging a lifetime's worth of expertise in beautiful and functional tiling, Ashley Hertz is currently the owner of Onyx Studio.
12 Apr

The Spirit of Repeating Patterns

in

Onyx Studio owner Ashley Hertz is tiling a new future for herself and Bozeman. Hertz is a bit of self-professed tile fanatic, exuding enthusiasm and expertise about a medium that sometimes goes unnoticed: Patterned slabs repeated on floors and walls subtly form a room's backdrop. In our everyday lives, tile is underappreciated, and Hertz has set her mind on changing that.

In her recently purchased boutique facing the new development 5 West, Hertz houses samples of geometric and free-form pieces made from cement, ceramic, porcelain, glass, and terra cotta, fashioned in varying sizes and colors. Last summer, after purchasing the Fantasia Showroom, Hertz changed her new business's name to Onyx Studio, but continued to carry many of the exclusive tile, stone, and faucet lines offered by Fantasia.

Hertz said she chose the name Onyx because of the natural stone's symbolization of "initiation and change, representing strength and protection while providing intuitive guidance to a richer more meaningful existence."

Her affection for working with tile emerged during the summer break after her first year at Montana State University, while assisting with her parents' house renovation. She remembered "having so much fun with my mother picking out the tile" for a black and white checkered floor. She eventually found herself "obsessed with the infinite patterns and colors of tile. Tiles can be handmade. They can come from Mother Nature."

Hertz found a job working at a tile store at age 19. An errand sent her to the Fantasia Showroom, and after stepping foot in the door, she knew she wanted to work for that company. Fourteen years later, she realized a dream by buying the business.

In the interim, Hertz has been contributing to the Yellowstone Club, supplying and managing projects, from the original Warren Miller Lodge to the Village Core Project, currently under construction, and countless residential properties in between. She worked on residential and commercial projects in Bozeman, and focused on homes in Big Sky, in the Madison and Paradise valleys, as well as on projects further afield, including in Wisconsin, Maine, and Canada. She gained invaluable experience by collaborating with designers from New York and San Francisco, but wanted to work closer to home. Now, she said about her business, "My goal is to rebrand, refresh, and rejuvenate."

Hertz's exclusive lines include Ann Sacks, Sonoma Tilemakers, and Fireclay, along with specialty lines such as Artistic Tile, Tabarka Studio, and New Ravenna. She said, "Tile is what makes the room — the kitchen, the bathroom." While family and friends gather in the kitchen for kinship, the bathroom provides solace as a space to "cleanse and rejuvenate."

As with most artists, Hertz values access to abundant and versatile materials. Among other collections, she offers the Ann Sacks line. Headquartered in Portland, Oregon, the company produces tile that uses unique shapes and textures to create nontraditional patterns. Products include MADE, a hand-crafted collection that simulates natural creations and beauty like fog and clouds, with replicas of wood, stone, and rocks. Mosaics create illusions of movement and play on light. Tiles may simulate the real thing but offer easier maintenance with harder, more compact surfaces made from porcelain. A handcrafted tile may look like marble without the porosity, while a replica of wood created with whirls and striations offers more resistance to wear.

Ann Sacks recruited U.S. designers such as David Ogassian to create three-dimensional tiles in woven and star patterns, handmade with Oregon-based clays. Hertz showed me a tile designed by Cloisonné artist Robert Kuo who influenced the Chinois series with a tile entitled Kuai, meaning swift, sharp, and quick in Chinese. When handling the tile, you get a sense of smooth coolness, warmed with images of bamboo stalks, branches, and grass. Movement and life are conveyed through the irregular patterning.

In Bozeman, Hertz's expertise will be on display in The LARK Hotel addition. According to Brian Caldwell, co-owner and principal at THINKTANK Design Group, whose conceptualization created the Montana accommodations, "The Lark Hotel is expanding with 29 new guest rooms, a ground level retail space, and outdoor areas for visitors and locals to enjoy."

Caldwell said, "Designing for public spaces brings the challenge of selecting tiles that meet our visual goals even while being able to withstand high volumes of guest traffic." Hertz's work will grace all the hotel bathrooms and the lobby. "Ashley has a tremendous depth of experience. She introduced tile selections that were on point with the desired aesthetic, and her materials knowledge helped us to ensure that the tile will look as fresh five years down the road as on day one."

Hertz supplied gray textured tiles, ordered from Germany, meant to simulate concrete. The concept for the shower walls was "to use tiles as a spin on the classic subway with hexagonal tiling on the floor."

Hertz worked on another downtown Bozeman project. After a two-year renovation, the Rialto Theater reopened in mid-January. Hertz said, "We just wrapped up in the theater entrance with cool hex floor and fun retro bathrooms." Here, Hertz described using a tile made in hexagonal porcelain in mottled shades of black: "This tile is bomb-proof and great for an entrance floor. Aside from being commercially rated, it has a fun shape."

Hertz has also been tapped to work on the Ferguson Farm project, a future commercial center with lodging on the east side of Bozeman. The anchor of the project, named The Market, will house a collection of small, local shops including a bakery, brewery, restaurants, and a coffee bar, following the concept of the Ferry Building in San Francisco, albeit on a smaller scale. There will be a farm style to the project, but Matt Paine, president of the Paine Group (which is co-developing the project with concept creator Delaney & Company), said, "Corrugated metal, brick, glass, and anodized aluminum will give the building a contemporary feel." Paine wants The Market "to be a social hub for people. It is a place where you can meet a friend at the coffee bar and then eat dinner, and later pick up a loaf of bread, artisan cheese, and a bottle of wine."

Paine added, "Ashley was the stone and tile expert, along with providing plumbing fixtures for the project. She was an amazing resource not only from the design perspective, but [also] from a functional aspect. Not many people have the ability to find visually attractive materials with enduring qualities."

Hertz strives to meet every budget and to hit all price points. "I am able to adapt and formulate each design with each individual," she said. She hopes to continue to re-pattern the community, one tile at a time.