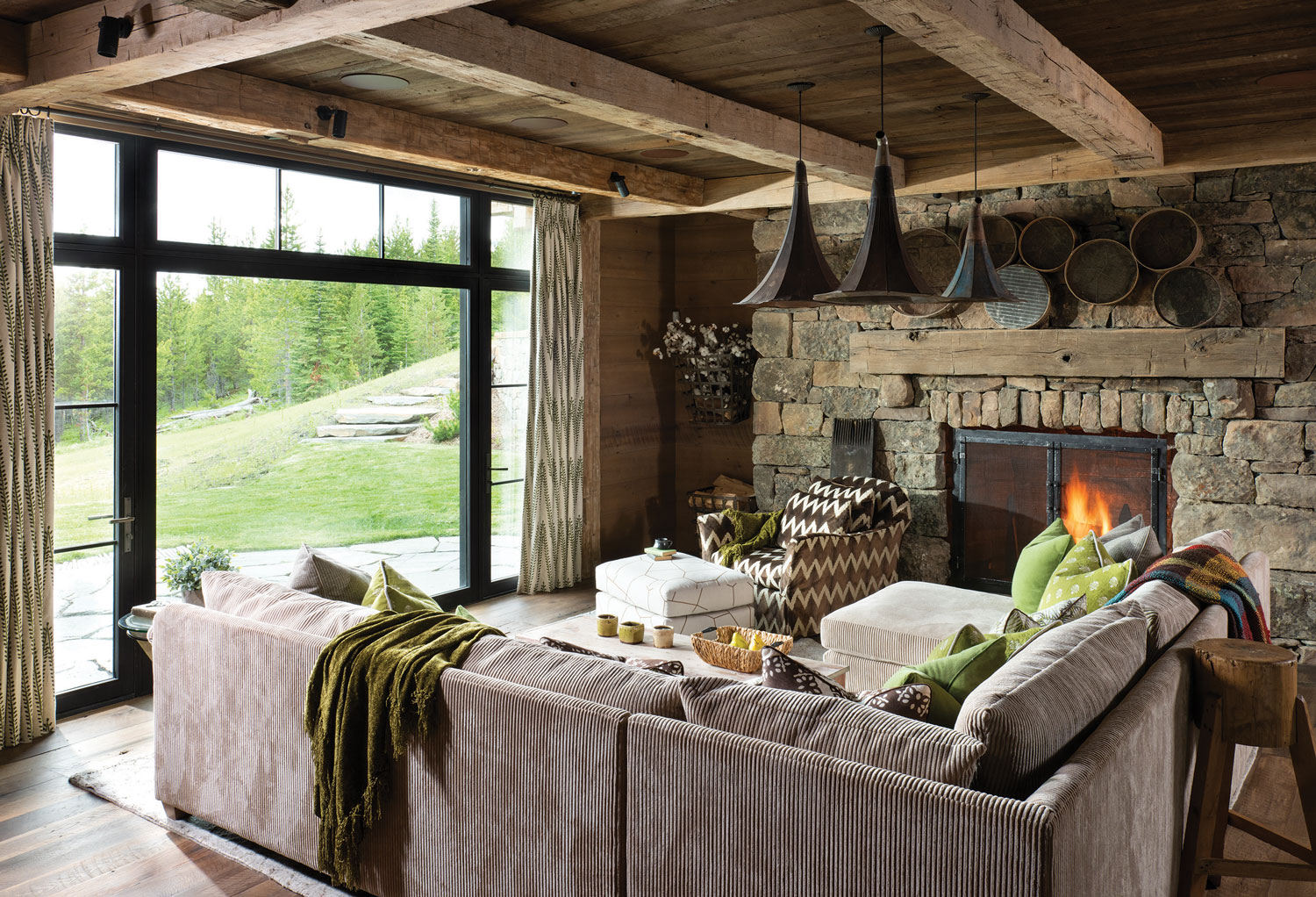 Architect Larry Pearson used hand-hewn beams, timbers, and recycled wood through- out the home, blending those elements with stone.
15 Apr

Southern Comfort

in
A rustic Big Sky home with a dash of dixie
The Danish have a word for the concept behind a new home in Big Sky, Montana. It's hygge — and according to Merriam-Webster, it refers to cozy and comfortable surroundings that invoke an inner sense of contentment or well-being.
It's an appealing idea, one that applies to the interiors and exteriors of this 7,500-square-foot, rustic-but-contemporary residence that's set into a hillside. That's because a team of local architects, builders, and craftsmen, along with an Atlanta-based interior designer, worked overtime to make it happen. They were guided by their clients, a Georgia couple who wanted to ski in the winter and golf in the summer in Montana — while enjoying the comforts of home.
"It's an interactive, casual, social, and functional space where the living area flows to the kitchen and dining area," says architect Larry Pearson, founding principal of the Bozeman-based Pearson Design Group. "Usually they're there with a group of friends barbecuing, using the hot tub, or putting skis on — they're socializing and hanging out and actively engaging [within] the hillside."
The home's open floor plan is designed for recreation and to accommodate friends and family. "There's a lodge feel to it, but it's not too Old World," says Jon Evans, owner of the Bozeman-based North Fork Builders. "It's a comfortable home for their kids, and to entertain — it's open as a place to play."
In mountain architecture, flat building sites are a rarity. And this one was no different. "We're always looking at the property and how it sits on the slope," Pearson says. "It's about utilizing the topography to maximize the property." In this case, the architect wanted to climb as high as possible for down-slope views from two levels, and that created the vertical organization of the home. "There's the lower level plus a main level over it, and that sets up the language of the home," he says. "The main living is above, and the bedrooms, recreational room, and exercise room are below."
The home is sited about 7,500 feet above sea level, with an entry area that faces west, and inside views to the east, south, and southeast. Its height, though, presented its own set of challenges. "The hewn timbers are not light, and neither are the stones," he says. "It's a heavy house, not a light pop-up. It was handcrafted in the wind, so there were environmental challenges."
Evans, who's been in business for himself since the beginning of the Great Recession, interviewed with the architects early on, before being awarded the project. He's known not just for his fine woodworking skills, but for his project management skills too. Here, he called in both a manager and a superintendent to coordinate the craftsmen on site.
They ended up with a sophisticated bunch of artisans. "There's some of the most primitive and traditional use of materials here. It's like an old rough-hewn timber house — their joinery was exactly the pursuit of that," Pearson says. "There's a lot to be said for the general contractor — he's one of best in the West."
Still, Evans had his work cut out for him. His craftsmen executed all of the woodwork — framing, flooring, and carpentry. Hand-hewn timbers, some notched and at least a century old, came from old barns in the West and Midwest. Many are oak, but there's also a color-matched mix of hickory, chestnut, ash, and other hardwoods. "There's not a stick of lumber that's exposed that's not reclaimed," Evans says.
All the wrought iron was hand-forged by blacksmiths — some on site, and some in an off-site shop and then fitted on site. "Every fireplace has a unique custom door and tools, and the stairway was made with hand-forged railings and reclaimed timbers," Evans adds.
Stonemasons, too, had their hands full. All the stone on the project was regionally sourced, selected for its color and the moss and lichen on its surface. Like the timber and iron work, the craft of the masonry is an integral part of the home's soul. 
Inside, Atlanta-based interior designer Meridy King was creative with colors and fabrics. "I made multiple trips out there," she says. "I got to know Bozeman and the local reclaimed goods shops, to get the vibe of the area."
Because the house is large, King's focus was to bring it down to scale where it mattered most. "I was trying to give all the spaces intimacy and make them comfortable," she says. "They ski hard and hike during the day, so to snuggle in is important to them."
King and the entire team worked to deliver that sense of hygge for their clients. "We set a stage for them," says architect and principal-in-charge Justin Tollefson. "There's a sense of place they bring with them." Which all adds up to Southern comfort based in Big Sky, Montana.
Architecture: Pearson Design Group
Construction: North Fork Builders
Interior Design: Meridy King Interiors