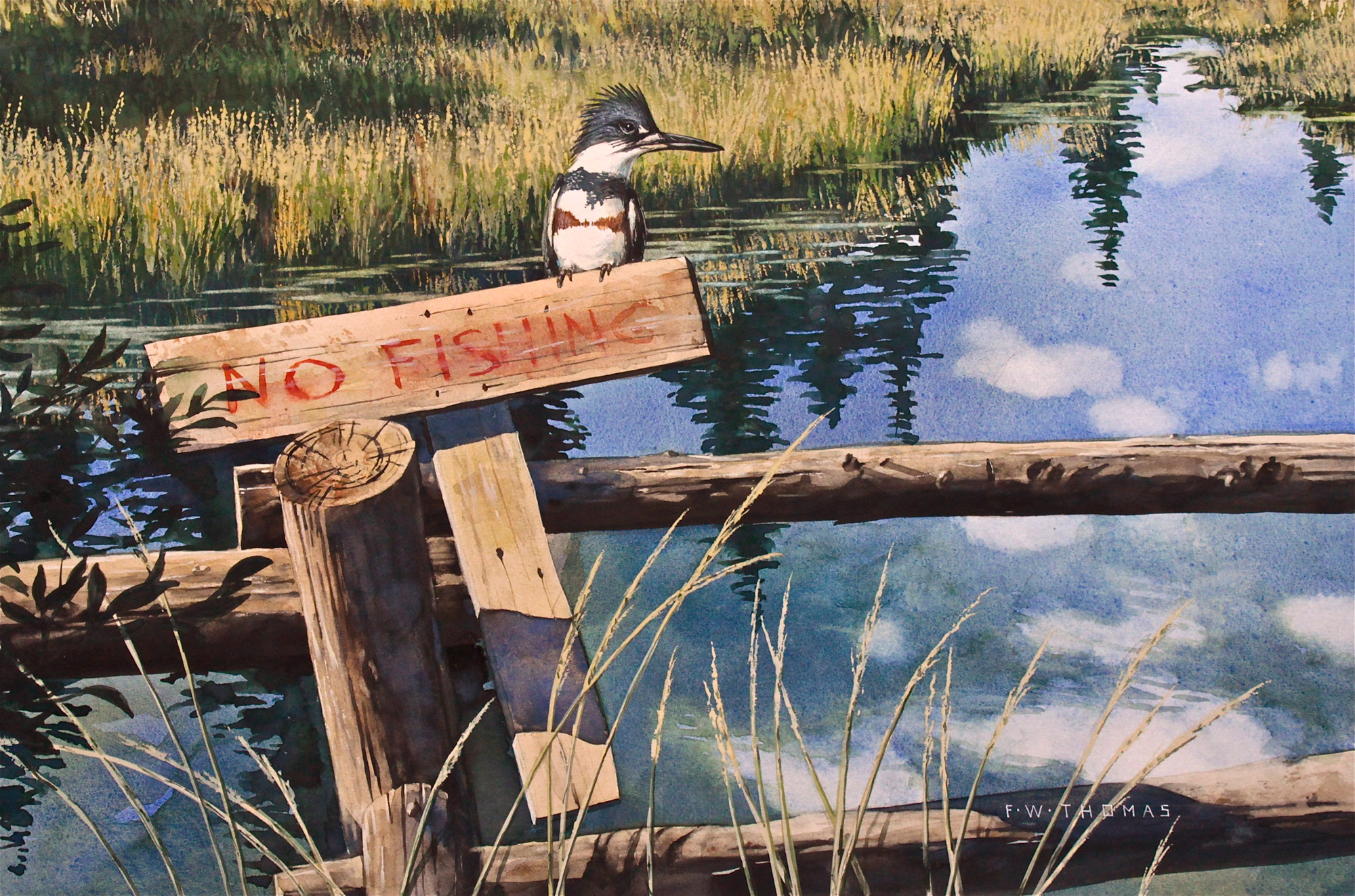 14 Jul

Snakes, Drakes and Baetis Bonanzas

in
---
I lived in Jackson, Wyoming, back in the 1990s, scratching out a living at the local newspaper, spending my pennies on cheap beer and as many flies as I could buy while still paying the rent.
The rent. It was astronomical for what I lived in — a rustic log cabin with cold running water, an outdoor sun shower, and holes in the walls large enough for birds to fly in and out at their whims. A girlfriend I'd moved over from Seattle lasted five days.
Fortunately, this cabin was located outside town, just on the edge of Grand Teton National Park, between it and the Snake River were numerous spring creeks that held large, native Yellowstone cutthroat trout. Were they private? I think so. Did I care? Yes, to the extent that I wore muted clothes, followed the densest vegetation, and got a bit of a backache from being hunched over all the time. Clearly, the creek behind my cabin, where I could see cruising cutts was private. A kingfisher on patrol, perched on a No Trespassing sign, chastised me each time I threw a cast from the porch. The other creeks? It was a toss-up.
In the evenings, after work, I'd fish those creeks for a while before heading out to the Snake River, where more eager cutthroats finned. During that summer in Jackson I learned that anglers needn't worry about matching specific hatches when fishing cutthroats — they ate bushy dry flies and general attractors as well as anything else, which was a pleasant change from the picky rainbow trout that I'd pursued on Montana's Clark Fork River while attending college in Missoula. Dave's hoppers, parachute hoppers, parachute Adams', convertibles, royal Wulff's, ants, beetles … If it looked buggy and floated with a mostly dead drift, you would catch fish on the Snake.
At least, that was my take until late summer 2008. That's when I was invited to fish in Jackson's One Fly Contest where anglers are restricted to a single fly all day. If you break it off on the first cast, too bad. At the end of the day, the person who's landed the most trout on a single fly is pronounced the winner. That's why I wanted to fish a convertible, a stout, bushy attractor dry that would stand up to some solid maulings by those Snake River cutthroats. But my guide, Trey Scharp, said we wouldn't fish much on the mainstem Snake where those cutthroats wanted it big and bold. Instead, we'd focus on the braids and side channels where some large, wary fish could be found. He said my big dry would look like a yacht floating down the stream and those picky big guys wouldn't buy in. I said, "They're cutthroats, they'll eat anything." Scharp responded, "I know they're cutthroats, but the ones we're looking for are different." I sighed, acquiesced, and tied on a diminutive size-16 pattern called an olive Snake drake.
The Snake drake actually matches a bunch of summer mayflies, including the ubiquitous pale morning dun, but on this summer afternoon it was a specific match for the Hecuba mayfly, which is present on the Snake and many other Western streams during late summer and fall. It's a big bug, a size 14 or 16 in most cases, large enough to turn the Snake's trout off of those bushy attractors in favor of specific imitations. At least, that's what Scharp said. I was doubtful until we started pulling into obscure side channels and those cutthroats responded. By midday I'd landed a half-dozen fish.
I should have known that Scharp was right because I recalled a fall day on central Wyoming's Tongue River when I tried to get dozens of cutthroats to eat a parachute hopper, with no success. The Tongue, in its circuitous upper reaches, is willow-lined, super clear, and holds deep pools. Those trout would rise from the bottom, inspect the hopper, then turn their noses away. I tried ant, beetle and caddis imitations to no avail. Talk about frustrating. "These are cutthroats," I shouted to all those moose — and grizzlies, too, for all I knew — slinking around in the willows, keeping my nerves alive.
In the afternoon, I saw rings on the surface, fish feeding near or on the top. I wondered, Why now?, then crouched to water level and found the answer: small, Baetis mayflies bobbing on the surface. I quickly switched my tippet from 4X to 6X and tied on a size-18 parachute Adams. Mystery solved — and my first encounter with picky cutthroats that turned their noses at attractors and terrestrials. By late afternoon, I'd landed a dozen good fish and missed just as many before my last Adams unfurled and I called it quits.
Back on the Snake River with Scharp, in the midst of the One Fly competition, all of a sudden every trout wanted that drake. I piled up the numbers at a steady clip, including a 17-inch cutthroat that grabbed the fly as I was lifting to make another cast. Pure luck. Shortly after, Scharp pointed out another 17-incher and it, too, ate the drake. Then he took me to his dream run where he'd seen a big fish, at least a 20-incher, a few days prior when he was scouting for the competition.
"Greg," he cautioned, "Sometimes that fish sits above that snag, sometimes below. Be ready because if you get him you'll have a great fish and a good score. You might even win the competition. But if he gets into that wood, it's over."
As Scharp drifted away I realized complete concentration. Feeling a little shaky, I waded to midstream and delivered the Snake drake to the far bank. After 10 feet of drift I saw a flash near the bottom and then the perfect sunlit form of a big cutthroat, just a couple inches under and behind my fly, turning sharply to chase. A foot later, a cutthroat's snout broke the surface and my fly disappeared. As predicted, that fish ran for the logs, but I put as much pressure as possible on the rod and 5X tippet, and turned him a few inches from breakoff. A few moments later we had a 20-incher in the net, my 30th fish of the day. Not long after, Scharp shouted, "Reel in. It's 4 p.m. The contest is over."
That night I accepted a second place award, well aware that Scharp, and his urgings to fish the Snake drake, were paramount to my success. While most of us are inclined to fish the Snake and other cutthroat waters packing nothing more than a box of attractors and streamers, I'll never hit a c-throat stream again without an arsenal of specific imitations. Encounter a hatch that cutthroats are keyed in on, armed with the correct imitation, and you may walk away from the water like I have on Wyoming's Snake and Tongue rivers — with a whole new appreciation for a fish that most of us call pushovers.