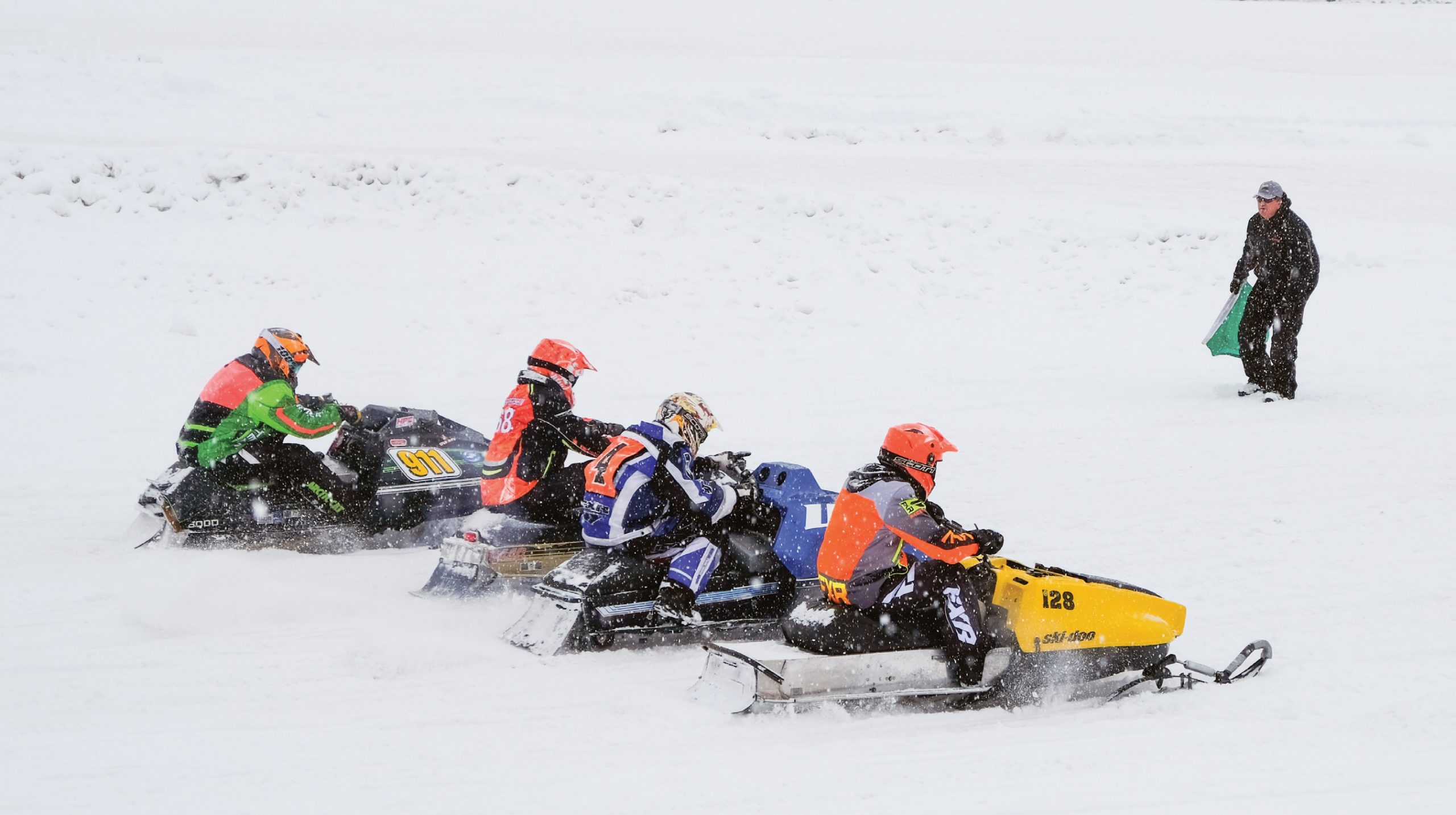 Sleds blast off from the starting line during an annual vintage snowmobile event held every March in West Yellowstone, Montana.
23 Nov

Sledding Old-School

in

One fall day when I was 9 years old, my father came home with a brand new snowmobile: a 1979 Yamaha Enticer 340. It was bright red with white stripes and gold lettering on the cowl, and to me, the engine sounded just like a Ferrari. A big step up from the old, clunky Polaris and Moto-Ski machines I was used to, the Yamaha was a sports car built for snow, a dream ride for a winter-loving kid like me.

The Enticer was light and easy to handle, it had plenty of power, and I learned how to really ride on that sled during my teenage years. The empty, powder-filled farm fields around my rural Western New York home were perfect for straight-line speed. The deserted railroad tracks nearby turned into groomed winter trails, making it possible to ride for miles in any direction. It was a snowmobiler's paradise, and I took full advantage of it.

During our winters, lake-effect storms coming off Lake Erie and Lake Ontario dumped plenty of snow, and trips on the sleds to nearby watering holes for cheeseburgers and soda pops were the norm. A few times each winter, we would travel farther upstate, deep in the Adirondack Mountains, to meet family and friends, where there were more sleds than cars on the streets in the middle of winter.

By the time I finished high school, I knew the whole area like the back of my hand, and surprisingly, the Yamaha and I were still in one piece. Ridden hard, though, the aging snowmobile was ready for retirement. And though my riding had slowed down as I got older and closer to leaving for college, the culture, it seemed, was embedded in me.

Fast Forward more than 30 years. I've lived in Montana most of that time, and I'm getting a little more nostalgic these days. Maybe it's because I recently turned 50. Maybe it's because I appreciate old things. Maybe it's because the new high-tech snowmobiles are so abundant now in these parts. Whatever the case, I decided that last winter was the time to relive my youth, and I started to search for a vintage ride. Perhaps I'd even be able to find the same Yamaha model out there somewhere, and maybe my Craigslist-searching habit would finally pay off.

After a few weeks of looking and almost giving up, two Yamahas, a '78 and a '79, popped up for sale in White Sulphur Springs, Montana. After a few texts and a quick call, I loaded up my truck and empty trailer and headed north with $900 in my pocket. Pulling into the driveway, I saw it: a bright red sled that was the spitting image of the one I grew up on. I could tell right away that it was in nice condition, it started up on the third pull, and I took it for a quick spin grinning the whole time. The other one, a black and white Exciter 440, looked to be in rougher shape but ran well too. It was a deal I couldn't resist, and a half-hour later I was heading back to Big Sky with not one, but two vintage sleds in tow.

While modern snowmobiles retain the overall shape and basic equipment of the older sleds, the similarities stop there. Today's machines are bigger and faster with advanced technology — from the suspension and engine to the steering, tracks, and skis. Back in 1979, the most powerful sled in Yamaha's lineup was the 440cc; today, that's around the smallest engine size on the market, most being in the 800-1,000cc range, which would have been unimaginable when I was a kid.
Most of the modern sleds also have four-stroke engines, which are cleaner and more efficient than the cough-inducing, blue smoke-producing, two-stroke engines of the past. And tracks with long, protruding paddles allow today's mountain sleds — a category that didn't exist in my day — to access the backcountry powder in ways hardly thought possible many years ago. The mountains are indeed a playground for these impressive machines.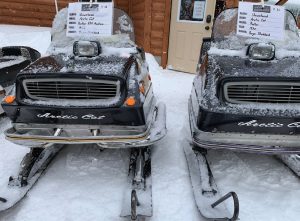 Not everyone, however, is looking for that kind of thrill. For vintage snowmobile enthusiasts, the reward is the simple satisfaction of riding something steeped in history: sleds that have been reborn through painstaking restorations, or ones passed down through generations. Rarities, oddities, and fan favorites from 60 years of snowmobiling — they all have a story. Attend a vintage snowmobile show, and you'll find these tales told in droves, mostly from old-timers but occasionally from us "younger" folks.
Surprisingly, the vintage sled scene out West is robust these days. On winter weekends, enthusiasts gather for rides, rallies, shows, and races, and there are vintage clubs in every state, such as the Pacific Northwest Vintage Snowmobile Club, the Western States Vintage Snowmobile Association, and the Rocky Mountain Antique Snowmobile Association.
Races in places like West Yellowstone, Montana, and Priest Lake, Idaho, draw hundreds of participants and spectators, while vintage trail rides allow owners to put these older sleds to good use. Vintage shows award prizes in categories like Best in Show, People's Choice, and Best Unrestored Original, and most of all, they showcase the many brands that used to manufacture snowmobiles, with classic names like Ski Whiz, Skee Horse, Massey Ferguson, and Scorpion. Today, only four big brands remain — Polaris, Arctic Cat, Ski Doo, and Yamaha — and the sleds more or less look the same. In my opinion, there's nothing interesting about them.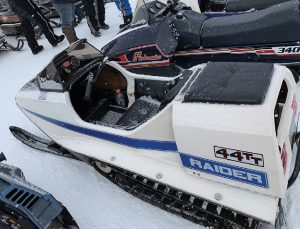 For me, last winter was kind of like traveling back in time. It was a decent snow year, and I put the two snowmobiles to good use. Both of my kids learned how to drive on the Enticer, just like I had many years ago. We used the sleds to harvest our annual Christmas tree and to haul our gear into the Wapiti Forest Service Cabin for a weekend getaway. Our go-to spot was Moose Creek, not too far from our home in Big Sky, where we could easily ride 20 miles in a few hours. The trail is groomed, wide, and often empty — perfect for the vintage sleds. When it was blanketed in powder, the riding was exhilarating, and we made fresh tracks for miles on end. One of the highlights was an escape to Georgetown Lake, where we played for hours on the frozen, snow-covered surface, and rode back and forth across the lake, throttle pinned the whole time.
Both sleds run incredibly well for their age, but I often found myself riding the Exciter, which is a little quicker and more responsive. The Enticer is perfect for the kids, who, before long, could keep up with me on the trail. Over the course of the winter, I found myself hardly riding the smaller sled, which developed some carburetor issues as the months went on. The 440, however, continued to run flawlessly, belying its beat-up looks with fast acceleration and tight handling. It's a blast to ride, enough so that I even called my dad and asked him why he didn't go for the more powerful sled way back then. (In retrospect, however, that probably would have been a terrible idea for me as a teenager.)
Over the course of the winter, I traveled to Island Park, Idaho, for an antique sled show and watched the vintage races in West Yellowstone. Nearly 200 miles of winter riding ended when the Enticer had to be towed out from Moose Creek on a warm spring day in March, its carburetor issues too much to overcome. I parked it for the summer under our back deck, planning on tinkering with it before this winter. I uncovered it the other day, pulled the plugs, and added starting fluid to jump start the engine after months of sitting. It fired right up on the third pull, and the smell of the two-stroke took me right back to when I was 15, doing the same thing in the sled garage behind my childhood home. I was just as giddy with excitement as I squeezed the throttle and let the track spin and the engine whine, blue smoke engulfing me with nostalgia. I was ready to ride.