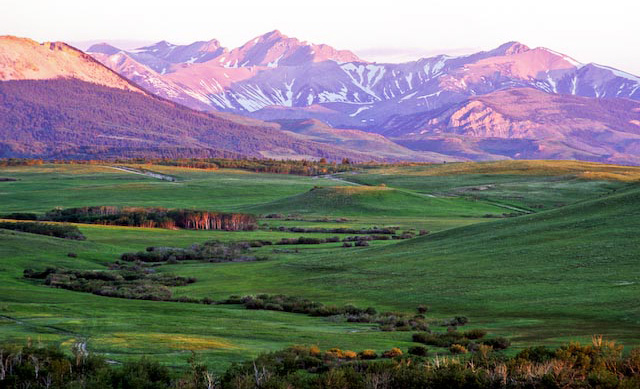 24 Jul

Letter from the Editor: Signs of Summer

in
---
In Livingston, Montana, the first sign of summer isn't marked by birdsong, short-shorts or the inevitable buzz of lawnmowers. Summer is here when the drift boats and rafts roll out of storage. Like a migratory species, they pepper my neighbors' driveways and then descend upon the mighty Yellowstone en masse to launch the summer.
The milestones of this Northern Rockies season come in many different forms for each of us around here. But whether it's river running or bird watching, what we have in common is a love for the outdoors. Each season is a chance to savor the natural riches of living in a place where wildlife outnumbers people and where wild country is often our inspiration for living here.
The stories in this issue make me long for summer — the stretched out days when the sun hangs late and the prospects for fun seem limitless. Our features highlight memorable moments that I hope will connect and inspire readers to seek their own adventures and fondly recall past endeavors, too.
Transitioning from spring to summer, the photo essay is filled with a remarkable chronicle of "The Bluebird of Happiness," by Bruce Pitcher. The talented painters and sculptors of Artistic Horizons  memorialize the light and form of our shared landscape. We touch on a bit of high country glamour and tradition at the Jackson Hole Wine Auction ("Dining Out"), which has benefited the world-renowned Grand Teton Music Festival for two decades. Midsummer brings unplugged days fly fishing on the Upper Middle Fork of the Flathead. Then we ramble into the heat of summer with a thoughtful essay from Minnesota newspaperman Bill McAuliffe ("Hitching a Ride Under the Big Sky").
Of all the stories in this issue, it's Bill McAuliffe's essay that resonates most with me. As he hitchhikes from Minnesota to Washington in the heat of August, he reminds us not to let fear keep us from life's adventures. His experience renews our sense of humanity, as we read about how he placed full trust in the hands of strangers with each ride. He gives us the honest story, filled with reminiscence about younger days when hitching was a common mode of travel, of boredom on the roadside, doubt and fear, then finally of happy endings.
Summer is here. Our household raft is at the ready. The gear is packed. The river is high. I just may need to hitch a ride to make the shuttle sometime soon, so I hope I'm half as lucky as Mr. McAuliffe.