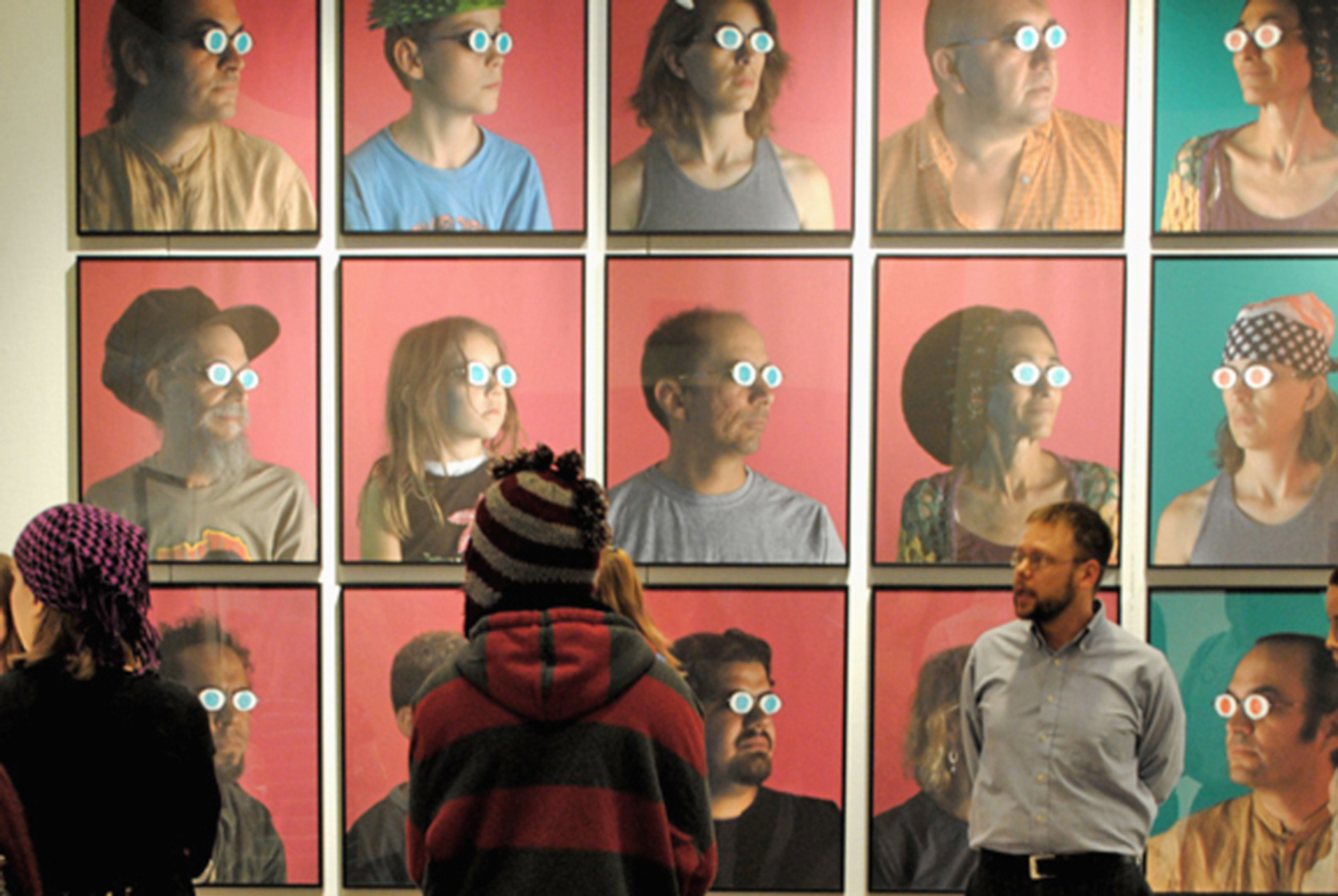 23 Jul

Artist of the West: Share the Art

in
---
DALE CHIHULY HAS NEVER BEEN TO Miles City, but his exquisite works made from glass have gotten there and beyond. Folks in Great Falls might never have seen Bob DeWeese's retrospective or the ceramic masterpieces of Frances Senska if it weren't for the collaboration of the art directors in Montana who formed the Museum and Art Gallery Directors' Association (MAGDA).
MAGDA formed in 1972 with the goal of encouraging, developing, and helping non-profit spaces access great art. Because the obvious fact is: Montana is a big state. Try driving from North Dakota to Lolo Pass. Or from West Yellowstone to Banff. And getting art from one museum to another — the crating, shipping, and hanging costs, not to mention the paperwork, and discovering artists in sometimes remote regions — is hard work.
Luckily, almost 35 years ago, this group of museum curators and art gallery directors got together and decided to pool their resources. "And it's still as strong as ever," Patty Bergquist, Executive Director of MAGDA, says. "Because of our geography — we're so spread out — MAGDA is a great opportunity for people to network with each other. Funding is so tight in the art world; people tend to rely on each other for ideas and support."
When Benjamin Clark started as the executive director of the MonDak Heritage Center in Sydney a year ago, he was told to be sure and attend MAGDA's annual conference.
"We're about as far-flung as you can get," Clark says. "But we get about 7,000 visitors a year, and a huge part of our success is due to MAGDA. Because of our association with them, we can show art we could never hope to host."
Of the 20 shows MonDak Heritage Center books a year, about four of them come through MAGDA.
"We couldn't afford to host those shows if it wasn't for the cost sharing," Clark says. "If I had to book them on my own, it would be impossible, we really don't have the budget to do it."
But it's not just the cost sharing, which is substantial. MAGDA also offers a spectrum of artists Clark normally wouldn't hear about.
[magda-map_web] "They do a great job of providing a diversity of shows from very contemporary current artists to those artists with a more historic bent," Clark says. "For instance, we hosted the Josephine Hale collection."
Josephine Hale [1878-1961] was one of Montana's pioneering women painters. Her collection traveled around the state this year, thanks to MAGDA.
Nearly 30 non-profit art facilities from North Dakota to Missoula are members of MAGDA, including the Jessie Wilber Gallery located in the Emerson Center for Arts and Culture in Bozeman.
"I usually pick up somewhere between one and three shows a year," offers Ellen Ornitz, curator of exhibits and education at the Emerson Center for the Arts and Culture. "Some years I don't pick up any, but I always go to the annual conferences."
The MAGDA conferences offers dozens of shows to their 28 members, but they also offer workshops on writing contracts, how to work with contractors, tax implications, as well as several panel discussions on the challenges of working with art and artists.
When Ornitz organized the remodel of the Jessie Wilber, she looked to MAGDA members, galleries and museums that had undergone similar changes.
"It works as a support group for non-profit art galleries and museums," Ornitz says. Other museums helped with advice on everything from pedestals and lighting to security and climate control.
They also provided technical information regarding gallery and museum operations.
"At our conferences we offer educational components that have been pretty successful," Bergquist says. "Members learn things they can take back to their own galleries."
Workshops include strategies for diversity and how to broaden an audience base, collections management, museum ethics, refining professional standards and a variety of ways to increase earned income.
"We get the ideas from the evaluations we do every year, so it's all from member input," Bergquist says. "We go from there to determine what we'll offer at future conferences."
However, the highlight of the conference is the pitching of exhibits.
The number of shows proposed at a conference can vary anywhere from 15 to 20. Out of those, about a dozen get enough votes to go through.
"We need to have three firm commitments from galleries or museums in order for the show to tour," Bergquist says. "Some people think you have to be a MAGDA member to propose an exhibit for a tour, but you only have to be sponsored by an art organization. We would really like to encourage artists to submit their work for a tour. That's one part of our mission. We want to get artists' work seen."
MAGDA pro-rates the shipping costs for each gallery which are spread evenly among the galleries participating in that show.
"If you book a show through MAGDA, everything is taken care of as far as the contracting," Bergquist says. "If there are any problems with an exhibit, I handle everything. When our funding increases again, we're going to be able to help galleries with more of the costs."
Because of MAGDA, more than 100,000 people every year discover new artists and the cultural resources of artistic expression. In the years since MAGDA was conceived many state art groups have used it as a model for creating an association of their own.
"We're one of a kind," Bergquist says. "And it's been great to show the world how resourceful we are in Montana."
As times are harder for the arts, non-profit galleries have to be careful of their spending.
"Working with MAGDA saves us the staff time and resources that we would have to lay out," Ornitz says. "For example, I've booked some group shows with artists I've never met before through MAGDA. If I did it myself would be a lot of work for me, and a big expense for the gallery."
MAGDA also provides all the paperwork — and there is a lot of paperwork — for the shows that travel. They also send crates along with photos on how to pack and unpack the show, artist biographies, resumes, and a list of the inventory. This kind of footwork can take curators months to gather, especially for large group shows like the recent traveling exhibit Speaking Volumes; Transforming Hate sponsored by the Holter Museum of Art in Helena. That show challenged 40 artists from across the country to transform, incorporate or otherwise respond to books of hate propaganda published by the World Church of the Creator.
"Without MAGDA, I'm sure we wouldn't have had that show in Bozeman," Ornitz says. "And that really would've been a shame."
Installation view of "Speaking Volumes: Transforming Hate" exhibition at the Holter Museum of Art in Helena, Mont. Photo by Kurt Keller
Curator Brandon Reintjes giving a tour of the Transforming Hate exhibit at the Meloy Gallery of the Montana Museum of Art & Culture to a group of high school students, made possible by MAGDA. Photo by Michele Corriel