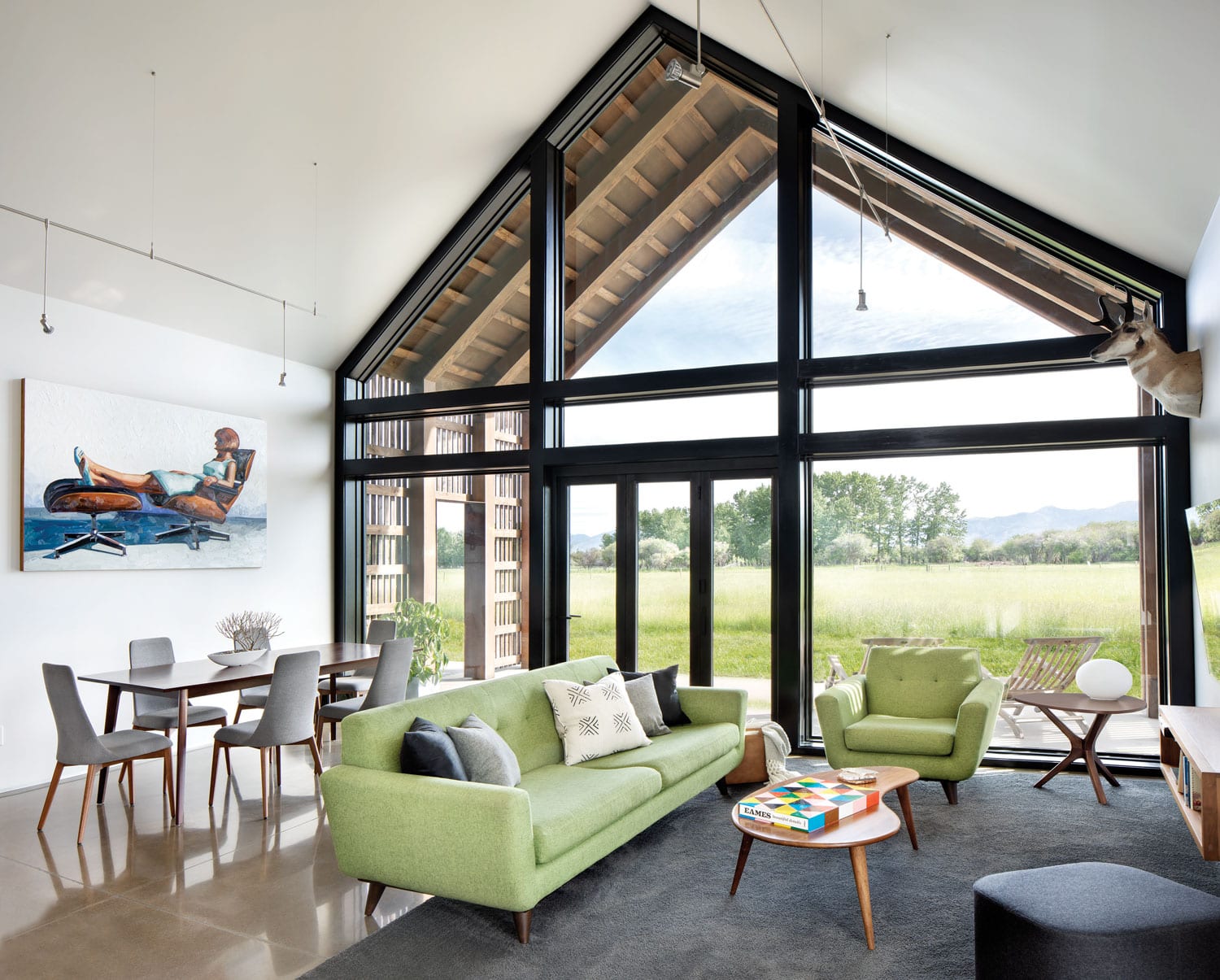 a wall of windows and the absence of trim make for a sun-drenched, sleek interior. the paint- ing in the dining area is by Kelly Reemtsen.
11 Apr

Serene Shapeshifter

in
The Cavallo Ranch blends the simplicity of a barn with the spirit of a modern home
On the outskirts of Bozeman, Montana, a structure of striking purity rises from a field of grass. From a distance, it's a rectangular box with a triangular roof. It has all the pleasingly primitive, unfussy simplicity of thousands of barns that have stood on the earth for centuries. And maybe it is a barn. That's what plenty of passersby — and delivery people — think.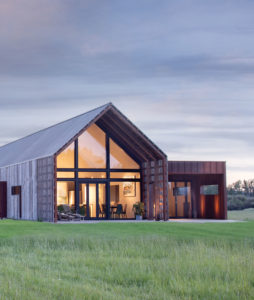 "Deliveries often go to the neighbor's house, because the drivers really assume it's a barn," says homeowner Steve Moore.
"A lot of people don't realize that it's even a house," adds the home's architect Nate Heller, founder of Studio H Design.
For Moore and Heller, these cases of mistaken identity are indicative of a mission accomplished. "We wanted the house to have an agricultural look and appearance," says Moore. "I told Nate that I wanted it to look like a barn. The goal was to have the house appear to be an agricultural building sitting in a field, part of the landscape."
"We call it 'non-architecture architecture,'" adds Heller. "Steve and his fiancé, Lacey Heavner, were going for this really quiet, sophisticated, simple form, and they wanted it to look like they had just modernized the interior of an existing space. So that was the design approach."
The result, called Cavallo Ranch, is a 1,215- square-foot, one-bedroom sanctuary built from scratch. It's situated on an expanse of more than 24 acres dotted by horses. In 2018, the home won an American Institute of Architects honor award for excellence in design.
When Moore and Heavner began to imagine this house, their vision was informed partly by a timber-frame structure they'd encountered in Europe. "We saw an old barn in Scotland," recalls Moore, "which had been converted into a home. Its interior had contemporary, clean, modern finishes. We were inspired by that place, as well as some other barn-like structures that were ultra-modern on the inside."
Moore delights in the sense of discovery that visitors to Cavallo Ranch enjoy: the experience of looking at one thing, only to realize it's something else. "As you get closer, the house begins to reveal itself," he says.
Ultimately, the structure is more a tribute to stylistic hallmarks of the present than a nostalgic nod to a rustic past. Modern lines define both the home's exterior — which is comprised of reclaimed corral board and steel — and interior, where the couple's art collection harmonizes with furniture and fixtures found by the interior design team at Studio H. Moore's favorite facets of the house are "the openness and the light. On the inside, there's no trim anywhere." And the super-minimal finishes are what delight him most. "I wanted it to be sleek, without a lot of excess detail; a very clean, pure object," he says.
For Heavner, it's the surrounding landscape and the home's connection to it that most thrill her. "When I wake up the morning," she says, "the first thing I think about is the beautiful environment. The bed faces all the windows, and I see the Bridgers, and the foxes might be out there playing with the voles. It connects me with nature."
A neighbor breeds quarter horses, and Heavner helps with their training. She and Moore have an open riding area and a corral on their land, so the horses from next door are often present — along with another neighbor's cattle and sheep, plus deer, foxes, coyotes, and sandhill cranes, as well as Chip, the couple's cattle dog, and Kira, their pet bobcat.
In the summertime, Moore's two children visit this sunlit menagerie, and the home's 615-square-foot "flex room" — which sometimes serves as an art studio or workshop space — becomes a second bedroom for the kids.
Such a modestly sized house presented a unique opportunity for Heller. "For our firm, this was a very small project in terms of dollars and size." But the potential for both innovation and artistry motivated Heller to take it on. "It was the willingness of the clients to reach a level of sophistication through this small space that really made it exciting," he says.
Moore worked closely with the construction crew to navigate the challenges posed by such an assertively unembellished structure. "The builders had never built a house like this before," he notes. "It was a little bit of an architectural and structural engineering challenge to get that look, where you have the gabled roof and ceiling, but with no trusses or ridge beam or anything."
"It was a bit unforgiving," adds builder Kelly Taylor, owner of J&K Contractors, with a laugh, "because you had no layers to hide any imperfections. There's structural steel in the building to help keep those clean lines and the contemporary look."
An embodiment of both skill and vision, Cavallo Ranch is a home that echoes the tone of its setting. "It's serene," says Moore. "And that's how we felt about the land, the tranquility of the location. It's really quiet and peaceful."
Architecture + Interior Design: Studio H Design
Construction: J&K Contractors