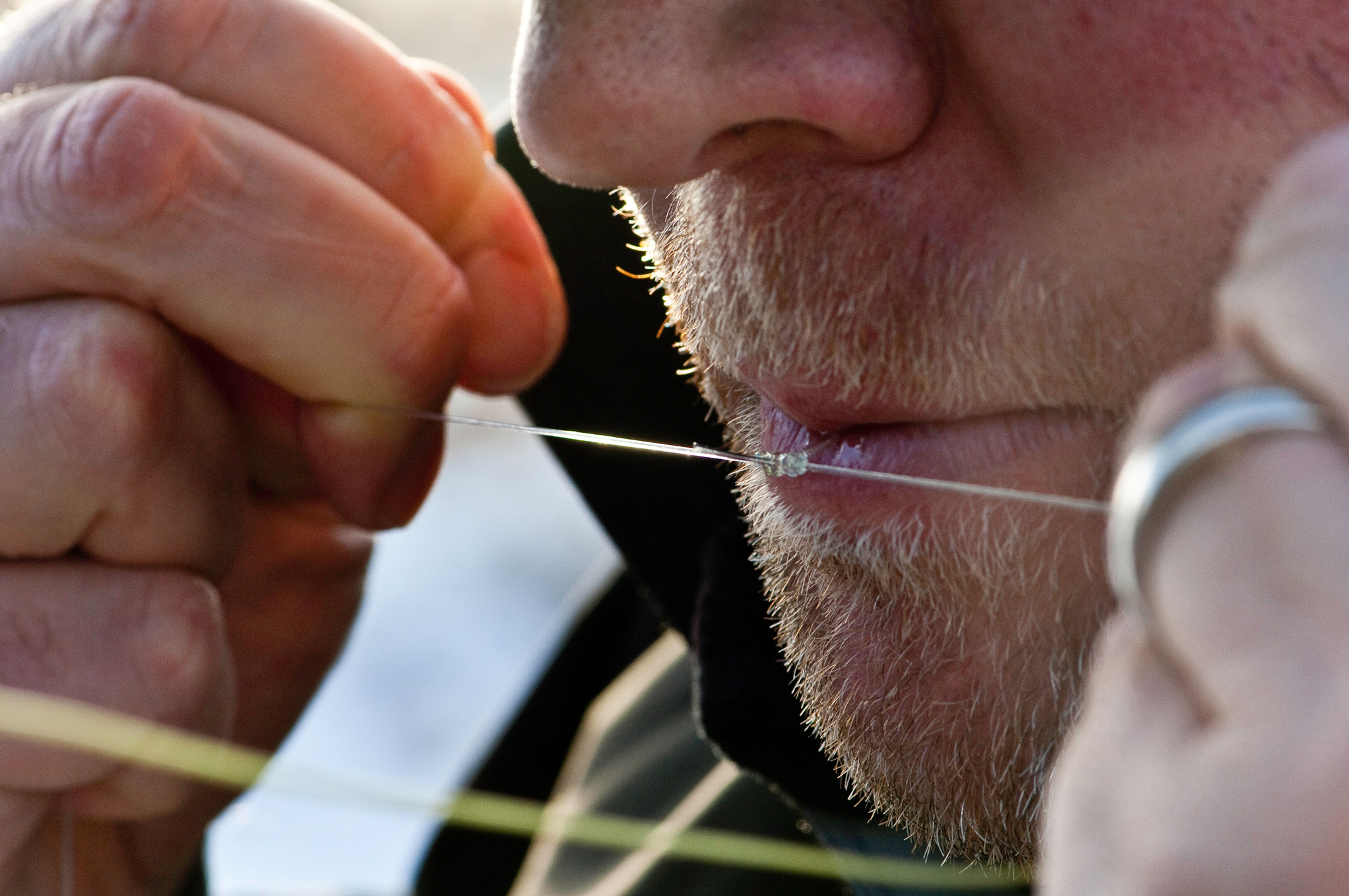 14 Jul

Local Knowledge: Seeking Troutopia

in
---
These days in Montana, fishing guides are a relatively common species. If you're an enthusiast of a certain age, a certain inclination, working as a guide becomes a natural kind of life transition. But those who have a true calling for it, a talent, a certain je ne sais kwah…seems like they're a rare breed indeed. Consider what it takes. You have to be a jack of all trades, equal parts politician and psychiatrist, fly tyer and bankside chef. You need the patience of Job and the canned patter of a tour guide. You have to be cheerful in all weathers and most of all, of course, able to find fish. No matter what.
Cut to a scene: A warm fall on the Missouri, some years ago. Fishing in a Clacka just under Holter Dam. Cattle grazed on one side of the river, and the overflow hummed behind us. There was the smell of woodsmoke from the campground. This has since become some of my favorite water, but at the time I was still new to it. I'd had just enough luck to feel confident. There's that familiar lie we tell ourselves: I'm better than the next guy. In this case though, the next guy, the guy at the oars, was Pat Straub, a fishing writer and owner of his own business, Montana Fishing Outfitters. The Missouri was his home water. He dropped anchor beside a likely-looking stretch; a smoother, darker patch of river. Pat said, "Maybe try tossing it up at the head of the bucket there."
"Sure, yeah."
He watched me cast for ten unproductive minutes, then reached for the anchor rope. Said tactfully, "Maybe we'll drift down a bit." The boat swung in the current. He added, "Seems like they've been digging on these little red ones." He opened his fly box to a row of tiny, shrimp-looking something or others, furzed in red.
"Yeah, I like these scuds. Last week they were knocking em dead."
"Sure. Probably doesn't matter."
"Probably."
But of course it did matter. And a few minutes later, after only a few casts, Pat's line paused in its drift, then zipped off upstream. "Hookup!" It was one of those glowing Missouri rainbows. Thick as a family Bible, balletic as Baryshnikov. "Yeah, baby!"
"Nice fish."
"Thanks."
In the next half hour, he caught three more. Pat, four; me, zip. Nice fish, nice fish, yeah, whatever.
Wisdom in fly fishing starts when you finally realize your limitations. I figuratively swallowed a pill. Said, "So yeah, what were those flies again?"
Pat Straub, one of the best guides I know, didn't really get serious about fly fishing until college, despite growing up a few blocks from Sourdough Creek outside of Bozeman. For a summer job in college, he worked as a coach at a soccer camp that traveled around Montana. The schedule allowed him to fish almost every evening. Author Chris Dombrowski, one of the other coaches, said, "We'd get off work at 4:00 or so, and then we'd go fishing. That first summer, we fished something like sixty-two days straight. If we were in Helena we'd fish Little Prickly Pear or the Missouri. If we were in Big Timber, we'd go fish the Boulder, like that. We were just maniacs. For three summers in a row, we fished everywhere."
Hiking into Yellowstone Park, floating the Kootenai, exploring hidden small streams on a whim … It was the kind of early, fortuitous experience that can shape a life. And it was enough to allow Pat to segue into guiding — first for Richard Parks in Gardiner and then for the Yellowstone Valley Ranch. And in 2001 he hung out his own shingle. "I moved to Helena around that same time," he said, "so those first few years while I was building up Montana Fishing Outfitters, I mostly fished the Missouri."
Ten years later and based now out of Bozeman, his work takes him as far east as the Bighorn, as far west as the Blackfoot. And even with the slower economy, he and his business partner Garrett Munson see more than 70 percent of their clients come back for the next year. One of these repeat clients, Jeff Shrader, an attorney from Amarillo, said, "Pat's taught my entire family to fly fish. My wife, my two daughters, my son, both my sons-in-law. He's friendly, knowledgeable…I've had a lot of other guides, but Pat's the guy I keep going back to."
When it comes to the where-and-how of catching fish, Pat's fairly old school. He doesn't maintain illusions or keep many secrets. He skews toward the simpler approach. "For most folks, life's complicated enough. Fishing should just be entertaining and fun." In the realm of fly selection, for instance, he's something other than a match-the-hatcher. "I'm more from the presentation school of things." He likes CDC elk hair caddis, Parachute Adams in purple, Parramore's Thunder Thighs grasshopper, that sort of thing. Nymphs, he goes for lightening bugs ("Silver and black are my favorites"), Pheasant tails, WD-40s. And then woolly buggers, conehead muddlers, Bow River buggers….
And when it comes to choosing the best water for his clients, he follows the seasons. "Everybody wants you to give away your spots. But you know, in the winter, I like the Paradise Valley spring creeks, or maybe the Bighorn. In April and May, I'll go to the Yellowstone, especially if the nighttime temps are cool enough to keep the runoff low and the daytime temps are above fifty degrees … Oh, baby. Mayflies, Mother's Day caddis! Early summer, I'll hit the Missouri, the Mighty Mo, Troutopia. But by August and September, I'll be fishing the small streams. October and November, I might hit the Big Hole for big browns. Or the Missouri, or the Bighorn, Bitterroot, Blackfoot. For these two months it's hard to go wrong. I just make sure I have plenty of streamers in my box. Black, brown, and olive."
He thought about it. "But you know, the older you get, you start looking for quality over quantity. You might find more enjoyment in spending half an hour to catch one fish, so long as it's challenging in the right kind of way, versus a lot of fish in that same period. You trade instant gratification for higher reward later on.
The friendship of men, seems to me, is built on an armature of mutual regard hidden under a veneer of derision. No matter how good a buddy, you still need to be able to give the guy a little grief, shame him into taking at least one more shot, buying another lap dance, maybe staying out past dark on the Yellowstone, dodging boulders as you pull into the takeout.
Over the last few years, as Pat and I've fished a few more times on the Missouri, the Bighorn, it's become very clear that he's the better fisherman. Much better, damnit. But I've yet to see the first shred of ego out of the guy. Against all odds, he seems quite as genuinely happy to see me catch a fish as to catch one himself. And I think that this is finally what separates good guides from the great ones. In a profession too fully populated with swagger and bravado and something less than kindness, Pat specializes in tact and enthusiasm and self-effacing humor. I keep hoping that a little of the Zen will eventually rub off. Whatever it is that makes you want to spend a day out on the river with a guy, Pat's got it in spades.
---
Troutopia Club: Other writers and photographers recommend their favorite guides
---
E. Donnall Thomas, Jr. recommends John Shirley: The Bighorn River is notoriously challenging water that does not give up its secrets easily. There's no substitute for local knowledge when tackling the Bighorn. As the operator of the nearby Eagle Nest Lodge, John Shirley logs as much time on the 'Horn as anyone every season, and he knows the water and its fish intimately. Personable, knowledgeable and enthusiastic, John is all an angling guide should be.
E. Donnall Thomas, Jr. is the author of 17 books, most recently Have Bow, Will Travel, How Sportsmen Saved the World and The Language of Wings.
---
Geoff Mueller recommends Stuart "Stu" Birdsong: Grey Reef guide Stu Birdsong feels guilty when he pipes up and offers me advice while fishing Wyoming's sinuous North Platte River. "Geoff," he'll shake his head apologetically, "it's my day off and I'm not trying to be a guide, but … I can't help it." In exchange for my patience, Stu will offer a fly or some precision leader tuning — wisdoms that if I failed to heed, would absolutely kill him all day in the boat. So I concede. Stu pulls out a crusty box and plucks some crayfish anomaly that's never graced a fly shop bin. We measure, snip, cinch, re-measure, and  — more often than not — action ensues. I've never paid to fish with Stu, but many do. And those who've experienced his deft tutelage come back often to traverse trout country with this Wyoming- and Fort Collins-based professional. After all, Stu possesses fish intuition well beyond his years. And that's why when he's in "guide mode" after more than 200 days rowing the Reef, I bite my tongue and always tie on the damn bug.
Geoff Mueller is senior editor of The Drake magazine.
---
Denver Bryan recommends Drew Miller: Working out of The Grizzly Hackle in Missoula, Drew Miller is a veteran guide with many years of experience guiding on the Bitterroot, Clark Fork, Blackfoot, Missouri rivers and Rock Creek.
Denver Bryan's photos have appeared on the covers of over 400 magazines, and been published in seven single-photographer books to date.
---
Dusan Smetana recommends Matson Rogers: Matson Rogers of Bozeman is exceptional, and fearless. A couple of summers ago I needed a photo of a fisherman in Yellowstone Park with wildlife for the Montana state tourism campaign.  I took Matson down to the Lamar Valley and sent him out on the river in the path of a crossing buffalo herd. The experience is hard to forget. Matson is a happy guy, and I value that in spending a day with him, as much as the size of the fish he pulls out of his hat, though he can do that, too.
The work of outdoor photographer Dusan Smetana is widely used by editorial and corporate clients such as the National Geographic Society, The New York Times, Smithsonian, and many more.
---
Tom Bie recommends Dean Burton: Dean Burton has been guiding on the Snake for the past 15 years, and has spent the past 10 off-seasons guiding tarpon and permit fishermen in Key West. I spent six years in the '90s guiding with him for Westbank Anglers, the fly shop he still works through. Burton knows the Snake as well as any Jackson guide, and if you, as a client, are unclear as to proper protocol, he will definitely let you "know the program" like only Dean Burton can.
Tom Bie is the founding editor-in-chief of The Drake magazine.
---
Seth Norman recommends Frank Pisciotta: A lot of my favorite guides have moved on: Don Johnson, who fished the callibaetis hatches on Lewiston Lake, also "Big Al Martin," steelhead giant and "Mouth of the River (Eel)." That said, there are many more guide and civilian mentors worth meeting: I'd apprentice myself to Jim Shollmeyer any day, though he's traded his oars for Word and cameras; also to Ed Engle, in Colorado; John Judy, to learn drift tricks on the cruel Metolius; and the "Western Rivers" comedy team of Joe Smeraglio and entomologist Rick Hafele. Of course, I'd thrill to take tarpon lessons from Andy Mill, presuming we could avoid talk about people falling off mountains while strapped to sticks; and would likely pick Bruce Chard for permit and, too likely in my case, a session of "Post-No-Permit-Wet-Bar-Angst-Management."
Ah, but then there's my old pal Frank Pisciotta, a Truckee River idolater who holds court at www.cyberfly.com. Frank has a heart of gold and has helped his clients annoy trout for decades. Fair warning, however: Frank will occasionally tell outrageous stories about writers. I'm not saying some cranky scribbler didn't once lift the front end of his tiny, ancient, now-retired truck — good coffee, bad mood; more like a bounce — or won't deny, cum grano sala, that nobody has bitten any guide on the neck, because we were all young once. But any assertion that an innocent wordsmith "probably spent the '60s seeing colors," is just screaming pink Jefferson Airplane 9-foot salamander slander.
A contributing editor to Fly Rod & Reel and associate editor of California Fly Fisher, Seth Norman is the author of Meanderings of a Fly Fisherman and Flyfisher's.
---
Eagle Nest Lodge: Hardin, MT
406.665.3711  •  www.eaglenestlodge.com 
flyfishmt@sbcglobal.net
Angler's West Flyfishing Outfitters: Emigrant, MT
406.333.4401  •  info@montanaflyfishers.com
www.montanaflyfishers.com
Westbank Anglers: Teton Village, WY
307.733.6483  •  info@westbank.com
www.westbank.com
The Grizzly Hackle: Missoula, MT
800.297.8996  •  www.grizzlyhackle.com
flyfishmontana@earthlink.net
The Reef Fly Shop: Alcova, WY
307.232.9128  •  www.northplatteflyfishing.com
info@thereefflyshop.com