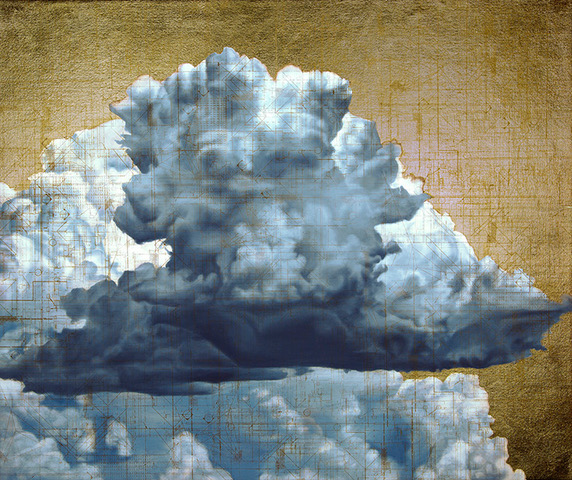 Michelle Osman "Cumulus II" Acrylic Silk Screen and Oil on Canvas 2016 26" x 32"
20 Jul

I Saw Above Me That Endless Skyway

in
SUNDOG FINE ART
Bozeman, Montana
July 22nd – August 22nd , 2017
---
I Saw Above Me That Endless Skyway
Oil Paintings by Michelle Osman
More than 15 of Michelle Osman's large format Montana landscape paintings will be on display and available for purchase at this show that opens July 22. Michelle is best known for her large-scale oil paintings of storms that eddy and churn over the land. Looking to Titian and Vermeer, she uses thin glazes of paint layered on top of one another to create almost photorealist images of saturated light and color. The temporality of clouds and storms give her landscapes a feeling of time, placing them in an open narrative of past, present or future.
In 2016 Osman completed her MFA at Montana State University. Recently she participated in West on the Left, East on the Right at the Duolun Museum of Modern Art, Shanghai, China and is participating in the National Weather Center Biennale at the Fred Jones Jr. Museum of Art at the University of Oklahoma. Osman was born in Jackson Hole, Wyoming, raised at the beach in Costa Rica and now lives in Bozeman, Montana. Her work is continually influenced by her surroundings.
Opening July 22 and running through the middle of August, there will be an invitation only reception on August 4 and a public reception during Bozeman's Art Walk on August 11.
---
Artist Statement:
My attraction to the storms is the way they enter into my life.  Gusts of wind, lightning and changing weather insist on a certain degree of attention that blue skies do not. Watching a particular cloud formation, or a dramatic storm, I am fully present in the moment. I gain perspective in the abstraction of light and color.  I want to witness the place and the time I live in, to depict its transcendent beauty, its stubborn bones, its highways and byways.  In the West the rolling flesh and muscle of the land is clearly visible, softened by sagebrush and golden grasses.  It is a land exposed.