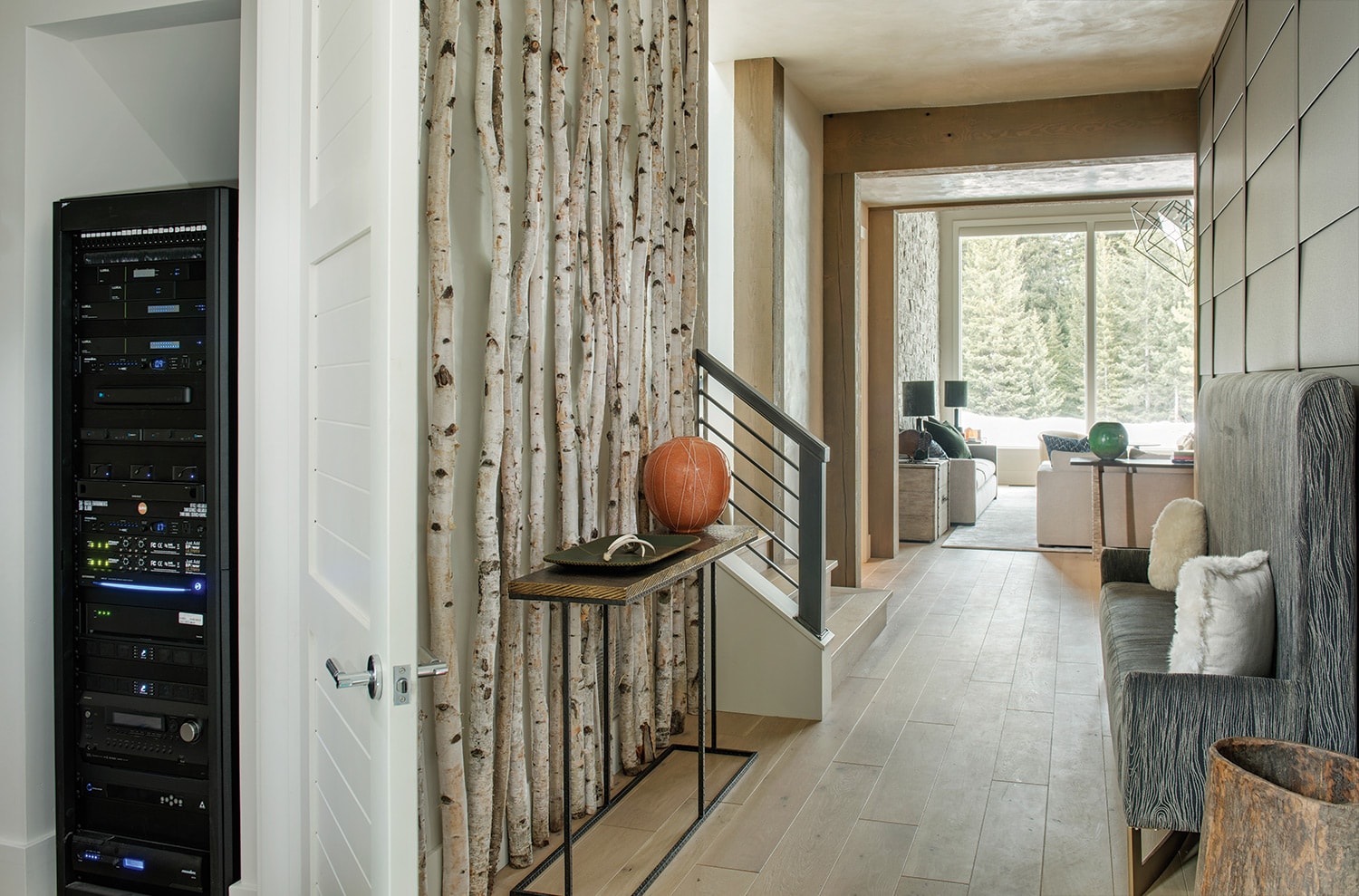 Whether it's only a few pieces of home technology equipment or dozens, SAV creates centralized locations precisely built to keep it stylishly organized, safe, and running efficiently. Photo by Whitney Kamman
12 Apr

Sav Digital Environments

in

Imagine you're in Bali and your cell phone rings. Your neighbor back home in Montana has just gone into your house to feed the fish and check the mail, and she is calling to let you know that there is a large puddle of water on your kitchen floor — and it seems to be seeping out from under your dishwasher. Two words immediately leap to mind: vacation ruined.

Picture another scenario. You're on Kuta Beach in Bali, drinking your favorite tropical beverage, and your cell phone gives a discreet beep. SAV Digital Environments has just sent you a text to let you know that a valve broke under your dishwasher — some sort of weak spot in the appliance's infrastructure perhaps — and their remote water alert system immediately detected it and shut off the water. Totally different words spring to mind: So glad we installed that remote monitoring service.

Over the past 20 years, the concept of a "smart house" that knows when to turn your lights on and off, rolls window shades up and down at the sound of your voice, sends you a text if your front door is left open, and responds to remote commands from your phone, has become a relatively affordable reality — a far cry from portrayals in science-fiction and space-age cartoons. SAV Digital Environments (pronounced /es-ā-vē/), a home and business technology firm that originated in Bozeman, Montana, and now has more than 60 employees spread throughout Bozeman, Big Sky, and Jackson Hole, Wyoming, has evolved from the audio-visual installation company Studio AV founded by Cory Reistad in 2005, to a company that not only designs the best available audio and visual entertainment for homeowners, but also integrates those components into whole-house systems. SAV has created teams of experts in their fields who know how to capitalize on the potential of new technology, solve old problems, and anticipate new scenarios, helping to modernize home and business environments.

When the construction boom of the early 2000s was still at its height — particularly the explosion of higher-end construction in Montana's resort areas — professional, high quality home audio and video systems were requisite in new construction, and increasingly were being retrofitted for use in remodeled homes. Reistad recognized that there was an opportunity for a company that embraced emerging higher-end technologies to design and install these systems, blending them with the home environment. Home theaters with surround sound and high-quality pictures were just the beginning. Automated whole-house sound and lighting systems were becoming increasingly common — a real business opportunity for a technology-savvy company.

In the little over a decade since SAV started, however, the technology available to homebuilders and business owners has exploded. In addition to audio, video, and theater systems, SAV provides water system monitoring, low-profile, surveillance-type security, lighting control, automated window coverings, computer networking, wireless systems, and more. After installation, home and business owners can count on the support they need, when they need it through 'round the clock customer service. SAV recognizes how critical it is that technology be smoothly integrated into everyday life — and how frustrating it is when something doesn't work properly. Eric Knez, SAV director of client services, puts their customer service goals plainly: "Our primary goal is to prevent inconvenience and frustration when devices stop working. If an issue does arise, we do whatever it takes to resolve the matter promptly."

SAV also tries to create a working environment that reflects their commitment to their employees, their communities, and to their clients. A whole division of the company is dedicated to ensuring that client issues are resolved quickly and efficiently, whether remotely or through a home visit. It is easy to see how these systems give homeowners peace of mind while they are away, but their experiences are enhanced while at home as well. Throughout the West, where residents value time spent on hiking trails, ski slopes, and golf courses, it's appealing to come home at the end of a day to a gently lit living room, with shades at just the right angle; or enjoy the long light of summer evenings on the deck while sipping wine and listening to music.

SAV supports its workforce, and the communities where it is based. For employees, this means their creativity is valued, and rewarded. In addition to a benefits package, SAV offers ski days and celebrations that range from impromptu pizza parties and happy hours, to an annual holiday party and summer picnic. Within the community, SAV supports groups like the Big Sky Community Organization, Big Sky Youth Empowerment, the Bozeman Cancer Center, and many other worthwhile causes. In 2017, SAV was voted the second Best New Business — new to Big Sky — in the Best of Big Sky Awards.

From low-profile smoke and carbon monoxide detectors, to inconspicuous surveillance systems that don't interfere with the architectural details of a home, to discretely placed surround-sound speakers, and strategically placed TVs — hidden behind artwork or inside the ceiling or wall — SAV's systems are designed for their clients' enjoyment. Whatever the next new trend in property owner comfort, security, and convenience may be, the SAV team will aim to explore creative ways to integrate it.